September, 10, 2014
Sep 10
6:36
AM ET

This Saturday, Floyd Mayweather Jr. will once again step in the ring with Marcos Maidana at the MGM Grand Garden Arena in Las Vegas. Mayweather won the first fight in May by unanimous decision, but many felt Maidana came the closest anyone has to becoming the first fighter to defeat Mayweather. He will try once again, while Mayweather looks to move to 47-0 and one step closer to retiring undefeated. Here are the numbers you need to know for Saturday's fight:

2: This is the second rematch Floyd Mayweather has given in his illustrious career. After a controversial unanimous decision win in 2002 against Jose Luis Castillo, Mayweather defended his newly won WBC lightweight title almost eight months later in a rematch. Mayweather outlanded Castillo 162-137 en route to another unanimous decision victory.

221: Punches Maidana landed on Mayweather, the most of any Mayweather opponent in 37 tracked CompuBox fights. Maidana used an aggressive approach in the first six rounds of the fight. He attempted 78.5 punches per round and outlanded Mayweather 125-98 (110 power punches). The only other fighter to land more than 200 punches against Mayweather was Castillo in their first fight (203).

114: According to ESPN Stats & Information tracking, 114 of Maidana's 221 punches were landed with Mayweather against the ropes (51 percent).

3: The fight in May marked the third time in Mayweather's 46-fight career that he won by majority or split decision. Although some might argue the first Castillo decision, Mayweather's only win by split decision came when he defeated Oscar De La Hoya in 2007. More recently, the Maidana fight and the previous bout against Canelo Alvarez were both victories by majority decision for the undefeated champion.

25: The plus/minus rating for Mayweather, the highest among active fighters. Plus/minus rating is determined by subtracting an opponent's connect percentage from a listed fighter's overall connect percentage. In his past three fights, Mayweather has plus/minus ratings of plus-28 (Maidana), plus-24 (Alvarez) and plus-22 (Robert Guerrero). Second on the plus/minus list is Erislandy Lara at plus-17.

54: Mayweather's connect percentage against Maidana. Mayweather was the less active fighter of the two, but he was by far the more effective. Mayweather landed between 50 and 59 percent in six of 12 rounds, 60 and 69 percent twice, and 14 of 20 punches in Round 4 for a 70 percent clip. Maidana's highest connect percentage in any round was 30 percent in the eighth round.

15: Million dollars gained from the live gate in the first Mayweather-Maidana fight, the third most in MGM Grand history. Mayweather has said MGM Grand is the place where "Money gets money," and that's proven in live gate sales. Mayweather has the three largest gates in MGM Grand boxing history, according to the Nevada State Athletic Commission, and has garnered $20 million from the Alvarez fight and $18.4 million from the De La Hoya fight.

12: The money helps Mayweather stay in Vegas, but the MGM Grand is also home to 12 Mayweather victories. Mayweather won at MGM Grand for the first time in 2000 against Gregorio Vargas and has defeated legends such as Castillo, De La Hoya, Ricky Hatton, Juan Manuel Marquez and Miguel Cotto. MGM Grand has hosted every Mayweather fight since 2007.

85: According to Westgate Las Vegas Superbook, Mayweather is an 8-1 favorite (minus-800), which gives him an 85 percent chance to win the rematch. In the previous bout, Mayweather was given an 87 percent chance to win the fight, with closing odds of minus-950 to Maidana's plus-625 (13 percent to win).

5: Kenny Bayless will be the referee for Mayweather-Maidana, which marks the fifth time he has been in the ring as the referee for a Mayweather fight. Bayless was the referee for Mayweather's victories against Alvarez, Shane Mosley and De La Hoya and for Mayweather's pro debut against Roberto Apodaca.

3: Three of Mayweather's four titles will be on the line when he defends the WBA and WBC welterweight titles as well as the WBC junior middleweight title. The most recent time titles from multiple divisions were on the line in a fight was 1988, when Sugar Ray Leonard fought Donny Lalonde for belts in the super middleweight and light heavyweight divisions.

--Statistical support provided by CompuBox
August, 19, 2014
Aug 19
1:18
PM ET
By
Brian Campbell
| ESPN.com

There was a certain refreshing nature to the way England's Kell Brook soundly defeated Shawn Porter on Saturday to capture his welterweight title.

It wasn't just the convincing nature of Brook's performance or the fact that his victory announced -- somewhat unexpectedly -- a new player at 147 pounds in boxing's undisputed glamour division.

The victory by Brook, 28, was extra sweet because it came within the grounds of a disturbingly rare meeting between unbeaten titlist and unbeaten challenger.

Brook (33-0, 22 KOs), who saw his shot against then-titleholder Devon Alexander fall apart three times due to injuries sustained to both fighters in the past two years, was able to challenge for the belt held by Porter (24-1-1, 15 KOs) because he was the mandatory. Without that distinction, it's fair to question whether Brook would have had that chance in this spot.

After an almost dream-like 2013 for boxing, the first eight months of 2014 has seen the sport devolve back into a state of slow-play matchmaking and promoters not working together. Outside of an unforeseen surprise like Bernard Hopkins-Sergey Kovalev, fights like Porter-Brook have been few and far between in a year dominated by high-profile mismatches and too many pay-per-views.

Brook's victory over Porter, however, reminded us of how important it is to get the kind of fights whose sole purpose are to give us answers regarding which fighter is truly for real.

With that thought in mind, here are the top five fights that can realistically be made in the welterweight division. Forget the idea of a Floyd Mayweather Jr.-Manny Pacquiao bout or anything else directly blocked by network exclusive deals or promoters and advisers who don't play nicely. If those restrictions weren't already painfully in place, one could quickly concoct 10 matchups better than any you will see below.

But these are the five best matchups at 147 pounds that not only could happen in the next 12 months but really should. So let the involuntary shadowboxing begin:

5. Kell Brook-Keith Thurman

While an all-England showdown between Brook and Amir Khan would be a major superfight across the pond, this pairing would do a better job definitively answering which fighter truly is "next" in the welterweight division. Both fighters are unbeaten, poised and well-rounded. Where do I sign up?

4. Ruslan Provodnikov-Brandon Rios

There's certainly a bit of guilty pleasure associated with this fight between the two most unapologetically fearsome brawlers in the game. Yes, there would be blood. This would be one of those fights that you would tell three friends to tell three friends to tune in for. Violence and dramatic entertainment wouldn't just be a hopeful expectation in this case but a guarantee.

3. Danny Garcia-Amir Khan II

Garcia, the unbeaten recognized champion at 140 pounds, has plenty of big fight possibilities in front of him at junior welterweight against the likes of Lamont Peterson, Adrien Broner and a possible rematch with Lucas Matthysse. But with the weight cut becoming increasingly harder for him, a move up to welterweight is inevitable. What better way to make a debut than in a high-profile rematch against the exciting and vulnerable Khan, who had plenty of success in the early parts of their first meeting before eating a flush left hook from Garcia that he never recovered from.

2. Floyd Mayweather Jr.-Keith Thurman

The obvious reactions regarding whether Thurman is ready for a fight of this nature or if his résumé deserves it quickly fade when you look at Mayweather's current pool of prospective opponents within the division. We know we aren't going to see "Money" against the likes of Pacquiao or Timothy Bradley Jr., so when you factor in Thurman's game-changing power, balanced skill and bustling personality, the unbeaten interim titlist's unanswered questions only add to the prospective intrigue of the fight. While you are much more likely to see Mayweather, should he defeat Marcos Maidana in their Sept. 13 rematch, in lower-risk/higher-reward fights, a showdown with Thurman is not only easy to make but also the most interesting for Floyd on paper at 147.

1. Manny Pacquiao vs. Juan Manuel Marquez V

I don't want to hear about customer fatigue or the fact that the two fighters would be a combined age of 77 by the time this fight would be makeable again in 2015. This pairing, between top-five pound-for-pound fighters, still means something. Not only would the victor have a legitimate claim to having won this generation's greatest rivalry, but all four fights have been dramatic, action classics. In fact, their most recent bout -- Marquez's vicious one-punch knockout of Pacquiao in December 2012 -- was the best fight the sport has produced since Diego Corrales-Jose Luis Castillo I in 2005. This fight doesn't just make sense because, thanks to boxing politics, both fighters are without a better or more lucrative opponent in waiting. It's the best fight you could currently make in the division because it involves two all-time great fighters who bring out the best in each other like no one else can.
August, 17, 2014
Aug 17
11:09
AM ET
For a split second, Kell Brook must have felt like he was in the ring with Sakio Bika. Moments after his majority decision over Shawn Porter was announced, his promoter, Eddie Hearn, wrapped him in a joyous embrace as both rolled around on the canvas. But Brook survived his post-fight spill and will return to England a conquering hero, a nick over his left eye the only visible sign he'd been in a fight.
The Brook-Porter bout capped a long evening at the StubHub Center that also featured Anthony Dirrell's ugly decision over Bika and Omar Figueroa's sizzling TKO of Daniel Estrada. Brook's win was the most significant, Figueroa's shootout with Estrada the most exciting and Dirrell's MMA-style rumble with Bika the one we'd like to forget. Each bout told us something about the combatants. Let's see if we can figure out what.
1.Brook is almost ready:
Brook is now a player in the talent-rich welterweight division, and seems eager to take on all comers. A match with Keith Thurman would be excellent, but Kell is not yet ready for the likes of Floyd Mayweather Jr., Manny Pacquiao or Juan Manuel Marquez.
The logical next step would be a bout with fellow Brit Amir Khan, which would surely be a box-office bonanza in the U.K. Khan, of course, is still hoping for a fight with Mayweather, and has also expressed an interest in taking on Pacquiao. But it doesn't seem that either of those are going to happen anytime soon, and Brook is clearly his best alternative.
2. Porter enthusiasm wasn't enough:
Porter was as hyper as a kid who had overdosed on Halloween candy, while Brook was cool, composed and focused, just like an unflappable Englishman is supposed to be. His savvy movement, spearing jab, straight-as-an-arrow rights and judicious clinching blunted Porter's flailing attacks. And although he never stopped trying, Porter's enthusiasm and one-dimensional approach just weren't enough. Maybe he'll learn from his first defeat, but don't count on it.
3. Porter is not special:
We have at tendency to jump to conclusions and prematurely anoint a fighter as the next big thing, which is what happened with Porter, a likeable jumping bean of a slugger with a big smile and an aggressive attitude. His victories over Paulie Malignaggi and Devon Alexander -- a faded veteran and a reluctant dragon -- fooled a lot of people into thinking he was something special. But after the thumping he took from Brook, we know better. But that doesn't mean we won't make the same mistake again the next time a young fighter comes along and scores a couple of good wins. We believe because we want to believe.
[+] Enlarge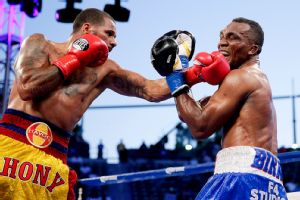 AP Photo/Chris CarlsonAnthony Dirrell won a super middleweight title by outslugging Sakio Bika.
4. Who knew Dirrell could fight dirty?
That's exactly what he did in his rematch with notorious brawler Bika. In their first bout, the slick-boxing Dirrell allowed "The Scorpion" to bully him just enough for the Australian tough guy to hold onto his super middleweight belt with a draw. But this time Dirrell almost matched Bika foul-for-foul in a rough and tumble affair, winning a unanimous decision in a fight that had harried referee Jack Reiss running around like the Mad Hatter.
5. Omar Figueroa is fun to watch, but for how long?
It wasn't quite as sensational as Figueroa's amazing decision over Nihito Arakawa in July 2013, but the way the Texas lightweight produced a thunderous right hand in the ninth round that ended Daniel Estrada's brave bid to take the title was reminiscent of some of Arturo Gatti's spectacular finishes. Figueroa's dramatic victory underlined his status as a must-see fighter, but how long he can keep winning vicious slugging matches remains to be seen. Let's appreciate him while we can.
June, 8, 2014
Jun 8
11:03
AM ET
By
Brian Campbell
| ESPN.com

NEW YORK -- After a surprising, dramatic and one-sided bout in front of a rapturous Madison Square Garden crowd in which Miguel Cotto captured the world middleweight championship from Sergio Martinez, here are five things we learned:

1. Miguel Cotto still has it
We knew an inspired Cotto under trainer Freddie Roach had the potential to be competitive with Martinez despite giving away size, speed and power. But could any of us have predicted an absolute drubbing from start to finish? Not likely. While the impact of Martinez's age and injuries certainly played a factor, that wasn't the prevailing storyline. This was simply a different Miguel Cotto, who entered the ring with a renewed level of confidence that he wielded like an ax to the tune of three stunning knockdowns in Round 1. Cotto set the tone for his workmanlike dismantling of Martinez by his stealth ring entrance -- set to silence with the house lights dimmed -- and put on a vintage performance at age 33.

2. The Cotto-Freddie Roach marriage is a success
Cotto has never been immune to allowing outside-the-ring drama affect his performance inside of it. He also has never been afraid to switch things up in his corner at any time. Yet throughout his career, a happy Cotto has often meant a successful one, and there's undoubtedly a unique comfort level between him and Roach -- a "player's coach" who has gained Cotto's respect and focus.

Not only was Roach successful at resurrecting the Cotto of old, he appears to have melded the attacking style of Cotto's younger dyes with the more refined boxer he became in recent years under the tutelage of Cuban trainer Pedro Diaz. The result was a version of Cotto who was equally adept at using his footwork to avoid Martinez -- never allowing him to develop his swagger by getting into a rhythm -- as he was able to stand and trade with him to destructive results. Cotto landed an astonishing 54 percent of his punches and did much of his damage with a looping left hook to the head that repeatedly exploited Martinez's tendency to keep his hands too low. Roach's preparation in terms of conditioning also prevented Cotto from the kind of late-fight fade that played a factor in each of his four defeats.

3. The end is very near for Sergio Martinez
Martinez showed tremendous heart to survive the storm of three first-round knockdowns and keep coming until his corner had seen enough before the start of Round 10. But this simply wasn't the same fighter whose speed and elusiveness defied his advancing age in recent years. With his twice surgically repaired right knee compromising his mobility, Martinez looked every bit of his 39 years of age. The end is often abrupt for fighters such as Martinez, who rely on athleticism and a Houdini-like style above sound technique (see Roy Jones Jr.). Roach's postfight comments were a harsh yet accurate summation of his growing vulnerability: "[Martinez] is a great athlete, yes. But I never thought he was a great boxer. You can't fight with your hands down and think you're going to be able to win fights."

With one fight remaining on his lucrative deal with HBO, you can expect to see Martinez at least once more in some form of an orchestrated farewell. Martinez stayed true to form as a stand-up champion and person by offering no excuses in defeat, but his brief and memorable run as an unlikely middleweight king and one of the sport's true elite has come to an end.

4. The Garden is still the mecca of boxing
After taking more than a year off for renovations, Madison Square Garden made an epic return to big-time boxing as Cotto once again headlined the big arena on the night before New York's Puerto Rican Day parade. There's still a certain level of electricity about a big fight between two stars at "The World's Most Famous Arena" that can't quite be duplicated in Las Vegas or beyond. And with Cotto, the arena's No. 1 tenant, able to reawaken his career at the highest level -- along with the rise of a potential replacement and possible future opponent in middleweight titlist Gennady Golovkin -- one can expect to see MSG pick up where it had left off. Cotto's raucous welcoming committee, fueled on by his unexpected trio of early knockdowns, provided the soundtrack for an intoxicating atmosphere that was boxing at its very best.

5. Boxing is simply better with Cotto in the mix
Boxing is a sport whose potential for crossover appeal relies almost exclusively on the dynamic qualities of its stars and their ability to make marquee fights. And with the majority of the biggest names pushing closer to 40 than their absolute prime, the arrival of a resurgent Cotto on Saturday can only be viewed as a positive for the sport. Fresh off a historic victory and armed with one of boxing's few remaining glamour titles as the lineal middleweight king, Cotto has plenty of attractive options moving forward. Not only does his status as a promotional free agent make it easier for fights to get made, the Puerto Rican star brings with him one of the sport's most passionate fan bases. Whether it be a crossroads showdown with rising star Canelo Alvarez in another chapter of the epic Mexico vs. Puerto Rico rivalry or a marquee rematch with pound-for-pound king Floyd Mayweather Jr., Cotto will satisfy fans' desire for the kind of significant fights between stars that attract a casual following. And with a new division of potential opponents in his future, his willingness to dare to be great and take on the very best provides Cotto with a throwback quality that fans covet.
May, 4, 2014
May 4
10:10
AM ET
By
Brian Campbell
| ESPN.com
So, it looks like we've got a new blueprint on how to defeat Floyd Mayweather Jr., right?
Well, not exactly, mostly because Marcos Maidana, despite an inspired performance, was unable to come away with a victory over Mayweather (46-0, 26 KOs) on Saturday in their welterweight title-unification bout at the MGM Grand Garden Arena in Las Vegas.
But Maidana (35-4, 31 KOs), who lost by majority decision, clearly provided the pound-for-pound king with his toughest fight since Mayweather's victory over Jose Luis Castillo in their first meeting in 2002.
So how, exactly, did this 12-to-1 underdog nearly pull off a performance most felt was improbable against the unbeaten Mayweather?
Well, he did it with volume punching and by showing an outright lack of respect for Mayweather, above all else. But he also benefited from a perfect storm of other factors that conspired together to provide fans with the most exciting Mayweather fight of his career.
Let's take a look at how Maidana was so successful:
Relentless activity
We all knew Maidana's best shot at finding success would come by cutting off the ring and smothering Mayweather with a flurry of awkward punches from various angles. What we didn't know was that Maidana would still be fighting at relatively the same pace for the entire 12 rounds.
Maidana never buckled under the mental and physical fatigue that inevitably comes once Mayweather's patented midfight adjustment opens the door for him to land a series of flush right hands to the face. The Argentine slugger was able to do that by maintaining a hellish pace and overwhelming Mayweather with volume, which never allowed him to properly set himself or get comfortable for a prolonged time.
Not only did Maidana set a record for landing the most punches against Mayweather (221) in the 38 previous fights tracked by CompuBox, he also threw an astounding 858 punches in all, which was more than double those of Mayweather.
Outside of Castillo, only three Mayweather opponents proved able to produce legitimate success against him over a period of at least three to four rounds. But none of them -- Zab Judah (444), Oscar De La Hoya (587) and Miguel Cotto (506) -- proved able to match Maidana's output, and that was the difference.
Playing dirty
Veteran referee Tony Weeks had his hands full attempting to separate the two fighters and curb both men's low blows, holding, head butts and forearms.
Although Weeks was vocal in his warnings, he never took away a point from either and allowed the fight to remain physical, which played into Maidana's hands.
[+] Enlarge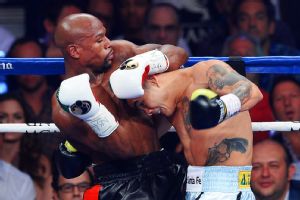 Ethan Miller/Getty ImagesMarcos Maidana, right, used every trick in the book... as did Floyd Mayweather Jr.
Not only did a fourth-round head butt open up a cut above Mayweather's right eye for the first time since early in his career, Maidana's mugging style consistently backed Mayweather up to the ropes and forced him to fight on the inside.
Mayweather was vocal in his disapproval of Weeks' performance after the fight, claiming it allowed Maidana an opening to consistently foul. And there's little question it played a major role in Maidana's success.
Ricky Hatton's attempt at a similarly aggressive style against Mayweather in their 2007 fight was mainly kept in check by referee Joe Cortez's quickness in breaking the fighters apart each time they clinched. This time, Mayweather wasn't so lucky, allowing Maidana chances to hit on the break and be physical at close range.
Distractions, distractions
Mayweather maintained after the bout that he wanted to give the fans their money's worth by standing and trading with Maidana instead of outboxing him from distance.
Sound familiar? It should. It's the same stance Mayweather employed after his last relatively close fight against Cotto in May 2012. And both times it wasn't believable.
The fights share a common parallel in the sense that Mayweather appeared to be battling outside the ring distractions in both, which likely played a major role in both fights being so competitive.
While Cotto certainly exceeded expectations against Mayweather two years ago, it can't be ignored that Mayweather entered the ring one month before serving a three-month jail term. And the buildup to Saturday's fight against Maidana appeared to have the same affect on Mayweather.
Not only was he enduring the aftermath of a reported breakup with his ex-fiancée, there also was a prefight glove controversy with Maidana and the lingering rumors of a rift between Golden Boy's De La Hoya and Richard Schaefer.
Exactly how all of that affected Mayweather is uncertain. But he talked of a possible retirement in the final news conference days before the fight and appeared both emotional and distant in many of his public appearances, often speaking of his career in the past tense.
Yes, Mayweather could very well be slowing down just a bit at 37. And, yes, Maidana clearly performed at a level much higher than anyone expected. But even though Mayweather impressively dug deep to come away with a victory, this wasn't the same fighter who pitched near shutouts in 2013 against Robert Guerrero and Canelo Alvarez.
Whether the reasons for Maidana's success can be attributed to anything written above or reflect more on the fact that he employs a style that was always meant to give Mayweather fits only remains to be seen should the two do it again this fall.
But Maidana clearly found success where others have failed before him, even if he benefited, in part, from the stars aligning perfectly in his favor. Either way, he forced Mayweather, who landed 54 percent of his punches overall and 65 percent of his power shots, to prove once again why even in his twilight, he's still the best in the game.
February, 16, 2014
Feb 16
8:20
PM ET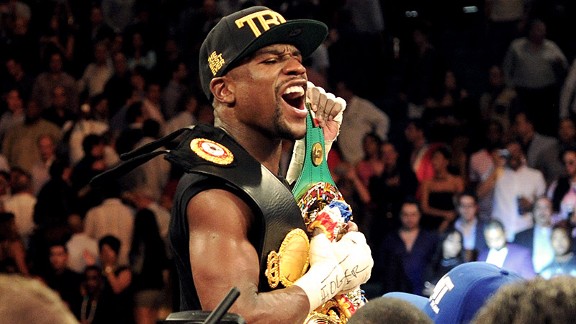 Jayne Kamin-Oncea/USA TODAY SportsFloyd Mayweather has to decide soon on an opponent for his next fight.
Amir Khan or Marcos Maidana? Marcos Maidana or Amir Khan?
They are who it is down to for welterweight champ Floyd Mayweather Jr.'s next fight on May 3 (Showtime PPV) -- unless he pulls a shocker out of his hat. Rumors circulate daily as to who will get the fight. Fight fans are going crazy about it and media is on the daily watch.
It does seem a bit later than usual for Mayweather to announce his opponent. For some May fights he has announced his opponent as early as December.
Whatever is going on behind the scenes it is clear Maidana and Khan both want the fight and both have said so. Over and over. Of course, I am on record strongly believing that Maidana deserves the fight far more than Khan because of their recent performances inside the ring, especially his dismantling of Adrien Broner to win a welterweight title in December.
Whatever happens, Golden Boy chief executive Richard Schaefer told me on Saturday that no deal was done yet for either guy -- contrary to those rumors -- and he also shot down the persistent rumor that the guy who didn't get the fight with Mayweather would be facing Broner on the pay-per-view undercard.
"No, not at all," Schaefer said of Broner facing either Maidana or Khan on the card. "Floyd's fight is not done either. ... I am waiting on Floyd but have a pretty good idea on what's going to happen and what the undercard will look like."
In any event, Team Maidana tried to set the record straight for the moment and issued a statement on Sunday.
"Considering that rumors have been circulating in the last few hours addressing a 'done deal' fight between WBA welterweight champion Marcos Maidana and WBC champ Floyd Mayweather Jr., we want to clarify that those versions are not accurate," the statement said.
"Maidana is well aware that he is indeed a firm candidate to face Mayweather Jr. next May 3rd, but the fight is far from being made or confirmed as other fighters are still also in the mix. Hopefully, we will have news in the next few days but, in the meantime, we don't want to confuse the fans or the boxing press. Maidana, of course, wants to unify titles with Mayweather, but for now we will have to wait."
Wait like the rest of us.
September, 12, 2013
9/12/13
2:38
PM ET

On a personal level, fight week is a milestone of sorts because it marks 10 years since I was first credentialed for a fight. That fight was the rematch between Oscar De La Hoya and Shane Mosley, and a few weeks before the bout, I was in Big Bear, Calif., for a media day at both men's training camps. That was where I met a young Las Vegas-born junior welterweight prospect named Ishe Smith, who was sparring with Mosley.

I had no intention of covering boxing on a regular or ongoing basis. My intent was to write a book on boxing and Las Vegas, and to that end I focused on a number of Sin City-based boxing figures -- cutman Stitch Duran, referee Joe Cortez and ringside physician Margaret Goodman, among others -- as well as a trio of Vegas boxers at various stages of their careers. One of them was Smith.

For the previous couple of years, Smith had been a mainstay of Guilty Boxing's Friday Night Fights, held once a month at The Orleans casino west of the Strip. But when we talked, he was moving up to the major leagues; he had been signed by Gary Shaw Promotions and had recently appeared for the first time on Showtime's ShoBox series.

A good technician who was adept at working the body, Smith looked destined for a title shot, but things didn't quite work out the way he planned. I was ringside in Santa Ynez, Calif., when he scored a tough, close win over Randall Bailey -- an impressive win for a young fighter, but one that wasn't aesthetically pleasing or clear cut. Then his relationship with Shaw cratered acrimoniously, and Smith was a man without a promoter.

By this stage, my book project had foundered, but I had been bitten by the boxing bug and continued to write from ringside. And I stayed in close touch with Smith, who told me one evening at a Guilty Boxing card that he had been approached to participate in a reality show called "The Contender." He had some doubts about the project but went ahead with it anyway, and although he didn't win the Contender title, he became one of the show's standout stars.

Then it all slowly unraveled. He parted with the people behind the "Contender," was signed by Golden Boy, lost an ugly bout to Sechew Powell, was released by Golden Boy, signed with Lou DiBella, lost a few other fights, went a long time between bouts and was released by DiBella, who said he was having a hard time getting Smith fights and suggested he may find more success with someone else.

By this stage, Smith and I weren't in touch as much. He was adrift, his family life in turmoil, his career stalled. For a while, his thoughts turned suicidal, and even when he emerged from that darkest of places, he had all but resigned himself to being finished with boxing.

Then, suddenly, everything turned around again. Floyd Mayweather Jr. hired him to spar prior to Mayweather's bout with Miguel Cotto last year. Then Mayweather signed Smith to Mayweather Promotions and promised to get him a title shot. A couple of wins led to a bout with Cornelius Bundrage in Detroit earlier this year, and with Mayweather in attendance, Smith finally achieved his dream of becoming the first Las Vegas-born fighter to win a world title.

Now here he is, on hometown soil, about to defend that title against Carlos Molina on the biggest boxing card in years. Ten years after we first met in Big Bear, I interviewed him once more, in a packed MGM Grand lobby.

That book of mine? Never happened. But for Smith, everything finally turned out right. The path may have been much longer and more tortuous than either of us might have expected a decade ago, but the destination wound up better than he could ever have imagined.
September, 12, 2013
9/12/13
11:26
AM ET
By
Brian Campbell
| ESPN.com

A great deal of the talk surrounding whether Canelo Alvarez truly does have a shot at staying competitive with Floyd Mayweather Jr. on Saturday has centered around Alvarez's breakthrough April victory over Austin Trout.

Stepping up against top-end competition for the first time against the fellow unbeaten Trout in a junior middleweight title unification bout at a sold-out Alamodome in San Antonio, Alvarez showed different facets of his ever-expanding arsenal that, frankly, we didn't know he had. The rising Mexican star utilized head movement and heavy counterpunching to claim a decision that most felt was closer than the judges' scorecard indicated.

Still, the victory was an impressive one for Alvarez, who implemented a game plan and had the poise to carry it out to completion against a difficult southpaw.

But if you're wondering whether Mayweather was impressed by what he saw out of Alvarez while watching at home ... he wasn't.

"That fight was a lot closer than people had," Mayweather said during Wednesday's final news conference. "But it's a business, also. The fight was extremely close, I thought. But they had the open scoring and the scoring wasn't right. If [Alvarez] did win, he probably only won by a couple of points."

The talk quickly centered around whether Alvarez's win over Trout at 22 years old was an achievement comparable to a then-21-year-old Mayweather winning his first world title in 1998 by stopping Genaro Hernandez at 130 pounds.

"OK, [Trout] got a close fight against [Miguel] Cotto, but who else has Trout beaten?" Mayweather said. "Trout came in and fought one fight and as easy as he came in, [now] we forget who he is. I don't think Trout is no Genaro Hernandez. And at that time you also had Angel Manfredy [who Mayweather stopped two months later]. I fought the two top guys, back to back, at 21."

Mayweather turned many questions on Wednesday into a platform for him to call out Alvarez's resume as a major factor toward him not being ready to face a fighter of Mayweather's caliber.

"I guess [Alvarez] is a good boxer-puncher, but I don't know if he has faced the same competition as [Juan Manuel] Marquez," Mayweather said. "That's how you weigh the situation. I look for certain things and that's how I go into a fight. Has he fought the same caliber of fighters as Cotto has? That's how you look at it.

"[Alvarez] fights Miguel Cotto's brother, but he don't fight Miguel Cotto. He fights Ricky Hatton's brother, but he don't fight Ricky Hatton. Really, just go back and do your homework."
February, 3, 2012
2/03/12
4:07
PM ET

We know that Manny Pacquiao and Floyd Mayweather Jr. won't be fighting each other in the first half of 2012. And we know who Mayweather will be fighting instead on May 5: Miguel Cotto.

So that leaves one part of the spring-season super-duper-star equation left to be revealed, and that's PacMan's June 9 opponent.

Initially, the list of options included four names: Cotto, Juan Manuel Marquez, Timothy Bradley Jr. and Lamont Peterson. Then Mayweather's name was added. Then it was scratched out. Then Cotto crossed himself off.

That leaves three. All indications coming out of every corner of the boxing world suggest that it will be officially announced next week that Bradley will get the assignment.

Nothing against Bradley, an excellent fighter by any measure, but it's time to say what not enough people seem to be saying: This fight should have gone to Marquez. In every conceivable way, he's a better opponent for Pacquiao than Bradley. In fact, as he's proven repeatedly, he's a better opponent for Pacquiao than anyone not named Floyd Mayweather.

In terms of entertainment value, every Pacquiao-Marquez bout is a fight of the year candidate. Every Bradley bout is a technical draw candidate.

From a business perspective, Marquez is the fourth-most bankable name in boxing (behind Pacquiao, Mayweather and Cotto) and his third fight with Pacquiao last November generated an estimated 1.4 million pay-per-view buys. Bradley doesn't have a fan base, meaning a Pac-Bradley pay-per-view will draw however many buys the Filipino legend can draw with just his name and face on the poster.

With regard to who deserves the fight more, the majority of fans believe Marquez deserved the victory over Pacquiao last time out -- in a fight nearly everyone expected PacMan to win by knockout, by the way. Bradley is the top-rated junior welterweight in the world, but his lone fight in the past 12 months, against a used-up Joel Casamayor, hardly qualifies him for a shot at the people's champ.

Looking at what's best for the fans, for fairness and for the folks counting the receipts, it's Marquez over Bradley all day long. So why was Marquez never given serious consideration for a fourth fight with Pacquiao in June? Why was Cotto the frontrunner initially, and why is it Bradley now?

The only explanation that makes sense is that Marquez fought a little too well for his good in November. Say what you will about Bob Arum and his team at Top Rank, but there are no dummies working in that Las Vegas office. Goal No. 1 is to not let Pacquiao lose (except maybe against Mayweather, when Manny is a fight or two away from retirement). And with Marquez, the third fight illustrated that at any weight and on any date, JMM gives Pacquiao fits.

Again, there's nothing wrong with a Pacquiao-Bradley fight. The man known as "Desert Storm" is a top-10 pound-for-pounder and a credible foe.

But he's no Marquez. Not in terms of name value, not in terms of in-ring excitement and not in terms of what's best for the sport.

I guess the Mexican master was never getting a fourth fight against Pacquiao, no matter what transpired last November.

If Marquez had gotten bowled over, as many predicted, it would have provided a conclusive end to their trilogy.

Instead, we got an ending inconclusive enough to ensure that another chapter won't be written.
November, 17, 2011
11/17/11
1:55
PM ET
By
Igor Guryashkin
| ESPN.com
Within the bowels of the MGM Grand in Las Vegas, amid the furor regarding the unpopular decision to award Saturday's main event to Manny Pacquiao, fans and press alike have had a swath of issues to debate.
Let's get one thing out of the way: Pacquiao lost on Saturday. Yes, he lost. Although the record books will forever show a "W" on the ledger and his bank account is accordingly larger, in every other sense, this weekend was a humbling experience for boxing's one true transcendent star.
Pacquiao maintained that he took a third fight with Juan Manuel Marquez to definitively settle the issue of who won their previous two bouts, which had been ruled a draw and a split decision in Pacquiao's favor. On both occasions, large enough sections of the gladiatorial gallery had crowned Marquez the winner, making it an eternal niggling asterisk on the Filipino's Hall of Fame CV.
So how vehemently vexing it must have been for Pacquiao to be interviewed amid an ocean of jeering after the judges awarded him yet another victory against his most capable foe.
Freddie Roach, Pacquiao's trainer, along with the majority of the press corps, claimed we would see a knockout. We didn't. Marquez's age and bloated size would be vanquished by the younger, lithe and mercurial Pacquiao, many asserted. Not the case.
But the real cherry on this not-so-trifling matter is that Pacquiao's camp now seems to be
avoiding a fight with Floyd Mayweather Jr.
, something the boxing world has lusted after for years. The two have been verbal sparring partners of late and have fought pitched battles in the courts, but it seems perhaps the war -- in the media at least -- may have been won by Mayweather.
Marquez showed us a glimpse of the solution to the Pacquiao algorithm, one that will likely be solved if Mayweather and Pacquiao ever square off in the ring. And although Pacquiao walked away on Saturday with at least $22 million, 28 stitches and the official win, some losses perhaps are harder to quantify.
Pacquiao Khan't beat Marquez
When your own sparring partner and training stablemate thinks you lost, it's probably a bad sign. With the rigmarole of Saturday's boxing circus unwinding, light welterweight supremo Amir Khan chose to pipe up.
"He's got away with it against Marquez,"
Khan told The Daily Mail
. "Even I had him losing by two rounds. He's my friend and I'm happy for him that he won. But for his sake, we have to be honest. He would not beat Floyd Mayweather on this performance."
Rumors abound that the longtime sparring partners are now banned from sparring in case Khan becomes an option for Pacquiao further down the line. For Khan, he sees good reason for these drastic measures.
"Well, let me just say that in our sparring lately, he's not the one getting the better of it."
Trout has no doubts
For those wondering who might face the winner of the Dec. 3 battle between Miguel Cotto and Antonio Margarito,
look no further than Austin Trout
.
Who? Yes, that's right. For the less hard core among you, Trout's waist is adorned with a rather meaningless WBA junior middleweight belt. But more meaningful is the fact that Trout is fast, hard-punching and willing to travel anywhere to seek out fights -- something he has done with little fanfare and that has ensured he remains one of boxing's best-kept secrets.
After Trout made his successful network debut last week, his manager, Greg Cohen, announced he expects his fighter to face the best in the division.
"If [Cotto or Margarito] choose not to fight us and vacate the belt, then we'll be the only ones with a rightful claim to be WBA champion," Cohen said. "In that case, we'll make our mandatory against [Anthony] Mundine in a fight that would have not only all the new fans Austin made over the weekend, but the entire continent of Australia also buzzing the day it was made."
Manfredo mans up
In a sport that oozes bravado, honesty and realism can sometimes be the most refreshing of tonics. Peter Manfredo Jr., a fighter who has always tried to maximize his self-confessed limited gifts, will take on Julio Cesar Chavez Jr. on Saturday in a middleweight bout at the Reliant Arena in Houston.
Having often faced the best, including Joe Calzaghe, and having come up short,
Manfredo knows that his shot against Chavez is his last shot at glory
and looks at the opportunity in the most endearing of ways.
"I've been very satisfied with my boxing career," Manfredo said. "I was an unknown kid from Providence, R.I. I was not a great amateur boxer. If I lose, I hang it up and concentrate on being a good father to my kids."
Refreshing indeed.
Tweet of the week
@JRoche3MR: "Bradley wins the second, if we're lucky Casamayor will headbutt himself unconscious soon and end this"
November, 10, 2011
11/10/11
9:35
PM ET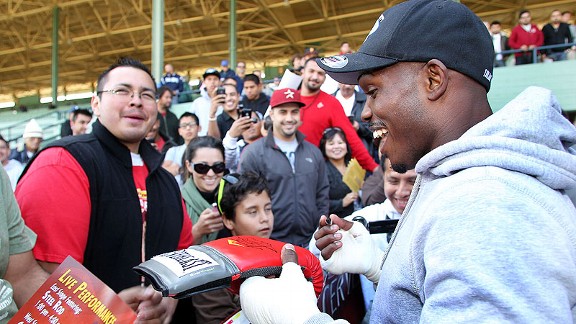 Chris Farina/Top RankTimothy Bradley Jr. is hoping for more big fights and, ideally, more mobs of adoring fans.
Timothy Bradley Jr. is angry.
Don't take my word for it. He says so himself.
"I've been angry for the last eight or nine months," he told reporters at the MGM Grand on Thursday. "I've been angry. I've got a chip on my damn shoulder, I really do."
What is he angry about? Well, how much time have you got?
For one thing, he is angry about what he continues to feel was the ineffective way he was promoted in his career prior to joining Top Rank, for whom he will fight his first fight, against Cuban veteran Joel Casamayor, in the chief support bout for Manny Pacquaio's clash with archrival Juan Manuel Marquez on Saturday.
"I felt like I was standing still. I've been standing still for a while. I've only fought twice in the last two years, guys. And I don't understand why," Bradley said. "I came off one of the biggest fights in my career [January's junior welterweight unification victory over Devon Alexander], and I didn't really move anywhere. Fighting the Devon fight didn't do nothing for my career, man. Nothing. Didn't do anything for me. I don't know, man. This boxing game can be tricky, it can use and abuse you. Only the strong survive in this game, and I've learned that now."
Signing with Top Rank, Bradley believes, will give him the push over the top so that he receives the acclaim and fame he clearly thinks he deserves. "I've got a true, real-life promoter now that's going to push me and push me and push me to be superstar in this game," he said. "I'm a three-time world champion. I shouldn't be able to walk down these dang corridors right here. People should know who I am. People should know exactly who I am. I'm a three-time world champion."
But that isn't all. If not angry exactly, Bradley is certainly unhappy about the fact that, as he puts it, "I'm still fighting for respect."
"All the criticism, everything everybody said about me, I want to prove everybody wrong," he said. "People saying I don't deserve a shot at Manny, don't deserve a shot at this, or I'm going to get knocked out: Prove it to me. I don't fear any man. I don't. I don't fear Joel Casamayor. Do I feel he's a threat? Absolutely not. I'm going to destroy Casamayaor on Saturday. Period. Hands down. There's nothing he can do to beat me."
Bradley does, however, acknowledge that he lost a fair deal of the respect he had built up when he turned down an offer to fight rival titlist Amir Khan earlier this year. But as he insists, "I'm going to win it all back. I probably have lost respect from fans, yeah. Even after the Devon fight, people lost respect for me. But it's OK, it's alright."
That path begins Saturday, with a bout he recognizes he needs to win impressively to grab people's attention and perhaps put himself in line for a bout with the man who headlines Saturday's pay-per-view show:
"It's been a while," Bradley said. "This is serious business. I'm ready to go, man. Casamayor, I respect him. I respect him as a fighter, but his time is over. It's Timothy Bradley time. It's 'Desert Storm' time. I'm in the best shape I could possibly be in, man. There's nothing that I fear. There's no one that I fear. I don't fear anybody. Manny Pacquiao, Floyd Mayweather -- I'm ready for anybody. Any time. Right now, man. I'm ready. And I'm going to have a great performance Saturday night. I feel it. He can't stop me.
"I'm stronger than ever. Everything that I went through these last nine months has made me strong. My character is stronger than ever. I've grown. I've grown a heckuva lot, man. I'm a little emotional right now because I want it. You know what I'm saying? I want it."
November, 8, 2011
11/08/11
9:37
PM ET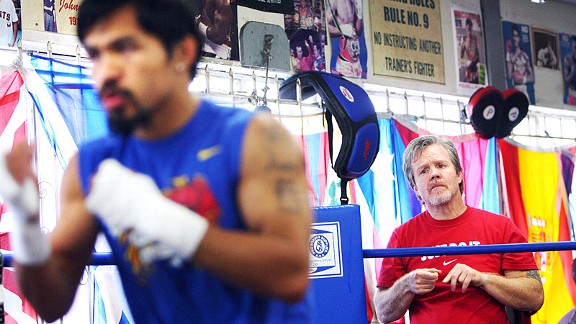 Chris Farina/Top RankTrainer Freddie Roach, right, sees only one challenge for Manny Pacquiao beyond Juan Manuel Marquez.
Manny Pacquiao's trainer, Freddie Roach, is confident that his fighter's third encounter with Juan Manuel Marquez at the MGM Grand on Saturday will be the most entertaining yet. The reason, he says, is that Marquez, who has lately been campaigning as a lightweight, has apparently been adding muscle to make the 144-pound limit for this fight.
"Marquez has become a more fan-friendly fighter; he isn't strictly a counterpuncher anymore," Roach told reporters at the MGM Grand on Tuesday. "Let's face it, when you put muscle on, you put muscle on for one reason, and that's to exchange. I like that. If he wants to exchange with us, I think that's great. He's getting ready for a big fight. He used to be a pinpoint counterpuncher, and I think the muscles are going to hurt his counterpunching but help in the strength area, and so I think he's going to fight us. This will be the best of the three fights with the way both these guys are getting ready, in my mind.
"He's going to come and use his power the best he can. I think he's going to start quick and just go for it, and that's why I'm going to have Manny warmed up really well and ready. [This fight is] going to be good for boxing because both guys are going to try their best and really, really go at it. This is a much more exciting fight than [Floyd] Mayweather."
That said, he acknowledges that a fight between Pacquiao and Mayweather is something for which fans are clamoring and is, candidly, after the Marquez bout, the only one that really interests him. But that doesn't mean Roach is equally enthusiastic about the potential opponent himself, or optimistic the matchup will ever take place.
"I don't see any other real challenges," he said. "I think that fight needs to happen, because it's the only challenge out there. I think about that fight, and it's a great challenge and all that, and everywhere I travel in the world, people are excited about that fight and ask me to make it happen. But I'm getting kind of tired of Floyd, to be honest with you. Shut up and fight or not. He wants to make the rules, he wants to dictate everything. We'll fight him any day of the week, under Nevada state regulations. Who the f--- is he to try and make the rules?
"[If he doesn't fight Pacquiao] there'll be a question mark after his undefeated record. He only fights guys he can beat, little guys and all that stuff. Now he's calling us 'the little fella.' I think he's referring to Manny, but I really don't know. He sends Leonard Ellerbe, his gopher, to make a speech. Who the hell's Leonard Ellerbe? Why won't Floyd say it himself? I'm just kind of tired of it. If that fight doesn't happen, I'm not going to cry."
November, 7, 2011
11/07/11
8:51
PM ET
The first and only time Juan Manuel Marquez fought as a welterweight, he was knocked down and dominated over 12 rounds by Floyd Mayweather Jr. in September 2009. Two years and two months later, he'll be in the same MGM Grand ring in Las Vegas, fighting as a welterweight for a second time. But this time he is confident the outcome will be different -- not just because he has fought Saturday's opponent, Manny Pacquiao, before and not just because he has taken a different approach to building himself up to the requisite weight.
"The biggest difference, obviously, is that Mayweather doesn't come to fight," he told a small group of reporters at the MGM on Monday. "He's a defensive fighter, he's not going to give you anything." By contrast, "Pacquiao is a great fighter, a spectacular fighter who's coming for you. We're going to be ready for him, and if he makes a mistake, we're going to make him pay for it. The other guy wouldn't make a mistake. He wouldn't fight."
It is, Marquez said, Pacquiao's relentless aggression that, as well as making for more compelling viewing, makes him a better fit for the way he fights.
"They always say that styles make fights, and I think my style happens to be difficult," he said. "All boxers have a difficult opponent, and I guess my style is the most difficult for Pacquiao."
It's a sentiment with which the fight's promoter, Bob Arum, agrees.
"It really comes down to the fact that the style of Marquez is such that it will always give Manny Pacquiao trouble," Arum said. "Manny only knows one style, and that's to attack, and Marquez is probably the best counterpuncher in boxing today, and he gets aggressive off the counterpunching. That will still be there, and Marquez has great recuperative powers."
Even so, Arum acknowledges that, for this upcoming third contest between the two men, Pacquiao will be the favorite, although he insists that it isn't because this bout will be fought at welterweight -- 17 pounds heavier than their last encounter -- a division in which the Filipino has been comfortable for two years.
"Now, if there's a difference in the fight, it is not the weight, it is not the strength, because Marquez has bulked up," Arum said. "The one reason why you have to favor Pacquiao is because when Marquez fought him the first two times, Pacquiao was a one-handed fighter. And now Pacquiao not only has a right hand, but his right hand is as powerful as the left hand, which means that he is, to my knowledge, the only fighter around today who is a true switch-hitter, who can hit as hard with the right hand as the left hand -- which, incidentally, Mr. Mayweather knows, and that's why he'll never fight him."
Marquez, however, is unfazed by any developments in Pacquiao's technique and style.
"Obviously he's changed over the years," Marquez said. "He uses his right hand more, he has a little more speed. But obviously I know all of that, so I've adjusted my work to that. My strategy is to nullify all of that."
Marquez remains convinced that he won both their previous encounters -- a draw in 2004 in which the Mexican recovered from being knocked down three times in the first round, and a split-decision loss in 2008 in which Marquez again visited the canvas, albeit this time only once. The second bout, Marquez believes, was a particularly clear win, a result of which he had no doubt. And indeed, anyone who was present at the postfight press conference can attest to the strength of aggrieved feelings within Camp Marquez that night. His countrymen and supporters, the fighter says, feel the same way, and they tell him so at every opportunity, a gesture of faith he intends to repay.
"They always tell me, you won the first two fights, you can do it again," he said. "All the fans tell me, do it for us; do it for Mexico. And that's what I do it for. I do it for me and my family, for Mexico and for all the fans who have always supported me."