Boxing:

Floyd Mayweather Sr.
May, 2, 2013
5/02/13
10:13
AM ET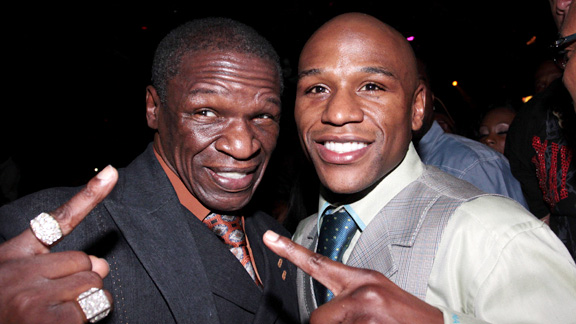 Johnny Nunez/Getty ImagesFloyd Mayweather Sr. has encouraged his son to focus on getting his rest throughout training camp.
LAS VEGAS -- After years of simmering turmoil that came to a boil with an emotional argument in front of HBO cameras in 2011, Floyd Mayweather Sr. and Jr. are -- for now at least -– reconciled, with Mayweather père returning to his son's corner for this Saturday's clash with Robert Guerrero.
But while the proximate cause of Floyd Sr. taking the place of his brother Roger as the younger Mayweather's trainer is Roger's declining health, the switch has also apparently resulted in a slight change of philosophy in the Mayweather Boxing Gym.
Call it "Hard Work, Relaxation."
"There's certain things only my dad may see in the camp," Floyd Jr. said in a laidback session with reporters at the MGM Grand on Tuesday. "For this fight, I made sure I got more rest. My dad said, 'You need the rest. And when you've rested, you can come back and box in the gym and you're going to look a lot better.' And he was right."
It's a situation he contrasts with the build-up to his most recent contest, a grueling 12-round win over Miguel Cotto in the same ring one year ago.
"I think I was overworked for the Cotto fight. I think I probably overtrained for the Cotto fight," Mayweather Jr. revealed.
And while he is legendary for his workouts and his fitness, he says there is one particular aspect of that camp that worked against him.
"I did more boxing for the Cotto camp. I'd come into the gym and one day I'd box 12 rounds and the next day I boxed another 12 rounds, and the next day I'd come back and do 10," he said. "And we're talking all of this within five days, so that's a lot of wear and tear on a body. But I shouldn't even have been making the mistakes I was making in the Cotto fight. I wasn't the best Floyd Mayweather. But I'm not crying or complaining. I got the job done."
May, 2, 2013
5/02/13
2:51
AM ET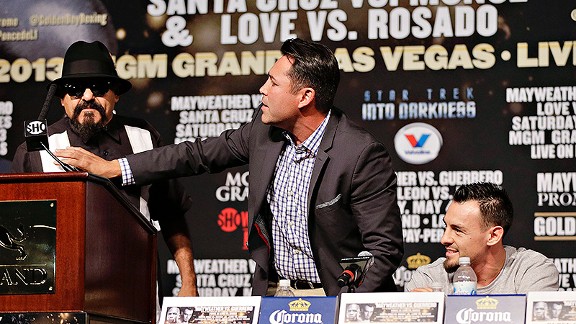 AP Photo/Julie JacobsonRuben Guerrero's comments on Wednesday had Oscar De La Hoya trying to hush him -- to no avail.
LAS VEGAS -- It was not exactly shaping up to be the most electrifying media conference of all time. Sponsors, promoters and broadcasters all took their turn at the podium, and the assembled media fidgeted and tweeted and waited for something interesting to happen.
And then Ruben Guerrero walked to the microphone.
"My son's blessed, I'm blessed," said the father and trainer of Robert Guerrero.
Fair enough, and all fairly uncontroversial so far.
"I'm the real deal, and I don't talk s---, baby, I back it up."
That, perhaps, suggested that the elder Guerrero had something more contentious in mind. Even so, the rapidity with which he accelerated the news conference from "Masterpiece Theatre" to "The Wire" took all in attendance by surprise.
"We're going to beat up that woman-beater -- the one that beat up his wife," Ruben suddenly proclaimed, a reference to last year's incarceration of Floyd Mayweather Jr., his son's opponent on Saturday, for domestic assault. "He beat up his wife in front of his kids. He must have learned that from his dad. We're going to beat that woman-beater."
That, unsurprisingly, prompted a retort from the aforementioned dad, Floyd Mayweather Sr., who began jawing at Guerrero from the audience, shouting at him to sit down and shut up, while the elder Guerrero continued to turn up the volume. After a period of stunned paralysis, promoter Oscar De La Hoya ushered Ruben away from the podium.
"It's OK, it's OK," he said.
Ah, but it wasn't.
After the news conference, Ruben Guerrero returned to his theme: "He's a woman-beater, man," he repeated to journalists. "He's talking s--- about my son, that he's a hypocrite. What about him? He's beating up women in front of his kids and then he's crying in jail? Be like a real man. Don't be crying."
And then Floyd Sr. emerged, as if from nowhere, flying toward Guerrero until he was tackled by promoter and light heavyweight champ Bernard Hopkins, who held him back as the two trainers/fathers yelled at each other.
"Hit me brother, hit me," shouted Guerrero. "Let's do it right now. You're scared, brother, you're shaking."
Robert Guerrero took it all in stride.
"He will throw down," the fighter said of his father, who was still taunting Floyd Sr., who in turn was yelling back at Ruben even as he was hustled away. "He's the real deal."
"Yeah, I can crack baby," exulted the elder Guerrero. "He ain't getting up if I hit him."
Amid the chaos, the two sons retained a detached calm.
"My thoughts are to think about the fight, not worry about what these guys are saying," Robert Guerrero said. "My job is to focus on what I got to do, to take care of my business in the ring."
"I don't have to sit here and bad-mouth his father," Floyd Jr. said. "Only God can judge me. I just say a prayer for him. I'm not upset at all."
The reason Mayweather's father was in the audience yelling at Ruben Guerrero and not up on the dais alongside his son was, said Mayweather, because he had asked him to sit down there expressly to avoid any possible conflict between the two men.
"I'm trying to avoid anyone getting hurt," Floyd Jr. said. "If I'm up here and my dad and his dad get to fighting, they fall on him or they fall on me, somebody's finger or something gets broke or something happens, somebody gets a cut, you're talking about millions of dollars going down the drain. You have to be smart."
February, 14, 2013
2/14/13
1:34
PM ET
Floyd Mayweather Jr. certainly knows how to make the most of social media. He doesn't just post random tweets of betting slips; he knows how to use 140 characters to stir things up.

One day, he's proclaiming that he's likely to fight Devon Alexander on May 4, despite all the evidence to the contrary. Then, yesterday he tweeted: "Me & my trainer (my dad) back working together getting ready for May 4th." To prove the point, there was a photograph of the two standing together, a scene that seemed improbable at best after their bust-up in the gym in front of HBO's cameras on "24/7" in August 2011.

The notion that the two Floyds might reunite in the corner had been mooted recently (even as Roger Mayweather -- senior's brother and, in recent years, junior's trainer -- struggles with health issues). So this is another twist in the ongoing saga of their personal and professional relationship. Of course, they are far from the only notable father-and-son corner team in boxing, and like parental-filial relationships elsewhere, they run the gamut. Here is a short selection of some of the more colorful, sometimes successful and sometimes painful case studies:

1. Roy Jones Jr. and Roy Jones Sr.

At times, the apparent dysfunction between these two has been enough to make Floyd Sr. and Jr. look like Bill Cosby and Malcolm-Jamal Warner (kids, ask your parents). On the plus side, Big Roy did teach his son how to box; against that, he also shot his boy's favorite dog. After years of personal and professional estrangement, Jones invited his father to work in his corner for the third fight against Antonio Tarver. When Jones lost that bout by a wide margin, he essentially said he didn't try to win because he didn't want his father to take the credit.

2. Nonito Donaire Jr. and Nonito Donaire Sr.

Donaire pere trained Donaire fils until an incident during training for the son's November 2008 fight with Moruti Mthalane led to the end of their professional relationship. Despite occasional talk of reconciliation, the father-son personal relationship, too, has become strained, at times very publicly so.

3. Danny Garcia and Angel Garcia

There doesn't appear to be any strain between Angel and junior welterweight titlist Danny. If anything, Angel's love for Danny at times verges on the overwhelming, as his extreme defensiveness of his son leads to intense verbal confrontations with Danny's opponents, including Amir Khan and most recently Zab Judah.

4. Shane Mosley and Jack Mosley

It's easy to forget now, but in 1998 Jack and Shane Mosley became the first ever father-son tandem to receive trainer of the year and fighter of the year honors from the Boxing Writers Association of America. But after losses to Vernon Forrest and Winky Wright, Jack and Shane -- who remained close personally -- broke up professionally before reuniting and breaking up again. They were slated for another reunion if Shane's putative bout with Paulie Malignaggi had taken place as planned this month.

5. Joe Calzaghe and Enzo Calzaghe

An unalloyed success: Enzo steered Joe to world titles at super middleweight and light heavyweight. And after Joe retired with an undefeated record, he and Enzo then formed a promotional partnership. Although Joe had well-documented personal troubles in his immediate post-retirement years, his relationship with his father has evidently remained strong.
June, 10, 2012
6/10/12
2:44
AM ET
LAS VEGAS -- For what it's worth, Floyd Mayweather Sr. thought Manny Pacquiao won.
Although Floyd Mayweather Jr.
reportedly wasn't able to watch Pacquiao
lose a highly controversial split decision to Timothy Bradley Jr. on Saturday -- the fighter is currently serving an 87-day jail sentence for reduced domestic battery charges -- his father was in attendance at the MGM Grand Garden Arena.
Mayweather Sr. said he wasn't scoring the fight round by round, but admitted it was fairly clear to him that Pacquiao was well in control. Two judges disagreed, awarding Bradley seven of the 12 rounds.
"I thought Tim Bradley put up one helluva fight," Mayweather Sr. told ESPN.com. "But I didn't think he won the fight.
"I didn't score the fight. I can just tell you, I knew Pacquiao won. I felt he won the fight. I felt like there was a gap, where you could see who was winning."
When asked if he could even make a case for Bradley winning the fight, Mayweather Sr. said he could not because he's not "a cheater."
The result of the fight likely means Pacquiao will exercise his rematch clause and meet Bradley again in November. It all but erases any shot of Pacquiao meeting Mayweather, a fight boxing fans have long pined for, in 2012.
Mayweather Sr., who no longer trains his son but has reestablished a relationship with him, acknowledged the likely rematch in November, but offered optimism -- from his perspective -- that a fight between the top two fighters in the world will still happen.
Speculating on his son's likely reaction to the news that Pacquiao lost, Mayweather Sr. shrugged.
"Floyd ain't thinking about it," Mayweather Sr. said.
"When [Mayweather and Pacquiao] are getting ready to fight, it's going to be as big as ever anyway. When they fight, it's going to be the biggest ever. I say when, because there's a good possibility that fight will take place.
Judges Duane Ford and C.J. Ross were the two Nevada State Athletic Commission judges who awarded the fight to Bradley. Judge Jerry Roth scored the fight 115-113 in favor of Pacquiao.
"I think they had their eyes closed," Freddie Roach, Pacquiao's trainer, said of the judges. "Something wasn't right, because what everyone else saw and what they saw were two different things."
The majority of those in attendance also heavily disputed the result. Top Rank's Bob Arum -- who promotes both Pacquiao and Bradley -- said it was "bad for the sport," and added he had never been so ashamed.
Pacquiao, when asked if he felt he won, responded, "no doubt."
Ringside statistics supported Pacquiao. Compubox stats reported Pacquiao outlanded Bradley in the fight 253 to 159, including a 190-to-108 advantage in power punches. Pacquiao landed 34 percent of his total punches, compared to Bradley's 19 percent.