January, 20, 2013
Jan 20
2:50
PM ET
By
Brian Campbell
| ESPN.com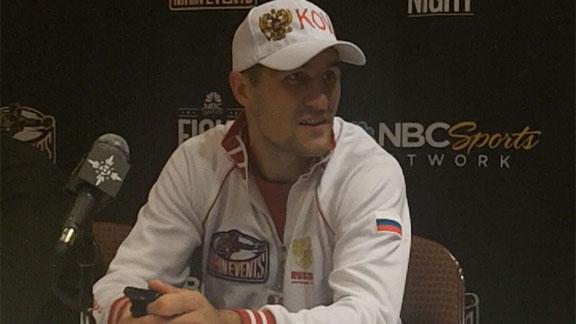 UNCASVILLE, Conn. -- As far as coming-out parties are concerned, unbeaten light heavyweight contender Sergey Kovalev's was something to behold on Saturday night.
In his first headlining role on American television, which doubled as his first significant step up in competition, the Russian-born Kovalev demolished the usually slick and elusive Gabriel Campillo via third-round stoppage at the Mohegan Sun Arena.
With a seek-and-destroy style and tremendous potential to become a TV-friendly fighter in the United States, Kovalev (20-0-1, 18 KOs), 29, had drawn subtle acclaim as a rising knockout artist with frightening power in both hands. But what we saw out of him on Saturday, in his third fight with trainer John David Jackson, was a complete dismantling of a game opponent.
Kovalev didn't just stalk Campillo from the opening bell with heavy combinations, he balanced his attack by mixing in the jab and going hard to the body -- a strategy that led directly to the second of three knockdowns in the third round.
"This kid dismantled Campillo by going to the body, just like we worked on," Jackson said. "Campillo was doubled over from them. In the past, Sergey was more of a headhunter. Now he understands that, as a professional, you have to go to the body. And with his punching power, his body shots are going to open up a lot of doors for him."
Jackson, a former junior middleweight and middleweight titlist who has previously trained the likes of Bernard Hopkins and Shane Mosley, was quick to point out that he never tried to change Kovalev's style since joining his camp, but has worked hard on refining his fighter's talents to complement his tremendous punching power.
"Sergey is a very intelligent and smart fighter," Jackson said. "He's learning that he can slow down more and sit down on his punches."
Kovalev was all smiles after the fight, happy to have made such a splash in a starring role. He'll no doubt gain a legion of new fans from the performance and should contribute right away to providing a shot in the arm for the light heavyweight division.
But while his power has thus far proved to be unavoidable in the ring, it could have the opposite effect outside the ropes, prompting potential opponents to sidestep him.
"It's going to be hard for Sergey to get the fights that he wants unless they are title shots or if they are mandated that he fight someone next for the No. 1 position," Jackson said. "No one wants to fight him, and the way that he destroyed Campillo tonight gave me further belief that they will not fight him unless they have to."
That's a bridge Kovalev will cross in time as he continues his climb toward a title shot. Meanwhile, he'll need to prove he's strong enough to continue toppling those in his path and slick enough to outbox the ones who won't go down.
"I don't know who will be next, but I'm ready for everyone," Kovalev said. "If you want to be the best, you need to box with the best opponents. If you want to be a champion, you must fight only champions. I think my next step will be a more important fight because I am here in America. This is, for me, an important win."
March, 13, 2012
3/13/12
1:52
AM ET

With about 40 seconds left on the clock in the spellbinding ninth round of Saturday's Orlando Salido-Juan Manuel Lopez rematch, Showtime analyst Al Bernstein asked, "Can you say Corrales-Castillo?"

Bernstein was, understandably, swept up in the moment and overstating the case. Only with the passage of time, with some distance and perspective, will the boxing world be able to accurately and unemotionally assess precisely where Salido-Lopez II ranks among the classics.

What we can say safely now is that it will at least be a contender for fight of the year. What we can also say with certainty is that the ninth round was the featherweight brawl's best stanza.

But what we most definitely should be saying is that the 10th round was the most indispensible round in terms of allowing Salido-Lopez II to possibly go down as a classic.

Was it as sensational as the ninth? No. But without the 10th, all 32 seconds of it, we wouldn't be talking about the thrills that Round 9 offered. We wouldn't be talking about the events of Saturday night in San Juan being good for boxing at all.

If not for Round 10, all we would be talking about is another atrocious decision soiling the night for a sport determined to sabotage itself at every turn.

Sixteen seconds into the 10th, Salido, his shoulders squared up after missing a left hand, connected with a right hook that stunned JuanMa. The Mexican followed up with a left uppercut, then a destructive right uppercut and finally a straight left hand that provided the directional force needed to send Lopez to the canvas. JuanMa's head rocked diagonally as he collided with the canvas, jolting from an alignment of left ear with left shoulder to right ear with right shoulder. The resilient Lopez got up immediately, but he was in a fog and referee Roberto Ramirez correctly waved off the contest.

Lopez was brave but outgunned, and for the second time in 11 months, Salido had TKO'd him. The right fighter had won.

And had Lopez survived the final three scheduled rounds, that almost certainly would not have been the case.

Through nine rounds, judge Denny Nelson had the fight even at 85-85. His colleagues, Michael Pernick and Cesar Ramos, both had the local fighter, popular Puerto Rican Lopez, leading 86-84. If Lopez had stayed on his feet and won just one of the final three rounds in the eyes of the judges, he was getting the decision. Yet he probably wouldn't have deserved it even if he'd swept all three of them.

A mere three weeks after Tavoris Cloud received a decision over Gabriel Campillo that was so astonishing that Cloud's mother fainted when Jimmy Lennon Jr. announced the winner's name, another major Saturday night fight on Showtime was tracking toward "everything you just watched means nothing" status.

Every sport has its controversies, its mistakes by officials that swing outcomes. But no sport promises as consistently as boxing does to suggest there is no link between performance and outcome.

Maybe Salido versus Lopez wasn't a total blowout. After all, Lopez scored the fight's only knockdown through nine rounds. But there was no doubt who was winning. At worst, Salido should have been ahead 86-84. Most observers had it more like 87-83 or 88-83. Yet on the judges' cards, Salido needed a dramatic rally to win. Good thing he delivered one.

The ninth round is the one we'll be talking about in December, come year-end awards time. But the 10th round is the reason we'll remember Salido-Lopez II as something other than a disturbing night for a periodically magnificent but perpetually mismanaged sport.