October, 29, 2013
10/29/13
2:38
PM ET
Bernard Hopkins gave the fans more than their money's worth on Saturday night in Atlantic City, N.J., as his rumble with massive underdog Karo Murat featured more trading and less finesse-based tactics than we've become accustomed to from the boxer formerly known as "The Executioner."
These days, Hopkins answers to "The Alien," in reference to his freakish, not-of-this-Earth career arc, which finds him fighting at the upper-most level of the sport at almost 49 years old.
[+] Enlarge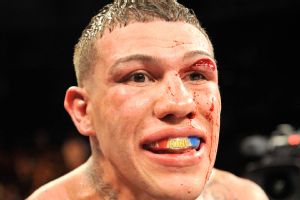 Joe Camporeale/USA TODAY SportsThe cut over Gabriel Rosado's left eye ended his fight early on Saturday, but should it have? "Maybe we have to sometimes save fighters from themselves," said Aaron Davis, the director of the New Jersey Athletic Control Board.
Fans at the Boardwalk Hall might have been surprised about Hopkins' spirited outing, but they likely weren't surprised by the controversy and postfight buzz stemming from some of the actions of the judges and a referee, however.
The card turned in by Kason Cheeks at the close of the Peter Quillin middleweight title defense against Gabriel Rosado had people scratching their heads. Cheeks scored the fight -- cut short when doctor Blair Bergen declared early in Round 10 that Rosado shouldn't continue because of a cut over his left eye -- for Quillin, 90-80. One and all I spoke to after the fight saw it closer than that.
The stoppage also sparked postfight discussion, with many observers thinking that perhaps Rosado deserved to get the green light to continue. After all, New Jersey was home base for Arturo Gatti, who several times was allowed to continue with just one functional eye.
Additionally, veteran referee Steve Smoger raised some eyebrows when he, among other things, shoved challenger Murat back during a break in action and generally seemed to be inclined to treat Hopkins with more regard than the challenger. I reached out to the director of the New Jersey Athletic Control Board, Aaron Davis, to get his take on these matters.
"It was, overall, a good night of boxing," he said. "Regarding the cut on Rosado, we are safety-first in New Jersey. The doctor did the right thing. He's been around forever. The cut was in a real bad place. Young fighters, they will get a chance to fight again."
Davis said he understands and respects Rosado's fervent desire to continue. But he also said that his mindset in such situations is, better safe than sorry. "Maybe we have to sometimes save fighters from themselves," he said. "Why should they mess up their whole career over one fight?"
As for Cheeks' card, Davis noted first and foremost that all three judges had Quiilin winning, so in effect all three were on the same page -- just different places on that page. "I thought there were a couple rounds Rosado may have squeaked those out, but Cheeks thought those went to Quillin," Davis said. "I'm not here to question him, but I will be talking to him this week, I will watch the fight with him and then make more of a determination after that."
Davis said Cheeks has been judging for about seven or eight years, has worked some smaller title fights and hasn't, to his recollection, been involved in any controversy. "He wouldn't be there unless he was a good judge," Davis said. "But right now, I don't think there was any wrongdoing. But I will talk to him to hash it out."
And then there was Smoger's work during the main event. At one point, the ref shoved Murat back, with some extra verve, it looked like, on a break. And when Murat tried to head-butt Hopkins after the final bell, Smoger gave him a face-smush shove and barked at him.
Davis said he got some postfight calls based on Smoger's actions. He said he didn't pick up on Smoger showing Hopkins more love during the fight, but he did notice him shoving Murat.
"I'd like a more hands-off approach, more verbal commands than hands-on," he said. "Even a guy like him has off nights. It's not the easiest sport to handle. But would I talk to him about it? Probably not. That's his way, old school."
October, 18, 2013
10/18/13
2:46
PM ET
Gennady Golovkin is smiling.
As the middleweight titleholder, he smiles a lot. Between the ropes, he is 160 pounds of intense focus and heavy-handed beatdown, but when the contest is over and -- as has been the case following every one of his 27 professional contests so far -- his hand is raised in victory, Golovkin's other side comes out.
[+] Enlarge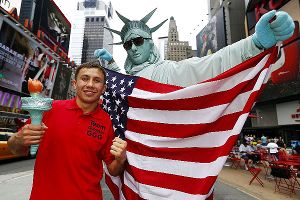 Will Hart/K2 PromotionsGennady Golovkin and his team have had plenty to be happy about since his campaign to storm the shores of U.S. boxing began in earnest in little more than a year ago.
The transition is easy for him to make, his trainer Abel Sanchez said, because, "this is a sport to him. He isn't mad at anybody."
That combination of devastating, in-ring presence and approachable, outside-the-ring demeanor has helped Golovkin rapidly evolve, in a remarkably short space of time, from a YouTube curiosity to one of the sport's rising stars. He's gone from a life of anonymity to one in which his ringside presence results in cries of "G-G-G!" and in which he can commandeer a corner of a Las Vegas hotel on a Saturday afternoon and play host to one journalist after another over the course of several hours.
Suggest to him that it must feel good to be recognized, to be appreciated for his personality as well as his boxing, to have become so popular so swiftly, and he gives a humble nod, shrugs his shoulders self-deprecatingly and then, unable to stop himself, breaks into that broad, beaming smile.
And yet, his arrival at this point has not been happenstance. It is the culmination of a plan that was set in motion years ago in Kazakhstan, when Golovkin elected to assert his authority as a result of being fractionally older than his twin brother, Max.
"From what I heard in Kazakhstan, this young man," said Sanchez, nodding toward Max, who is sitting next to his sibling, "was a better boxer growing up than Gennady. But because Gennady is the oldest ..."
"By 20 minutes," the slightly older Golovkin chimed in, with a grin.
"They would get to the finals of all these tournaments, and of course they wouldn't fight each other," Sanchez continued. "So Gennady decided that he would go on, and Max would go home and take care of their parents."
"The last seven years, I live with my family in Germany, and he lives with our parents in Kazakhstan," Gennady said.
The amateur experience that Golovkin (and his brother) gained in his homeland has proven -- literally -- fundamental to his success as a professional, Sanchez argues.
"One time, we fought in Kazakhstan, about three years ago," Sanchez said. "We knocked some guy [Nilson Julio Tapia] out in the third round. We're sitting at a luncheon the next day, and not counting Gennady, there were six ex-amateur world champions. There's no professional program in Kazakhstan, which is why he moved to Germany to pursue his professional career. But the schooling in Kazakhstan is incredible, and that's why he is who he is."
"Many different styles," Golovkin said. "Kazakhstan is very good, because it's middle. Not Europe, and not Asia. Sometimes, you go to Asia, like Philippines or China; sometimes you go to England, Germany, Russia. It's a mix all the time."
Golovkin's promoter, Tom Loeffler of K2 Promotions, asserts that although his fighter has gained headlines for his ability to render his opponents incapacitated, it's his adaptability, honed from years of amateur experience, that has enabled him to set up those knockouts.
"In his first fight on HBO, he was supposed to fight [Dmitry] Pirog, who was considered one of the stronger middleweights at that time because he had knocked out Danny Jacobs," Loeffler said. "So he went from Pirog to fighting [Grzegorz] Proksa three or four weeks before the fight [after Pirog withdrew because of injury]. Completely different fighter: Proksa's a southpaw, he moves around a lot. But we felt that because of his amateur experience, fighting so many different styles -- tall fighters, short fighters, fast fighters, whatever it is -- he's so adaptable to whoever he faces."
That fight with Proksa was surpisingly only about 13 months ago. It was Golovkin's introduction to the mainstream U.S. boxing audience, and since then, he has scored emphatic wins over Gabriel Rosado, Nobuhiro Ishida and Matthew Macklin to establish himself as a must-see fixture on the scene. It might seem like an overnight success, but Sanchez reckons it has been a long time coming.
"It was all planned," he said. "I'm not going to say we knew what would happen, but it was all planned. Last year, we sat down as a team and discussed fighting regularly, because we needed to get the ball rolling. He had enough experience that we didn't have to baby him. And he was willing to do it, that's the whole thing. He spent 10 months out of the year in camp. He has a four-year-old son and a wife at home. So if the athlete is willing to do it, it's easier for us as a promoter, a publicist and a coach to be able to do the things that we do, because he's producing. We're having a helluva ride."
On the other side of the table, Gennady Golovkin is smiling.
May, 3, 2013
5/03/13
4:26
PM ET
LAS VEGAS -- Floyd Mayweather Jr. and Robert Guerrero, naturally enough, steal the headlines. And the hard-core fans are salivating at the thought of Abner Mares tangling with Daniel Ponce De Leon. But Saturday's card at the MGM Grand also includes an intriguing middleweight battle between J'Leon Love and Gabriel Rosado.

Love, one of the higher-profile up-and-coming members of The Money Team -- Mayweather's promotional outfit -- has plenty of talent. But he hasn't yet been truly tested or faced top opposition. In his most recent outing, notable for the fact that Mayweather also served as his cornerman, Love endured some torrid times against tough-as-teak Derrick Findley.

He will take a major step up in class on Saturday when he squares off against Rosado, who turned down the opportunity to headline an ESPN2 card against Delvin Rodriguez to stay at middleweight and take on Love. Rosado, who has fought most of his career at 154 pounds, most recently moved up to 160 in a valiant but losing effort against Gennady Golovkin.
January, 17, 2013
1/17/13
2:42
PM ET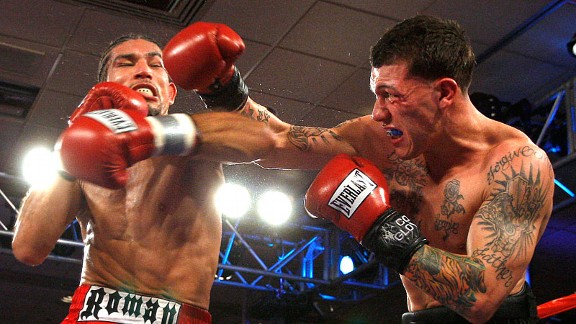 AP Photo/Tim LarsenGabriel Rosado, right, expects to provide a tough challenge for middleweight titlst Gennady Golovkin.
NEW YORK, N.Y. -- A casual fan will check out Gabriel Rosado when he appears at the Theater at Madison Square Garden on Saturday night, or on the TV screen of HBO's "Boxing After Dark" show, and they might think to themselves,
OK, he has his fight face on
.
He looks ready to rumble.
He's in shape.
His tats look menacing.
But then they'll drill down a tad deeper and check out his record.
Uh-oh, he's won 21 ... but he's lost five. And he only has 13 knockouts since turning pro in 2006.
Then that casual fan, a guy or gal who isn't on this page every day, will look Gennady Golovkin, the guy standing across from Rosado. They'll see an angel face and note that he looks like Justin Bieber's older brother. Then they'll see his record -- all gleaming, showy, stellar. He has 24 wins, zero losses and 21 knockouts.
Hmm ... I like the Bieber-faced kid
, many will decide.
They just might want to rethink.
Making my way around the media gathering at the Kingsway Gym in New York City on Wednesday, chatting with the participants, their seconds and support personnel, it became clear that the smarts -- the ones deep inside the game -- don't give a hoot about Rosado's five losses. They haven't been swayed by the Golovkin-mania that trended hard on Twitter after Golovkin, 30, stopped Pole Grzegorz Proksa in the fifth round last September in Verona, NY, and appetites were whetted.
Bring on Sergio Martinez, hell, bring on 168-pound champ Andre Ward
, some cried, noting that Golovkin, who lives in Germany and trains in California, said he'd fight anyone from 154 to 168 pounds.
But not the lifers. They are giving "Ole Five Losses" a heckuva shot at handing Golovkin his first loss on Saturday night.
"I predict fireworks," said Top Rank VP Carl Moretti about the Golovkin-Rosado scrap. "Someone's going to get knocked out. It's going to end in a KO." He wouldn't hazard a guess, however, as to who will be left standing.
Ask for one attribute that stands out in Rosado, 27, a single dad who lives in Philadelphia, and Moretti paused for a single second, saying, "His balls. He's a real fighter."
But what about those five losses?
"Five losses in Philly equals like six wins in other places," Moretti countered.
Will Moretti be watching Round 1 to see how Rosado reacts to the middleweight titlist Golovkin's vaunted power -- the bomb-throwing ability that so enthused his trainer Abel Sanchez to call him the best he's trained, and that included Hall of Famer Terry Norris?
"I want to see how Golovkin takes Rosado's first power punch," Moretti answered.
Rosado himself betrayed not a hint of self-doubt at Kingsway. Asked, point blank, whether he would win on Saturday, he answered flatly: "Yeah. I was born to do this. This is my destiny. I've been thoroughly prepared to seize the moment. I'm not coming for a paycheck.
"I think about what I would have done to Proksa, who had no basic, no jab. I will win by knockout."
Will Rosado be wary about Golovkin's power in the opening round?
"He's strong, and I'm strong," Rosado said. "And I have quicker feet and faster hands. This fight is not going to be based on power and strength. It'll be based on who's smarter, who can make adjustments."
About those five losses: Rosado said he's been learning on the job, and has had so many things thrown at him that he will be the better adaptor on Saturday. His last loss came in 2010 against Derek Ennis, and is currently riding a seven-fight win streak. He lost to Alfredo Angulo in 2009, but was still working a day job then, and training part-time. Not now; he's a full time fighter and doesn't have to work a graveyard shift at Home Depot or for the water company.
Doubters note that Rosado has been fighting recently at junior middleweight. His co-promoter, Russell Peltz of Main Events, cautions us not to fall pray to that reasoning.
"Rosado is bigger than Golovkin," said Peltz, who expects Rosado to dictate the pace and believes his kid is the best foe Golovkin has fought. He also, "I don't think Rosado has any respect outside the East Coast."
While Golovkin told ESPN.com he expects to knock out Rosado, his team isn't looking past him to bigger fish.
"Gabriel is a big junior middleweight and Gennady is a small middleweight," said Tom Loeffler, Golovkin's promoter.
Loeffler knows what I heard time and again in that gym: Look past those five losses, they don't tell even half the story.
January, 16, 2013
1/16/13
11:47
AM ET
By
Brian Campbell
| ESPN.com
The more that middleweight titlist Gennady Golovkin succeeds in his quest to conquer America, the more imminent danger it poses to any boxer within a stone's throw of contention at 160 pounds.

The unbeaten Golovkin has knocked out 21 of his first 24 opponents using a fighting style he calls "power boxing." In fact, it has been nearly five years since an opponent has been able to go the distance with him.

But Golovkin, who fights out of Stuttgart, Germany, is more than just a knockout machine. A 2004 Olympic silver medalist for his native Kazakhstan, he is a veteran of more than 350 amateur fights and is just as comfortable boxing as he is digging a left hook to the body.

Golovkin, 30, dismantled a game Grzegorz Proksa in his U.S. television debut last September and enters his second fight on American soil Saturday against Gabriel Rosado (21-5, 13 KOs) on the undercard of an HBO tripleheader from the Theater at Madison Square Garden in New York. The underground buzz he has created within the sport as a must-see fighter is just about off the charts. But it's how threatening Golovkin appears to be that could prove to be a double-edged sword as he continues to gain exposure.

Look no further than the saga of middleweight champion Sergio Martinez as a cautionary tale. It was the serially avoided Martinez who went from overnight sensation in 2010 to being forced to wait two full years before landing an opponent of any legitimate name recognition. Martinez, like Golovkin, is a man of multiple countries -- hailing from Argentina before coming of age as a fighter in Spain -- but without a marketable American fan base that is representative of either.

Before ultimately lucking out that Julio Cesar Chavez Jr. had improved enough in a short period of time to make a pay-per-view fight against him viable, Martinez was left for too long toiling in title defenses against inferior and unheralded European opponents who did little to further his career. In the cold-hearted business of boxing, it's the relationship equivalent of falling into the friend zone.

Is Golovkin at risk of becoming the next Martinez? Is it possible the more impressive Golovkin looks, the less likely he is to land a big-name opponent?

"Yeah, this is a good question, you know," Golovkin told ESPN.com. "But it doesn't matter for me. Seriously. It doesn't matter, the name. I'll fight everybody."

Golovkin's attitude is refreshing and one can only hope contagious, as well. He's thoroughly enjoying each step of his journey in a way that is palpable, having recently achieved lifelong goals of not only fighting in the U.S. on American TV, but also securing a fight at Madison Square Garden.

Rather than worrying about becoming the next Martinez, Golovkin is too busy having fun trying to figure out how to land a fight against him.

"I want this fight with Sergio," Golovkin said. "I expect to fight him. He is a great champion, and it will be good for my career."

But the similarities between Golovkin and Martinez end nearly as quickly as they begin. Golovkin has been willing to do all of his interviews in English (Martinez has only recently begun brushing up), and he has more time to build his brand than "Maravilla," who was already in his mid-30s when he captured the lineal middleweight crown.

Martinez also had more limitations on potential opponents considering his unwillingness to move up to 168 pounds for a money fight and the fact he was toiling in a then-barren 160-pound division. Finding worthy opponents in his natural division, at junior middleweight, also proved difficult because the big-name welterweights who moonlighted at 154 pounds considered him too big and talented.

The 5-foot-10 Golovkin, meanwhile, has repeatedly stated that he's willing to fight anyone in all three divisions. Just 10 days ahead of the Rosado fight, Golovkin said he sparred comfortably at 162 pounds and felt great. He also referred to the idea of moving down even further, to 154 pounds, as something that "is easy for me."

"Right now my focus is 160; I want to be the best at middleweight," Golovkin said. "Next, it doesn't matter for me. I think next fight, [if] I'm going down to 154, I don't know with who, but it doesn't matter to me. Seriously, it doesn't matter. I just want to fight, and maybe in the future I'm going to 168. I think for me it's good to find good fights there in the future. I like Andre Ward, Carl Froch. There's a lot out there [at 168 pounds]."

With the upper half of his body crouched forward and his chin precariously extended within reach, Golovkin competes with a fighting stance that invites excitement by almost daring his opponents to engage, and that in-ring style could have the same effect on viewers at home. Golovkin, who is promoted by the Wladimir and Vitali Klitschko-owned K2 Promotions, also has a savvy understanding of the business. He calls building a fan base in America his most important goal in 2013.

"I love the fans, and my style a lot of fans like, with hard punch -- like Mike Tyson-style," Golovkin said. "People want power and knockouts and drama. I like this as my style."

In boxing, if you build a reputation for devastating knockouts, the fans will come. And if they keep coming, the marquee opponents won't be too far behind.