October, 19, 2014
10/19/14
1:08
AM ET
By
Brian Campbell
| ESPN.com
After an exciting doubleheader at the StubHub Center in Carson, California, featuring knockout victories from a pair of unbeaten titlists on the rise, here are five things we learned from the card titled "Mexican Style":
1. Golovkin is ready for true crossover stardom
Although Gennady Golovkin's second-round knockout of veteran middleweight Marco Antonio Rubio on Saturday proved somewhat anticlimactic, it was no fault of the "Kazakh KO King."
Golovkin's 18th consecutive knockout and 12th straight defense of his 160-pound title only escalated American boxing's love affair with the grinning, humble fighter wielding dynamite in both hands. Golovkin (31-0, 28 KOs) has not yet fully made the leap into the conscious of the general sports fan, but he doesn't appear to be far off.
Plain and simple, he delivers on the action promised in a time when fans haven't consistently received an equal payout for their money spent. With the brands of boxing's incumbent kings growing tired due to factors such as age and unwillingness to make the best fights available, Golovkin, 32, is a breath of fresh air to the sport.
While his few remaining critics are quick to remind that he has yet to face true A-level competition, his insistence on staying busy and being willing to fight anyone over a span of three weight classes has more than compensated. The Tysonesque buzz that has followed Golovkin from one devastating knockout to another is real. It won't be long now before the rest of the American sports world begins to fully take notice.
2. California debut proves GGG's brand has closed the gap
Mixing his danger with his lack of a native fan base made it an easy justification for Golovkin to become boxing's most avoided fighter. But prospective opponents can no longer make the excuse that GGG is not a marketable draw.
[+] Enlarge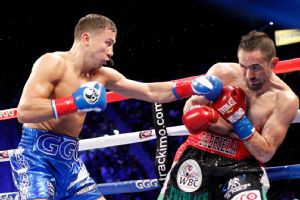 AP Photo/Alex GallardoGennady Golovkin, left, scored his 18th consecutive KO victory by stopping Marco Antonio Rubio in Round 2 on Saturday.
Golovkin made his West Coast debut in front of a sold-out crowd of 9,323 at a venue that repeatedly opened extra seating in the lead-up to the fight. Three months earlier, he made his debut in the big arena at New York's Madison Square Garden to spectacularly knock out former titlist Daniel Geale in front of more than 8,500 fans.
GGG is ready to fill the big arenas and make the leap onto the pay-per-view level for the right fight in 2015. What that will do is dramatically enlarge the name-value of his potential opponents.
With Mexican superstar Canelo Alvarez signing a long-term deal to return to HBO, along with his promoter Golden Boy showing a newfound willingness to play nice with others, big fights are on the horizon at middleweight.
By the time the winner of a possible spring 2015 showdown between Alvarez and middleweight champion Miguel Cotto has his hand raised, Golovkin -- who became Cotto's mandatory challenger in winning a vacant interim title Saturday --- should see his brand further developed.
Although that won't make him any less dangerous for the winner to face -- especially if his knockout streak continues -- potential Golovkin opponents can no longer contend fighting him isn't a smart move, financially.
3. Bad weekend for Rubio
Despite entering the fight as a heavy underdog, Rubio (59-7-1, 51 KOs) was expected to challenge Golovkin in ways other recent opponents were unable to do.
Rubio, 34, entered the fight with height and reach advantages over Golovkin, along with respected durability. With 51 knockouts in 59 victories entering the fight, he also represented arguably the hardest puncher Golovkin had seen.
But the native of Mexico lost both his interim belt and his ability to challenge Golovkin for his full title the day before the fight, when he weighed in over the middleweight limit at 161.8 pounds. Despite having two hours to shed the extra weight, Rubio never made it back to the scales and forfeited $100,000 of his $350,000 purse.
To make matters worse for Rubio, along with his unprofessionalism, he failed to live up to his end of the bargain inside the ring. Despite a solid opening round in which he pressured Golovkin and landed a mixture of left hooks and body shots, Rubio folded quickly once he tasted GGG's power in Round 2.
Golovkin set up Rubio's exit with a perfect right uppercut that sent him reeling and running for cover along the ropes. Golovkin swooped in and capped off a flurry with an overhand left to the top of the head that sent Rubio to the canvas.
Rubio sat up quickly but took his time getting up, as referee Jack Reiss counted him out with Rubio appearing to not want any more.
4. A featherweight star is born in Walters
Secondary beltholder Nicholas Walters entered Saturday's bout against 126-pound titlist Nonito Donaire known mostly for his power, which stopped 10 of his previous 11 opponents.
But the native of Jamaica left the bout with a memorable knockout against the biggest name in a loaded, red-hot division.
Walters (25-0, 21 KOs), 28, announced himself to the boxing public in his first appearance on American television by outworking and ultimately stopping Donaire in Round 6.
Out-jabbing Donaire to the tune of 44-4 according to CompuBox, Walters set the stage for his devastating power. Donaire was floored in Round 3 for the first time in his career on a beautiful uppercut that opened a cut above his right eye.
By Round 6, Walters was simply wearing him down as the bigger man and finished him with a right hand to the side of the head that sent Donaire to the canvas face first, moments before referee Raul Caiz Jr. called off the fight.
The victory also showcased Walters' humility and the respect he held for Donaire during their postfight interview. Walters not only doesn't lack for confidence, but he's also a potential handful for any of the other titlists in the division, including two-time Olympic gold medalist Vasyl Lomachenko.
5. The end is near for Donaire
Donaire gave Walters full credit for the victory and said he entered at his best and never trained as hard for a fight in his career.
But what Donaire's loss illustrated was that, at 31, the former four-division titlist is no longer the guy who captured fighter of the year honors in 2012. It also gave credence to the thought Donaire had moved up one weight class too big.
Either way, the future of his career, at least against elite opponents, appears to be over. While Donaire refused to take the bait when HBO's Max Kellerman suggested retirement after the bout, his comments spoke volumes.
"I have to go back to the drawing board," Donaire said. "I know I can't compete with guys like Walters. He was just overwhelming me. I succumbed to his size and power and his overwhelming aura."
October, 10, 2014
10/10/14
3:13
PM ET
By
Gennady Golovkin
| Special to ESPN.com
After a dominant victory over Daniel Geale in July, Gennady Golovkin is ready to take his act to the West Coast to face Mexico's Marco Antonio Rubio on Saturday, Oct. 18 (HBO, 10 p.m. ET) at the StubHub Center in Carson, California.

Golovkin (30-0, 27 KOs), a middleweight titlist since 2010 -- when he beat Milton Nunez in Panama -- faces Rubio (29-6-1, 51 KOs), who owns an interim title in the 160-pound division.

For this fight, Golovkin is back training in the mountains of Big Bear in California.

In his own words, Golovkin talks about training and fighting in California and the opportunity to build a fan base on the West Coast.

Discuss what it feels like to be fighting in California for the first time.

"I first came to Big Bear to train over four years ago with my coach, Abel Sanchez. I liked that it was quiet and peaceful and a good place to work and prepare for my fights.

"The other fighters in camp made me feel welcome right away, as did Coach's family. I missed my wife and son back in Germany, but knew this would be best for my career. And I would see my family when I go back home in between fights.

"Along with training, I've been able to attend other fights and have always been approached by fans who wanted my autograph and picture. While they see me fight on HBO in New York City, they also always wanted to know when I would be fighting in Los Angeles.

"The StubHub Center I've been to many times for other fights, and each time the support from the fans increases. Also, when I go into Los Angeles for other events, fans are very supportive as well.

"So this fight against Marco Antonio Rubio is a gift to all my fans here in Southern California, everyone who kept asking about fighting here and have been so supportive. I'm very happy to be fighting on October 18th at the StubHub Center and promise a great show to those in attendance and those watching at home on HBO."

July, 27, 2014
7/27/14
5:02
AM ET
By
Brian Campbell
| ESPN.com

NEW YORK -- After another thrilling middleweight title defense for unbeaten Gennady Golovkin ends in -- what else? -- another devastating knockout, here are five things we learned from his triumph over Daniel Geale on Saturday night at Madison Square Garden.

1. Golovkin is everything we thought he was (and more)

The only conceivable knock against Golovkin throughout his devastating run of 10 straight title defenses and 16 consecutive knockouts entering Saturday's bout was a lack of proof he could do the same thing against elite competition.

Enter former titlist Geale of Australia, a volume puncher with a backbone who, along with being awkward, has showed a history of versatility as both a boxer and puncher.

Golovkin (30-0, 27 KOs) didn't just answer the questions his few remaining critics had about him, he punched a hole in them the same way he did to Geale in a pulverizing third-round TKO.

Few of Golovkin's fights have failed to entertain or provide at least one shake-your-head moment of surprise. His finish of Geale fit that category completely as Golovkin ate his opponent's best shot flush on the chin and followed through simultaneously on a heinous counter right hand that floored Geale and led to his exit.

With a frightening level of poise and craft to match his other-worldly power, Golovkin isn't just the class of the middleweight division (Geale's promoter, Gary Shaw, called Golovin the best 160-pounder he has ever seen after the fight); he has stamped his spot among the sport's pound-for-pound best.

The only remaining question about Golovkin, who hasn't seen a fight go the distance since 2008, is simple: Who is going to be able to stand up to that kind of heat?

2. GGG's becoming a big draw, too

Along with being such a dangerous opponent due to his power and amateur pedigree, a major reason Golovkin was one of boxing's most avoided fighters was due to his small fan base in America.

The tide, however, is beginning to turn in a big way, as evidenced by Golovkin's drawing an attendance of 8,572 for his first appearance at the big arena at Madison Square Garden.

Golovkin's star is growing quickly due to the combination of his aggressive style, humble demeanor and boyish charm. He's also taking to English at a much more rapid pace and is willing to fight anyone over the span of three different weight classes, which is almost unheard of for an elite fighter.

But what separates Golovkin from just about any other fighter with crossover potential is the game-changing power he possesses in both hands. GGG's power is not only the great equalizer in the ring, it's the unquestioned key to the hearts of the casual fan.

And that's where the true money is in the sport.

3. Don't hold your breath on a middleweight summit

By virtue of his June stoppage over longtime lineal champion Sergio Martinez in the same building as Golovkin's 11th straight title defense on Saturday, Puerto Rican star Miguel Cotto grabbed the mantle as the division's king.

But that doesn't mean most would regard Cotto as the best middleweight in the world. And as optimistic as fans might want to be regarding a potential showdown between the division's top two fighters to close 2014, the smart money would be against holding out too much hope.

While Cotto-Golovkin would be one of the biggest fights you could make in the sport, and in some ways, a crossroads meeting between MSG's highest-profile tenants, logic would likely lead Cotto toward more lucrative -- and less dangerous -- options.

There was some thought that if Golovkin looked relatively human against Geale it might help him draw a big opponent. Instead he looked like a superhero.

Cotto's history of daring to be great and taking on the toughest challenges available might be enough for some to hold out partial hope. But Cotto's status as a promotional free agent allow him too much flexibility to make the richest fight available to him.

As much as a middleweight summit against Golovkin makes a ton of sense, a fight with Mexican star Canelo Alvarez, for example, makes a lot more cents (and many more dollars) for Cotto. And money always talks.

4. Jennings-Perez fails to impress

With a mandatory heavyweight title shot at stake and the opportunity for the winner to announce himself as the next big thing in the division, the co-main event between unbeaten Bryant Jennings and Mike Perez had tremendous potential for an all-action affair.

But the fight failed to live up to expectations -- both in terms of entertainment, and in the sense that neither fighter came out of it with their stock elevated thanks to how the fight played out.

Jennings (19-0, 10 KOs) claimed a split-decision victory thanks in part to a 12th-round point deduction against Perez for hitting on the break by referee Harvey Dock. Without the deduction, the fight would have been a draw.

Perez (20-1-1, 12 KOs), a native of Cuba who fights out of Ireland, saw most of his success countering Jennings in the early rounds go to waste thanks to poor conditioning (he weighed in 11 pounds heavier than his last fight in January).

What Perez's late fade also did was lower the shine on Jennings' comeback over the second half of the fight, when he stepped up the pace considerably.

The victory puts Jennings in position to face the winner of a fall meeting between titlist Bermane Stiverne and unbeaten challenger Deontay Wilder. Yet the fight failed in its purpose of giving fans of the often dormant division something to be excited over.

5. New York is back

There was a time in the not-so-distant past when New York City, and specifically The Garden, was the center of the universe for big-time boxing

And even though the majority of major fights still consistently finds a comfortable home at the major casinos in Las Vegas, the city that never sleeps is making a noted comeback.

Cotto saw his brand rejuvenated with his victory over Martinez and Golovkin has made an effort to follow in his footsteps by becoming a house fighter at MSG. But the emergence of the Barclays Center in Brooklyn has also helped New York grab a strong run of high-profile fights over the past two years.

Attending a major fight in Las Vegas is an experience unto itself. But nothing quite compares to the buzz in the streets before and after a blockbuster fight in the Big Apple.
June, 12, 2014
6/12/14
1:44
PM ET
By
Brian Campbell
| ESPN.com
NEW YORK -- In the life of an avoided fighter like unbeaten middleweight titlist Gennady Golovkin, you'll often take what you can get when it comes to the balance between accepting an opponent who will further your brand or one who will test your abilities.

Ideally, of course, a single opponent would provide both, but that's not always the case.

So as disappointing as it was for Golovkin and his team to see a July 19 pay-per-view bout against Julio Cesar Chavez Jr. fall apart in the 11th hour, the fall-back plan could prove to be a more valuable test at this stage in his rise. It also could end up being a better fight.

Golovkin (29-0, 26 KOs) will defend his belt against former titlist Daniel Geale of Australia on July 26 in GGG's debut at the big arena inside New York's Madison Square Garden (HBO, 9:30 p.m. ET).

Despite losing a lucrative headlining opportunity against a proven brand in Chavez, in a super middleweight fight with tremendous potential for fireworks, Golovkin's replacement bout could answer more of the immediate questions he faces.

Golovkin, 32, is widely considered the top middleweight in the world based upon his destructive run of 10 title defenses and 16 consecutive knockouts overall. He shatters the eye test in the same violent manner in which he smashes his opponents thanks to a dangerous combination of power, technique and relentless -- yet efficient -- pressure.

But for all of the superlatives one could heap upon the native of Kazakhstan, there's still only so much we know about Golovkin until we see him matched against the very best in his division. That, of course, hasn't come from a lack of trying, as Golovkin has regularly offered himself up to just about anyone between 154 and 168 pounds.

Enter Geale (30-2, 16 KOs), a savvy pressure fighter who can alternate between boxer and puncher on the fly while possessing the kind of toughness that won't crack under the intimidation of Golovkin's power.

"I've been watching his fights and seeing what he does," Geale said before a news conference last week in Manhattan to announce the fight. "He has been knocking a lot of guys out because they are in positions for him to do what he does best.

"It changes everything if you're not confident and [are] changing your style before you even get in there. You're going to be in trouble."

Geale, 33, is well aware that Golovkin has pushed as far as the 10th round just once in his career (against Kassim Ouma in 2011). Despite losing his title to Darren Barker by split decision in August 2013 in a fight of the year candidate, Geale has legit top-end experience and has gone 12 rounds in 13 of his 32 pro fights.

"I don't think he has fought too many guys like me before, so that excites me," Geale said. "I'm going to take him to places that he hasn't been before. I'll show him something different, like what it's like to go late in a fight."

Golovkin's lack of experience in the championship rounds often comes with the territory for a devastating puncher who is rising up the ranks. And while both detractors and believers are clamoring to find out what happens when GGG finally faces someone who can push him, they aren't alone.

"It will be interesting for me, too," Golovkin said. "Good question."

Despite his ever-growing fan base and the mythology that is often associated with his name, Golovkin has remained humble. He credits his trainer, Abel Sanchez, with a great deal of his success, and although he adores the attention of his fans, he is quick to remind, "I'm not a superhero at all."

Golovkin is also respectful of the challenge he faces in Geale, saying, "He's a great fighter. He's a good boxer. It will be a great fight."

The fight with Chavez might have been the perfect chance for Golovkin to make his long-awaited leap into the consciousness of a larger audience while furthering his personal brand. But even though, at 32, there's more of an urgency to see those goals come to fruition, the fight against Geale -- the most accomplished and talented opponent of his career -- offers GGG something just as important: critical respect.

And as long as Golovkin can continue to knock down everyone placed in front of him, the rewards of fame and fortune won't soon be far behind.
October, 18, 2013
10/18/13
2:46
PM ET
Gennady Golovkin is smiling.
As the middleweight titleholder, he smiles a lot. Between the ropes, he is 160 pounds of intense focus and heavy-handed beatdown, but when the contest is over and -- as has been the case following every one of his 27 professional contests so far -- his hand is raised in victory, Golovkin's other side comes out.
[+] Enlarge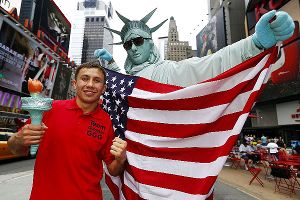 Will Hart/K2 PromotionsGennady Golovkin and his team have had plenty to be happy about since his campaign to storm the shores of U.S. boxing began in earnest in little more than a year ago.
The transition is easy for him to make, his trainer Abel Sanchez said, because, "this is a sport to him. He isn't mad at anybody."
That combination of devastating, in-ring presence and approachable, outside-the-ring demeanor has helped Golovkin rapidly evolve, in a remarkably short space of time, from a YouTube curiosity to one of the sport's rising stars. He's gone from a life of anonymity to one in which his ringside presence results in cries of "G-G-G!" and in which he can commandeer a corner of a Las Vegas hotel on a Saturday afternoon and play host to one journalist after another over the course of several hours.
Suggest to him that it must feel good to be recognized, to be appreciated for his personality as well as his boxing, to have become so popular so swiftly, and he gives a humble nod, shrugs his shoulders self-deprecatingly and then, unable to stop himself, breaks into that broad, beaming smile.
And yet, his arrival at this point has not been happenstance. It is the culmination of a plan that was set in motion years ago in Kazakhstan, when Golovkin elected to assert his authority as a result of being fractionally older than his twin brother, Max.
"From what I heard in Kazakhstan, this young man," said Sanchez, nodding toward Max, who is sitting next to his sibling, "was a better boxer growing up than Gennady. But because Gennady is the oldest ..."
"By 20 minutes," the slightly older Golovkin chimed in, with a grin.
"They would get to the finals of all these tournaments, and of course they wouldn't fight each other," Sanchez continued. "So Gennady decided that he would go on, and Max would go home and take care of their parents."
"The last seven years, I live with my family in Germany, and he lives with our parents in Kazakhstan," Gennady said.
The amateur experience that Golovkin (and his brother) gained in his homeland has proven -- literally -- fundamental to his success as a professional, Sanchez argues.
"One time, we fought in Kazakhstan, about three years ago," Sanchez said. "We knocked some guy [Nilson Julio Tapia] out in the third round. We're sitting at a luncheon the next day, and not counting Gennady, there were six ex-amateur world champions. There's no professional program in Kazakhstan, which is why he moved to Germany to pursue his professional career. But the schooling in Kazakhstan is incredible, and that's why he is who he is."
"Many different styles," Golovkin said. "Kazakhstan is very good, because it's middle. Not Europe, and not Asia. Sometimes, you go to Asia, like Philippines or China; sometimes you go to England, Germany, Russia. It's a mix all the time."
Golovkin's promoter, Tom Loeffler of K2 Promotions, asserts that although his fighter has gained headlines for his ability to render his opponents incapacitated, it's his adaptability, honed from years of amateur experience, that has enabled him to set up those knockouts.
"In his first fight on HBO, he was supposed to fight [Dmitry] Pirog, who was considered one of the stronger middleweights at that time because he had knocked out Danny Jacobs," Loeffler said. "So he went from Pirog to fighting [Grzegorz] Proksa three or four weeks before the fight [after Pirog withdrew because of injury]. Completely different fighter: Proksa's a southpaw, he moves around a lot. But we felt that because of his amateur experience, fighting so many different styles -- tall fighters, short fighters, fast fighters, whatever it is -- he's so adaptable to whoever he faces."
That fight with Proksa was surpisingly only about 13 months ago. It was Golovkin's introduction to the mainstream U.S. boxing audience, and since then, he has scored emphatic wins over Gabriel Rosado, Nobuhiro Ishida and Matthew Macklin to establish himself as a must-see fixture on the scene. It might seem like an overnight success, but Sanchez reckons it has been a long time coming.
"It was all planned," he said. "I'm not going to say we knew what would happen, but it was all planned. Last year, we sat down as a team and discussed fighting regularly, because we needed to get the ball rolling. He had enough experience that we didn't have to baby him. And he was willing to do it, that's the whole thing. He spent 10 months out of the year in camp. He has a four-year-old son and a wife at home. So if the athlete is willing to do it, it's easier for us as a promoter, a publicist and a coach to be able to do the things that we do, because he's producing. We're having a helluva ride."
On the other side of the table, Gennady Golovkin is smiling.
September, 5, 2013
9/05/13
9:50
AM ET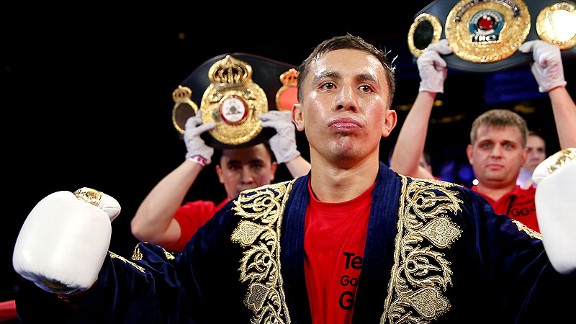 Will Hart/K2 PromotionsGennady Golovkin defends his middleweight title for the ninth time on Nov. 2 against Curtis Stevens.
He smiled, answered questions in an exceedingly humble manner, listened to another question, grinned again and answered with halting but improving English. It was hard to look at the Kazakh-born middleweight titlist Gennady Golovkin and comprehend, if you didn't already know as you watched him at the Refinery Hotel on West 38th Street in Manhattan on Wednesday, that this kid with the Justin Bieber face has some of the most feared hands in the sport, in any weight class.
Word is most definitely spreading on the 27-0 (24 KOs) boxer, if you're judging by the info delivered by his promoter, Tom Loeffler of K2, who reported that the presale figures for the Nov. 2 scrap at the MSG Theater between WBA middleweight champion Golovkin and Brownsville, Brooklyn's Curtis Stevens (25-3 with 18 KOs) made it the fastest seller in Theater history.
Further evidence that the Golovkin story is spreading? HBO, which will televise the Golovkin-Stevens scrap, ran one of the "2 Days" mini docs in June before Golovkin's fight against Gabriel Rosado and it was their highest-rated episode of that program.
Loeffler saw it with his own eyes when Gennady attended the Nonito Donaire-Toshiaki Nishioka card at the Home Depot Center in Carson, Calif., and "a whole bunch of the Mexican fans started chanting 'Triple G' [his nickname].'"
Might his exploits travel even wider if he didn't look, seriously, like the older brother Bieber doesn't have, so unlike the grizzled pug that non-fight fans picture in their heads when they conjure "boxer"? Maybe, maybe not. There is something so compelling about the duality present in Golovkin, seeing the humble guy who grins constantly, and then seeing the predatory way he walks foes down, and then looks to land on them, hard, with virtually every shot.
"I want to fight," the 31-year-old Golovkin said, straight up, when asked about what other fighters he's targeting if and when he handles Stevens. "I want drama," he said, and banged his fists into each other. He mentioned Sergio Martinez and Julio Cesar Chavez Jr. -- even if he needs to go up to light heavyweight to get to him -- as fighters on his wish list.
I asked the boxer if he ever gets angry, ever kicks the cat. After pondering, he joked that maybe when he argues with his wife. But no, he said, he maintains an even keel. Trainer Abel Sanchez said he has never seen the fighter get mad. He is a certified punisher, Sanchez says -- he predicts Golovkin will stop Stevens before Round 5 -- but Golovkin sees boxing as a sporting enterprise, and doesn't need or use anger to fuel him.
To get a better handle on how good Sanchez thinks he is, know that when the trainer was asked how Golovkin would do against Marvin Hagler in his prime, Sanchez said, "I think he beats Marvin." You can pooh-pooh that contention, but that Golovkin has an incredible chin seems to be undisputed. In more than 350 amateur fights, in a bunch of street fights as a teen, and as a pro, he has never been so much as knocked off his feet, let alone stopped. Stevens said in NYC he'd be the first to do it.
Golovkin indicated he thinks that will not occur.
Of course, while he did so, he grinned, and then looked down, humbly.
March, 30, 2013
3/30/13
10:16
PM ET
By
Brian Campbell
| ESPN.com

If you ever believed it was impossible to look impressive doing something that's widely expected of you, check out Gennady Golovkin's performance Saturday in Monaco.

In what amounted to a stay-busy fight against veteran Nobuhiro Ishida at the Salle des Etoiles in Monte Carlo, Golovkin lit up the French Riviera with a highlight-reel knockout in the seventh defense of his middleweight title.

There is little question Golovkin was expected to defeat Ishida (24-9-2, 9 KOs) handily enough. The light-hitting 37-year-old not only has as many losses as career knockouts, but he fights with a straight-up stance and a style made to order for the exciting Golovkin (26-0, 23 KOs).

But Ishida, who has faced a respectable list of heavy punchers over the past few years, entered the fight having never been stopped in 35 pro fights, and Golovkin erased that record of resilience with just one punch.

Delivering an eye-opening statement to the rest of the division (and beyond), Golovkin caught a backpedaling Ishida with a devastating overhand right that sent him under the ropes and nearly out of the ring. Ishida's head had to be supported by those at ringside to prevent him from falling backward as referee Stanley Christodoulou waved off the bout without a count.

The fight was another impressive notch on the belt of Golovkin, 30, who recorded his third straight victory since September and second in the past two months. In addition to his overwhelming power, Golovkin showed tight defense behind his high guard against a free-swinging Ishida and outstanding technique on his accurate counter shots.

Golovkin, who has yet to truly be tested, is clearly going to be a handful for any of the top names at 160 pounds. His hardest task, of course, will continue to be convincing any of them to enter the ring to try to best his versatile and sublime talents.

But as for things within the control of the 2004 Olympic silver medalist from Kazakhstan, Golovkin has executed his plan to conquer America to near perfection thus far. He continues to stay active and has looked more impressive with each level of ascension in the rankings against fighters of varying styles. Golovkin also has openly spoken of his willingness to move up or down in weight in order to take on all comers.

Whether he ultimately lands the marquee names in question is work to be handled by the promoters and cable networks that represent Golovkin. But with his refreshing desire to simply focus on continuing to put away any fighter who crosses his path -- and do so with the frightening ease we are slowly becoming accustomed to seeing -- his prospective opponents will eventually have no choice.

One of these days, Golovkin will finally find himself in the kind of fantasy matchup fans are already dreaming about, and whether his opponent ends up being Sergio Martinez, Andre Ward or some other premium talent, we will finally get to see whether "GGG" can live up to the almost impossible hype that has followed him this far.
January, 17, 2013
1/17/13
2:42
PM ET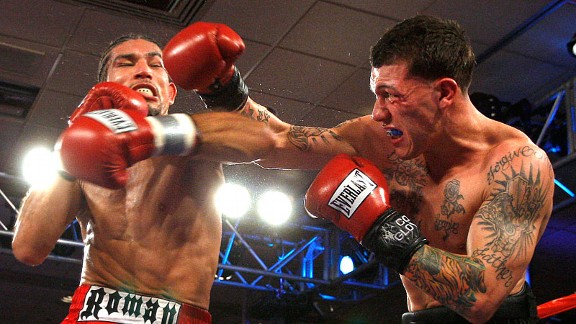 AP Photo/Tim LarsenGabriel Rosado, right, expects to provide a tough challenge for middleweight titlst Gennady Golovkin.
NEW YORK, N.Y. -- A casual fan will check out Gabriel Rosado when he appears at the Theater at Madison Square Garden on Saturday night, or on the TV screen of HBO's "Boxing After Dark" show, and they might think to themselves,
OK, he has his fight face on
.
He looks ready to rumble.
He's in shape.
His tats look menacing.
But then they'll drill down a tad deeper and check out his record.
Uh-oh, he's won 21 ... but he's lost five. And he only has 13 knockouts since turning pro in 2006.
Then that casual fan, a guy or gal who isn't on this page every day, will look Gennady Golovkin, the guy standing across from Rosado. They'll see an angel face and note that he looks like Justin Bieber's older brother. Then they'll see his record -- all gleaming, showy, stellar. He has 24 wins, zero losses and 21 knockouts.
Hmm ... I like the Bieber-faced kid
, many will decide.
They just might want to rethink.
Making my way around the media gathering at the Kingsway Gym in New York City on Wednesday, chatting with the participants, their seconds and support personnel, it became clear that the smarts -- the ones deep inside the game -- don't give a hoot about Rosado's five losses. They haven't been swayed by the Golovkin-mania that trended hard on Twitter after Golovkin, 30, stopped Pole Grzegorz Proksa in the fifth round last September in Verona, NY, and appetites were whetted.
Bring on Sergio Martinez, hell, bring on 168-pound champ Andre Ward
, some cried, noting that Golovkin, who lives in Germany and trains in California, said he'd fight anyone from 154 to 168 pounds.
But not the lifers. They are giving "Ole Five Losses" a heckuva shot at handing Golovkin his first loss on Saturday night.
"I predict fireworks," said Top Rank VP Carl Moretti about the Golovkin-Rosado scrap. "Someone's going to get knocked out. It's going to end in a KO." He wouldn't hazard a guess, however, as to who will be left standing.
Ask for one attribute that stands out in Rosado, 27, a single dad who lives in Philadelphia, and Moretti paused for a single second, saying, "His balls. He's a real fighter."
But what about those five losses?
"Five losses in Philly equals like six wins in other places," Moretti countered.
Will Moretti be watching Round 1 to see how Rosado reacts to the middleweight titlist Golovkin's vaunted power -- the bomb-throwing ability that so enthused his trainer Abel Sanchez to call him the best he's trained, and that included Hall of Famer Terry Norris?
"I want to see how Golovkin takes Rosado's first power punch," Moretti answered.
Rosado himself betrayed not a hint of self-doubt at Kingsway. Asked, point blank, whether he would win on Saturday, he answered flatly: "Yeah. I was born to do this. This is my destiny. I've been thoroughly prepared to seize the moment. I'm not coming for a paycheck.
"I think about what I would have done to Proksa, who had no basic, no jab. I will win by knockout."
Will Rosado be wary about Golovkin's power in the opening round?
"He's strong, and I'm strong," Rosado said. "And I have quicker feet and faster hands. This fight is not going to be based on power and strength. It'll be based on who's smarter, who can make adjustments."
About those five losses: Rosado said he's been learning on the job, and has had so many things thrown at him that he will be the better adaptor on Saturday. His last loss came in 2010 against Derek Ennis, and is currently riding a seven-fight win streak. He lost to Alfredo Angulo in 2009, but was still working a day job then, and training part-time. Not now; he's a full time fighter and doesn't have to work a graveyard shift at Home Depot or for the water company.
Doubters note that Rosado has been fighting recently at junior middleweight. His co-promoter, Russell Peltz of Main Events, cautions us not to fall pray to that reasoning.
"Rosado is bigger than Golovkin," said Peltz, who expects Rosado to dictate the pace and believes his kid is the best foe Golovkin has fought. He also, "I don't think Rosado has any respect outside the East Coast."
While Golovkin told ESPN.com he expects to knock out Rosado, his team isn't looking past him to bigger fish.
"Gabriel is a big junior middleweight and Gennady is a small middleweight," said Tom Loeffler, Golovkin's promoter.
Loeffler knows what I heard time and again in that gym: Look past those five losses, they don't tell even half the story.
September, 2, 2012
9/02/12
1:40
PM ET
Gennady Golovkin, a Bieber-faced bomber from Kazakhstan, served notice that he may have a sweet smile, but his hands are nasty instruments capable of doing terrific damage to world-class middleweights. Golovkin had Grzegorz Proksa of Poland down three times -- in the first, fourth and fifth (and final) round -- in the main event at Turning Stone Casino in Verona, N.Y.

HBO ran the bout on its "Boxing After Dark" show, and we suspect a few middleweights in the top 20 turned off the tube, admitting to themselves that they want no part of the winner. The Germany-based Golovkin went to 24-0 with 21 KOs, notching knockdowns on a slick boxer who had never been down, as an amateur or pro. Proksa is now 28-2.