September, 11, 2013
9/11/13
10:30
PM ET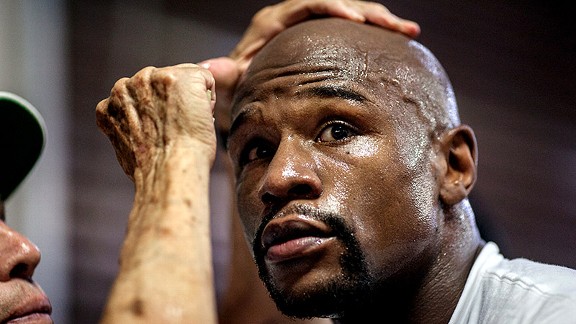 Benjamin Lowy for ESPN The MagazineAs Floyd Mayweather Jr. closes in on age 37, can he maintain his standing as the world's top fighter?
Floyd Mayweather Jr. has never lost a fight -- he also has never been so close to age 37.
The No. 1 pound-for-pound boxer in the world will celebrate his 37th birthday on Feb. 24 next year. Although Mayweather has shown few, if any, effects of age in the ring, we all know Father Time is undefeated and undisputed in the athletic world.
Of course, time treats all fighters differently, and in Mayweather's case, it likely will be less harsh. "Money" has taken phenomenal care of his body and has avoided damage throughout his career.
It's worth taking a look, though, at how different fighters fared in their last fight prior to their 37th birthday -- and afterward.
George Foreman
Born: Jan. 10, 1949; Returned from a 10-year retirement on March 9, 1987.
Following a 10-year absence from the ring, Foreman returned at age 38 and even used age as a partial reason for his comeback, wanting to prove doubters wrong. He eventually challenged 28-year-old Evander Holyfield for the heavyweight title in April 1991 and lost. Three years later, at 45, he became the oldest heavyweight champion in history when he knocked out Michael Moorer.
Post-37 record: 31-3
Evander Holyfield
Born: Oct. 19, 1962; Draw with Lennox Lewis on March 13, 1999.
This is the timeline Mayweather hopes to not follow. Many saw the draw as a robbery of Lewis, who outworked Holyfield throughout the bout. One could argue Holyfield never truly bounced back, even though he fought until 2011.
Post-37 record: 8-7-1
Bernard Hopkins
Born: Jan. 15, 1965; Defeated Felix Trinidad via TKO on Sept. 29, 2001.
Age is nothing more than a number for Hopkins. For the first time in years, oddsmakers had pegged the much older Hopkins as an underdog in the Trinidad fight. That reportedly prompted Hopkins to bet $100,000 on himself in that fight. He won.
Post-37 record: 13-4-1 (active)
Roy Jones Jr.
Born: Jan. 16, 1969; Lost to Antonio Tarver via UD on Oct. 1, 2005.
If Jones went from young to old in one night, it actually was most likely the previous year when he suffered a stunning second-round TKO loss to Tarver in May 2004, conceding his light heavyweight title.
Post-37 record: 7-4
Shane Mosley
Born: Sept. 7, 1971; Lost to Miguel Cotto via UD on Nov. 10, 2007.
Mosley saw a five-fight win streak end 10 months prior to his 37th birthday, but age didn't appear to be the reason. He rebounded with solid performances in knockouts over Ricardo Mayorga and Antonio Margarito -- but he has looked old in five fights since.
Post-37 record: 3-3-1 (active)
Sugar Ray Robinson
Born: May 3, 1921; Defeated Carmen Basilio via UD on March 3, 1958.
After retiring in 1952, Robinson returned to the ring in 1955 and reclaimed the middleweight world title. He lost it and reclaimed it again in 1957 ... and again in 1958. The win over Basilio, however, would be his final victory in a world title fight.
Post-37 record: 32-13-3
November, 28, 2011
11/28/11
5:49
PM ET
Two weeks ago in Las Vegas, talk was dominated not just by the upcoming battle between Manny Pacquiao and Juan Manuel Marquez -- undeniably two of the sport's fiercest contemporary warriors -- but also the passing of Joe Frazier, a man who wore that label as proudly and fittingly as anyone who ever stepped between those ropes.

Conversation swiftly pivoted to the heavyweight era in which Frazier plied his trade, one that was as much a golden age for boxing's marquee division as the '80s were for the welters and middleweights.

It was the misfortune of many heavyweights of the late 1960s and early-to-mid-1970s that they competed in an era dominated by Frazier, George Foreman and Muhammad Ali; in many other times, they could have been champions. A couple of them were, briefly: Jimmy Ellis won the WBA heavyweight tournament that was staged to crown a champion after Ali was stripped of his title, controversially outpointing Floyd Patterson in his only defense and then was crushed by Frazier, and in the closing act of that era, Ken Norton was handed the WBC belt when Leon Spinks elected to fight a rematch with Ali, and in his first and only defense was dethroned by Larry Holmes in an epic match, marking the beginning of a new heavyweight age.

For the others, though, there were challenges and close calls and, in later life, the satisfaction shared by all retired boxers in looking at their young successors and assuring themselves that "I could have whupped 'em all." There was Jimmy Young, who lost to Norton in the bout that prompted the WBC to dub the latter its champion but who outslicked Foreman and sent him into a 10-year retirement; Jerry Quarry, who lost that tournament decider to Ellis, was outpointed by Ali in his return from enforced exile and twice fell short against Frazier; Earnie Shavers, frequently referred to as the hardest puncher of them all, who thumped Ellis and Norton inside a round (but was himself annihilated by Quarry) and came close in a title tilt against a badly faded Ali, who said Shavers "hit me so hard, it shook my kinfolk back in Africa."

And there was Ron Lyle.

Born in Denver in 1941, he went to prison at 19 years old for second-degree murder, although he proclaimed his innocence. While in prison, he was stabbed by a fellow inmate and needed a transfusion of 35 pints of blood to survive. But survive he did, and while incarcerated he learned how to box. In 1971, already 30 years old, he fought his first professional contest. He went undefeated in his first 19 bouts before dropping a decision to Quarry. He suffered his second defeat, also on points, to Young in 1975. Despite that defeat, he found himself facing Ali for the title just three months later.

After 10 rounds, Lyle was ahead on two of the three scorecards and even as Ali returned to the "rope-a-dope" routine that had brought him success against Foreman the previous year in Zaire. Then, in the 11th, Ali cracked Lyle with a right hand and unleashed a succession of unanswered punches that prompted the referee to halt the bout -- a stoppage that Lyle's trainer, Chickie Ferrara, protested "wasn't kosher."

Lyle rebounded to defeat Shavers in a brutal knockout, Shavers slumping forward on the ropes as Lyle continued to pound him.

Then, in January 1976, Lyle fought Foreman.

Two years earlier, Foreman had been unbeaten and seemingly unbeatable: an imposing, destructive hulk of a heavyweight champion. But then came Zaire, and by the time he fought Lyle, Foreman was physically rusty from a long layoff and emotionally dented by the loss to Ali.

Lyle took advantage, cracking Foreman with a booming right hand in the first that buckled the former champion and sent him backing into a corner. In the second, Foreman returned the favor, pounding Lyle with punches until the bell rang a minute early. The third was a quiet affair, relatively speaking, but the fourth was perhaps the most explosive three minutes in heavyweight history. First, Lyle dropped Foreman. Then Foreman came back and dropped Lyle. Then, at the very end of the round, Lyle found the strength to launch another assault on Foreman, who crashed to the canvas again, laying there as he seemingly willed himself to life, and then somehow peeled himself off the floor and on to his feet.

Sensing blood, Lyle went on the attack to open the fifth, but in a final dramatic twist, it was Foreman who backed Lyle into a corner. Foreman began to unload short, chopping punches from heavy, weary arms -- but they landed, one after the other. Lyle's head snapped back and then he slumped forward -- much as Shavers had done against him -- before pitching face-first on to the canvas. This time, unlike Foreman, he could not beat the count.

Lyle fought on until suffering a first-round knockout to Gerry Cooney in 1980. Then, 15 years later, at 54, he launched an improbable, and fortunately brief, comeback.

But it is for that astonishing fight with Foreman -- and in particular, that remarkable fourth round -- that Lyle, who died on Saturday at 70 years old, will forever be best remembered.