Boxing:

Guillermo Rigondeaux
December, 8, 2013
12/08/13
12:56
AM ET
By
Brian Campbell
| ESPN.com

ATLANTIC CITY, N.J. -- It can be said that defensive and counterpunching wizard Guillermo Rigondeaux is likened to a $75 bottle of wine in a boxing world that prefers canned beer.

But even the taste of high-priced vino can fail to deliver the desired flavor when served in a paper cup.

Whether you're on the side of those who yawn or those who smile at the thought of watching the unbeaten junior featherweight champion dance around the ring and land flush counter shots for 12 full rounds, his opponent Saturday was expected to bring out the most crowd-pleasing elements of the Cuban-born fighter.

He didn't.

Ghana's Joseph Agbeko, a former bantamweight titlist known for his toughness and exciting style, chose to play chess with the master in lieu of pushing the pace at Atlantic City's Adrian Phillips Ballroom at Boardwalk Hall. Instead, all Agbeko accomplished was driving fans out of their seats and straight to the exits in droves.

What ultimately proved to be a bad style matchup for Rigondeaux in terms of improving his marketability in the end clouded what was a brilliant, one-sided performance for "The Jackal," who landed hard counter left hands at will throughout and was never in danger.

Key moment: In a fight lacking a turning point or defining moment, it was Rigondeaux's love for the left uppercut in the opening round that got Agbeko's attention and was partly responsible for sending him into a defensive cocoon.

We've got your number: 48. That was the total number of punches landed over 12 full rounds for Agbeko. Yes, that's four per round. No misprint. As Rigondeaux's trainer, Pedro Diaz, said after the fight: "It was an easy fight because Agbeko didn't come to fight."

Last word: Rigondeaux showcased his almost incomparable mastery of the "hit and don't be hit" philosophy that is the core of boxing. However, he clearly took his foot off the gas over the final third of the fight. Rigondeaux will need the right dance partner should he desire to continue headlining cards on American cable, but there are few in the world, if any, who can do what he does on this level.
December, 5, 2013
12/05/13
9:18
AM ET
By
Brian Campbell
| ESPN.com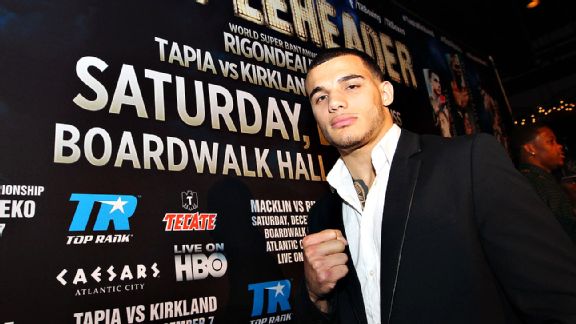 Ed Mulholland/Top RankGlen Tapia's career could get a good push if he beats James Kirkland on Saturday.
Boxing fans will be treated to a plethora of fights Saturday with competing cards on American cable and an intriguing middleweight title bout overseas.
The majority of the bouts feature a specific selling point, with enough variety to satisfy fight fans of all kinds: Paulie Malignaggi-Zab Judah showcases the two biggest names. Guillermo Rigondeaux-Joseph Agbeko features the return of one of the world's pound-for-pound best. Darren Barker-Felix Sturm will be contested for Saturday's most prestigious prize.
Still, even though I've tabbed the junior middleweight duel between southpaws Austin Trout and Erislandy Lara as the weekend's most evenly matched fight -- and one with huge sleeper potential -- it isn't the one that has me the most excited.
That distinction, as surprising as it may be, goes to the pairing of junior middleweights Glen Tapia and James Kirkland at the Boardwalk Hall's Adrian Phillips Ballroom in Atlantic City, N.J. This bout, nestled below the radar on the televised undercard of the HBO card headlined by Rigondeaux-Agbeko, could end up being the fight of the weekend, if not more.
The showdown between chiseled and fearless combatants is the very definition of a crossroads fight. For the erratic Kirkland, it's a chance to steer a once promising career back onto the tracks and stay relevant. And for Tapia, this could be the fight that elevates his name into the mainstream.
Tapia (20-0, 12 KOs) may not be the most skilled fighter, but his television-friendly style could still someday make him a household name in the sport, which isn't a surprise considering his roots. The native of Passaic, N.J., grew up a die-hard fan of Hall of Fame action fighter Arturo Gatti. In fact, Tapia is represented by Gatti's longtime manager, Pat Lynch, and is hoping to build the same cult following Gatti once enjoyed from Atlantic City to New York.
While Tapia, 23, has made steady progress in his climb to contention thus far, he will be taking a considerable step up in class when he faces Kirkland (31-1, 27 KOs), a name synonymous with toughness, aggression and, in recent years, question marks.
For all of the excitement Kirkland, 29, has provided -- with his brutal 2011 slugfest against Alfredo Angulo the perfect illustration of his heart and vulnerability -- simply getting him into the ring consistently hasn't been easy.
Kirkland has fought only once since the Angulo fight, claiming a bizarre March 2012 disqualification victory over Carlos Molina in a fight he was losing on two scorecards and was sluggish throughout. He enters Saturday on a 20-month layoff thanks to legal and promotional issues, and is in dire need of a victory to reignite his career.
But if there's a wild card -- quite literally -- in Kirkland's corner, it's his recent reunion with on-again, off-again trainer Ann Wolfe. Not only is their relationship as complicated and unique as any between fighter and trainer in the sport, any hope of Kirkland fulfilling his true potential appears impossible without Wolfe's unconventional training methods fueling him on.
Expect both Kirkland and Tapia to be runaway trains set to collide in the center of the ring, hungry to avoid the kind of defeat capable of slamming the door on their potential plans as featured players in high-profile fights.
I don't know about you, but that's exactly how I like my crossroads fights to be conjured up, with either fighter unlikely to take a step backward for any reason once the bell is rung.
It might be smart to wait at least one more weekend, just in case, before mailing in your vote for fight of the year. You never know what kind of surprise gift could show up just in time for the holiday season.
June, 9, 2013
6/09/13
5:36
PM ET
By
Brin-Jonathan Butler
| ESPN.com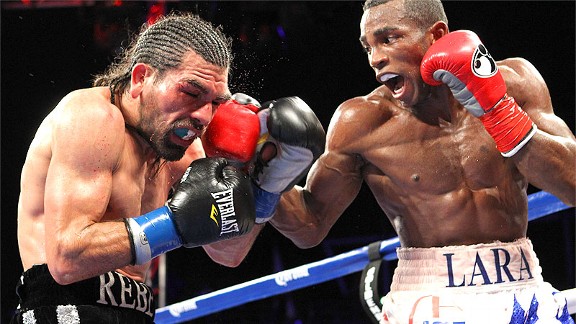 Tom Hogan/Hoganphotos/Golden Boy PromotionsAlfredo Angulo had Erislandy Lara on the ropes before suffering an injury and calling it quits.
CARSON, Calif. -- Cus D'Amato once said, "When two men are fighting, what you're watching is more a contest of wills than of skills, with the stronger will usually overcoming the skill."
On Saturday night in Carson, Calif., Erislandy Lara's demonstrative advantage of skill over Alfredo Angulo only served to inflame Angulo's reserve of willpower. The elegance of Lara's skills simply weren't capable of removing Angulo's will from the equation of the fight. Then, in the fourth round, Angulo's fiendish efforts were rewarded when he dropped Lara, the first knockdown Lara has suffered as a professional. For the duration of the round, every fan in attendance stood to roar approval. Round after round, Angulo took even more risks, applying pressure and striving to close out the fight while eating enough leather to reconfigure his face. Again Angulo dropped Lara, yet the Cuban got off the deck to continue.
In the 10th round, Angulo ate nearly everything Lara threw at him in order to land something meaningful of his own. Then a crisp left hand from Lara struck the swelling over Angulo's eye. Angulo grimaced as another left followed, then another, and finally the referee called off the bout, fearing a broken orbital bone.
Boos. Beer tossed into the ring. "Tijuana style!" a writer next to me laughed. Everywhere you looked, aggrieved faces contorted in expressions of betrayal.
It was all a little incomprehensible to me. Everyone on hand had enjoyed a brilliant fight stopped only after one fighter's health was gravely in danger.
Boos?
Wait a minute. When exactly was enough
enough
? What was the expectation here?
Victor Ortiz quit against
both
of Saturday's headliners, Marcos Maidana and Josesito Lopez. Were those unreasonable decisions? In one of those fights, Ortiz's jaw was broken in two places. Should he have been booed for not fighting on with a broken jaw, as Muhammad Ali did against Ken Norton? Ali was praised for such courage. Oscar De La Hoya was fully capable of getting off his stool to continue against Manny Pacquiao, yet sensibly recognized the futility. Does he get a pass? At the time, his corner asked if he felt like continuing, and Oscar didn't launch much of a protest when it was suggested he not bother. Joe Frazier was legally blind in the only good eye he had left against Ali in the "Thrilla in Manilla." Was his trainer, Eddie Futch, right to call off the fight? Did Futch betray his fighter?
What about the most famous quitter in boxing history? Is Duran's "No Mas" a more defining moment in his career than his victory over Sugar Ray Leonard in their first fight? For many, it is. Mike Tyson notoriously looked for a way out against Evander Holyfield when it was clear Holyfield had his number. Suddenly, Tyson's cowardice in gnawing off Holyfield's ear overshadowed nearly everything he had accomplished as a fighter. Twice, Andrew Golota snatched defeat from the jaws of victory against Riddick Bowe when he swung gratuitously low. His career never recovered.
So in boxing, when is it acceptable to quit? How much abuse is a fighter expected to endure before he can be allowed to show some concern for his own welfare? Anyone who has been around fighters knows they all share the same secret: They are more afraid of embarrassment and humiliation than injury. Do fans and writers use this fact against them in what we celebrate or criticize?
In the documentary "Facing Ali," nearly half the fighters involved required subtitles despite speaking English, their speech slurred by the physical toll of their ring lives. This was their reward for testing their furthermost physical and mental boundaries.
As Guillero Rigondeaux's recent near-shutout of 2012 ESPN.com fighter of the year Nonito Donaire demonstrated, the days of fans cheering Willie Pep for winning a round without throwing a punch are long over. Arturo Gatti's induction into the Boxing Hall of Fame is further testament of boxing giving fans what they clearly reserve their loudest cheers for: fighters who lay their lives on the line at every possible moment of every fight. The truth is, fighters have always done this. We just didn't used to boo the ones who committed the cardinal sin of trying to minimize some of the risk.
May, 15, 2013
5/15/13
7:56
AM ET
By
Salvador Rodriguez
| ESPN.com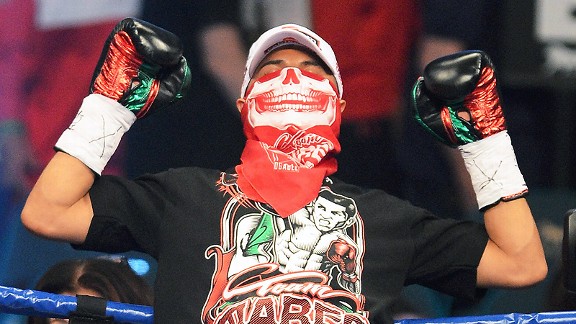 Ethan Miller/Getty ImagesAbner Mares won't rule out a move back to 122 pounds if it means making the best fight available.
MEXICO CITY -- With his shiny green championship belt in hand, sunglasses perched on his nose and an ear-to-ear smile on his face, junior featherweight titlist Abner Mares arrived in this city on Monday fresh off his May 4 defeat of Daniel Ponce De Leon -- and for the first time as a three-division champ.
A native of Guadalajara who has been adopted by Mexico City, Mares spoke to ESPNDeportes.com about his future, the possibility of challenging for another belt and whether he might return to his former weight class to settle old scores.
"I want to offer good fights," he said. "Where there are good fights, I'll be there -- either at super featherweight, or even at featherweight. ... I'm even willing to go down again to super bantamweight to face Nonito [Donaire] or Guillermo Rigondeaux. Where I'm offered a good fight, I'll be there."
Mares was reminded that Rigondeaux outclassed Donaire as no one had since Donaire's second professional fight (his only other defeat), and that the Cuban is a difficult matchup and a largely non-marketable fighter.
"I am aware that styles make fights," Mares said. "Nonito tried at times to figure out Guillermo's style, but Nonito lacked the fire that I think I have. I have the fire, I know that I can beat Ringondeaux, and that's why I'm challenging him."
Mares' immediate plans' are a vacation in Acapulco and Cancun with his family. But looking further ahead, he didn't close the door on a potential fight with Donaire, who had been expected to continue campaigning as a junior featherweight after his defeat. Mares, for one, believes that Donaire might reconsider.
"I think Nonito is more interested in the fight than before," Mares said. "Now I'm the champion, and he's not. He lost, and people know that I was asking for that fight. He also said he wanted to fight me, but you never saw that interest from his promoters."
April, 11, 2013
4/11/13
5:08
PM ET
By
Bernardo Pilatti
| ESPN.com
It's rare for two fighters coming off a loss to get an opportunity to battle in a main event on national television, but Rico Ramos and Oscar Gonzalez will get just such an opportunity in this week's edition of "Friday Night Fights" from Little Creek Casino in Shelton, Wash.

Ramos (21-2, 11 KOs), 25, a former junior featherweight titlist, will try to begin his climb back up the ladder after losing two of his past three fights. He was stopped in his first defense by current 122 pound titlist Guillermo Rigondeaux in January 2012, rebounded last June with a majority decision over friend Efraín Esquivias, but slipped again this past January when he was outpointed by undefeated Ronny Rios.

"I have to start showing everyone that I am the best," Ramos said. "I need to come back to my old boxing style and find the path to victory again. I know I have the ability, the talent and the determination to put my career in focus and win the world championship again."

Gonzalez (20-2, 14 KOs), 32, of Mexico, is coming off a tough defeat of his own -- last July's 10-round unanimous decision against Raul Hirales -- and will be facing a significantly younger fighter. But his aggresive style and power in both hands (he has five KOs in his past six wins) make him a worthy opponent.

"Ramos is a talented former champion, but I don't think he'd be capable of withstanding my punches," said Gonzalez, who is predicting a knockout victory and believes he's on the verge of a title opportunity.

In the co-main event, super middleweight Farah Ennis (20-1, 12 KOs), of Philadelphia, will face Mexico's Francisco Sierra (25-7-1, 22 KOs) in an eight-round battle. Most eyes will be on Ennis, who scored a unanimous decision win over Richard Pierson last July and is seeking an opportunity against one of the big names in the division.
April, 9, 2013
4/09/13
8:03
PM ET
Freddie Roach -- who was in the corner of Top Rank prospect Zou Shiming, the two-time gold medalist from China, last Saturday in Macau -- chatted with NYFightblog about the faceoff between Nonito Donaire and Guillermo Rigondeaux, which unfolds Saturday night at Radio City Music Hall.

Roach trained the Cuban-born Rigo for a couple fights in 2010, but that boxer has a tendency to switch support personnel more than most people change toothbrushes.

Who does Roach see getting his hand raised in the showdown between the two super-bantam aces?

"I like both guys," he said. "It's a tossup, 50-50. Whoever lands the most clean punches. ... It'll be a thinking-man's fight, with both countering. I see someone being knocked down, I'm not sure which one. I'm down the middle that one."
June, 10, 2012
6/10/12
6:20
PM ET

LAS VEGAS -- Five things we learned from Saturday's Manny Pacquiao-Timothy Bradley Jr. card at the MGM Grand:

1. Anyone can fall victim to a bad decision

Conventional wisdom, for whatever it's worth, holds that close, controversial decisions will always fall in favor of the "house" fighter, the man who brings in the most money for the promoter, the venue and the TV network. That isn't always true, of course -- Oscar De La Hoya, for example, might have gotten the benefit of the doubt against Felix Sturm, but he certainly didn't in his second fight with Shane Mosley. But Saturday night stands as Exhibit A for the argument that, on the right night -- or the wrong night, depending on your perspective -- anyone can be on the receiving end of a bad decision.

Pacquiao is one of the two biggest stars in the sport. He is the unquestioned No. 1 at Top Rank, which promoted Saturday's show. A potential showdown with Floyd Mayweather Jr. would have been the richest fight in the history of the sport. And in the eyes of the great majority of observers, he didn't just beat Timothy Bradley Jr., he dominated him. This wasn't even comparable to Pacquiao's disputed wins over Juan Manuel Marquez, which almost everyone agrees were both at least close. To be fair, although there were some isolated dissenters ringside who gave Saturday's fight to Bradley, the great majority saw it as at least a 116-112 win for Pacquiao -- and plenty reckoned it was wider than that. (I scored it 117-111; ESPN.com's Dan Rafael and HBO's unofficial official, Harold Lederman, scored it 119-109.) In the immediate aftermath, before the scores were announced, even Bradley didn't seem to think he had won.

This was just a stunning, breathtaking decision. Even in the light of the following day, it's difficult to know what else to say.

2. Timothy Bradley deserves credit, anyway

Before the scores were announced, I anticipated writing a piece that congratulated Bradley on making a determined effort to win, especially during the first half to two-thirds of the fight, when he displayed a seemingly unwise willingness to exchange, and kept swinging even when he was tagged and his knees buckled after absorbing Pacquiao left hands. At least for the first nine rounds or so, it was, as one observer expressed it to me afterward, "one of the most exciting one-sided fights I've seen," and that was largely due to Bradley's determination and bravery. And, it turns out, he did it all with a fractured left foot and swollen right ankle. It isn't his fault he was awarded the decision. The judges deserve opprobrium, but not Bradley.

3. Boxing continues to be the theater of the bizarre

Almost from beginning to end, it was one of those nights: the shocking suddenness of the Randall Bailey win over Mike Jones; the bizarre quadruple foul (low blow/head-butt/kidney punch/free shot to the head) that prematurely ended Jorge Arce's night; the Case of the Missing Manny before the main event; the astonishing scoring in that fight; and at the end, an officially victorious but subdued Bradley answering questions at the postfight news conference from a wheelchair. Only in boxing. You can't make this stuff up.

4. Rigondeaux is ready

Guillermo Rigondeaux's relatively modest 10-0 professional record is misleading; after a lengthy and outstanding amateur career, Rigondeaux is the real deal and a polished product. Granted, Teon Kennedy offered no kind of opposition at all, but Rigondeaux is a special talent worthy of a big fight against any of the other top names in or around the 122-pound division. Unfortunately for him, Nonito Donaire likely isn't interested; nor, probably, is Toshiaki Nishioka. If Arce and Donaire don't tangle next (and there is a good chance they will), a Rigondeaux-Arce matchup would be mouth-watering.

5. But Mike Jones is not

A couple of years ago, Mike Jones was being spoken of as one of the hottest and best young prospects out there. Shane Mosley's trainer, Nazim Richardson, even mentioned him as a possible opponent when Mosley's slated 2010 fight with Andre Berto fell through, following the Haiti earthquake. But since Jones has failed to impress, looking disappointingly pedestrian even in wins against Jesus Soto-Karass and Sebastian Lujan. He was ahead by miles going into the 10th round against Randall Bailey on Saturday night, but the crowd was lustily booing a lackluster performance. Then Bailey's vaunted power dropped Jones on his back and, in the 11th, knocked him cold. This first defeat doesn't in any way have to be a career killer for Jones, but he'll need to retool and regroup off TV for a while as he seeks to prove his early positive reviews weren't premature.