March, 16, 2014
Mar 16
12:11
AM ET
By
Brian Campbell
| ESPN.com
Vyacheslav "Czar" Glazkov rose to the occasion throughout most of the night in the biggest fight of his career.
But it took the unbeaten heavyweight prospect holding off a late rally from determined veteran Tomasz Adamek to secure Saturday's title eliminator.
[+] Enlarge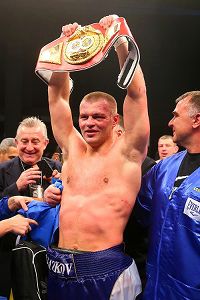 Rich Graessle/Main EventsUnbeaten heavyweight Vyacheslav Glazkov used a heavy jab to outwork veteran Tomasz Adamek.
Glazkov (17-0-1, 11 KOs) fought past 10 rounds for the first time in his career and scored a unanimous decision (117-110, 117-111, 116-112) at the Sands Casino Resort in Bethlehem, Pa. ESPN.com scored the bout 115-113 for Glazkov.
"I wasn't surprised because I felt I was controlling all of the fight and winning every single round," Glazkov said, through an interpreter. "I didn't have experience to go into 12 rounds, which was missing in my game plan, but I learned during this bout."
Glazkov, 29, dominated for the majority of the bout with a punishing jab that caused severe swelling around the right eye of Adamek (49-3, 29 KOs) in Round 2. The 2008 Olympic bronze medalist from Ukraine continued to walk down and impose his size on Adamek, landing consistently with counter right hands.
"This is boxing, you know, sometimes it happens," said Adamek, of a badly swollen and bloody right eye that affected him throughout. "I have broken my nose in my career. This is boxing -- you never know what is going to happen."
Adamek, 37, was staggered by a hard right hand in Round 8 before getting hammered with power shots throughout most of Round 9. But the native of Poland never quit and posted a heroic final stand. Adamek produced his finest work in Round 12, connecting with a series of right hands on a fading Glazkov, whose left eye was swollen and bruised.
In the final two rounds, according to CompuBox, Adamek outlanded Glazkov 55-38 in total punches and 32-22 in power shots.
The loss snapped Adamek's five-fight winning streak since his 2011 title loss to Vitali Klitschko and dealt a major blow to any future hopes of contending for a belt. Because of that, Adamek openly considered retirement after the bout when asked if he plans on continuing.
"No, I have to stop," Adamek said. "I lose my chance and title shot is impossible. I don't know right now."
The victory proved to be a breakthrough one for Glazkov, who showed strong poise and confidence against a fighter with much more experience.
"This is a passing of the torch," said Main Events CEO Kathy Duva, who promotes both fighters. "Glazkov did everything he absolutely had to do to win this fight against a very tough and very accomplished opponent. Tonight he announced his arrival to everyone that he belongs among the top five heavyweights. Adamek is someone who has been a top 10 heavyweight for the last six to 10 years. I am really at a loss to say who amazed me more."
Chilemba handles Grachev
Light heavyweight contender Isaac Chilemba was simply too slick for the hard-charging Denis Grachev in the co-main event and cruised to a wide unanimous decision.
[+] Enlarge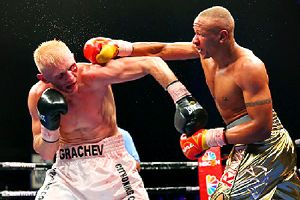 Rich Graessle/Main EventsLight heavyweight Isaac Chilemba relied on movement and accuracy to outpoint a determined Denis Grachev.
Chilemba (22-2-2, 9 KOs), 26, did the majority of his damage by working off of his quick jab and countering on the inside with his right hand. The native of Malawi, who fights out of South Africa, was victorious by scores of 100-90 and 99-91, twice. ESPN.com also had it 100-90 for Chilemba.
Grachev (13-3-1, 8 KOs) persevered through cuts above and below his left eye, along with bleeding from his nose, to make it an exciting fight over the second half of the scheduled 10 rounds. The 31-year-old native of Russia, who fights out of San Diego, was simply unable to land a sustained amount of power shots.
The light-hitting Chilemba, who suffered a small cut above his right eye in Round 6, fought in a much more exciting style than he has become known for and did well to trade with Grachev on the inside at key moments.
February, 2, 2012
2/02/12
5:42
PM ET

There was a time when Edison Miranda was on short lists of young guns to watch. Circa 2006, he was 25-0 going into his fight with Howard Eastman, a former Euro middleweight champion -- and beyond that gleaming record, he had a helluva backstory.

Miranda, who gloves up against Isaac Chilemba in the main event of this week's "Friday Night Fights" at Texas Station, grew up in Colombia. His mom neglected him, so he went to live with other family and friends. He tracked her down, but she kicked him to the curb again, and by age 9, he was living on the streets. He barbecued roadkill some nights to keep his belly full. By age 12 he was working a construction job, by 14 he was a cattle butcher. This is the sort of story you hope has a happy ending.

Fast forward to today. The man whose knockout pop might make us forget Earnie Shavers and rival Julian Jackson, one commentator had gushed, is now 31 -- but seems older. Losing big fights will tend to make fans view you as a faded talent before it's decent to deem you such. His backstory no longer gets rehashed so often as it did back then, before losses to Arthur Abraham (in 2006 and 2008), Kelly Pavlik (in 2007, in his first true step-up fight) and Andre Ward (in 2009).

Miranda's last big-fight opportunity came on April 17, 2010, and sad to say, true to form, he lost. Champion Lucian Bute stopped Miranda in Round 3 of their super middleweight title fight. He is 2-1 since then, with the loss coming in the form of a disqualification, for low blows, against Yordanis Despaigne on "Friday Night Fights" in July. The young gun, now 35-6, so fawned over just five years ago, has officially been relegated to the status of tester of prospects. Chilemba, who has fought unbeatens in four of his past six matches, spoke to ESPN.com about the fight, and how he aimed to handle Miranda in their light heavyweight showdown.

"I do believe I'm the favorite going into the fight," he said. "I'm younger, I'm young and hungry. We've been working on Miranda's weaknesses. We see a lot of them."

Miranda, Chilemba said, is a fast starter but peters out. He relies too much on his power, so he can be outboxed. Thus, Chilemba has been drilling on speed and, especially, movement to get the W.

I wanted to ask Miranda about this new role of his, but wasn't able to make connection with him and his crew, even after he answered a text from me. That surprised me, because back in the day, Miranda was one of the very best trash-talkers in the game. Before he met Ward -- he lost a 12-round decision -- Miranda said, "Andre Ward was a great amateur fighter. But this is the big leagues. Andre, I hope your skills include a graceful way to hit the canvas, because that is what your fans are going to see."

And he talked a great game going into his first stiff test, a 2006 title crack against Abraham, the IBF middleweight champ. "He is scared," Miranda said of the champ. He lost that one (also a UD12), and yet talked like a victor in their 2008 rematch. "Abraham was talking like a little girl," he said during a prefight news conference. "He was talking like a little girl. He knows I destroyed him." It was Abraham who did the destroying again, scoring a TKO4 win in Florida.

Before the Bute fight, Miranda showed a different, softer side: "I saw the first fight between Bute and [Librado] Andrade," Miranda said. "[Bute] won my heart. Bute deserves a lot of blessing. I come to fight. I come to win. I have nothing against Bute."

Was this a coming of age? Had he willfully ditched the big-talking act, embraced humility and a get-it-done-in-the-ring mentality? The jury was out for deliberation. It came back with a guilty verdict following his performance in last year's Despaigne fight.

Miranda dropped his hands and let Despaigne get in free shots at one point. Then, in Round 5, he clanged the 8-1 Despaigne in the groin with a left and ref Vic Drakulich, citing precedent, DQ'd Miranda. Did Miranda act chastened, show a penitent side? Nope. He roared back with chatter that, although somewhat entertaining, makes you wonder if he will ever get to a place of full control, where his emotions don't lead him astray.

"I tapped Despaigne on the belt line and he fell down like he'd been shot," Miranda said. "He's not a fighter, he's an actor and he was looking for a way out because he didn't like the way the story was going to end. He got hit low a couple more times and cried on command and the fight was over. So for that performance, I am awarding him Best Actress in a Dramatic Role. He's the new 'Million Dollar Baby.' ... He was out of gas. I let him punch me because it was like pillow-fighting a girl."

Miranda is still young-ish. He still has the sort of name that makes him quite attractive for managers looking to add a name to their guy's résumé. So it's not like he'll necessarily have to hustle hard for gigs if he loses to the 24-year-old Chilemba (18-1-1 with 9 KOs; sole loss in his ninth pro fight). But the part of us that roots for the hard-luck types to find that pot of gold, that hopes anyone who had to cook roadkill to keep from starving deserves to wallow in some physical and emotional riches, tends to think that it's now unlikely the Colombian will find it.

But that is conjecture. What is certain is that Miranda is in interesting fights. He is a bomber, and his tendency toward chippiness can add an element of drama to his fights. My guarantee: Chilemba-Miranda will be an interesting main event.