May, 29, 2013
5/29/13
2:58
PM ET
By
Brian Campbell
| ESPN.com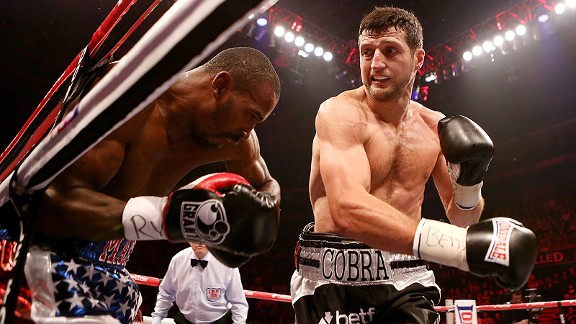 Scott Heavey/Getty ImagesCarl Froch's recent run has raised the ceiling in terms of his potential legacy -- but by how much?
There was a time when Carl Froch's mouth did as much talking for his career as his performances inside the ring.
Beginning with his first fight on American soil -- a 2009 come-from-behind TKO of Jermain Taylor in the 12th round that put him on the radar in the U.S. -- Froch used his new platform as an attempt to lure recently retired, and fellow U.K. star, Joe Calzaghe back into the ring.
Froch, of course, never did end up fighting Calzaghe, the longtime super middleweight king who retired in 2009 with a perfect 46-0 record, over their two-year public feud that followed. (They have since made amends, with Calzaghe openly backing Froch entering his rematch with Mikkel Kessler this past Saturday. Froch won by unanimous decision.)
But in the three full years since Froch's career-making victory over Taylor, the native of Nottingham, England, has done nothing but continue to impress with each performance. In fact, he's on such a hot run right now -- and doesn't appear to be slowing down entering the peak of his marketability at age 35 -- that if things continue to go his way, it's not completely out of the realm of possibility that he ends up defeating Calzaghe in a way that few had thought possible: by surpassing his legacy in the pantheon of great British fighters.
It might sound premature to think about. And I won't begin to make the case that if they had mythically faced off in their prime, the result would be anything different than a Calzaghe victory. But the glaring weakness on Calzaghe's résumé has always been his lack of top competition and the fact that it took him until age 38 to fight outside of Europe.
Calzaghe scored the biggest victories of his career over his final three years against unbeatens Jeff Lacy and Kessler, along with his two triumphs in America over Bernard Hopkins and a faded Roy Jones Jr. He carries the glitz of having walked away unblemished as one of the top super middleweights in history thanks to a 10-year title run and 21 defenses, not to mention the lineal light heavyweight crown he took from Hopkins.
But as things stand now, Froch (31-2, 22 KOs), who endears himself to the hard-core fan with his willingness to constantly face the best, may have already fought better competition than the protective Calzaghe did throughout his entire run.
Froch was not only the first fighter to hand defeats to the likes of Jean Pascal, Andre Dirrell and Lucian Bute, he also has scored additional victories over former champions Taylor, Arthur Abraham, Glen Johnson and now Kessler, without taking anything resembling a soft touch in between.
And with his debated 2010 defeat to Kessler now avenged, Froch is focusing on correcting his other blemish: a 2011 decision loss to unbeaten super middleweight champion Andre Ward in the finals of the Super Six World Boxing Classic.
Any designs on besting Calzaghe's legacy would be heavily bolstered by Froch's defeating boxing's
almost unanimous
No. 2 pound-for-pound fighter. And it's clearly a hard sell to try to create a scenario in which Froch could do such a thing considering Ward's versatility, toughness and the fact that we still likely haven't seen him pushed enough to find out how great he truly is.
But if there's a fighter who is relentless and confident enough to come close, it might be Froch who, despite appearing to have lost by a fairly wide margin against Ward, used his pressing style to persuade two of the judges sitting ringside to score it daringly close at 115-113.
Could Froch do any better in a rematch? That remains to be seen. But he clearly has shown himself to be the rare fighter who has improved into his mid-30s with each fight, while others have begun to fade. And claiming he has four big fights left before retirement, Froch isn't just saving his best for last, he's forcing us to recalculate his ceiling.
Suddenly Froch is in high demand and could find himself in a number of high-profile bouts, from additional rematches with Kessler and Ward to showdowns with Hopkins or fellow super middleweight titlist Robert Stieglitz. Froch has shown himself to be an exciting, honest and durable fighter, but how many expected to see him setting up shop at this stage of his career
in the pound-for-pound Top 10
?
It may be a reach to expect Froch to defeat a fighter the class of Ward and to carry on his remarkable run should they meet again, just as it might be too much to expect him to surpass Calzaghe when it's all said and done. But what makes it refreshing to watch is that Froch is willing to go down swinging while giving it a try.
February, 14, 2013
2/14/13
1:34
PM ET
Floyd Mayweather Jr. certainly knows how to make the most of social media. He doesn't just post random tweets of betting slips; he knows how to use 140 characters to stir things up.

One day, he's proclaiming that he's likely to fight Devon Alexander on May 4, despite all the evidence to the contrary. Then, yesterday he tweeted: "Me & my trainer (my dad) back working together getting ready for May 4th." To prove the point, there was a photograph of the two standing together, a scene that seemed improbable at best after their bust-up in the gym in front of HBO's cameras on "24/7" in August 2011.

The notion that the two Floyds might reunite in the corner had been mooted recently (even as Roger Mayweather -- senior's brother and, in recent years, junior's trainer -- struggles with health issues). So this is another twist in the ongoing saga of their personal and professional relationship. Of course, they are far from the only notable father-and-son corner team in boxing, and like parental-filial relationships elsewhere, they run the gamut. Here is a short selection of some of the more colorful, sometimes successful and sometimes painful case studies:

1. Roy Jones Jr. and Roy Jones Sr.

At times, the apparent dysfunction between these two has been enough to make Floyd Sr. and Jr. look like Bill Cosby and Malcolm-Jamal Warner (kids, ask your parents). On the plus side, Big Roy did teach his son how to box; against that, he also shot his boy's favorite dog. After years of personal and professional estrangement, Jones invited his father to work in his corner for the third fight against Antonio Tarver. When Jones lost that bout by a wide margin, he essentially said he didn't try to win because he didn't want his father to take the credit.

2. Nonito Donaire Jr. and Nonito Donaire Sr.

Donaire pere trained Donaire fils until an incident during training for the son's November 2008 fight with Moruti Mthalane led to the end of their professional relationship. Despite occasional talk of reconciliation, the father-son personal relationship, too, has become strained, at times very publicly so.

3. Danny Garcia and Angel Garcia

There doesn't appear to be any strain between Angel and junior welterweight titlist Danny. If anything, Angel's love for Danny at times verges on the overwhelming, as his extreme defensiveness of his son leads to intense verbal confrontations with Danny's opponents, including Amir Khan and most recently Zab Judah.

4. Shane Mosley and Jack Mosley

It's easy to forget now, but in 1998 Jack and Shane Mosley became the first ever father-son tandem to receive trainer of the year and fighter of the year honors from the Boxing Writers Association of America. But after losses to Vernon Forrest and Winky Wright, Jack and Shane -- who remained close personally -- broke up professionally before reuniting and breaking up again. They were slated for another reunion if Shane's putative bout with Paulie Malignaggi had taken place as planned this month.

5. Joe Calzaghe and Enzo Calzaghe

An unalloyed success: Enzo steered Joe to world titles at super middleweight and light heavyweight. And after Joe retired with an undefeated record, he and Enzo then formed a promotional partnership. Although Joe had well-documented personal troubles in his immediate post-retirement years, his relationship with his father has evidently remained strong.