September, 12, 2013
9/12/13
2:38
PM ET

On a personal level, fight week is a milestone of sorts because it marks 10 years since I was first credentialed for a fight. That fight was the rematch between Oscar De La Hoya and Shane Mosley, and a few weeks before the bout, I was in Big Bear, Calif., for a media day at both men's training camps. That was where I met a young Las Vegas-born junior welterweight prospect named Ishe Smith, who was sparring with Mosley.

I had no intention of covering boxing on a regular or ongoing basis. My intent was to write a book on boxing and Las Vegas, and to that end I focused on a number of Sin City-based boxing figures -- cutman Stitch Duran, referee Joe Cortez and ringside physician Margaret Goodman, among others -- as well as a trio of Vegas boxers at various stages of their careers. One of them was Smith.

For the previous couple of years, Smith had been a mainstay of Guilty Boxing's Friday Night Fights, held once a month at The Orleans casino west of the Strip. But when we talked, he was moving up to the major leagues; he had been signed by Gary Shaw Promotions and had recently appeared for the first time on Showtime's ShoBox series.

A good technician who was adept at working the body, Smith looked destined for a title shot, but things didn't quite work out the way he planned. I was ringside in Santa Ynez, Calif., when he scored a tough, close win over Randall Bailey -- an impressive win for a young fighter, but one that wasn't aesthetically pleasing or clear cut. Then his relationship with Shaw cratered acrimoniously, and Smith was a man without a promoter.

By this stage, my book project had foundered, but I had been bitten by the boxing bug and continued to write from ringside. And I stayed in close touch with Smith, who told me one evening at a Guilty Boxing card that he had been approached to participate in a reality show called "The Contender." He had some doubts about the project but went ahead with it anyway, and although he didn't win the Contender title, he became one of the show's standout stars.

Then it all slowly unraveled. He parted with the people behind the "Contender," was signed by Golden Boy, lost an ugly bout to Sechew Powell, was released by Golden Boy, signed with Lou DiBella, lost a few other fights, went a long time between bouts and was released by DiBella, who said he was having a hard time getting Smith fights and suggested he may find more success with someone else.

By this stage, Smith and I weren't in touch as much. He was adrift, his family life in turmoil, his career stalled. For a while, his thoughts turned suicidal, and even when he emerged from that darkest of places, he had all but resigned himself to being finished with boxing.

Then, suddenly, everything turned around again. Floyd Mayweather Jr. hired him to spar prior to Mayweather's bout with Miguel Cotto last year. Then Mayweather signed Smith to Mayweather Promotions and promised to get him a title shot. A couple of wins led to a bout with Cornelius Bundrage in Detroit earlier this year, and with Mayweather in attendance, Smith finally achieved his dream of becoming the first Las Vegas-born fighter to win a world title.

Now here he is, on hometown soil, about to defend that title against Carlos Molina on the biggest boxing card in years. Ten years after we first met in Big Bear, I interviewed him once more, in a packed MGM Grand lobby.

That book of mine? Never happened. But for Smith, everything finally turned out right. The path may have been much longer and more tortuous than either of us might have expected a decade ago, but the destination wound up better than he could ever have imagined.
September, 6, 2013
9/06/13
11:03
PM ET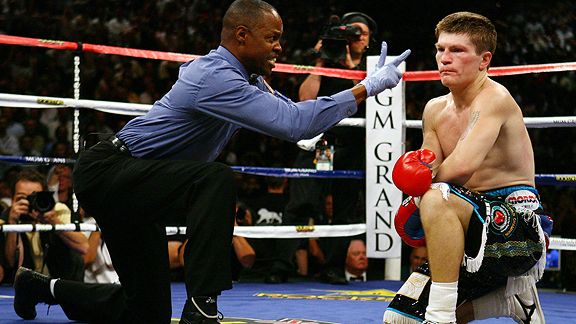 Al Bello/Getty ImagesKenny Bayless, a well-seasoned official, will referee the Floyd Mayweather Jr.-Canelo Alvarez fight.
With the Sept. 14 Floyd Mayweather Jr.-Canelo Alvarez blockbuster almost here, no details are too small for fans to consider, and among the fight's main ingredients are the officials.
The referee for the main event at Las Vegas' MGM Grand will be Kenny Bayless, a well-seasoned official who has worked many high-profile fights in the past. Bayless, a professional boxing referee for more than 20 years who also was a ringside inspector for more than a decade, is a no-nonsense ref who uses solid judgement at all times.
Bayless has worked Mayweather fights on three previous occasions: against Shane Mosley (2010), Oscar De La Hoya (2007) and Roberto Apodaca (1996), in Mayweather's first pro fight. This will mark Bayless' first fight in the ring with Canelo Alvarez.
Most referees will let two boxers fight out of the clinch as long as the holding isn't excessive, and Bayless is no different. When a fighter is hurt, he will look closely into his eyes during the action and perhaps call in the ringside doctor to evaluate him during the rest period -- although he will stop the fight immediately any time he believes a fighter is in danger. Like most refs, he would rather stop a fight a punch too soon than a punch too late.
Neither fighter's camp has expressed any concerns about the referee or judges assigned to the fight.
The judges will be Dave Moretti (100-plus world championship fights in more than 30 years of judging) and C.J. Ross 30-plus title fights over more than two decades), both of Nevada, and Canada's Craig Metcalfe (several title bouts in his 15 year-career).
A few of the ABC unified rules that will govern this fight: There will be light and hard warnings from the referee for infractions and, if excessive, point deductions for fouls. If an intentional foul is committed, there may be no warning and the offending fighter automatically penalized with a one- or two-point deduction, depending on the severity of the foul. The three-knockdown rule won't be in effect; a stoppage would be up to the discretion of the ref. An accidental cut or foul that would keep a fighter from continuing after six completed rounds will send the fight to the scorecards.
A reminder to fans: A judge will sometimes miss a punch (or punches) because the referee, ring ropes or angle of the fighters obscures the officials' view. A lopsided decision or controversial outcome can result from something as simple as the position of a judges' seat. It happens. Hopefully that won't be the case in this fight.
Joe Cortez, a former New York Golden Gloves winner, professional fighter and long-time referee, is a 2011 inductee into the International Boxing Hall of Fame.
May, 31, 2013
5/31/13
10:40
AM ET
By
Julio Gonzalez
| Special to ESPNdeportes.com

Joe Cortez was the third man in the ring with some of the best boxers in history, and he holds the unofficial record for world championship fights as a referee. Yet he's still capable of being thrilled by the announcement of the Floyd Mayweather Jr.-Canelo Alvarez fight.

"I want to see the fight in person, to chat with fans and talk about this matchup that will be very special," said Cortez, who entered the International Boxing Hall of Fame in 2011 and retired last year. "This will be one of the biggest fights in boxing in the last 10 years."

Cortez officiated four Mayweather fights and one Alvarez bout, when the junior middleweight titlist knocked out Josesito Lopez last September. That was also Cortez's farewell fight.

When asked what impressed him most about Mayweather, Cortez pointed to the pound-for-pound king's intelligence and preparation.

"In the ring, having been with [some of the best fighters in the world], I could see that Mayweather had an amazing style. He's always thinking, he knows when to throw his combinations," said Cortez, 69, who oversaw Mayweather's controversial knockout of Victor Ortiz in 2011. "Mayweather throws his punch, and most times he's going to land that punch.

"He's very smart, he brings style and spirit [to the ring]. When he moves in the ring, you say, 'Wow!' He's very hard to beat."

But Cortez, who refereed almost 3,000 fights in a career that lasted 35 years, also was impressed by Alvarez in the Lopez fight (after which the Mexican star symbolically placed his title belt on the referee's waist, knowing it was Cortez's last fight).

"He was very poised, never lost his control in the ring and had tremendous power," Cortez said of Alvarez. "He connected with good body shots, good combinations and had good defense. He looked like a much more experienced fighter than [his age implied]."

That said, Cortez considers Mayweather the favorite against Alvarez. He warns, though, that boxing always has the potential to surprise, and Alvarez could hurt Mayweather with his powerful right hand, as he did in a win over Austin Trout in April.

"Canelo Alvarez is a superstar today, he's a kid who is 22 and has a great future, a boxer with a tremendous style and a guy who is hungry," Cortez said. "I don't know if he has the experience yet that he should have in one or two more years. Mayweather is 36, and 36 is not the same as 22, but he brings a lot of experience to the ring and has a style that is very hard to beat. He has good power, and I think that right now it will be a little hard for Canelo to beat him because Mayweather has the experience and he, in his last fight, fought like a 22-year-old boxer.

"It will be really interesting because I think the two are coming to battle, but the experience always wins over the youth. It's going to be very close, but I'm favoring Mayweather simply because of the history he already has."

Cortez was the referee in another megabout -- the first meeting between Julio Cesar Chavez and Oscar De La Hoya, in 1996 -- which he says resembles the Mayweather-Alvarez matchup.

"Mayweather being Julio and Canelo, Oscar -- one being older and the other younger," Cortez said.

Young De La Hoya, undefeated at the time and already a star in his own right, won that fight 17 years ago. When Alvarez tries to follow his lead on Sept. 14, Cortez plans not to miss it.