June, 9, 2013
6/09/13
5:36
PM ET
By
Brin-Jonathan Butler
| ESPN.com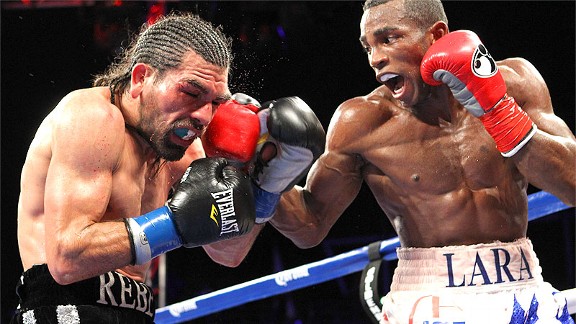 Tom Hogan/Hoganphotos/Golden Boy PromotionsAlfredo Angulo had Erislandy Lara on the ropes before suffering an injury and calling it quits.
CARSON, Calif. -- Cus D'Amato once said, "When two men are fighting, what you're watching is more a contest of wills than of skills, with the stronger will usually overcoming the skill."
On Saturday night in Carson, Calif., Erislandy Lara's demonstrative advantage of skill over Alfredo Angulo only served to inflame Angulo's reserve of willpower. The elegance of Lara's skills simply weren't capable of removing Angulo's will from the equation of the fight. Then, in the fourth round, Angulo's fiendish efforts were rewarded when he dropped Lara, the first knockdown Lara has suffered as a professional. For the duration of the round, every fan in attendance stood to roar approval. Round after round, Angulo took even more risks, applying pressure and striving to close out the fight while eating enough leather to reconfigure his face. Again Angulo dropped Lara, yet the Cuban got off the deck to continue.
In the 10th round, Angulo ate nearly everything Lara threw at him in order to land something meaningful of his own. Then a crisp left hand from Lara struck the swelling over Angulo's eye. Angulo grimaced as another left followed, then another, and finally the referee called off the bout, fearing a broken orbital bone.
Boos. Beer tossed into the ring. "Tijuana style!" a writer next to me laughed. Everywhere you looked, aggrieved faces contorted in expressions of betrayal.
It was all a little incomprehensible to me. Everyone on hand had enjoyed a brilliant fight stopped only after one fighter's health was gravely in danger.
Boos?
Wait a minute. When exactly was enough
enough
? What was the expectation here?
Victor Ortiz quit against
both
of Saturday's headliners, Marcos Maidana and Josesito Lopez. Were those unreasonable decisions? In one of those fights, Ortiz's jaw was broken in two places. Should he have been booed for not fighting on with a broken jaw, as Muhammad Ali did against Ken Norton? Ali was praised for such courage. Oscar De La Hoya was fully capable of getting off his stool to continue against Manny Pacquiao, yet sensibly recognized the futility. Does he get a pass? At the time, his corner asked if he felt like continuing, and Oscar didn't launch much of a protest when it was suggested he not bother. Joe Frazier was legally blind in the only good eye he had left against Ali in the "Thrilla in Manilla." Was his trainer, Eddie Futch, right to call off the fight? Did Futch betray his fighter?
What about the most famous quitter in boxing history? Is Duran's "No Mas" a more defining moment in his career than his victory over Sugar Ray Leonard in their first fight? For many, it is. Mike Tyson notoriously looked for a way out against Evander Holyfield when it was clear Holyfield had his number. Suddenly, Tyson's cowardice in gnawing off Holyfield's ear overshadowed nearly everything he had accomplished as a fighter. Twice, Andrew Golota snatched defeat from the jaws of victory against Riddick Bowe when he swung gratuitously low. His career never recovered.
So in boxing, when is it acceptable to quit? How much abuse is a fighter expected to endure before he can be allowed to show some concern for his own welfare? Anyone who has been around fighters knows they all share the same secret: They are more afraid of embarrassment and humiliation than injury. Do fans and writers use this fact against them in what we celebrate or criticize?
In the documentary "Facing Ali," nearly half the fighters involved required subtitles despite speaking English, their speech slurred by the physical toll of their ring lives. This was their reward for testing their furthermost physical and mental boundaries.
As Guillero Rigondeaux's recent near-shutout of 2012 ESPN.com fighter of the year Nonito Donaire demonstrated, the days of fans cheering Willie Pep for winning a round without throwing a punch are long over. Arturo Gatti's induction into the Boxing Hall of Fame is further testament of boxing giving fans what they clearly reserve their loudest cheers for: fighters who lay their lives on the line at every possible moment of every fight. The truth is, fighters have always done this. We just didn't used to boo the ones who committed the cardinal sin of trying to minimize some of the risk.
November, 28, 2011
11/28/11
5:49
PM ET
Two weeks ago in Las Vegas, talk was dominated not just by the upcoming battle between Manny Pacquiao and Juan Manuel Marquez -- undeniably two of the sport's fiercest contemporary warriors -- but also the passing of Joe Frazier, a man who wore that label as proudly and fittingly as anyone who ever stepped between those ropes.

Conversation swiftly pivoted to the heavyweight era in which Frazier plied his trade, one that was as much a golden age for boxing's marquee division as the '80s were for the welters and middleweights.

It was the misfortune of many heavyweights of the late 1960s and early-to-mid-1970s that they competed in an era dominated by Frazier, George Foreman and Muhammad Ali; in many other times, they could have been champions. A couple of them were, briefly: Jimmy Ellis won the WBA heavyweight tournament that was staged to crown a champion after Ali was stripped of his title, controversially outpointing Floyd Patterson in his only defense and then was crushed by Frazier, and in the closing act of that era, Ken Norton was handed the WBC belt when Leon Spinks elected to fight a rematch with Ali, and in his first and only defense was dethroned by Larry Holmes in an epic match, marking the beginning of a new heavyweight age.

For the others, though, there were challenges and close calls and, in later life, the satisfaction shared by all retired boxers in looking at their young successors and assuring themselves that "I could have whupped 'em all." There was Jimmy Young, who lost to Norton in the bout that prompted the WBC to dub the latter its champion but who outslicked Foreman and sent him into a 10-year retirement; Jerry Quarry, who lost that tournament decider to Ellis, was outpointed by Ali in his return from enforced exile and twice fell short against Frazier; Earnie Shavers, frequently referred to as the hardest puncher of them all, who thumped Ellis and Norton inside a round (but was himself annihilated by Quarry) and came close in a title tilt against a badly faded Ali, who said Shavers "hit me so hard, it shook my kinfolk back in Africa."

And there was Ron Lyle.

Born in Denver in 1941, he went to prison at 19 years old for second-degree murder, although he proclaimed his innocence. While in prison, he was stabbed by a fellow inmate and needed a transfusion of 35 pints of blood to survive. But survive he did, and while incarcerated he learned how to box. In 1971, already 30 years old, he fought his first professional contest. He went undefeated in his first 19 bouts before dropping a decision to Quarry. He suffered his second defeat, also on points, to Young in 1975. Despite that defeat, he found himself facing Ali for the title just three months later.

After 10 rounds, Lyle was ahead on two of the three scorecards and even as Ali returned to the "rope-a-dope" routine that had brought him success against Foreman the previous year in Zaire. Then, in the 11th, Ali cracked Lyle with a right hand and unleashed a succession of unanswered punches that prompted the referee to halt the bout -- a stoppage that Lyle's trainer, Chickie Ferrara, protested "wasn't kosher."

Lyle rebounded to defeat Shavers in a brutal knockout, Shavers slumping forward on the ropes as Lyle continued to pound him.

Then, in January 1976, Lyle fought Foreman.

Two years earlier, Foreman had been unbeaten and seemingly unbeatable: an imposing, destructive hulk of a heavyweight champion. But then came Zaire, and by the time he fought Lyle, Foreman was physically rusty from a long layoff and emotionally dented by the loss to Ali.

Lyle took advantage, cracking Foreman with a booming right hand in the first that buckled the former champion and sent him backing into a corner. In the second, Foreman returned the favor, pounding Lyle with punches until the bell rang a minute early. The third was a quiet affair, relatively speaking, but the fourth was perhaps the most explosive three minutes in heavyweight history. First, Lyle dropped Foreman. Then Foreman came back and dropped Lyle. Then, at the very end of the round, Lyle found the strength to launch another assault on Foreman, who crashed to the canvas again, laying there as he seemingly willed himself to life, and then somehow peeled himself off the floor and on to his feet.

Sensing blood, Lyle went on the attack to open the fifth, but in a final dramatic twist, it was Foreman who backed Lyle into a corner. Foreman began to unload short, chopping punches from heavy, weary arms -- but they landed, one after the other. Lyle's head snapped back and then he slumped forward -- much as Shavers had done against him -- before pitching face-first on to the canvas. This time, unlike Foreman, he could not beat the count.

Lyle fought on until suffering a first-round knockout to Gerry Cooney in 1980. Then, 15 years later, at 54, he launched an improbable, and fortunately brief, comeback.

But it is for that astonishing fight with Foreman -- and in particular, that remarkable fourth round -- that Lyle, who died on Saturday at 70 years old, will forever be best remembered.