Boxing:

Jose Luis Castillo
September, 18, 2013
9/18/13
9:00
AM ET
Time flies, and last week's festivities at the MGM Grand brought home a sudden realization that Floyd Mayweather Jr.'s master class on Saturday night came 10 years and one day after my first credentialed fight.
There were a fair few differences between that first fight and my latest: In 2003, my credential was red (signifying I rated only a bleacher seat) instead of ringside green, my affiliation was merely "freelance," and in the identifying photo my mouth was smiling and my hair wasn't gray. But there were similarities, too: Both bouts were at the MGM, both involved the most popular boxer in the world at the time and both were the culmination of weeks of hype and publicity.
My memories of that first fight are as fresh as though it had been fought 10 months, rather than 10 years, ago, and the passage of time has spawned reflections on the numerous notable memories from a decade of being paid to watch fights.
So here's a list of my top 10 (12, actually, because I kind of cheated) ringside recollections -- not necessarily the best fights (although some of them were terrific) but what, for me personally, have been my most memorable ringside experiences so far.
Shane Mosley W12 Oscar De La Hoya -- MGM Grand, Las Vegas, Sept. 13, 2003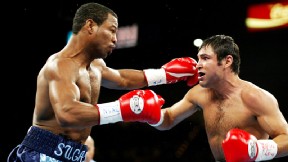 Chris Polk/Getty ImagesShane Mosley edged Oscar De La Hoya for a decision win in 12 rounds in 2003.
Not exactly a ringside recollection, as I watched proceedings from the auxiliary section, but this was the first of what -- although I had no way of knowing it at the time -- would turn out to be more than a decade of professional prizefights for which I was credentialed.
From my seat in the bleachers, I thought the Golden Boy had eked out a decision in a good fight; most of those ringside, where the power of Mosley's blows were more telling, seemed to agree with the official verdict. Personally, I most remember the thrill of experiencing my inaugural big-fight atmosphere, and the strange feeling of anticlimax on Sunday morning when it was all over.
Antonio Tarver TKO2 Roy Jones Jr. -- Mandalay Bay, Las Vegas, May 15, 2004
The defining moment of postfight shock and awe. Jones had looked mortal in the first encounter between the two men, but that had widely been attributed to his struggles returning to 175 pounds after his brief and successful excursion to heavyweight. But Tarver had his number, and when he landed the big punch that marked the end of Jones' era of dominance, the crowd responded with an initial roar, followed by a stunned silence, culminating in 12,000 people reaching simultaneously for their cellphones to tell friends, "Holy ****, Roy Jones just got knocked out!"
Diego Corrales TK10 Jose Luis Castillo -- Mandalay Bay, Las Vegas, May 7, 2005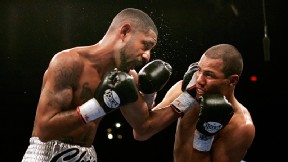 Donald Miralle/Getty ImagesEverybody in boxing remembers the incredible fight between Diego Corrales and Jose Luis Castillo fight in Las Vegas in 2005.
Even if this fight had been a dud, it would for me have been memorable: The previous night, the Boxing Writers Association of America's annual dinner had concluded with one of the finest gatherings of past and present champions to stand on one stage; and Gordon Absher, then the Mandalay Bay's PR guru, had indulged my literary bent by seating me next to the great Budd Schulberg on fight night. Seriously, how could it possibly get any better? Then Corrales and Castillo started throwing punches, and the 4,000 or so souls in the arena became bound together in witnessing one of the very greatest professional prizefights ever -- a fight that effectively ruined both the combatants while leaving an indelible memory on everyone fortunate enough to be there.
Manny Pacquiao TK10 Erik Morales -- Thomas & Mack Center, Las Vegas, Jan. 21, 2006
Manny Pacquiao KO3 Erik Morales -- Thomas & Mack Center, Las Vegas, Nov. 18, 2006
For reasons I can't quite remember, but presumably related to a lack of money, I watched the first tilt between these two on TV in my cabin in Alaska. The indelible memory of their second contest, apart from Pacquiao turning around a fight he was losing and storming to a stoppage win, was the unrelenting volume inside the arena, as rival Mexican and Filipino fight fans shouted themselves hoarse. I imagined it was like sticking your head next to a jet engine. The third was much the same, and at the end of that contest the feeling was of one man reaching the end of his career and another about to launch his into the stratosphere.
Floyd Mayweather TKO10 Ricky Hatton -- MGM Grand, Las Vegas, Dec. 8, 2007
Ah, the Brits. My people. So very many of them, so very drunk, and singing so very loudly. For a week, Las Vegas became Manchester with better weather and colder beer, as Hatton's fans sang constantly to remind themselves how many Ricky Hattons there are; and even when that one Ricky Hatton was stopped in the 10th round, they sang and drank some more.
Antonio Margarito TKO11 Miguel Cotto -- MGM Grand, Las Vegas, July 26, 2008
Miguel Cotto TKO10 Antonio Margarito -- Madison Square Garden, New York, Dec. 3, 2011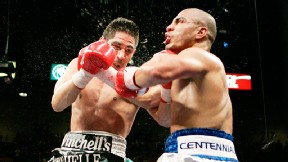 AP Photo/ Ronda ChurchillAntonio Margarito demolished Miguel Cotto in their first fight, but then was suspended for alleged handwrap tampering.
During the buildup to the first fight, I was convinced that Cotto was on the verge of breaking through to the next level, to the very top echelons of pound-for-pound lists. And for much of the early going, the Puerto Rican appeared vastly superior to his opponent in every way, until Margarito ground him down and stopped him in what became a truly violent brawl. The suspicions that emerged afterward, following Margarito's suspension for alleged handwrap tampering, led to a febrile atmosphere in New York three years later. The fact that Margarito was essentially a one-eyed man being served up for punishment concerned the Puerto Ricans in the arena not one bit, and the guttural roar when Cotto glared at his beaten foe segued into dancing on Seventh Avenue afterward.
Manny Pacquiao W12 Joshua Clottey -- Cowboys Stadium, Arlington, Texas, March 13, 2010
The fight itself was kinda meh. Clottey spent most of his time impersonating a turtle as Pacquiao bang-bang-banged away. But there was a real sense of occasion about it all: Jerry Jones, Cowboys Stadium, that scoreboard … One can only wonder how immense it all would have been had the man across the ring been, as originally intended, not Joshua Clottey but Floyd Mayweather.
Lamont Peterson W12 Amir Khan -- Walter E. Washington Convention Center, Washington, D.C., Dec. 10, 2011.
For all but seven of the nearly 20 years I've been in the United States, I've lived in the District of Columbia or its northern Virginia suburbs, so to have an HBO fight in what is effectively my hometown, and with a hometown fighter -- a hometown fighter who had grown up sleeping on the streets near the arena where he was now fighting, even –- scoring an upset win over a big star, with a fevered crowd screaming "D.C., D.C., D.C." … it was all very cool, even if a pair of point deductions by an over-officious referee (to say nothing of the later revelations of Peterson's synthetic testosterone intake) fouled the punch bowl.
Juan Manuel Marquez KO6 Manny Pacquiao -- MGM Grand, Las Vegas, Dec. 8, 2012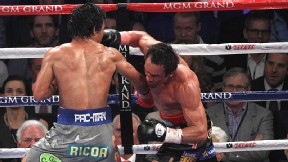 Zumapress/Icon SMIIn his fourth attempt, Juan Manuel Marquez finally beat Manny Pacquiao.
If much of the world greeted the buildup to their fourth encounter with a comparative shrug, the predominantly Mexican crowd viewed it with eager anticipation, desperate for Marquez to finally secure the official victory they felt he had three times been unjustly denied. It did not matter to them that Marquez entered the ring looking like the Incredible Hulk; they wanted a win, and when it came -– with Pacquiao dropping face-first like a stone -- the tide of emotion that crashed through the arena was a mixture of delirious joy and inconsolable grief, with the fevered wailing of a distraught Jinkee Pacquiao a powerful reminder of the realities of what is at stake when two men enter the ring.
Floyd Mayweather W12 Canelo Alvarez -- MGM Grand, Las Vegas, Sept. 14, 2013
From the massive throng that spilled out of the MGM Grand lobby to watch the fighters' arrivals on Tuesday, to the crowd that stood three-deep to catch a glimpse of even the undercard fighters working out the next day, to the incomparable weigh-in experience in front of 12,200 fans -- and, of course, the enthusiastic but ultimately futile cries of "si se puede" and "Ca-ne-lo" during the main event -- this was, from beginning to end, almost certainly the most intense big fight week I've yet experienced.
Note to the "this was boxing's last big fight" crowd: At the time of my first fight, nobody would have predicted that in 10 years' time, Mayweather Jr. would be the man carrying the sport on his back, as De La Hoya did before him, as Mike Tyson did before him. Someone out there is boxing's next big superstar. He may already be on HBO, he may be fighting undercard six-rounders, he may not yet have turned pro. But when he hits the highest heights, his biggest fights will be true events, just as much as Mayweather's are now. And if I'm fortunate, I'll be there covering them.
February, 2, 2013
2/02/13
1:23
AM ET
CHICAGO -- If Carlos Molina is a snake-bitten fighter, the only evidence that betrayed it Friday at the UIC Pavilion was a small cut near his right eye -- which he wore, along with a smile on his face, in a cramped locker room after his main event bout.
It was virtually the sum total of damage that Molina suffered -- on a head-butt, no less -- in a start-to-finish beatdown of former two-division titlist Cory Spinks. Ringside judges scored it 119-106 (twice) and 120-105 for Molina. ESPN.com had it 119-106 for Molina.
"He clinched me and he held me, he bought himself a little more time, but he should have given me a little more space," Molina said of the butt.
It was that sort of fight for Molina (21-5-2, 6 KOs), who did what he could with what he had in front of him. Facing constant pressure from Molina, Spinks countered occasionally, but his stock answer seemed to be to clinch, drop his head or get on his bike. Molina had implied before the fight that he'd be gunning for a knockout, but Spinks did everything in his power not to comply.
"Of course you always want to put on a good show," Molina said. "Fans love a good show, and I'm a No. 1 boxing fan, too. I'm not just a boxer -- I love boxing. So I try to put on a good show but at the same time come out with the victory."
So Molina settled for the latter, delivering a withering body attack to take out the 34-year-old Spinks' legs. He often led with shots downstairs, and he frequently chopped at Spinks' hips and ribs in the clinch.
[+] Enlarge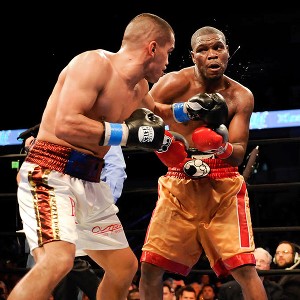 Tom Barnes/MPsportimages.comCarlos Molina didin't get the KO, but managed to punish Cory Spinks during 12 dominating rounds.
The work paid off in the second half of the fight as Spinks slowed down, and Molina added one adjustment that seemed to sap the last of Spinks' spirit: In the eighth round, he began arcing uppercuts at Spinks' chin when he would duck into his exaggerated crouch. There was little left for Spinks to do but hold on -- and in the ninth, he was docked a point for doing exactly that. A round later, a bent-over Spinks took a looping right hand across the mouth that punctuated another Molina combination, fell forward and dropped his gloves to the canvas for a knockdown.
"I was working that body," Molina said, "and I felt him lose his breath a little bit, and then I came back with the right hand."
Molina had endured a near-Shakespearean run of recent bad luck in the ring, but Friday's bout proved to be more comic (in its ease) than tragic. Although he didn't get the decisive ending he'd hoped for -- and the lack of finishing power, especially in a fight where Molina admitted to more aggressively seeking a knockout, has to be considered a mark against him -- he is rewarded a mandatory bout against the winner of the Feb. 23 title fight between Cornelius "K9" Bundrage and Ishe Smith.
After being on the south end of squirrely decisions against Erislandy Lara and Julio Cesar Chavez Jr., not to mention a shady disqualification against James Kirkland, it seems a more-than-just reward.
In the featured bout, Jose Luis Castillo (64-11-1, 55 KOs) looked every one of his 39 years, dropping a clear decision to Antwone Smith (22-4-1, 12 KOs). Although Castillo hooked gamely to the body throughout the fight and even had Smith bleeding from the mouth in the later rounds, his legs had long since deserted him by then. A stationary target waving a token guard, he took jab after jab from Smith, who coasted 100-90, 98-92, 99-91.
July, 26, 2012
7/26/12
6:30
PM ET
By
ESPN.com staff
| ESPN.com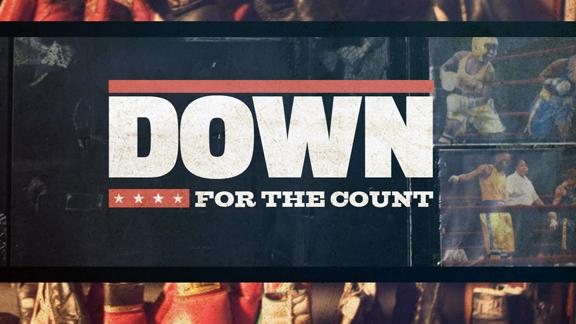 Adrien Broner scored a TKO against Vicente Escobedo on Saturday, but he lost in every other way. He lost his junior lightweight belt (on the scales, when he twice failed to make agreed-upon weights), money (at least $60,000) and the respect of many fans. ESPN's Bernardo Osuna says there's something more that Broner risks losing: the trust of the folks who make his fights. To hear more on why Osuna believes Broner's weight issues -- and attitude in the aftermath -- are no small matter, check out the video above.
May, 3, 2012
5/03/12
10:20
PM ET
On Saturday, boxing fans will celebrate the Mexican festival of Cinco de Mayo by watching an American and a Puerto Rican do battle in the Nevada desert. More than anybody else, Oscar De La Hoya -- an American of Mexican descent -- popularized Cinco de Mayo (or the Saturday nearest to it) as a big fight weekend in Las Vegas, but since his retirement, the aforementioned American (Floyd Mayweather Jr.) and the Philippines' Manny Pacquiao have been the date's biggest pugilistic stars. Hey, imagine how crazy it would be if the two of them ever ... no, let's not go there. We have an actual fight to look forward to this weekend, a title bout between Mayweather and Miguel Cotto, and in the meantime, here's a reminder of some of the best May 5(ish) fights in Sin City's recent history.

5. Julio Cesar Chavez TD8 Frankie Randall, May 7, 1994, MGM Grand
Earlier in the year, Randall's points victory in the same venue brought Chavez his first official loss, in his 91st professional bout. The rematch was closely fought, but when Chavez said he was unable to continue after being cut by an accidental clash of heads, he was declared the winner on a technical decision (aided by a WBC rule that the accidental butter always be deducted a point; without that stipulation, the result would have been a split-decision draw.) The fight was the main event of a Don King card called "Revenge: the Rematches" that featured Terry Norris, Simon Brown, Julian Jackson, Gerald McClellan, Azumah Nelson and Jesse James Leija in perhaps the most stacked pay-per-view broadcast in boxing history.

4. Oscar De La Hoya TKO6 Ricardo Mayorga, May 6, 2006, MGM Grand
De La Hoya's final victory on the Las Vegas stage, and what a stirring one it was. Mayorga had genuinely infuriated the Golden Boy with his prefight taunts, and the vastly superior former Olympian punished him for it, dropping him once in the first and twice in the sixth. At his peak, De La Hoya brought an unmatched electricity to fight crowds, and this night was no exception. The atmosphere was off the hook, and as De La Hoya climbed the ropes to salute his fans in victory, it felt at the time like the perfect coda to a Hall of Fame career.

3. Manny Pacquiao D12 Juan Manuel Marquez, May 8, 2004, MGM Grand
The first installment of an intense and ongoing rivalry almost didn't make it past the first round of this encounter. Pacquiao, fresh off his shocking annihilation of Marco Antonio Barrera, flattened Barrera's countryman three times in that opening frame. Somehow, Marquez survived and fought his way back into the contest. Two fights and eight years later, Marquez remains Pacquiao's nemesis, and vice versa.

2. Manny Pacquiao KO2 Ricky Hatton, May 2, 2009, MGM Grand
This year was Pacquiao's annus mirabilis, in which he followed his 2008 demolition of De La Hoya with stoppage wins over Cotto and, previously, Hatton. The Englishman was down twice in the first round, unable to escape Pacquiao's right hooks, but was working his way back into the contest until PacMan uncorked a thunderbolt of a left hand at the end of the second to leave him spread-eagle on the canvas.

1. Diego Corrales TKO10 Jose Luis Castillo, May 7, 2005, Mandalay Bay
One of the greatest fights of all time -- heck, one could make a case that it was the greatest fight of all time -- will be forever remembered for its conclusive 10th round. Castillo put down Corrales hard and seconds later knocked him down again. Corrales spat out his mouthpiece and earned a point deduction for doing so, but it bought him precious time while the mouthpiece was cleaned, time that trainer Joe Goossen used to tell Corrales, "You'd better f---ing get inside of him now." And so Corrales did, summoning the strength to crack Castillo with a perfect right hand and then tearing into him on the ropes until referee Tony Weeks stopped the contest.

Corrales never won another fight. Two years later, to the very day, he was dead. But his memory, and the memory of his greatest moment in a boxing ring, will live forever.
May, 3, 2012
5/03/12
5:43
PM ET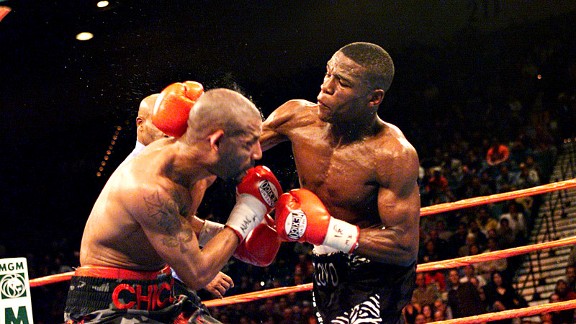 Tom Hauck/Getty ImagesDiego Corrales gave Floyd Mayweather Jr. a run at the MGM Grand in 2001 before falling late.
Saturday's challenge of junior middleweight champ Miguel Cotto will be Floyd Mayweather Jr.'s sixth successive fight at the MGM Grand and his ninth overall. Here's one man's take on Mayweather's five most memorable appearances at what has become boxing's marquee venue:
5. Sept. 17, 2011: Victor Ortiz
Ortiz was at a high point, coming off his dramatic win over Andre Berto, but he was no match for either Mayweather or his own lack of judgment. Frustrated by his inability to pierce Mayweather's defense, Ortiz launched his head into his opponent's in Round 4, prompting referee Joe Cortez to call time out and deduct a point. When Cortez called time in, Ortiz was focused more on hugging Mayweather to apologize than on defending himself; Mayweather clocked an unprepared Ortiz with a left and a right, putting him down for the count.
4. April 20, 2002: Jose Luis Castillo
Notable for being a fight that, in the eyes of many observers, Mayweather lost. Mexico's Castillo was able to pressure Mayweather for periods and take him out of his comfort zone, but the American won a unanimous decision on the judges' scorecards, and he did so again in the rematch across the street at Mandalay Bay.
3. Dec. 8, 2007: Ricky Hatton
Unforgettable. An estimated 30,000 Brits descended on the Strip, all but emptying the MGM of beer and constantly reminding everyone that there was "only
onnnne
Ricky Hatton." That one Ricky Hatton was likely seeing two Floyd Mayweathers after walking into a check hook that sent him face-first into the ring post in the 10th. And still the Brits kept singing ...
2. May 5, 2007: Oscar De La Hoya
Was this really five years ago already? Overdramatically dubbed "The Fight to Save Boxing," this was the event that turned Mayweather into a superstar. Overcoming early resistance from a stiff Golden Boy jab, Mayweather scored a split decision win in a contest that secured a record 2.4 million pay-per-view buys.
1. Jan. 20, 2001: Diego Corrales
Like Mayweather, Corrales was an undefeated 130-pound titlist, and there were plenty of prognosticators who expected him to prove too strong. But you can't hurt what you can't hit, and in what remains Mayweather's most sublime performance, Corrales could hardly lay a glove on his rival. Mayweather, by contrast, couldn't miss his, dropping Corrales five times before Chico's corner stopped the contest in the 10th.