Boxing:

Juan Carlos Payano
September, 25, 2014
Sep 25
1:52
PM ET
By
Salvador Rodriguez
| ESPNDeportes.com
Remembered for his strong record as an amateur, Juan Carlos Payano, a two-time Olympian from the Dominican Republic, is aiming high in professional boxing.
With only four years of paid experience in the sport, Payano will compete for his first world title Friday when he meets Panamanian bantamweight titlist Anselmo "Chemito" Moreno (35-2-1, 12 KOs) at the Mesquite Arena in Mesquite, Texas.
Payano (15-0, 8 KOs), who owns a pair of silver medals from the Pan American Games, is aware that this is a golden opportunity for him on a card put together by Mike Tyson's Iron Mike Productions.
[+] Enlarge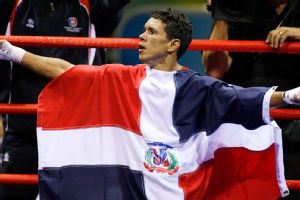 AP Photo/Murad SezerFormer Olympian Juan Carlos Payano of the Dominican Republic enters his first title shot on Friday against Anselmo Moreno.
"I'm in the final stages, and I'm basically ready for the fight and waiting for that time and the moment we go head to head," Payano said. "After training with my trainer Germán Caicedo in Miami, as always, and having prepared in the best way possible, I'm ready.
"I realize that Moreno is a tough fighter, but it makes me very proud to be fighting a great champion like him. It has always been my aim to fight against the best and become one of them myself. My goal is to reach the top, and if I'm to achieve that, then [Friday] is the big challenge."
Payano, 30, assured that a victory will open the doors to the big leagues for him and his team, something that he has always dreamed of.
"I want to be among the best," Payano said. "Moreno is in my sights right now, and I'm confident of winning on the night, although I'm expecting a tough fight. Thanks to that, I'm 110 percent ready to get in there and fight."
Known as a versatile boxer who is able to unleash the dynamite in his knuckles, Payano said that, along with the chance to compete for a world title, he is eager to be a titlist under the flag of Iron Mike Productions.
"I'm certainly delighted to be working with someone like Mike Tyson," Payano said. "I've always really looked up to him, and now he's my promoter. To have him in my corner gives me a great pride and great motivation. It makes me really happy. I enjoy being part of the firm, and I don't want to let him down."
Payano rejected the claim that fighting in the United States would have an effect on him, as he has always been used to fighting away from home.
"It's not important whether I fight at home or not," Payano said. "I'm a fighter, and I fight wherever I have to. I'm not really one for favoritism. I'm here to fight, whether it's in Panama or wherever. We're on neutral ground; he's outside Panama, and he has always fought there. The main thing in my favor is my excellent training."
June, 13, 2013
6/13/13
1:16
PM ET
By
Bernardo Pilatti
| ESPN.com
For Juan Carlos Payano and Jundy Maraon, Friday's fight will play a pivotal role in the future of each fighter's promising career.

Payano and Maraon will meet on ESPN's "Friday Night Fights" main event at the South Mountain Arena in South Orange, N.J.

Maraon (15-0-1, 12 KOs), of the Philippines, is coming off a resounding victory against Ernie Marquez -- his first fight in the United States. A southpaw who is trained by Nonito Donaire Sr., Maraon made his return against Marquez in September after a two-year hiatus caused by a hand injury.

Payano (13-0, 7 KOs), a Dominican whose Filipino paternal grandfather nicknamed him "Baby Pacquiao," has fought six of his past seven fights in the U.S. and likely feels more confortable in this part of the world. He and Maraon are similar in style: Both are aggressive and explosive, carrying knockout power in both hands. The difference is speed. Payano appears faster, though Maraon is a great counterpuncher.

"I'm not going to put myself at risk when I attack, so I planned this fight differently from other ones," Payano said. "Maraon is a strong man who has good power, but he has never faced an opponent of my experience."

Payano, who has worked extensively with southpaw sparring partners in preparation for this fight, understands that his jab could be the key to manage the rhythm of the fight.

"It is the basic tool to win the fight," Payano said, "and in training we have insisted on adjusting the jab to our strategy."

The winner will become the mandatory challenger for bantamweight titlist Koki Kameda. Payano insists the higher stakes won't affect him in the ring.

"I participated in major events such as the Olympics and the world championships, so I am ready to overcome any pressure," he said.

Payano's approach is built on aggressiveness and cumulative combination punching. The left hook to the liver followed immediately by an overhand right have been his most effective tools, yet against a southpaw who has a knockout hook and can land straight down the middle, that game plan could leave Payano exposed.

"I don't face all the fighters in the same way," said Payano, adding that he expects his speed to be the decisive factor Friday. "He's not an easy opponent. I'm ready for everything, to get to the 12 rounds and, depending on how the fight goes, I'll see if there are opportunities for the knockout. In that case, I will not hesitate to finish him quickly."

On the undercard, Jorge "King" Diaz of New Jersey (17-1, 10 KOs) will face Dominican Yenifel Esteban Vicente (24-1-2, 16 KOs) in a junior featherweight bout. A matchup of two prospects with aggressive styles would seem to be an entertaining one.

Diaz is still rebounding after a 2011 stoppage loss to then-prospect Teon Kennedy sidetracked his promising start. Since then, he has added two victories. Vincent, meanwhile, had climbed high in the world rankings before he was defeated on points by Chris Avalos last August.