Boxing:

Julio Cesar Chavez
September, 29, 2013
9/29/13
3:21
AM ET
By
Rodrigo Azurmendi
| Special to ESPNDeportes.com
CARSON, Calif. -- Not that it came as a surprise, but Julio Cesar Chavez Jr. claimed he was a worthy winner after Saturday's unanimous-decision win over Bryan Vera, and he even ventured that he would have finished his foe before the cards were read had it not been for an injury.
Chavez said he was told by the ringside doctor that he had likely broken his right hand, which Chavez said he injured by "snapping" it on Vera's hand in the fourth round.
"I could not finish him," Chavez said. "I hurt him three times in the fight, and in the 10th round he no longer wanted to fight."
Chavez said that had it not been for the injury, he would have knocked out Bryan Vera.
"In the 10th round I hurt him with a punch to the liver," he said. "I really think I didn't knock him out because I broke my hand."
The judges saw Chavez as the unanimous winner, but the scores -- 96-94, 97-93 and 98-92 -- went against most expert analysis and the majority of fans in attendance at the StubHub Center, who booed the announced results.

"I respect everyone's opinion," Chavez said. "People wanted a knockout -- that was the reason."
According to Compubox numbers, Vera outlanded (176 to 125) and outpunched (734 to 328) Chavez, and also connected with more power shots. But Chavez said he landed the better punches in the fight.
"I give Vera my respect because he's a very seasoned fighter," he said. "But he threw a lot of punches that were not effective, and I definitely won most of the rounds and connected with the best shots."
Chavez said his opponent never had any clearly dominant moments, and he claimed that he had the fight under control.
"Maybe in three rounds he had more activity than I did, but he didn't win a clear round," Chavez said.
Chavez said his recent inactivity -- he hadn't fought in a little more than a year -- played a role in what most would consider a disappointing performance, although he again pointed to the injury as the determining factor.
"It affected me a bit," he said of the ring rust, "but I felt bad. The problem was my hand."
And although he praised the work of his father, Julio Cesar Chavez Sr. -- who was working in an official capacity in his son's corner for the first time on Saturday -- and trainer Vladimir Baldenebro, the fighter said he plans to work again with former coach Freddie Roach.
"Freddie is a great trainer, and I want to continue working with him," Chavez said of Roach, who had manned Chavez's corner in each of the fighter's previous seven bouts. "In the corner [against Vera], my dad was pushing me and helped me a lot."
Chavez pointed to an alteration in his style, which included more movement, as being a key to his win.
"We worked a lot more on moving from side to side," he said. "I think that puzzled Vera because he knew I was going to press. I'll keep working to improve it."
Chavez said he would like to fight again in 2013, although that will depend on the status of his hand. What seems more certain is that, despite his opponent's postfight comments seeking a rematch, Chavez won't fight Vera again.
"I'm ready for a rematch, but I don't need it because I clearly won," Chavez said.
September, 26, 2013
9/26/13
4:03
PM ET
By
Rodrigo Azurmendi
| Special to ESPNDeportes.com
LOS ANGELES -- Bryan Vera is patiently awaiting Saturday's turn against Julio Cesar Chavez Jr., calmly steering clear of the distractions surrounding his opponent's weight.
As late as Wednesday night, the official weight limit for the bout hadn't yet been decided --
it was finally settled on Thursday morning
-- but the Texas native claimed that it didn't affect him at all.
"I'm just trying to ignore it, and that is something that I have been doing from long before," Vera said. "I've been in this game for a long time and I have a great team. They keep me focused and busy. I let them deal with it because I have faith in them. If you have people you trust by your side, you should let them handle it."
Vera said that the situation didn't, and won't, change his routine or diet leading up to the fight. But the last-minute changes to the weight limit (originally contracted at 168 pounds, it's now set for 173) and number of rounds (down to 10 from 12) were enough of an issue that Chavez's side had to give up a six-figure sum, as reported by ESPN.com's Dan Rafael, to persuade Vera's team to go through with the bout.
"Obviously, he will be penalized because this is what we agreed on," Vera said of the 168-pound limit. "It's a slap in the face and a lack of respect, but I have a team and I'll let them handle this."
And there it is: Vera isn't
completely
serene in the face of all the wrangling in the final moments leading up to Saturday's clash. Might the perceived disrespect fuel him on fight night?
"It could give him an extra motivation because of who he's facing," said Vladimir Baldenebro, Chavez's trainer. "He will want to beat us and go away with everything, but tell me, who fights with Julio that doesn't come well prepared? That's why we prepared well, because we know that our rival will come out with everything."
Chavez was in agreement, suggesting that lower-profile fighters such as Vera have a built-in edge when facing him.
"I think that they are the most dangerous fighters because they have everything to win and nothing to lose," he said. "It's the complete opposite for me."
Vera seems to be embracing that nothing-to-lose attitude and has repeatedly claimed that he's ready to take advantage of the opportunity in front of him.
"It's a great opportunity, the biggest of my life and my boxing career," he said. "It could get me closer to a lot of things and open doors for [more] opportunities."
September, 12, 2013
9/12/13
3:20
PM ET
By
Salvador Rodriguez
| ESPN.com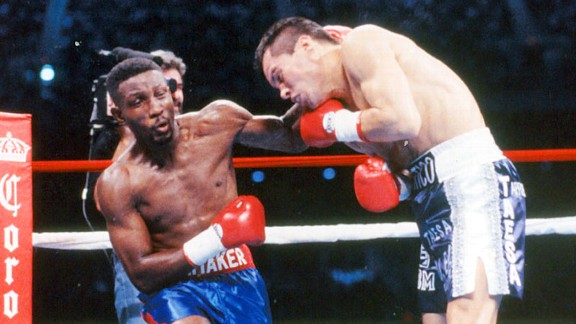 The Ring Magazine/Getty ImagesJulio Cesar Chavez, right, fell short against Pernell Whitaker but helped establish a fight tradition.
LAS VEGAS -- It was exactly 20 years ago this past Tuesday that Julio Cesar Chavez headlined the main event in a Mexican Independence Day celebration at San Antonio's Alamodome, before 60,000 fans, on a mission to become the first Mexican fighter in history to become a four-time champion.
Chavez was unable to achieve the feat, of course, and his draw against Pernell Whitaker in a welterweight title bout that night initiated a series of mishaps for Mexican boxing in the month of September -- although it didn't stop the country's top fighters from becoming staples at stateside shows celebrating the national holiday.
After the Whitaker draw, Chavez went on to star in four more major events around the annual September festivities. He bested Meldrick Taylor in 1994, defeated David Kamau in '95 and fell to Oscar De La Hoya in '98, all in Las Vegas, before bowing out in a technical defeat to Grover Wiley after suffering a fracture hand in 2005 -- Chavez's final fight.
In a gradual, symbolic passing of the torch, it was De La Hoya who took over as the ringleader of boxing's Mexican Independence Day celebrations. He outpointed Hector Camacho in Las Vegas in 1997, the year before his clash with Chavez. And in a blockbuster that remains one of the most significant editions in boxing's Mexico-Puerto Rico rivalry, De La Hoya saw his September winning streak ended by Felix Trinidad in a majority decision in Las Vegas.
"The Golden Boy" renewed his participation in the September ritual in 2002, defeating Fernando Vargas in a battle between Mexican-Americans, but in 2003 he dropped a decision to Shane Mosley in their rematch, and a year later was knocked out by Bernard Hopkins -- all in Sin City.
In 2005, Erik Morales took up the mantle from De La Hoya, but on a night of surprises, 'El Terrible' lost to Zahir Raheem in a duel that was supposed to be a tune-up Morales' second war with Manny Pacquiao. He bounced back with a September triump in 2010, knocking out Willie Limond in Mexico City, and a year later won an interim junior welterweight title by topping Pablo Cesar Cano in Las Vegas.
Also headlining Mexican Independence Day events in recent years, all of them staged on the Vegas Strip, were Marco Antonio Barrera -- against Robbie Peden in 2005 and Rocky Juarez in '06, both unanimous decision wins -- and Juan Manuel Marquez in a spectacular knockout of Joel Casamayor in 2008 and a 2009 points loss to Floyd Mayweather Jr., who has a history of raining on Mexico's Independence Day parades.
And what of the new guard? Last year Julio Cesar Chavez Jr. and Canelo Alvarez brought Las Vegas to a standstill with fights at the Thomas & Mack Center and MGM Grand on the same night. Chavez came up just short of a thrilling last-minute knockout, but lost his middleweight belt and undefeated record to Sergio Martinez. Alvarez, meanwhile, overwhelmed Josesito Lopez in a hail of body punches for a fifth-round TKO. That performance helped lead him to the doorstep of this year's most important night for Mexican boxing -- and maybe the highest-profile night the sport has seen in a decade.
Canelo won't be the favorite on Saturday, but win or lose, he seems poised to become a mainstay as Mexico's next September superstar.
September, 6, 2013
9/06/13
4:40
PM ET
By
Salvador Rodriguez
| ESPN.com

MEXICO CITY -- It has been 21 years since the epic battle between Julio Cesar Chavez Sr. and Hector Camacho, but if memory serves, it's the only thing here that can compare to the current phenomenon of Floyd Mayweather Jr.-Canelo Alvarez. Just as it was for J.C.-Macho more than two decades ago, Floyd-Canelo is virtually the only thing being talked about in Mexico today.

Some of this can be attributed to the country's national soccer team, the biggest attraction in Mexican sports, which hasn't produced the expected results in the Confederations Cup or Gold Cup and is struggling to clinch a place in the 2014 World Cup in Brazil.

"Maybe it's not the best fight in history," said Jose Sulaiman, the WBC president whose organization will award the Mayweather-Alvarez winner its junior middleweight belt. "But it is the fight of the year and one of the major bouts, along with the fights between Chavez-Camacho and [Juan Manuel] Marquez-Manny Pacquiao.

"Pound for pound, Mayweather is the best in the world. He's one of the 10 best boxers in history and the best American boxer in the last 10 years. And beating him would be the most significant achievement in recent years and one of Mexican boxing's greatest achievements."

According to research by the Mexico Tourism Board, the Sept. 14 fight broadcast will reach 1.5 billion people around the world and more than 80 million in Mexico alone.

"This is the sporting event of the year in Mexico," said Gerardo Llanes, MTB's marketing director. "The significance of this fight is huge."

Since the fight was announced, both Alvarez's fans and those who doubt him haven't been able to stop talking about the duel. His followers swear that Canelo will finish off Mayweather; the naysayers believe "Money" will dismantle the myth in the making.

"It's a historic fight: It will be seen in homes, at restaurants," said Llanes, who noted that the MTPC has made a significant investment in the match -- and is confident that it will be worth every penny. "It will be a very important hit; 80 million Mexicans will be watching the fight."

Jesus Mena, a former Olympic medalist and director of the National Commission of Physical Culture and Sports, said that nothing could be more important in Mexican sports than a Canelo victory over Mayweather.

"In our country, boxing meets the highest standards we have," Mena said. "Entire books have been written about boxers' exploits, raising Mexico's name high.

"We hope that Canelo will be the winner in a fight that has evoked great interest. This belt is engraved with Mexico's name, and that is a good omen."

July, 14, 2013
7/14/13
1:41
PM ET
By
Salvador Rodriguez
| ESPN.com

MEXICO CITY -- Saul "Canelo" Alvarez departed Mexico last week as a world titlist, and when he finally returns home, it could be as boxing's new pound-by-pound king.

On Monday, Alvarez boarded a private jet bound for Los Angeles, where he is stopping over before setting up camp in Big Bear, Calif. He'll train at the popular high-elevation destination for the next 55 days in advance of his Sept. 14 challenge of Floyd Mayweather Jr. in Las Vegas.

Alvarez was joined by Jose "Chepo" Reynoso, Eddy Reynoso, Canelo's brother Ricardo Alvarez and a trainer for the trip.

"We are really excited, thrilled, and for good reason -- because we are confident about Saul's capacity and quality, besides the hard work that we will do to get the victory," Reynoso told ESPNDeportes.com. "It is the fight of our lives. Not only for Canelo, but for all of us."

Team Alvarez spent the week in L.A. evaluating potential sparring partners who can join the group for sessions in Big Bear and replicate Mayweather's style. When asked about the strategy Alvarez's team is outlining for the fight, Reynoso said that it's Mayweather who should be worried most.

"You'd better ask Mayweather how is he planning to beat Canelo -- that's the more accurate question," Reynoso said. "Because Canelo is not [Juan Manuel] Marquez, [Victor] Ortiz, [Robert] Guerrero or [Miguel] Cotto. He is a different fighter. Ask him how he is going to defeat Canelo, because we already have figured out how to win."

Reynoso believes that Canelo will have extra motivation against Mayweather, in addition to an opportunity to face the world's best fighter: the chance to earn a spot in Mexico's boxing lore, alongside the names of Julio Cesar Chavez, Marco Antonio Barrera and Erik Morales. He says Canelo has a chance to become a new national icon.

"It comes at the right time," Reynoso said. "Saul is the top draw in Mexican boxing right now, and he's also earned his spot in the international boxing world, like he did in the United States, because that's where the top boxing material is. Mexico is eager for a new icon, and it's the right time since all the big names like Chavez, [Oscar] De La Hoya, Barrera, Morales are long gone.

"Many people say that Saul needed two or three more fights, but we've known him for a long time, and we are sure it's the right time to show the world that on Sept. 14 there will be a new king. We are looking forward to ending Mayweather's reign and letting Canelo start his own."
May, 31, 2013
5/31/13
10:40
AM ET
By
Julio Gonzalez
| Special to ESPNdeportes.com

Joe Cortez was the third man in the ring with some of the best boxers in history, and he holds the unofficial record for world championship fights as a referee. Yet he's still capable of being thrilled by the announcement of the Floyd Mayweather Jr.-Canelo Alvarez fight.

"I want to see the fight in person, to chat with fans and talk about this matchup that will be very special," said Cortez, who entered the International Boxing Hall of Fame in 2011 and retired last year. "This will be one of the biggest fights in boxing in the last 10 years."

Cortez officiated four Mayweather fights and one Alvarez bout, when the junior middleweight titlist knocked out Josesito Lopez last September. That was also Cortez's farewell fight.

When asked what impressed him most about Mayweather, Cortez pointed to the pound-for-pound king's intelligence and preparation.

"In the ring, having been with [some of the best fighters in the world], I could see that Mayweather had an amazing style. He's always thinking, he knows when to throw his combinations," said Cortez, 69, who oversaw Mayweather's controversial knockout of Victor Ortiz in 2011. "Mayweather throws his punch, and most times he's going to land that punch.

"He's very smart, he brings style and spirit [to the ring]. When he moves in the ring, you say, 'Wow!' He's very hard to beat."

But Cortez, who refereed almost 3,000 fights in a career that lasted 35 years, also was impressed by Alvarez in the Lopez fight (after which the Mexican star symbolically placed his title belt on the referee's waist, knowing it was Cortez's last fight).

"He was very poised, never lost his control in the ring and had tremendous power," Cortez said of Alvarez. "He connected with good body shots, good combinations and had good defense. He looked like a much more experienced fighter than [his age implied]."

That said, Cortez considers Mayweather the favorite against Alvarez. He warns, though, that boxing always has the potential to surprise, and Alvarez could hurt Mayweather with his powerful right hand, as he did in a win over Austin Trout in April.

"Canelo Alvarez is a superstar today, he's a kid who is 22 and has a great future, a boxer with a tremendous style and a guy who is hungry," Cortez said. "I don't know if he has the experience yet that he should have in one or two more years. Mayweather is 36, and 36 is not the same as 22, but he brings a lot of experience to the ring and has a style that is very hard to beat. He has good power, and I think that right now it will be a little hard for Canelo to beat him because Mayweather has the experience and he, in his last fight, fought like a 22-year-old boxer.

"It will be really interesting because I think the two are coming to battle, but the experience always wins over the youth. It's going to be very close, but I'm favoring Mayweather simply because of the history he already has."

Cortez was the referee in another megabout -- the first meeting between Julio Cesar Chavez and Oscar De La Hoya, in 1996 -- which he says resembles the Mayweather-Alvarez matchup.

"Mayweather being Julio and Canelo, Oscar -- one being older and the other younger," Cortez said.

Young De La Hoya, undefeated at the time and already a star in his own right, won that fight 17 years ago. When Alvarez tries to follow his lead on Sept. 14, Cortez plans not to miss it.
May, 3, 2012
5/03/12
10:20
PM ET
On Saturday, boxing fans will celebrate the Mexican festival of Cinco de Mayo by watching an American and a Puerto Rican do battle in the Nevada desert. More than anybody else, Oscar De La Hoya -- an American of Mexican descent -- popularized Cinco de Mayo (or the Saturday nearest to it) as a big fight weekend in Las Vegas, but since his retirement, the aforementioned American (Floyd Mayweather Jr.) and the Philippines' Manny Pacquiao have been the date's biggest pugilistic stars. Hey, imagine how crazy it would be if the two of them ever ... no, let's not go there. We have an actual fight to look forward to this weekend, a title bout between Mayweather and Miguel Cotto, and in the meantime, here's a reminder of some of the best May 5(ish) fights in Sin City's recent history.

5. Julio Cesar Chavez TD8 Frankie Randall, May 7, 1994, MGM Grand
Earlier in the year, Randall's points victory in the same venue brought Chavez his first official loss, in his 91st professional bout. The rematch was closely fought, but when Chavez said he was unable to continue after being cut by an accidental clash of heads, he was declared the winner on a technical decision (aided by a WBC rule that the accidental butter always be deducted a point; without that stipulation, the result would have been a split-decision draw.) The fight was the main event of a Don King card called "Revenge: the Rematches" that featured Terry Norris, Simon Brown, Julian Jackson, Gerald McClellan, Azumah Nelson and Jesse James Leija in perhaps the most stacked pay-per-view broadcast in boxing history.

4. Oscar De La Hoya TKO6 Ricardo Mayorga, May 6, 2006, MGM Grand
De La Hoya's final victory on the Las Vegas stage, and what a stirring one it was. Mayorga had genuinely infuriated the Golden Boy with his prefight taunts, and the vastly superior former Olympian punished him for it, dropping him once in the first and twice in the sixth. At his peak, De La Hoya brought an unmatched electricity to fight crowds, and this night was no exception. The atmosphere was off the hook, and as De La Hoya climbed the ropes to salute his fans in victory, it felt at the time like the perfect coda to a Hall of Fame career.

3. Manny Pacquiao D12 Juan Manuel Marquez, May 8, 2004, MGM Grand
The first installment of an intense and ongoing rivalry almost didn't make it past the first round of this encounter. Pacquiao, fresh off his shocking annihilation of Marco Antonio Barrera, flattened Barrera's countryman three times in that opening frame. Somehow, Marquez survived and fought his way back into the contest. Two fights and eight years later, Marquez remains Pacquiao's nemesis, and vice versa.

2. Manny Pacquiao KO2 Ricky Hatton, May 2, 2009, MGM Grand
This year was Pacquiao's annus mirabilis, in which he followed his 2008 demolition of De La Hoya with stoppage wins over Cotto and, previously, Hatton. The Englishman was down twice in the first round, unable to escape Pacquiao's right hooks, but was working his way back into the contest until PacMan uncorked a thunderbolt of a left hand at the end of the second to leave him spread-eagle on the canvas.

1. Diego Corrales TKO10 Jose Luis Castillo, May 7, 2005, Mandalay Bay
One of the greatest fights of all time -- heck, one could make a case that it was the greatest fight of all time -- will be forever remembered for its conclusive 10th round. Castillo put down Corrales hard and seconds later knocked him down again. Corrales spat out his mouthpiece and earned a point deduction for doing so, but it bought him precious time while the mouthpiece was cleaned, time that trainer Joe Goossen used to tell Corrales, "You'd better f---ing get inside of him now." And so Corrales did, summoning the strength to crack Castillo with a perfect right hand and then tearing into him on the ropes until referee Tony Weeks stopped the contest.

Corrales never won another fight. Two years later, to the very day, he was dead. But his memory, and the memory of his greatest moment in a boxing ring, will live forever.
February, 1, 2012
2/01/12
11:25
AM ET
Since he first stepped foot into the ring as a professional prizefighter, looking for all the world as though he were just 12 years old, his every step has inevitably been compared to his father's -- not only because they share name, but because that father was also one of the greatest boxers of all time, a first-ballot Hall of Famer and perhaps the most celebrated pugilist in Mexico's long fistic history.

On Saturday night, the linkages will be stronger than ever; but whereas Julio Cesar Chavez Jr. may at times have wished that comparisons of his career with his father's had to this point been more favorable, he will certainly be hoping to exit San Antonio's Alamodome with more positive reviews than did his father 18 years and change ago.

Chavez Jr. will face Marco Antonio Rubio on HBO in a defense of a middleweight belt that many believe rightfully belongs to Sergio Martinez, who was stripped of the title as a result of the kind of political chicanery and machinations that have granted boxing permanent residency in the Red Light District of sports. But it is also, perhaps more accurately, a measuring stick by which fans can judge the progress of a young contender who, much maligned in his earlier career, is showing signs of developing an all-round game that will meet potentially its toughest test yet in the form of veteran Marco Antonio Rubio.

On Sept. 10, 1993, Chavez Sr. walked into the ring in the very same arena, in front of 56,959 paying fans, placing his 87-0 record on the line against Pernell Whitaker, who had suffered a larcenous loss to Jose Luis Ramirez in his first tilt at a world title five years earlier but was otherwise undefeated in 33 contests. The two men were meeting for the welterweight championship of the world -- which Whitaker had snatched from Buddy McGirt in his previous fight -- but also for more than that: recognition as the best fighter in the world, pound for pound.

(A brief aside: The notion of two welterweights actually deciding who is the best fighter in the world by meeting in the ring might, to today's generation of boxing fans, seem an absurdity, a fiction so improbable as to be without any kind of credibility. Time was, however, when such things happened. But that's another story ...)

Chavez, the betting favorite, began aggressively, looking to bury his patented left hook to Whitaker's liver, as the champion wheeled away and popped his pursuer with a retreating right jab from a southpaw stance. Beginning in the third, Whitaker threw that jab with greater authority, combining it with the footwork and slippery defense for which he was renowned, befuddling Chavez and taking away seemingly every aspect of his game, beating him with punches from inside and outside. From Round 4 onward, it was, to ringside observers, largely a shutout -- a masters class culminating in what was surely a nine rounds-to-three or, at worst, eight rounds-to-four victory.

Except that it wasn't.

One judge scored the fight for Whitaker, 115-113. The other two saw it dead-even, 115-115 -- a result that even many in the pro-Chavez crowd, who had become progressively quieter as their man had been given a boxing lesson, booed.

The New York Times dubbed the result "an oddity of a decision even for this most confusing of sports."

"I went to talk to one of the judges afterward, but I tripped over his seeing-eye dog," Bert Sugar quipped.

"Whitaker put on one of the most dazzling ring performances in recent years," wrote Sports Illustrated, "yet, within minutes, two of the three judges reduced this magnificent show to a mockery."

SI's cover featured a picture of Whitaker landing a right hand on Chavez's jaw, accompanied by a one-word headline: 'Robbed!' (Hey, on the plus side, boxing was on the cover of Sports Illustrated! Yes, kids, sometimes that happened, too.)

Three fights later, Chavez suffered his first official loss, when he was dropped and outpointed by Frankie Randall, and things were never really the same after that. He beat up the likes of Ken Sigurani, Verdell Smith and Marty Jakubowski, but he lost comprehensively to Oscar De La Hoya (twice), Kostya Tszyu (in a fight that never should have been made) and even Willy Wise and Grover Wiley.

Junior avenged the last of those defeats, in a way, splattering the man -- in three one-sided rounds in 2007 -- who had ended Senior's career. And although a clean and clear win on Saturday won't exactly atone for the flimflam that spared his old man from defeat that long-ago September night, it will enable him to boast one accomplishment that eluded his more celebrated father: to walk out of the Alamadome, with his hands in the air and head held high, to the sound of his fans celebrating a Chavez victory.
November, 25, 2011
11/25/11
2:50
PM ET
By
Igor Guryashkin
| ESPN.com
Buried among the rigmarole surrounding Antonio Margarito's now finally licensed eye, Julio Cesar Chavez Jr., the prodigal son of his Hall of Fame father, defeated the semi-retired (and now likely permanently retired) Peter Manfredo Jr. last Saturday night. The result was expected; less so was trainer Freddie Roach's assertion that Chavez, based on this performance, is capable of dispatching middleweight sultan Sergio Martinez.
"[Chavez] can kick [Martinez's] a-- right now, in my opinion,"
Roach told Boxing Scene's Chris LaBate
. "I don't think he's a great fighter. He's a great athlete, I'll give him that. But he's not a great fighter."
Roach has recently developed a habit of making predictions that have gone awry (a Marquez knockout for one), but this one is downright outlandish. Chavez did look impressive in this latest performance, but against limited opposition. It was a credible win against a game but faded fighter.
Perhaps triumphs over more established middleweights such as Andy Lee and Matthew Macklin would add credence to the assertion that Chavez has what it takes to vanquish Martinez, widely regarded as the third-best fighter on the planet. But for now, Chavez remains one half of a duo of arguably overprotected middleweight Mexican fighters.
Froch desperate for vengeance
Carl Froch is a confident man. After the December Super Six Final concludes and the brash Englishman emerges victorious over favorite Andre Ward (as Froch is certain he will), he has only one opponent in mind: Mikkel Kessler, the one man who has beaten Froch.
"To fight Kessler means something, too, especially as I don't believe he beat me,"
Froch told The Daily Mail
.
It's clearly an arrangement that Kessler's own promoter, Kalle Sauerland, is keen to set up.
"I believe that Kessler-Froch Part I was a classic, and that a second or even a third part would be justified," Sauerland said.
"We would love that fight at the Parken Stadium in Copenhagen and we will make the biggest offer ever to a super middleweight boxer to make that fight."
Quote of the week
Every time I fight, I put on a problem, man. You can always expect fireworks and that's what [I] bring. It's not even the Fourth of July yet, man. Every day is Independence Day in the gym for me. I'm a seasonal Fourth of July." --
The demure, reserved Adrien Broner, who will fight Vicente Rodriguez on Saturday on HBO, told Fight Hype