Boxing:

Julio Cesar Chavez Sr.
October, 2, 2013
10/02/13
2:36
PM ET
By
Alfredo R. Berrios
| ESPNDeportes.com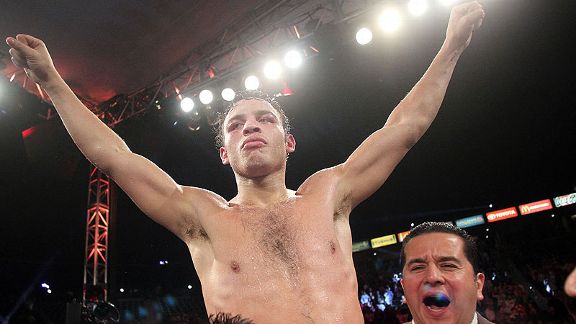 Chirs Farina/Top RankJulio Cesar Chavez Jr. celebrated after a controversial unanimous decision victory over Bryan Vera.
LOS ANGELES -- Julio Cesar Chavez Sr. has very important advice for his son: If he wants to return to the limelight, he has to be fully dedicated to boxing.
In veiled criticism of his son Julio Cesar Chavez Jr., the legendary Mexican boxer said there are many things that have to be corrected, including the training for his upcoming bouts. Chavez Jr. scored a controversial decision victory over Bryan Vera last Saturday in Carson, Calif., looking slow and unprepared throughout.
"I think we have to correct many things, many things are wrong," said Chavez Sr., who worked in his son's corner for the first time during the Vera fight. "The good thing is that the fight happened. I wanted the fight to happen and [to] finally take control of my son, Julio. For him to have other attitudes, he has to change the way he looks at boxing because he can't do it this way."
Chavez Sr. wasn't specific on what the attitudes were, but noted that Chavez Jr. has to start training thoroughly and without distractions. Top Rank originally signed this fight at 168 pounds, but had to renegotiate the compensation to Vera because of Chavez Jr.'s apparent weight problems just days before the fight.
"Yes, definitively, he has to be more responsible in all aspects," Chavez Sr. said. "[He has to] prepare thoroughly for each of his fights because these things can't go on. Fortunately everything happened already."
Although he admitted he was pleased by the way Chavez Jr. threw punches and how he sometimes counterpunched, Chavez Sr. said his son would have thrown more punches had he not injured his right hand, which was originally feared broken.
"No, [I'm] not very pleased," Chavez said. "I wish that Julio had knocked him out and that there wasn't so much controversy. Unfortunately, he couldn't."
The injury appears to be an inflammation that could curtail Chavez Jr.'s intentions of fighting 168-pound titlist Sakio Bika in December. It also likely eliminates the option of a rematch with Marco Antonio Rubio for an interim middleweight title, after an injury took out regular champion Sergio Martinez, who defeated Chavez Jr. last September.
"Julio wants to fight in December for the WBC super-middleweight championship at 168 pounds," Chavez Sr. said. "If it happens, we will fight. If not, we will wait."
Chavez Sr. left the door open for his son to drop back down to 160 pounds for a second chance against Martinez, but conditioned it on how much dedication his son was willing to do.
"In his world championship bouts at 160, Julio made 158 pounds," Chavez Sr. said. "I believe that if Julio prepares thoroughly and takes things seriously, he can go down to 160 pounds."
Although Chavez Sr. said he will continue to help his son in the corner, he looks forward to the possible return of Freddie Roach, in such a way that helps Chavez Jr. improve his speed.
"I think Freddie Roach will return as Julio needs all the speed he can and in that we will see him in the future," Chavez Sr. said.
Regarding his debut working the corner, the legendary former champion said he felt fine and more relieved than when he shouted ringside instructions in the past.
"I felt good, I felt calm," he said. "We were doing a good job until he hurt his right hand in the fourth round and had to change the strategy. I think that Julio didn't fight for the public, he made a fight to win and for me, he truly threw the best punches, nearly knocking [Vera] out three times."
September, 29, 2013
9/29/13
3:21
AM ET
By
Rodrigo Azurmendi
| Special to ESPNDeportes.com
CARSON, Calif. -- Not that it came as a surprise, but Julio Cesar Chavez Jr. claimed he was a worthy winner after Saturday's unanimous-decision win over Bryan Vera, and he even ventured that he would have finished his foe before the cards were read had it not been for an injury.
Chavez said he was told by the ringside doctor that he had likely broken his right hand, which Chavez said he injured by "snapping" it on Vera's hand in the fourth round.
"I could not finish him," Chavez said. "I hurt him three times in the fight, and in the 10th round he no longer wanted to fight."
Chavez said that had it not been for the injury, he would have knocked out Bryan Vera.
"In the 10th round I hurt him with a punch to the liver," he said. "I really think I didn't knock him out because I broke my hand."
The judges saw Chavez as the unanimous winner, but the scores -- 96-94, 97-93 and 98-92 -- went against most expert analysis and the majority of fans in attendance at the StubHub Center, who booed the announced results.

"I respect everyone's opinion," Chavez said. "People wanted a knockout -- that was the reason."
According to Compubox numbers, Vera outlanded (176 to 125) and outpunched (734 to 328) Chavez, and also connected with more power shots. But Chavez said he landed the better punches in the fight.
"I give Vera my respect because he's a very seasoned fighter," he said. "But he threw a lot of punches that were not effective, and I definitely won most of the rounds and connected with the best shots."
Chavez said his opponent never had any clearly dominant moments, and he claimed that he had the fight under control.
"Maybe in three rounds he had more activity than I did, but he didn't win a clear round," Chavez said.
Chavez said his recent inactivity -- he hadn't fought in a little more than a year -- played a role in what most would consider a disappointing performance, although he again pointed to the injury as the determining factor.
"It affected me a bit," he said of the ring rust, "but I felt bad. The problem was my hand."
And although he praised the work of his father, Julio Cesar Chavez Sr. -- who was working in an official capacity in his son's corner for the first time on Saturday -- and trainer Vladimir Baldenebro, the fighter said he plans to work again with former coach Freddie Roach.
"Freddie is a great trainer, and I want to continue working with him," Chavez said of Roach, who had manned Chavez's corner in each of the fighter's previous seven bouts. "In the corner [against Vera], my dad was pushing me and helped me a lot."
Chavez pointed to an alteration in his style, which included more movement, as being a key to his win.
"We worked a lot more on moving from side to side," he said. "I think that puzzled Vera because he knew I was going to press. I'll keep working to improve it."
Chavez said he would like to fight again in 2013, although that will depend on the status of his hand. What seems more certain is that, despite his opponent's postfight comments seeking a rematch, Chavez won't fight Vera again.
"I'm ready for a rematch, but I don't need it because I clearly won," Chavez said.
September, 20, 2013
9/20/13
8:27
AM ET
By
Rodrigo Azurmendi
| Special to ESPNDeportes.com
LOS ANGELES -- As he gets ready to return to the ring, Julio Cesar Chavez Jr. says he is a more mature man after learning a few lessons along the way.
Chavez Jr. admitted his defeat against Sergio Martinez was a wake-up call.
"I learned to take better care of myself, physically and mentally," said Chavez Jr. "I took too many fights for someone like me that needs to drop all the way down to 160 pounds by dieting and making a lot of sacrifices. Doing it four times in a year really took a toll on me. It hurt me and I wasn't in prime condition against Martinez. I learned to space out my fights, cut it down a little bit."
The former 160-pound titlist (46-1-1, 32 KOs) said his defeat also allowed him to go back to the basics, which once led him to the top of the middleweight class.
"Training at the proper hours [is important]," said Chavez. "Having all kind of weight issues took a mental toll on me, and that led me to train after hours. I didn't feel like doing things, I was weak. A lot of things happened, but I learned my lessons."
That's why Chavez Jr. said his Sept. 28 fight against Texan Brian Vera (23-6, 14 KOs) at the StubHub Center in Carson, Calif., marks the beginning of Stage 2 of his pro career.
"The first [stage] brought a lot of learning along the way," said Chavez. "After a year away, I'm back inside a ring against an opponent that might be low-profile, but he is also really dangerous since he is in his prime."
For the fight with Vera, Chavez will have Vladimir Baldenebro as the lead man in his corner.
"It's not really a change of trainers because Vladimir has been with me for nine years," Chavez said. "Freddie Roach was the most famous name in my corner, but Vladimir has always been there. He got the call to be the leading man since Freddie is currently busy training both Manny Pacquiao and Miguel Cotto."
Chavez also said that he and Roach will work together again after the Vera fight and that there are no issues between the two of them.
"We've talked for like 20 minutes about boxing. We were cool, and Freddie said that all the after-hours training happened only for the Martinez fight," said Chavez, referring to what was aired on HBO's "24/7" reality series.
For the upcoming fight, Baldenebro focused on bringing back key elements that made Chavez successful that were not used against Martinez, such as the left-handed hook and more punching power.
[+] Enlarge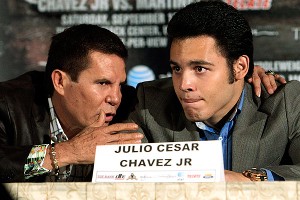 Reed Saxon/AP PhotosJulio Cesar Chavez Jr. will have the guidance of his legendary father in his corner for his next fight against Brian Vera.
"We are doing things my style," said Chavez. "Freddie gave me more explosiveness, but the working atmosphere with Vladimir is more like family, and we know what to do by just looking into each other's eyes."
Chavez will also have his father, Julio Cesar Chavez Sr., as a member of his team, performing a more active role in his corner.
"It will be better, because he will no longer be yelling stuff at the top of his lungs from a distance, he will be able to say those things closer and using a softer tone," Chavez Jr. said of his Hall of Fame father. "Honestly, it was the right decision because his habits were a bit distracting for us. It was not good at all."
Chavez hasn't fought since last September, although he believes being away from the ring for that long will not eventually backfire against him.
"Let's hope it doesn't since I still have a long life left in boxing," Chavez said. "We'll see what happens, but I feel in great shape."
He also said he will remain in the middleweight division only to face specific opponents.
"I will go down to 160 if there are good fights on the table, like the rematch against Martinez, or a clash against Gennady Golovkin," Chavez said. "Otherwise, I will fight at 168, against Sakio Bika or Andre Ward. Those fights are really appealing, but first we must take care of Vera."