April, 27, 2014
Apr 27
10:10
AM ET
By
Brian Campbell
| ESPN.com
Here are five things we learned Saturday after a full day and night of fights, including a heavyweight championship bout in Oberhausen, Germany, and a wild tripleheader of action from Carson, Calif.:
1. That's why they play the game
Or in this case, that's why they fight the fight, right? Let's not sugarcoat what most expected Saturday's card at the StubHub Center to be -- a trio of one-sided showcase fights for three valuable names under the Golden Boy banner. In fact, due to how deep the promotion's roster is at 140 and 147 pounds, forgive us for taking umbrage at the opponent choices for unbeaten welterweight Keith Thurman and all-action junior welterweight Lucas Matthysse. Some wondered why they weren't fighting each other. Others offered a laundry list of better candidates for each, making Saturday's fights feel like mere formalities at best and -- for those feeling extra cynical -- a waste of time.
But something happened on the way to the night's final bell. Matthysse turned in a fight of the year candidate against a fearless John Molina. Unbeaten lightweight titlist Omar Figueroa survived an unexpectedly close split decision against Jerry Belmontes. Both fighters found themselves in tougher-than-expected fights with the final outcome in doubt for most of it. In the case of Matthysse-Molina, the action wasn't simply intense, brutal or dramatic -- it was all three. In fact, it had a throwback feel to it. Even the card's main event -- Thurman's interim title defense against veteran Julio Diaz -- had its moments. Even though Thurman came through with the expected result when he landed a body shot in Round 3 that forced Diaz to withdraw, the fight featured toe-to-toe action, with Diaz hurting Thurman with a hard right hand moments before it ended. Boxing observers see enough mismatched cards these days to remove optimism from the list of necessary prerequisites for being a fan. But the potential for the unexpected always remains, and Saturday's card delivered much more than was advertised on paper.
2. The beat goes on
Heavyweight champion Wladimir Klitschko recorded his 16th consecutive title defense with ease by demolishing unheralded challenger Alex Leapai via fifth-round TKO in Germany. The result was as one-sided as it was expected, with even Klitschko admitting to not having heard of Leapai before the Samoan-born fighter's upset of then-unbeaten Denis Boytsov last November. Klitschko, 38, who improved to 23-2 overall in heavyweight championship fights, also moved one fight closer to Joe Louis' revered record of 25 consecutive title defenses.
[+] Enlarge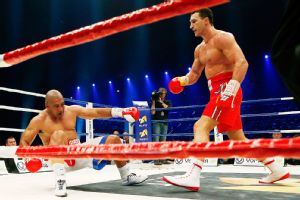 AP Photo/Frank AugsteinWladimir Klitschko, right, dropped Alex Leapai three times on his way to a TKO victory in Round 5.
Klitschko's victories in recent years have brought with them predictable and polarizing reactions. He is either close to putting a bonnet on one of the division's most decorated careers or is a thrice-stopped bore who has benefited from absurdly dismal competition to boast an inflated résumé. Typically, there isn't much middle ground to be found. However, the truth, as it usually does, is found somewhere in the middle. So enjoy Klitschko's run with the respect he deserves as a dominant champion who treats his job title with as much professionalism as any who have worn the belt before him. And while it's unfair to blame Klitschko for the woeful heavyweight era in which he competes, it's equally unfair to disregard that by placing too much emphasis on the numbers when considering his place in history.
3. Long live 'The Machine'
Did we jump the gun a bit last September by predicting a Matthysse knockout over division champion Danny Garcia, setting up a May 2014 appointment with pound-for-pound king Floyd Mayweather Jr.? You could say that. So, what did we learn? Well, he might not be "the next Manny Pacquiao," as promoter Richard Schaeffer boldly proclaimed in 2013. And, following his six-month break after the loss to Garcia, his return Saturday in a life-or-death battle against Molina proved he isn't as elite as maybe some thought. But man, that guy is worth the price of admission, isn't he? Matthysse overcame a pair of stunning knockdowns early on and rallied to produce three of his own to stop Molina in an absolutely brutal slugfest. The Machine's newfound vulnerabilities at age 31 proved just as endearing to watch as his highlight-reel finishes. Only time will tell whether his early troubles with Molina were an indictment of his true stock or merely an unexpected hurdle on his path to bigger things. Either way, the idea of seeing him potentially matched up with Adrien Broner at 140 pounds is enough to get anyone out of their seat throwing imaginary punches into the air.
4. The more things change ...
... the more bad scorecards continue to stay the same. As in, boxing has a gigantic problem on its hands with judging. Of course, you already knew that. In fact, it wouldn't be novel, cute or even entertaining to waste multiple paragraphs of this story railing against it. The reason? Because it happens every weekend. Moreover, you'll probably forget about it by next week. Granted, some offenses are worse than others and have a way of staying in our consciousness longer, like Gustavo Padilla's 114-113 card for Beibut Shumenov over Bernard Hopkins last weekend. But by the time you are done reading this, you will likely be a day closer to forgetting the fact that David Mendoza gave 10 of a possible 12 rounds to Figueroa, who was soundly outboxed for key stretches of his split-decision win over Belmontes. It was another absurd scorecard in a close fight that could have gone either way. And the fact that the reaction on social media was relatively tame in the aftermath only illustrates how desensitized most have come to the larger problem. Boxing fans are at the point again where they almost expect it. And that's what scares me.
5. Do we really know Figueroa?
You have to be careful not to overact following one tough fight during the rise of a promising young boxer. And there was enough excuses available to make sense of Figueroa's less-than-spectacular performance in his close win over Belmontes. Figueroa was making his first appearance since hand injuries twice placed him on the shelf. He was also facing an opponent who had beaten him five times in the amateurs. Still, whether it can be written off as simply ring rust or a determined opponent, something seemed off about Figueroa, who is being groomed for stardom by promoter Golden Boy. Belmontes appeared to expose Figueroa's difficulty keeping up with slick boxers who employ a quick jab. And while Figueroa, 24, is no stranger to trading punches at close range, he showed sloppy technique, failed to sit down on his punches and appeared to fade over the second half of the fight. He was also lucky -- in part due to a generous scorecard -- to escape with a victory. One thing is certain: Figueroa will likely only go as far as his often-injured hands will allow him.
September, 13, 2013
9/13/13
2:18
AM ET
By
Brian Campbell
| ESPN.com
LAS VEGAS -- With the lone bump in his path toward contention in the welterweight division smoothed out, unbeaten Shawn "Showtime" Porter is ready for the next level.

"I want to line them up," Porter said after dispatching a game Julio Diaz in Thursday's rematch of their spirited 2012 bout. "'Showtime' says line them up."

Porter, who still has yet to record a signature, breakthrough victory despite showing promise as a rising contender, took a noted step back in his first bout with Diaz last December. Despite the crowd-pleasing nature of the all-action affair -- a split draw made possible by a resurgent effort from the veteran Diaz -- many thought Porter should have been handed his first defeat.

The rematch, however, was a different story.

Although far from bland, with both fighters exchanging heavy combinations at close range throughout, the fight was much more of a statement effort for Porter, who scored a unanimous decision (98-92, 97-93 twice) at the MGM Grand Conference Center.

Porter, who bounced back in May with a near-shutout of then-unbeaten Phil Lo Greco, was commanding in his execution against Diaz on Thursday. The Cleveland native used a variety of feints to set up stinging three-punch combinations and established himself to the body throughout.

But what prevented the rematch from playing out as a repeat of their first bout was Porter's refusal to allow Diaz into the fight, meeting nearly every punch landed by the former lightweight titlist with a resounding and instantaneous counter shot.

The strategy routinely took the wind out of Diaz's advances.

"I felt like I had him the whole time," Porter said. "I went to the body early and I thought that was really effective. We had a great game plan, and about 75 percent of the fight, I carried out the plan."

Where Porter actually fits in a crowded house at welterweight still remains to be seen. But Thursday's performance officially placed Porter's journey toward title contention back on the tracks.

All he needs now, of course, is that one breakthrough victory that solidifies the diminutive, yet frenetic fighter as a top threat.