May, 31, 2013
5/31/13
10:40
AM ET
By
Julio Gonzalez
| Special to ESPNdeportes.com

Joe Cortez was the third man in the ring with some of the best boxers in history, and he holds the unofficial record for world championship fights as a referee. Yet he's still capable of being thrilled by the announcement of the Floyd Mayweather Jr.-Canelo Alvarez fight.

"I want to see the fight in person, to chat with fans and talk about this matchup that will be very special," said Cortez, who entered the International Boxing Hall of Fame in 2011 and retired last year. "This will be one of the biggest fights in boxing in the last 10 years."

Cortez officiated four Mayweather fights and one Alvarez bout, when the junior middleweight titlist knocked out Josesito Lopez last September. That was also Cortez's farewell fight.

When asked what impressed him most about Mayweather, Cortez pointed to the pound-for-pound king's intelligence and preparation.

"In the ring, having been with [some of the best fighters in the world], I could see that Mayweather had an amazing style. He's always thinking, he knows when to throw his combinations," said Cortez, 69, who oversaw Mayweather's controversial knockout of Victor Ortiz in 2011. "Mayweather throws his punch, and most times he's going to land that punch.

"He's very smart, he brings style and spirit [to the ring]. When he moves in the ring, you say, 'Wow!' He's very hard to beat."

But Cortez, who refereed almost 3,000 fights in a career that lasted 35 years, also was impressed by Alvarez in the Lopez fight (after which the Mexican star symbolically placed his title belt on the referee's waist, knowing it was Cortez's last fight).

"He was very poised, never lost his control in the ring and had tremendous power," Cortez said of Alvarez. "He connected with good body shots, good combinations and had good defense. He looked like a much more experienced fighter than [his age implied]."

That said, Cortez considers Mayweather the favorite against Alvarez. He warns, though, that boxing always has the potential to surprise, and Alvarez could hurt Mayweather with his powerful right hand, as he did in a win over Austin Trout in April.

"Canelo Alvarez is a superstar today, he's a kid who is 22 and has a great future, a boxer with a tremendous style and a guy who is hungry," Cortez said. "I don't know if he has the experience yet that he should have in one or two more years. Mayweather is 36, and 36 is not the same as 22, but he brings a lot of experience to the ring and has a style that is very hard to beat. He has good power, and I think that right now it will be a little hard for Canelo to beat him because Mayweather has the experience and he, in his last fight, fought like a 22-year-old boxer.

"It will be really interesting because I think the two are coming to battle, but the experience always wins over the youth. It's going to be very close, but I'm favoring Mayweather simply because of the history he already has."

Cortez was the referee in another megabout -- the first meeting between Julio Cesar Chavez and Oscar De La Hoya, in 1996 -- which he says resembles the Mayweather-Alvarez matchup.

"Mayweather being Julio and Canelo, Oscar -- one being older and the other younger," Cortez said.

Young De La Hoya, undefeated at the time and already a star in his own right, won that fight 17 years ago. When Alvarez tries to follow his lead on Sept. 14, Cortez plans not to miss it.
April, 18, 2013
4/18/13
1:06
AM ET
By
Julio Gonzalez
| Special to ESPNDeportes.com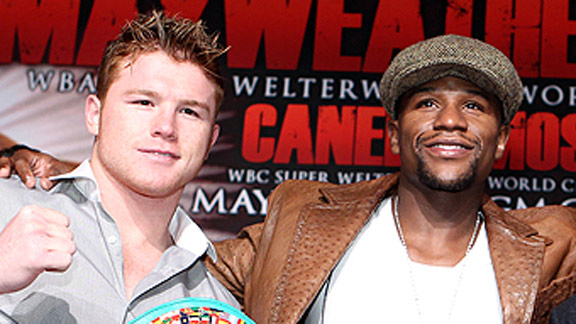 Tom Hogan/Hoganphotos/Golden Boy PromotionsCanelo Alvarez's promoter says pulling out of Floyd Mayweather Jr.'s May 4 card was the right move.
The decision made by Canelo Alvarez and his team to drop out of the May 4 card headlined by Floyd Mayweather Jr. and Robert Guerrero took a bit of a toll on the fighter's promoter, but in the end, Oscar De La Hoya says he would have made the same choice.
Alvarez had been scheduled to face Austin Trout in the co-headler at the MGM Grand in Las Vegas, but when Mayweather wouldn't commit to a follow-up September fight with Canelo, the undefeated junior middleweight titlist quickly broke away to put on his own card, set for Saturday at the Alamodome in San Antonio.
"I applaud him. It was not an easy decision to make, but it was the right one," said De La Hoya, who during his time as a fighter helped transform Cinco de Mayo weekend into a celebration that encompassed some of boxing's biggest blockbusters. "The fact that Mayweather did not want to sign the contract to fight Canelo in September, I think I would have done the same thing -- set my own card -- to show the fans that I can tell Mayweather, 'I don't need you.' It was the right choice."
Alvarez says that he initially didn't want to be part of the May 4 card, but he agreed to it only on the condition that Mayweather face him a few months later. It wasn't long, though, before Canelo and his team decided that, without a contract signed by Mayweather, it wasn't in the fighter's best interest to remain on the card and help boost pay-per-view sales for someone else's main event.
"We are a team -- my father, Saul and myself got together," said Alvarez's trainer, Eddy Reynoso, whose father, Chepo, is Canelo's manager. "Mayweather did not want to sign the agreement that was made to fight him in September. We don't need to do whatever everybody else says. Each person must take care of his own business.
"We are not in a hurry. [Canelo] is 22. He already has five title defenses. He is making very good money, so we do not need to depend on other fighters."
De La Hoya praised Alvarez and the Reynoso family for knowing what they want and sticking to their guns to achieve it: "They want to become the best in the world, the best in this sport, the best in history.
"I think we made the right decision for Canelo's career. Because Mayweather is already established. He is the king of pay-per-view. And I'm taking care of Canelo, to develop him and make him a superstar."
And then De La Hoya made a promise: that the September card his company is scheduled to put on -- most likely on the eve of Mexican Independence Day -- will be headlined by Alvarez.
"He is Mexican," De La Hoya said, "it is Mexico's Independence Day, where a Mexican fights on that date. Like Julio Cesar Chavez did. Like I did. Even though I was born in the U.S., I've got Mexican heritage. So Canelo wants to fight in September, and I will deliver the promise I made."
Alvarez was a main-eventer on Mexican Independence Day last year in Las Vegas, beating Josesito Lopez by TKO in the fifth round, and was a co-main event fighter in Los Angeles on split cards in 2011 and 2010 against Alfonso Gomez and Carlos Baldomir, respectively.
After it was all said and done, De La Hoya said, the reason Mayweather wouldn't commit to face Canelo came down to a healthy respect.
"They know it is a dangerous fight," De La Hoya said, casting an eye to the future, "but in the end, they will have no choice but to take the fight."
March, 29, 2013
3/29/13
6:27
AM ET
By
Julio Gonzalez
| ESPN.com
OXNARD, Calif. -- Like most any Mexican or Mexican-American boxer today, Brandon Rios grew up captivated by the performances of Julio Cesar Chavez.
Inspired by the Mexican idol, Rios visualized himself from a very young age as a future world champion, going forward at all times in the ring, just as Chavez did. He also imagined himself wearing one of those green belts worn by champs such as Chavez. Those moments left a lasting impression.
"I'm half Mexican and half American, so that belt means a lot to me," Rios said. "Since I was a kid I wanted that belt; I told my dad I wanted the green belt of the World Boxing Council."
Rios didn't have the opportunity to fight for a WBC world title when he fought in the lightweight division. And now, as a junior welterweight, he isn't in the mix to earn the WBC title because of conflicts between promotional companies.
What's left for the Lubbock, Texas native is to deliver another dominant performance on Saturday when he faces Mike Alvarado (33-1, 23 KO) in a rematch of one of the best fights of 2012.
In last October's action battle, Rios got the better of the fighters' exchanges and won by seventh-round TKO, winning the respect of fans. In the rematch, he'll be fighting for more tangible stakes: a vacant junior welterweight interim title and, most likely, the chance to face the 140-pound elite and become a legend in his own right.
Rios (31-0-1, 23 KO), 26, believes he's ready to emerge, but he has no problem admitting the obvious: "I'm not the best yet. To be the best, you have to face the best."
Rios says he has watched video of the first fight at least 200 times, claiming he has detected his opponent's errors as well as his own -- he says he'll use more head movement this time around -- and is certain he'll win.
"I give it five or six rounds this time," Rios said. "I guarantee a victory. I never guarantee anything, but this time I feel very confident."
Predicting a knockout win within any number of rounds is a bold enough statement, and Rios acknowledges Alvarado as a plus-size junior welterweight and a hard-hitting warrior who will have extra motivation after coming up short in their first meeting. Still, Rios can't get over how great he feels at 140 pounds.
"My weight is perfect now," Rios said. "One-thirty-five was difficult -- it was killing me to make that weight. Now I'm making 140 easy and I feel great."
Trainer Robert Garcia believes that Rios has not only avoided losing his typical power advantage since moving up in weight, but that he has actually increased it.
"I can assure you that he has gained strength," Garcia said, "because those five pounds off hurt him, he would lose so much muscle."
For this camp, Garcia increased the number of sparring rounds for Rios, estimating that his fighter put in somewhere in the neighborhood of 170 or 180. The trainer also added track work, including sprints, to improve Rios' quickness and explosiveness.
"We are ready for whatever Alvarado could bring," Garcia said. "He has to change -- he lost the first fight. We are prepared in case he wants to box or if he wants to stand up and exchange blows."