August, 19, 2014
8/19/14
1:18
PM ET
By
Brian Campbell
| ESPN.com

There was a certain refreshing nature to the way England's Kell Brook soundly defeated Shawn Porter on Saturday to capture his welterweight title.

It wasn't just the convincing nature of Brook's performance or the fact that his victory announced -- somewhat unexpectedly -- a new player at 147 pounds in boxing's undisputed glamour division.

The victory by Brook, 28, was extra sweet because it came within the grounds of a disturbingly rare meeting between unbeaten titlist and unbeaten challenger.

Brook (33-0, 22 KOs), who saw his shot against then-titleholder Devon Alexander fall apart three times due to injuries sustained to both fighters in the past two years, was able to challenge for the belt held by Porter (24-1-1, 15 KOs) because he was the mandatory. Without that distinction, it's fair to question whether Brook would have had that chance in this spot.

After an almost dream-like 2013 for boxing, the first eight months of 2014 has seen the sport devolve back into a state of slow-play matchmaking and promoters not working together. Outside of an unforeseen surprise like Bernard Hopkins-Sergey Kovalev, fights like Porter-Brook have been few and far between in a year dominated by high-profile mismatches and too many pay-per-views.

Brook's victory over Porter, however, reminded us of how important it is to get the kind of fights whose sole purpose are to give us answers regarding which fighter is truly for real.

With that thought in mind, here are the top five fights that can realistically be made in the welterweight division. Forget the idea of a Floyd Mayweather Jr.-Manny Pacquiao bout or anything else directly blocked by network exclusive deals or promoters and advisers who don't play nicely. If those restrictions weren't already painfully in place, one could quickly concoct 10 matchups better than any you will see below.

But these are the five best matchups at 147 pounds that not only could happen in the next 12 months but really should. So let the involuntary shadowboxing begin:

5. Kell Brook-Keith Thurman

While an all-England showdown between Brook and Amir Khan would be a major superfight across the pond, this pairing would do a better job definitively answering which fighter truly is "next" in the welterweight division. Both fighters are unbeaten, poised and well-rounded. Where do I sign up?

4. Ruslan Provodnikov-Brandon Rios

There's certainly a bit of guilty pleasure associated with this fight between the two most unapologetically fearsome brawlers in the game. Yes, there would be blood. This would be one of those fights that you would tell three friends to tell three friends to tune in for. Violence and dramatic entertainment wouldn't just be a hopeful expectation in this case but a guarantee.

3. Danny Garcia-Amir Khan II

Garcia, the unbeaten recognized champion at 140 pounds, has plenty of big fight possibilities in front of him at junior welterweight against the likes of Lamont Peterson, Adrien Broner and a possible rematch with Lucas Matthysse. But with the weight cut becoming increasingly harder for him, a move up to welterweight is inevitable. What better way to make a debut than in a high-profile rematch against the exciting and vulnerable Khan, who had plenty of success in the early parts of their first meeting before eating a flush left hook from Garcia that he never recovered from.

2. Floyd Mayweather Jr.-Keith Thurman

The obvious reactions regarding whether Thurman is ready for a fight of this nature or if his résumé deserves it quickly fade when you look at Mayweather's current pool of prospective opponents within the division. We know we aren't going to see "Money" against the likes of Pacquiao or Timothy Bradley Jr., so when you factor in Thurman's game-changing power, balanced skill and bustling personality, the unbeaten interim titlist's unanswered questions only add to the prospective intrigue of the fight. While you are much more likely to see Mayweather, should he defeat Marcos Maidana in their Sept. 13 rematch, in lower-risk/higher-reward fights, a showdown with Thurman is not only easy to make but also the most interesting for Floyd on paper at 147.

1. Manny Pacquiao vs. Juan Manuel Marquez V

I don't want to hear about customer fatigue or the fact that the two fighters would be a combined age of 77 by the time this fight would be makeable again in 2015. This pairing, between top-five pound-for-pound fighters, still means something. Not only would the victor have a legitimate claim to having won this generation's greatest rivalry, but all four fights have been dramatic, action classics. In fact, their most recent bout -- Marquez's vicious one-punch knockout of Pacquiao in December 2012 -- was the best fight the sport has produced since Diego Corrales-Jose Luis Castillo I in 2005. This fight doesn't just make sense because, thanks to boxing politics, both fighters are without a better or more lucrative opponent in waiting. It's the best fight you could currently make in the division because it involves two all-time great fighters who bring out the best in each other like no one else can.
August, 17, 2014
8/17/14
11:09
AM ET
For a split second, Kell Brook must have felt like he was in the ring with Sakio Bika. Moments after his majority decision over Shawn Porter was announced, his promoter, Eddie Hearn, wrapped him in a joyous embrace as both rolled around on the canvas. But Brook survived his post-fight spill and will return to England a conquering hero, a nick over his left eye the only visible sign he'd been in a fight.
The Brook-Porter bout capped a long evening at the StubHub Center that also featured Anthony Dirrell's ugly decision over Bika and Omar Figueroa's sizzling TKO of Daniel Estrada. Brook's win was the most significant, Figueroa's shootout with Estrada the most exciting and Dirrell's MMA-style rumble with Bika the one we'd like to forget. Each bout told us something about the combatants. Let's see if we can figure out what.
1.Brook is almost ready:
Brook is now a player in the talent-rich welterweight division, and seems eager to take on all comers. A match with Keith Thurman would be excellent, but Kell is not yet ready for the likes of Floyd Mayweather Jr., Manny Pacquiao or Juan Manuel Marquez.
The logical next step would be a bout with fellow Brit Amir Khan, which would surely be a box-office bonanza in the U.K. Khan, of course, is still hoping for a fight with Mayweather, and has also expressed an interest in taking on Pacquiao. But it doesn't seem that either of those are going to happen anytime soon, and Brook is clearly his best alternative.
2. Porter enthusiasm wasn't enough:
Porter was as hyper as a kid who had overdosed on Halloween candy, while Brook was cool, composed and focused, just like an unflappable Englishman is supposed to be. His savvy movement, spearing jab, straight-as-an-arrow rights and judicious clinching blunted Porter's flailing attacks. And although he never stopped trying, Porter's enthusiasm and one-dimensional approach just weren't enough. Maybe he'll learn from his first defeat, but don't count on it.
3. Porter is not special:
We have at tendency to jump to conclusions and prematurely anoint a fighter as the next big thing, which is what happened with Porter, a likeable jumping bean of a slugger with a big smile and an aggressive attitude. His victories over Paulie Malignaggi and Devon Alexander -- a faded veteran and a reluctant dragon -- fooled a lot of people into thinking he was something special. But after the thumping he took from Brook, we know better. But that doesn't mean we won't make the same mistake again the next time a young fighter comes along and scores a couple of good wins. We believe because we want to believe.
[+] Enlarge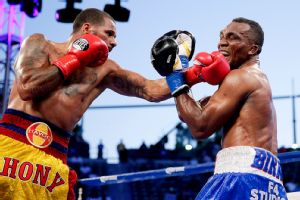 AP Photo/Chris CarlsonAnthony Dirrell won a super middleweight title by outslugging Sakio Bika.
4. Who knew Dirrell could fight dirty?
That's exactly what he did in his rematch with notorious brawler Bika. In their first bout, the slick-boxing Dirrell allowed "The Scorpion" to bully him just enough for the Australian tough guy to hold onto his super middleweight belt with a draw. But this time Dirrell almost matched Bika foul-for-foul in a rough and tumble affair, winning a unanimous decision in a fight that had harried referee Jack Reiss running around like the Mad Hatter.
5. Omar Figueroa is fun to watch, but for how long?
It wasn't quite as sensational as Figueroa's amazing decision over Nihito Arakawa in July 2013, but the way the Texas lightweight produced a thunderous right hand in the ninth round that ended Daniel Estrada's brave bid to take the title was reminiscent of some of Arturo Gatti's spectacular finishes. Figueroa's dramatic victory underlined his status as a must-see fighter, but how long he can keep winning vicious slugging matches remains to be seen. Let's appreciate him while we can.
October, 26, 2013
10/26/13
10:22
PM ET
By
Shaun Brown
| ESPN.com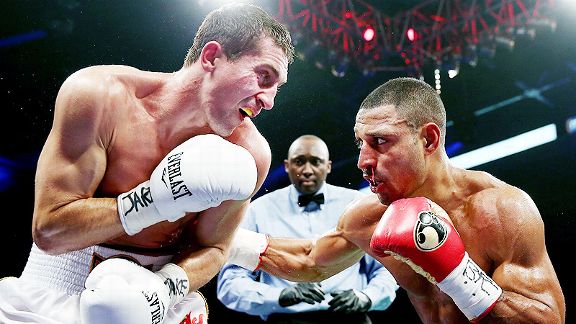 Scott Heavey/Getty ImagesKell Brook, right, controlled Vyacheslav Senchenko on Saturday, but hasn't swayed his doubters yet.
Delight and relief appeared to be the two overriding emotions from Kell Brook and his team after the 27-year-old Brit passed his "toughest test" against Vyacheslav Senchenko on Saturday in Sheffield, England, with a fourth-round TKO victory.
As sounds of triumph bellowed around the Motorpoint Arena for the local hero, Brook mouthed to his trainer, Dominic Ingle, "Thank f--- for that" after his career was rescued from the potential obscurity that could have followed a defeat.
After the wake-up call that was his first contest against Carson Jones (a majority-decision win after a trip to hell and back in July 2012), it had been hoped that Brook would rub his eyes and realize the word "potential" had been placed over his head for far too long and that he would throw it away for good. Fast-forward 15 months, and "All of the Lights" -- the tune that Brook walks out to -- were more or less switched on, but with one still flickering against the 36-year-old Ukranian.
Brook controlled and, for the most part, dominated Senchenko despite suffering a wobble of his own in the fourth round. The fact of the matter is that boxing fans are never going to know how good "The Special One" really is until he has had ring time with a marquee name at welterweight, such as titleholder Devon Alexander, domestic rival Amir Khan or even Paulie Malignaggi, who is kicking keen to fight, again, in the United Kingdom. Not all of the blame can be laid at Brook's door, however. On three occasions this year his challenge for Alexander's strap was cancelled, with injuries to one fighter or the other delaying a bout that now looks further away than ever.
At his best, Brook is like a Rolls-Royce going through the gears smoothly and delivering performance that makes one's head turn. But this particular vehicle has stalled at times and, at worst, still looks like it's being developed on the production line.
Many fighters never fulfill their god-given talents until they are met with their greatest challenge, and after tonight's postfight interview with Brook promoter Eddie Hearn, we are none the wiser as to who might provide it.
"I want the best out there, I'm ready, bring on whoever you want," Brook declared. Then, moments afterward, Hearn, with a glint in his eye, said, "We've got options."
Wait, what? So Brook verus the winner of Alexander-Shawn Porter isn't the foregone conclusion we all thought? So what are these options?
Khan on pay-per-view in the UK, and with their heated rivalry stemming from the usual "Who beat up whom in sparring?" does a right treat on these shores. And, hey, if it don't make dollars, it don't make sense, right? I mean, are we really all holding our breath for Khan to face the king of kings, Floyd Mayweather Jr.?
Hearn also said that one fight he would love to make in the UK is Brook-Adrien Broner. But is Broner and his circus really going to up sticks for someone with no profile in America? And as alluded to earlier, Malignaggi-Brook sells out tonight's venue comfortably and boosts Brook's reputation stateside.
When the Sheffield native looks around at who holds the four shiny belts, then all he will see is an obstacle that is far greater than a fighter who managed to overcome a shadowy figure of Ricky Hatton. But maybe, just maybe, that's when we'll see all of his lights switched on permanently.
"The Special One"? Not just yet.