March, 12, 2013
Mar 12
1:06
PM ET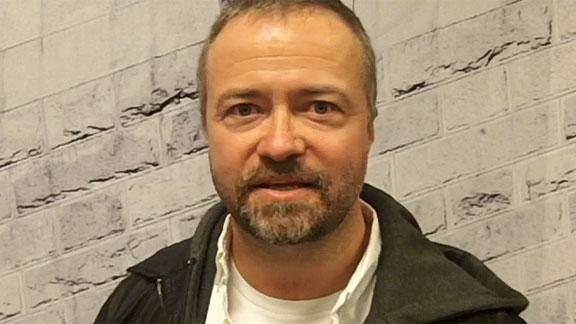 First, the caveat:
Purely from the perspective of its immediate importance in the world of boxing rankings, what Bernard Hopkins did at age 48 to Tavoris Cloud in New York on Saturday night was of less significance than what he meted out to Jean Pascal when Hopkins was a mere 46 years old a little less than two years ago.
Pascal, after all, was widely considered the man at light heavyweight, and Hopkins' comprehensive victory on that May evening in Montreal allowed the Philadelphian to usurp that position. But since then, the veteran has surrendered that title to Chad Dawson, and the fact Dawson dropped down to super middleweight to be taken apart by Andre Ward doesn't change that equation.
So Hopkins is still not
the
light heavyweight champion, but he is once more a light heavyweight
titlist
(which we note and celebrate even as we are supposed to spend all our waking days railing against sanctioning bodies' very existence. So be it). Had Hopkins been 20 years younger, Saturday's main event might have been regarded as a technically brilliant if not always aesthetically pleasing triumph over a lesser contender. However, Hopkins isn't 28, but a full two decades older -- and that, of course, is the point.
For all its achievements, for all its moments of brilliance, Hopkins' career is now defined by its longevity, and arguably has been ever since his seminal victory, when he stopped Felix Trinidad in September 2001 to become the undisputed middleweight champion of the world.
"I have a history of destroying young champions and never having to see them again," Hopkins said after his win over Cloud. And in that vein, it's worth noting that Trinidad, Oscar De La Hoya and Kelly Pavlik are all among the relatively young guns he has dispatched in the past 10 years or so and who are now retired; at the time of their last fight, they were all younger than Hopkins was when he overcame the Puerto Rican, and he has since added an additional decade-and-counting of ring victories.
As a way of grasping the length of The Executioner's presence on boxing's biggest stage, consider some of the following:
When Hopkins first challenged for a world title, a tilt for a vacant middleweight belt that he lost to Roy Jones Jr. in May 1993, Bill Clinton was president of the United States, George W. Bush had not declared his candidacy to be governor of Texas and Barack Obama was a lecturer at the University of Chicago Law School.
Osama bin Laden had not yet moved his base of operations to Afghanistan.
The U.S. national debt that year was almost 12 trillion dollars lower, and summer Arctic sea ice extent was approximately 1 million square miles greater, than they were in 2012.
J.K. Rowling was an unpublished writer. George Clooney played a recurring guest role on "Roseanne." Jennifer Lawrence was not quite 3 years old. Justin Bieber was not even a zygote.
O.J. Simpson was a popular former NFL running back and "The Naked Gun" co-star. His automobile association was with rental car commercials not Ford Broncos.
As a consequence, nobody had heard of Kato Kaelin.
Monica Lewinsky would not become a White House intern for two years.
There was no Viagra.
There was no ESPN.com -- or, indeed, very much .com at all. No Amazon, no Google, no Yahoo, Facebook or YouTube. No iPod or iPhone or BlackBerry. There would be, for at least a few more months, only one ESPN network. Max Kellerman's only TV outlet was on a New York public access station.
Oscar De La Hoya had just run his professional record to 7-0. Floyd Mayweather Jr. was a 106-pound amateur. Manny Pacquiao was living in poverty in Manila. Mike Tyson was in jail. Evander Holyfield had 100 percent of both his ears. What is today the biggest venue in boxing -- the MGM Grand Garden Arena in Las Vegas -- was in the process of being built.
And all of this, recall, was when Hopkins first challenged for a title. He made his professional debut before that -- when Ronald Reagan was still president and the Soviet Union still existed. But the remarkable element of Hopkins' career is not solely its length, per se, but the period over which it has been conducted at the highest level. The Philadelphian made reference in the wake of his win over Cloud to the fact he has left his contemporaries Roy Jones Jr. and James Toney in his dust. And indeed, whereas boxing fans everywhere cringe at every mention of Jones' next fight and Toney long ago waddled into irrelevance, Hopkins has adapted to age rather than yielding to it, his years of experience more than compensating for any inevitable physical decline.
While one might whimsically imagine a yet more aged Hopkins still fighting when, to quote Sheldon Cooper, we are transported to work at the Thinkatorium by telepathically controlled flying dolphins, even he apparently now has his sights set on the finish line. In the immediate aftermath of victory on Saturday, he joked that he wouldn't be around for more than five years. By the time of the postfight news conference, he had acknowledged that he wouldn't be in the ring when he turned 50. Come Sunday morning, he was telling the Associated Press that, "If I'm not motivated, and the competition is not there, if it's a meaningless fight, it's time to roll, man."
Time will tell. After all, Hopkins had already famously promised not to fight past age 40. Still, even popes retire these days -- something else that has changed since Hopkins started boxing. If Saturday were to prove the final time we see him in the ring (and it says here that it won't be), it would be a fitting finale, a Jedi master schooling a wannabe Padawan before riding off into the sunset -- a performance by the aged to cap a career for the ages.
September, 30, 2012
9/30/12
1:34
AM ET
By
Brian Campbell
| ESPN.com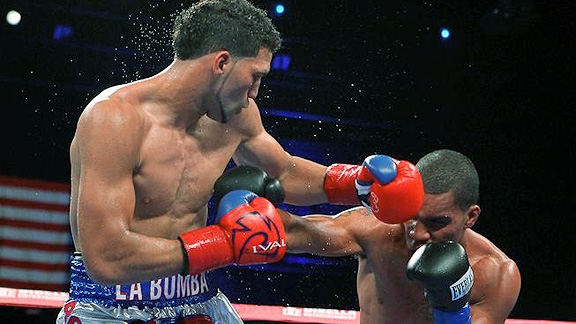 Edward DillerUnbeaten Edwin Rodriguez, left, landed the heavier shots throughout to finish Jason Escalera.
Throughout his progression up the ranks, unbeaten super middleweight Edwin Rodriguez has shown steady signs that he's ready to take on some of the biggest names in the division.
After Saturday's one-sided drubbing of an overmatched Jason Escalera in the main event of HBO's "Boxing After Dark" card at the MGM Grand at Foxwoods in Mashantucket, Conn., Rodriguez called out exactly which fighters are on his radar.
"We want Kelly Pavlik -- I'm ready," said Rodriguez, with promoter Lou DiBella close by whispering into his ear.
Rodriguez (22-0, 15 KOs), of Worcester, Mass., who rehydrated up to 186 pounds on fight night, also mentioned a willingness to move up to light heavyweight, if necessary, against the likes of former champion Jean Pascal.
"Pascal is a good friend, but this is business," Rodriguez said. "If he wants to get it on, I'm down as well."
It seems that all Rodriguez has been lacking thus far is a signature performance to announce his arrival as a true contender. While Saturday's eighth-round TKO of Escalera (13-1-1, 12 KOs) wasn't quite that considering the class of his opponent, Rodriguez still failed to disappoint in a one-sided dismantling.
In his fourth fight under the tutelage of trainer Ronnie Shields, Rodriguez boxed well from the start, using his reach advantage to work the body before coming back upstairs with the right hand. Escalera, who lost his mouthpiece repeatedly throughout the bout, was bleeding from the mouth and was nearly out against the ropes to end a dominant first round for Rodriguez.
Escalera, of Union City, N.J., endured more of the same throughout the next seven rounds, eventually succumbing in the eighth after a right hand from Rodriguez badly bloodied his ear, forcing referee Steve Smoger to jump in.
Whatever Rodriguez has lacked in terms of excitement or explosiveness in his recent run as a featured television fighter, he has made up for with consistency and a workmanlike effort inside the ring. While it's too early to tell just how high his ceiling can be, he has yet to take enough of a step backward to raise any cause for concern.
The kind of fight Rodriguez now desires against Pavlik -- a name fighter in need of a breakthrough performance of his own -- appears to be the perfect litmus test to gauge just how ready Rodriguez is for the next level.
"I feel like I'm ready," Rodriguez said. "Today I wanted to send a message and I believe I did. I'm ready now. My promoter and manager have done a great job moving me along and if they think I'm ready, I'm ready."
Darchinyan overcomes odds to stun Del Valle
Veteran slugger Vic Darchinyan proved he had at least one more trick up his sleeve against previously unbeaten prospect Luis Orlando Del Valle.
A former flyweight and junior bantamweight titlist, Darchinyan (38-5-1, 27 KOs) moved up to 122 pounds with a bang by confusing and -- surprisingly -- outboxing the 25-year-old fighter en route to a 10-round unanimous decision (99-91 twice, 96-94).
[+] Enlarge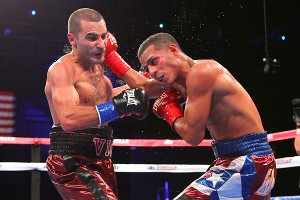 Edward Diller Vic Darchinyan, left, outworked unbeaten prospect Luis Orlando Del Valle over 10 rounds.
Darchinyan, 36, utilized a smothering, unorthodox style to consistently land the harder shots, often with a stinging straight left hand. Del Valle (16-1, 11 KOs), of Puerto Rico, was never able to take control of the pace or rhythm of the fight and had trouble dealing with Darchinyan's herky-jerky style.
The bout featured pockets of exciting two-way action despite its one-sided ending on the scorecards. Del Valle never lost his will, even while being smothered throughout, and wobbled Darchinyan with a left hook in the ninth round.
The Aremenian-born Darchinyan, who resides in Australia, was able to close the show strong in an all-action final round. He went on to outland Del Valle overall by a margin of 227 to 132, according to CompuBox.
In the televised opener, Antonin Decarie (27-1, 8 KOs) of Montreal defeated Alex Perez (16-1, 9 KOs), of Newark, N.J., by sixth-round TKO in a welterweight bout. Decarie, who landed a series of thudding right hands throughout, connected on 99 of 150 power shots (66 percent).
June, 8, 2012
6/08/12
11:15
AM ET

Cameron Dunkin is a prized persona in the fight game, from a writer's perspective, because he will often traffic in the truth. Sure, he has his moments when he plays his cards with a politician's instincts, but by and large, he will speak his mind honestly when asked.

The manager admitted that the mental/physical/spiritual/emotional/technical reclamation project that is Kelly Pavlik looked like "doo-doo" in his first fight at 168 pounds, against Alfonso Lopez on last May's Manny Pacquiao-Shane Mosley undercard. Yes, the former middleweight champion scored a win, but one judge had it even, and many wondered whether too much outside-the-ring drama had cut short Pavlik's efficacy. Hell, Dunkin wondered as much. But new trainer Robert Garcia, when he and Pavlik hooked up in January, talked him off the ledge.

"Give me to September," Garcia told Dunkin. "By that third fight, Kelly will be ready to do something -- he can tangle with anybody at the top level."

Pavlik (38-2, 30 KOs), 30, famously born and raised in Youngstown, Ohio, relocated earlier this year to California to work with Garcia and for a fresh start after battling a drinking problem. The early returns are promising. He looked loads better in taking out Aaron Jaco on March 31, scoring a second-round TKO victory and showing that his hand speed and crispness were back in form. Tonight, Pavlik will take a quarter-step up in competition when he headlines "Friday Night Fights" against Scott Sigmon at the Hard Rock in Las Vegas as he continues to work on acclimating to a new weight class (and lifestyle).

Sigmon (22-3, 12 KOs), the underdog, is a 25-year-old Virginia resident and winner of six fights in a row. A self-motivated type who promotes the heck out of himself, Sigmon makes a solid living selling tickets to his bouts and sponsorships, and he even trains himself. He knows that movement bothers Pavlik, but he's self-aware enough to know that this isn't his strength. He likes to exert pressure, and so does Pavlik, so this could be a good style matchup. Sigmon certainly seems to think so: "This will be an early candidate for fight of the year," he said.

Dunkin, again offering a surprising and refreshing degree of truth, acknowledges that Sigmon isn't close to the level of competition that Pavlik was beating a few years ago.

"I know Kelly is not in with the greatest opponent in the world, but if he looks anything like he looked [against Jaco], he'll be ready to fight some top guys by September, and after that, he'll be ready to fight for the title. I think he's got several more years left in him at the top level. I think he's going to be a big deal in boxing again."


---

Friday also marks the return of prospect Mike Lee (8-0, 5 KOs), of Chicago, who had a busy-as-hell 2011, during which he went 5-0. But Lee hurt his right hand against Allen Medina in New York on the Cotto-Margarito undercard in December and then had surgery to repair it in January. He told me he got down for a week or two, but like all successful types, he turned the negative into a positive.

"I thought, 'What am I gonna do? I can't punch.' Then I said, 'Let's make this a blessing.'"

So Lee went to the gym with trainer Robbie Shields and drilled on refining his jab and his defense.

"I'm so much more comfortable with the jab and head movement," Lee said. "In the last three months, people who see me sparring say it looks like a new kid."

Now he's looking to show off the new bells and whistles against Mexico's Eliseo Durazo (4-2, 1 KO) at the Hard Rock.

Lee is known in some circles as "the Subway boxer guy" because he snagged a national TV commercial for the sandwich chain in the fall of 2011, and has since been re-signed by the company. He totally appreciates the exposure, but admits that he is burning to be recognized much more for his ring prowess than for his acting chops.

"In the near future I want to be known not just as 'the Subway kid,' but as a world champion."