October, 21, 2013
10/21/13
4:28
PM ET
Wladimir Klitschko had his way with challenger Alexander Povetkin on Oct. 5 in Moscow -- there is no debate about that. But the manner in which he did it drew a good degree of criticism in the media and on message boards.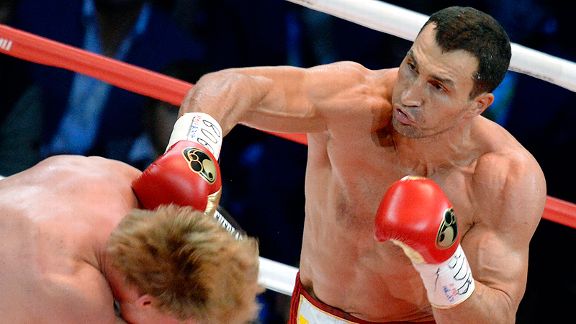 Alexander Nemenov/Getty ImagesFor all the clinching in their fight, Wladimir Klitschko clearly clobbered Alexander Povetkin.
I reached out to Wladimir, 37, who called me from Hamburg to discuss the bout, and gave his reaction to the critiques.
"Boxing is an art, and I will defend my style," said Klitschko, without an edge of defensiveness in his voice. "I understand, a lot of people have different opinions about how I fight, and some might say it's boring. That's nothing new. But I am thankful to you for the criticism -- you have to pay attention to it -- and I will continue to defend the titles as long as I'm enjoying it."
I asked Wladimir (61-3, 51 KOs) if he found himself during the unanimous decision victory over the 34-year-old Povetkin (26-1, 18 KOs), or after, or both, thinking about what late trainer Emanuel Steward might have said. Steward protégé Johnathan Banks worked Klitschko's corner against Povetkin, the third time he had done so since Steward died last October.
"Yes," the heavyweight champ said with a chuckle. "Emanuel would always say, 'Just go knock this m-----f----- out. Especially during Rounds 7 and 8, I could kind of hear his voice. And I would've answered, 'Emanuel, what do you think I'm trying to do? I'm trying!"
Klitschko, for the record, apologized for using that profanity.
Povetkin surprised him, he said, by not fading, and that's why he fought, perhaps, in the manner he did. Klitschko wanted to control his opponent's head, and that's why he didn't aim for the body much. But, he noted, "I know what I'm doing in the ring. I didn't get hit once. Try and run five miles and not sweat! To be fighting a world champion, and not get hit!
"But I understand I could be better. I will work on it and try to make it better next time," he said.
And when might that be, and versus whom, and where, pray tell?
Names that have been mentioned include Kubrat Pulev, Denis Boytsov and Cris Arreola. "And obviously Deontay Wilder as well," Klitschko said.
Mandatory defenses for the various sanctioning bodies will need to be sorted out. "We are getting all of our cards on the table," he said.
I wondered if we might see Klitschko fight next in the U.S., especially considering that the Broadway show he's helping produce, "Rocky on Broadway," kicks off next March.
"It's been one of my dreams to fight back in the States," he said. (Wlad last scrapped in the U.S. in February 2008, against Sultan Ibragimov in New York.) "I know Madison Square Garden is always welcoming."
TV would have to be settled, he said, with HBO and Showtime being the two likeliest suitors to give a platform to a Wladimir bout.
"March is a good month," he said. "I hope to see you guys back in the U.S. for a show."
April, 17, 2013
4/17/13
8:01
PM ET
By
Franklin McNeil
| ESPN.com

NEW YORK -- If arrogance was the sole measure of greatness, then heavyweight Tyson Fury would be considered for induction to the International Boxing Hall of Fame right now.

The fast-rising contender has 20 professional fights under his belt, all victories -- 14 by knockout. Those figures alone generate curiosity in the 24-year-old, but they're even more enticing in a 6-foot-9, 250-pound power puncher.

Fury, though, is looking for much more than a casual look from boxing enthusiasts. He wants full recognition as the best fighter in the world. And when Fury perceives that he isn't being acknowledged in such fashion, he lashes out.

So on Wednesday, during a press conference to generate interest in his elimination bout with Steve Cunningham, a former cruiserweight titleholder, Fury took his arrogance to new heights.

He looked at Cunningham with disdain and commented about him in the most disrespectful manner. Fury is furious that he has to share the ring with Cunningham on Saturday [4 p.m. ET, NBC] in The Theater at Madison Square Garden.

And that was before he became aware that Cunningham's promoter, Kathy Duva, intended to toss a coin to determine which fighter would walk into the ring first and be introduced second. That's when Fury let it all hang out: He believes he deserves to be the last man in the ring and last to be introduced.

"There is only one star, and it's not Steve Cunningham," said Fury, of the U.K. "This is the Tyson Fury road show, and we are bringing it to New York.

"Steve Cunningham is the opponent here. He's not the champion. He's not the man. He is not undefeated. This is all about me. Me! Me! Me!

"I'm the man to beat," Fury continued. "I'm the best heavyweight on the planet. Steve Cunningham is an opponent, a stepping stone."

Caught off guard, Duva could muster only a nervous chuckle. Fury's immediate rejection of her attempt at fairness -- Cunningham is 25-5 (12 KOs) and likely to attract a large contingent of followers from his hometown of Philadelphia -- left Duva no choice but to place that coin in her purse.

But like it or not, Fury -- fighting for the first time in the United States -- does have a strong case. Cunningham, 36, is fortunate to be fighting in an eliminator after coming up short in three of his four most recent outings.

Yet here he is, just two wins from landing a title shot -- not bad for a guy who has a 1-1 record at heavyweight. The winner of Saturday's showdown moves into the No. 2 contender slot of one of the alphabet organizations, and is then expected to face current top-ranked contender Kubrat Pulev.

Heavyweight champion Wladimir Klitschko likely will defend the belt against whichever fighter is standing when the smoke clears. Cunningham, of course, believes he'll be that man, despite the tough talk from Fury.

"He can't match my speed," Cunningham told ESPN.com. "He can't match the wisdom that I've acquired over the years. I've been fighting for 12 years, a pro for almost 13."

Fury is bigger, stronger and longer than Cunningham. He can get away with a mistake here and there; his massive bulk will easily allow him to absorb most of Cunningham's punches -- especially early. The diminutive Cunningham -- 6-foot-3 and a shade over 200 pounds -- doesn't possess the same luxury.

"He beats me in size, height and weight," Cunningham said. "But we all know from the story of David and Goliath that size means nothing. It's about your knowledge, how you use what you have.

"Size doesn't matter. And I'm here to prove that."

Cunningham is partly correct. Fury's size won't matter Saturday if he fails to check his arrogance and take the man standing across the ring from him seriously. Then Cunningham might pull off an upset.

If not, expect Fury to win by unanimous decision.