Boxing:

Marco Antonio Rubio
October, 19, 2014
Oct 19
1:08
AM ET
By
Brian Campbell
| ESPN.com
After an exciting doubleheader at the StubHub Center in Carson, California, featuring knockout victories from a pair of unbeaten titlists on the rise, here are five things we learned from the card titled "Mexican Style":
1. Golovkin is ready for true crossover stardom
Although Gennady Golovkin's second-round knockout of veteran middleweight Marco Antonio Rubio on Saturday proved somewhat anticlimactic, it was no fault of the "Kazakh KO King."
Golovkin's 18th consecutive knockout and 12th straight defense of his 160-pound title only escalated American boxing's love affair with the grinning, humble fighter wielding dynamite in both hands. Golovkin (31-0, 28 KOs) has not yet fully made the leap into the conscious of the general sports fan, but he doesn't appear to be far off.
Plain and simple, he delivers on the action promised in a time when fans haven't consistently received an equal payout for their money spent. With the brands of boxing's incumbent kings growing tired due to factors such as age and unwillingness to make the best fights available, Golovkin, 32, is a breath of fresh air to the sport.
While his few remaining critics are quick to remind that he has yet to face true A-level competition, his insistence on staying busy and being willing to fight anyone over a span of three weight classes has more than compensated. The Tysonesque buzz that has followed Golovkin from one devastating knockout to another is real. It won't be long now before the rest of the American sports world begins to fully take notice.
2. California debut proves GGG's brand has closed the gap
Mixing his danger with his lack of a native fan base made it an easy justification for Golovkin to become boxing's most avoided fighter. But prospective opponents can no longer make the excuse that GGG is not a marketable draw.
[+] Enlarge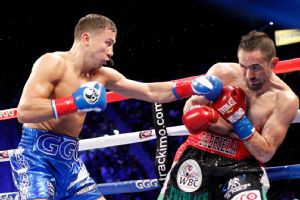 AP Photo/Alex GallardoGennady Golovkin, left, scored his 18th consecutive KO victory by stopping Marco Antonio Rubio in Round 2 on Saturday.
Golovkin made his West Coast debut in front of a sold-out crowd of 9,323 at a venue that repeatedly opened extra seating in the lead-up to the fight. Three months earlier, he made his debut in the big arena at New York's Madison Square Garden to spectacularly knock out former titlist Daniel Geale in front of more than 8,500 fans.
GGG is ready to fill the big arenas and make the leap onto the pay-per-view level for the right fight in 2015. What that will do is dramatically enlarge the name-value of his potential opponents.
With Mexican superstar Canelo Alvarez signing a long-term deal to return to HBO, along with his promoter Golden Boy showing a newfound willingness to play nice with others, big fights are on the horizon at middleweight.
By the time the winner of a possible spring 2015 showdown between Alvarez and middleweight champion Miguel Cotto has his hand raised, Golovkin -- who became Cotto's mandatory challenger in winning a vacant interim title Saturday --- should see his brand further developed.
Although that won't make him any less dangerous for the winner to face -- especially if his knockout streak continues -- potential Golovkin opponents can no longer contend fighting him isn't a smart move, financially.
3. Bad weekend for Rubio
Despite entering the fight as a heavy underdog, Rubio (59-7-1, 51 KOs) was expected to challenge Golovkin in ways other recent opponents were unable to do.
Rubio, 34, entered the fight with height and reach advantages over Golovkin, along with respected durability. With 51 knockouts in 59 victories entering the fight, he also represented arguably the hardest puncher Golovkin had seen.
But the native of Mexico lost both his interim belt and his ability to challenge Golovkin for his full title the day before the fight, when he weighed in over the middleweight limit at 161.8 pounds. Despite having two hours to shed the extra weight, Rubio never made it back to the scales and forfeited $100,000 of his $350,000 purse.
To make matters worse for Rubio, along with his unprofessionalism, he failed to live up to his end of the bargain inside the ring. Despite a solid opening round in which he pressured Golovkin and landed a mixture of left hooks and body shots, Rubio folded quickly once he tasted GGG's power in Round 2.
Golovkin set up Rubio's exit with a perfect right uppercut that sent him reeling and running for cover along the ropes. Golovkin swooped in and capped off a flurry with an overhand left to the top of the head that sent Rubio to the canvas.
Rubio sat up quickly but took his time getting up, as referee Jack Reiss counted him out with Rubio appearing to not want any more.
4. A featherweight star is born in Walters
Secondary beltholder Nicholas Walters entered Saturday's bout against 126-pound titlist Nonito Donaire known mostly for his power, which stopped 10 of his previous 11 opponents.
But the native of Jamaica left the bout with a memorable knockout against the biggest name in a loaded, red-hot division.
Walters (25-0, 21 KOs), 28, announced himself to the boxing public in his first appearance on American television by outworking and ultimately stopping Donaire in Round 6.
Out-jabbing Donaire to the tune of 44-4 according to CompuBox, Walters set the stage for his devastating power. Donaire was floored in Round 3 for the first time in his career on a beautiful uppercut that opened a cut above his right eye.
By Round 6, Walters was simply wearing him down as the bigger man and finished him with a right hand to the side of the head that sent Donaire to the canvas face first, moments before referee Raul Caiz Jr. called off the fight.
The victory also showcased Walters' humility and the respect he held for Donaire during their postfight interview. Walters not only doesn't lack for confidence, but he's also a potential handful for any of the other titlists in the division, including two-time Olympic gold medalist Vasyl Lomachenko.
5. The end is near for Donaire
Donaire gave Walters full credit for the victory and said he entered at his best and never trained as hard for a fight in his career.
But what Donaire's loss illustrated was that, at 31, the former four-division titlist is no longer the guy who captured fighter of the year honors in 2012. It also gave credence to the thought Donaire had moved up one weight class too big.
Either way, the future of his career, at least against elite opponents, appears to be over. While Donaire refused to take the bait when HBO's Max Kellerman suggested retirement after the bout, his comments spoke volumes.
"I have to go back to the drawing board," Donaire said. "I know I can't compete with guys like Walters. He was just overwhelming me. I succumbed to his size and power and his overwhelming aura."
October, 10, 2014
Oct 10
3:13
PM ET
By
Gennady Golovkin
| Special to ESPN.com
After a dominant victory over Daniel Geale in July, Gennady Golovkin is ready to take his act to the West Coast to face Mexico's Marco Antonio Rubio on Saturday, Oct. 18 (HBO, 10 p.m. ET) at the StubHub Center in Carson, California.

Golovkin (30-0, 27 KOs), a middleweight titlist since 2010 -- when he beat Milton Nunez in Panama -- faces Rubio (29-6-1, 51 KOs), who owns an interim title in the 160-pound division.

For this fight, Golovkin is back training in the mountains of Big Bear in California.

In his own words, Golovkin talks about training and fighting in California and the opportunity to build a fan base on the West Coast.

Discuss what it feels like to be fighting in California for the first time.

"I first came to Big Bear to train over four years ago with my coach, Abel Sanchez. I liked that it was quiet and peaceful and a good place to work and prepare for my fights.

"The other fighters in camp made me feel welcome right away, as did Coach's family. I missed my wife and son back in Germany, but knew this would be best for my career. And I would see my family when I go back home in between fights.

"Along with training, I've been able to attend other fights and have always been approached by fans who wanted my autograph and picture. While they see me fight on HBO in New York City, they also always wanted to know when I would be fighting in Los Angeles.

"The StubHub Center I've been to many times for other fights, and each time the support from the fans increases. Also, when I go into Los Angeles for other events, fans are very supportive as well.

"So this fight against Marco Antonio Rubio is a gift to all my fans here in Southern California, everyone who kept asking about fighting here and have been so supportive. I'm very happy to be fighting on October 18th at the StubHub Center and promise a great show to those in attendance and those watching at home on HBO."

February, 17, 2014
Feb 17
3:19
PM ET
By
Julio Cesar Chavez Jr.
| Special to ESPN.com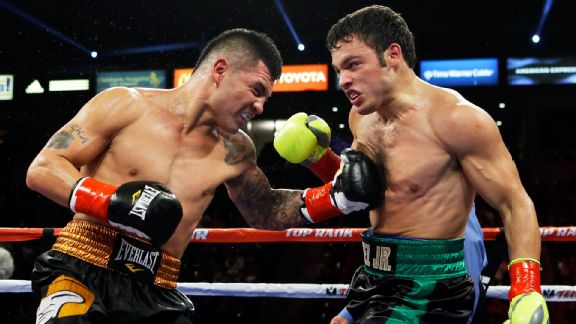 AP Photo/Reed SaxonJulio Cesar Chavez Jr., right, says he'll be on weight and fired up for a March 1 Brian Vera rematch.
Julio Cesar Chavez Jr. and, in particular, his focus have been under scrutiny over the past several years, culminating with a lopsided decision loss to Sergio Martinez in 2012. Weight problems, a change of trainers and a year of inactivity effectively veered the former champion off track.
Chavez (47-1-1, 32 KOs) returned to beat Bryan Vera via a mediocre unanimous decision in September. The fight was closer than the judges' scorecards indicated, drawing more criticism and the ire of fans and media outlets alike.

On March 1, Chavez and Vera (23-7, 14 KOs) will meet in a rematch (HBO, 9:45 p.m. ET/PT). There's little margin for error if Chavez is to regain his status as one of the best in the division and challenge super middleweight champion Andre Ward.

In his own words, Chavez discusses his first fight against Vera and what fans can expect to see in the rematch at the Alamodome in San Antonio.
I am looking forward to returning to the ring March 1 in San Antonio. The fans in the great state of Texas have always been very kind and supportive of me throughout my professional career, and the people of San Antonio in particular have been great to me.
For many people, my fight in San Antonio in June 2010 against John Duddy was my breakout fight, and it led me to my first championship fight one year later. It made believers out of many boxing fans that had doubts about my abilities.
In February 2012, I returned to San Antonio as a world champion and beat No. 1 contender Marco Antonio Rubio in a fight many felt I would lose. That night the fans came out and really supported me as I successfully defended my title.
The only other time I fought in San Antonio was in 2007 when I was just beginning my climb up the rankings. My upcoming fight with Vera will be the 15th time I have fought in Texas, and this fight will be one of the most important of my career, following two disappointing performances -- my first professional loss, to Sergio Martinez, and a disputed victory over Vera in September in Los Angeles.
[+] Enlarge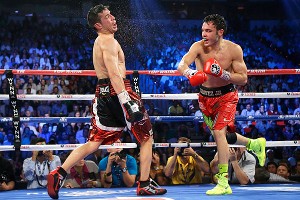 AP Photo/Julie JacobsonJulio Cesar Chavez Jr., right, rallied against Sergio Martinez in the final round, but it was too late.
I know that expectations prior to my first fight against Vera were that it would be an easy fight for me, but it did not turn out that way for many reasons. But I won't make any excuses. I know that I owe the fans a great performance and that is what they will get -- a great performance on March 1st.
I believe that Vera fought as well as he could in the first fight and I know that I did not fight my best by a long shot. I will be more prepared physically and mentally for this second fight because I know that I need to get an impressive win against Vera. There is a lot at stake for me in this fight.
We are fighting in Vera's home state this time around and he will have a lot of support in the stands, but inside the ring it will just be us -- mano a mano. And while I felt that I won the first fight with my power and accurate punching, I know that I left some doubt in many people minds because of my weight issues and the fact that I did not have the consistency in my attack that I needed during that fight.
In boxing it always come down to being prepared and being ready to go in the ring and performing to the best of my ability and that is what will happen against Vera this second time around. I need to be active, consistent and land my shots with power and do as much damage as I can early so I can finish the fight with a big flourish.
My fans in Texas and around the world know that I will always give them the best fight possible for them to enjoy no matter the circumstances. Rest assured that for this fight on March 1, they will see me at my best and I will get the win in a very clear and decisive fashion.
February, 5, 2012
2/05/12
1:00
PM ET
SAN ANTONIO -- On Saturday, Julio Cesar Chavez Jr. returned to the scene of his legendary father's first professional blemish -- an infamous draw to Pernell Whitaker at the Alamodome more than 18 years earlier. He was there perhaps to defend his family name, but also a middleweight title belt in seemingly his first strenuous test, against deserving contender Marco Antonio Rubio. Joining them on the card was Nonito Donaire, a former multidivision champion aiming for another belt in his first bout at junior featherweight, something of a grudge match against Wilfredo Vazquez Jr. Here's what we learned from one night in San Antonio:
1. Julio Cesar Chavez Jr. is a real fighter ...

Not for the first time in recent bouts, Chavez showed that when the chips are down and he has to suck it up, dig in and fight, he can do just that. Rubio was advertised as potentially his toughest foe yet, and so he proved, refusing to give any quarter even as Chavez walked him down and dug into his body with hard hooks. In fact, Rubio was landing what appeared to be the higher percentage of punches as Chavez loaded up for big combinations. But Chavez kept coming, and the final two rounds had the crowd on its feet as the two men exchanged hellacious blows, each looking to provide a definitive conclusion to the contest.
2. ... But he probably isn't a real good one

At the same time, Rubio isn't exactly a top-drawer talent. Yes, he stopped David Lemieux, but in hindsight, Lemieux was likely overrated. Rubio was flattened inside a round by Kofi Jantuah and was brutalized by Kelly Pavlik in the only fight in which Pavlik has looked half-decent in years. He showed little, if any, originality in his attack, yet Chavez was unable to nullify it. Similarly, two fights ago, Chavez went tooth-and-nail with an opponent (Sebastian Zbik) whom HBO once dubbed too poor to broadcast in a middleweight title fight.
Chavez has shown some genuine signs of improvement since connecting with trainer Freddie Roach. But there are also signs that the improvement may be plateauing. Of course, adding 20 pounds after the weigh-in couldn't have helped; if Chavez is to develop into anything more than an entertaining battler, he needs to dedicate himself a lot more to his gym work and road work, and stay away from bars during training camp. That may not be enough -- what you see may simply be what you get -- but it won't hurt.
3. Nonito Donaire has become dominant and disappointing

A year ago, Donaire blasted out Fernando Montiel in the knockout of the year, and there appeared to be no ceiling to his potential. But his two outings since then, although clear victories, have been underwhelming. In both cases there were extenuating circumstances: Omar Narvaez didn't try to fight, while Wilfredo Vazquez Jr. at times also seemed content to hide behind a tight defense, at least until Donaire apparently broke his left hand. But, notwithstanding the fact that Donaire was a clear, and mostly one-handed, winner over a good young opponent (even though one judge, maintaining the tradition of criminally bad Alamodome scorecards, somehow contrived to score the contest for Vazquez), the victory felt unsatisfying.
Part of the problem is that "The Filipino Flash" showed signs on Saturday of regressing into a home run hitter, looking to please the crowd with spectacular bombs thrown from all angles. That's all well and good, but when faced with a patient foe such as Vazquez, some basic jabbing and hooking might have served Donaire well, and perhaps helped to break his opponent down.
There's no need to panic: The train hasn't left Donaire's station. But it's warming up, and some disgruntled fans likely are starting to climb aboard. A trip back to basics would serve Donaire well if he is to reclaim and consolidate his place alongside Andre Ward as the best under-30 boxer in the world.
4. Vanes Martirosyan needs to step it up

Martirosyan is an engaging guy and a genuine talent, but in his 32nd professional contest, he needs to be facing opposition far more demanding than the utterly outmatched Troy Lowry, whom he beat up for three rounds on Saturday's undercard. Martirosyan is good at calling out opponents (after dispatching Lowry, he mentioned Mexico's Saul Alvarez), but whether because of him, his management or his promoter, he hasn't followed that up with much in the way of actual, credible tests in the ring. It's time for him to be matched in a meaningful contest against a real opponent, if only to see exactly what he can bring to the table.
5. HBO Boxing is off to a better start in 2012 than 2011

HBO's kickoff bout last year seemed, on paper, a solid one: a clash between undefeated junior welterweight titlists Timothy Bradley Jr. and Devon Alexander. But the fight was a stinker, and the venue -- the cavernous Pontiac Silverdome -- was even worse, and not even close to being filled. By contrast, although Saturday night's fights might not have had the same theoretical significance, they were far more entertaining. Meanwhile, the Alamodome was smartly configured for 15,000 people -- and close to that many showed up, providing an enthusiastic crowd that roared at seemingly every punch. All told, it was a far more positive start to the year.
February, 1, 2012
2/01/12
11:25
AM ET
Since he first stepped foot into the ring as a professional prizefighter, looking for all the world as though he were just 12 years old, his every step has inevitably been compared to his father's -- not only because they share name, but because that father was also one of the greatest boxers of all time, a first-ballot Hall of Famer and perhaps the most celebrated pugilist in Mexico's long fistic history.

On Saturday night, the linkages will be stronger than ever; but whereas Julio Cesar Chavez Jr. may at times have wished that comparisons of his career with his father's had to this point been more favorable, he will certainly be hoping to exit San Antonio's Alamodome with more positive reviews than did his father 18 years and change ago.

Chavez Jr. will face Marco Antonio Rubio on HBO in a defense of a middleweight belt that many believe rightfully belongs to Sergio Martinez, who was stripped of the title as a result of the kind of political chicanery and machinations that have granted boxing permanent residency in the Red Light District of sports. But it is also, perhaps more accurately, a measuring stick by which fans can judge the progress of a young contender who, much maligned in his earlier career, is showing signs of developing an all-round game that will meet potentially its toughest test yet in the form of veteran Marco Antonio Rubio.

On Sept. 10, 1993, Chavez Sr. walked into the ring in the very same arena, in front of 56,959 paying fans, placing his 87-0 record on the line against Pernell Whitaker, who had suffered a larcenous loss to Jose Luis Ramirez in his first tilt at a world title five years earlier but was otherwise undefeated in 33 contests. The two men were meeting for the welterweight championship of the world -- which Whitaker had snatched from Buddy McGirt in his previous fight -- but also for more than that: recognition as the best fighter in the world, pound for pound.

(A brief aside: The notion of two welterweights actually deciding who is the best fighter in the world by meeting in the ring might, to today's generation of boxing fans, seem an absurdity, a fiction so improbable as to be without any kind of credibility. Time was, however, when such things happened. But that's another story ...)

Chavez, the betting favorite, began aggressively, looking to bury his patented left hook to Whitaker's liver, as the champion wheeled away and popped his pursuer with a retreating right jab from a southpaw stance. Beginning in the third, Whitaker threw that jab with greater authority, combining it with the footwork and slippery defense for which he was renowned, befuddling Chavez and taking away seemingly every aspect of his game, beating him with punches from inside and outside. From Round 4 onward, it was, to ringside observers, largely a shutout -- a masters class culminating in what was surely a nine rounds-to-three or, at worst, eight rounds-to-four victory.

Except that it wasn't.

One judge scored the fight for Whitaker, 115-113. The other two saw it dead-even, 115-115 -- a result that even many in the pro-Chavez crowd, who had become progressively quieter as their man had been given a boxing lesson, booed.

The New York Times dubbed the result "an oddity of a decision even for this most confusing of sports."

"I went to talk to one of the judges afterward, but I tripped over his seeing-eye dog," Bert Sugar quipped.

"Whitaker put on one of the most dazzling ring performances in recent years," wrote Sports Illustrated, "yet, within minutes, two of the three judges reduced this magnificent show to a mockery."

SI's cover featured a picture of Whitaker landing a right hand on Chavez's jaw, accompanied by a one-word headline: 'Robbed!' (Hey, on the plus side, boxing was on the cover of Sports Illustrated! Yes, kids, sometimes that happened, too.)

Three fights later, Chavez suffered his first official loss, when he was dropped and outpointed by Frankie Randall, and things were never really the same after that. He beat up the likes of Ken Sigurani, Verdell Smith and Marty Jakubowski, but he lost comprehensively to Oscar De La Hoya (twice), Kostya Tszyu (in a fight that never should have been made) and even Willy Wise and Grover Wiley.

Junior avenged the last of those defeats, in a way, splattering the man -- in three one-sided rounds in 2007 -- who had ended Senior's career. And although a clean and clear win on Saturday won't exactly atone for the flimflam that spared his old man from defeat that long-ago September night, it will enable him to boast one accomplishment that eluded his more celebrated father: to walk out of the Alamadome, with his hands in the air and head held high, to the sound of his fans celebrating a Chavez victory.