May, 4, 2014
May 4
10:33
AM ET

Forty-six-and-oh. Floyd Mayweather remained perfect at the MGM Grand Garden Arena on Saturday thanks to a majority win over a surprisingly game Marcos Maidana. The fight wasn't quite what many expected, but it ultimately provided the expected result. What exactly did we learn from it?

1. Maybe Maidana isn't tailor-made for Mayweather after all ...

Maidana, with his awkward, often wild, style was supposed to be an easy fight for Mayweather on Saturday. Mayweather closed at a near 10-to-1 favorite, meaning that oddsmakers felt Mayweather had a better than 90 percent chance to win.

By the end of 12 rounds, however, Maidana had landed 221 punches on Mayweather -- more than any other fighter had previously. He also did enough to win six of the 12 rounds, according to one judge. (Although, as Mayweather pointed out, one judge thought the same about his blowout against Saul "Canelo" Alvarez in September … so, all judges' scorecards aren't necessarily reliable.)

According to Mayweather, the fight was close by his design. At the postfight news conference he quipped, "I could have made this fight absolutely easy, but it would have been boring. We've got to give the fans what they want to see."

That, of course, is a lie. Would Mayweather, a career defensive fighter, really risk the perfect "0" on his record for the sake of entertainment? No. Maidana forced a close fight with heart, a higher level of skill than he's typically known for and a few dirty tactics here and there for good measure.

"He bit me in the arm in the third round," Mayweather said, adding that Maidana targeted his groin with punches and head-butted him early in the fight. "He's going to do whatever he has to do to win, and I respect him for that."

2. ... or maybe he is, and we'll find out in a rematch.

A September rematch between Mayweather and Maidana seems very possible, if not guaranteed. Mayweather was open to it immediately after the fight, and that didn't change during the time it took him to get from the ring to the news conference.

"If he feels he won, he can get it again in September," said Mayweather from the postfight news conference stage.

Golden Boy Promotions CEO Richard Schaefer expressed a similar level of interest in a rematch, calling Saturday "the most exciting Mayweather fight I've ever seen." Robert Garcia, Maidana's trainer, even got a verbal agreement from Mayweather, although the champ added, "We've got to negotiate."

If Mayweather truly believes he could have made the Maidana fight as easy or as hard as he chose, he could get the chance to prove it in September.

3. Even Mayweather might be vulnerable to distractions

Mayweather is the pound-for-pound king, the cash king and the PPV king. He's also the king of handling his business in the midst of turmoil.

Seems like every time he fights, Mayweather is submersed in some kind of drama. Whether it's dealing with a deep rift with his father or the legal troubles of his uncle/trainer Roger, Mayweather's life seems to lend itself to reality television.

But if you look at his two toughest fights since ending a brief retirement in 2009, (a UD over Miguel Cotto on May 5, 2012, and Saturday) Mayweather was dealing with personal stress outside the ring. Before the Cotto fight, Mayweather was granted a temporary reprieve on a 90-day jail sentence in a domestic violence case -- and ahead of the Maidana fight, he separated from longtime fiancée Chantel Jackson.

In both fights, Mayweather engaged more offensively with his opponents and took more damage than usual. Were those performances related to his issues outside the ring? It's certainly plausible to think they could be.

4. Amir Khan deserves a fight with Mayweather, but he won't get it this year.

Khan's decision to campaign for the Mayweather fight outside the ring rather than in it drew criticism among fans and media and, ultimately, fell short.

Khan, 27, made up for it in a rather dominant win over Luis Collazo in which he won every round on two of three official scorecards and scored three knockdowns. In his third fight with trainer Virgil Hunter, Khan flashed absolute brilliance multiple times and set the stage for a very watchable fight against a 37-year-old Mayweather.
Unfortunately, Khan's commitment Ramadan in July erases any shot of him fighting Mayweather in September.

5. Adrien Broner's comeback was just OK

It is undeniable that Broner, 24, possesses certain qualities that could eventually turn him into a major star in boxing. He also has limitations that could hold him back.

Broner rebounded from the first loss of his professional career -- suffered at the hands of Maidana in December -- just as everyone suspected he would. Broner closed before the fight a near 33-to-1 favorite, according to MGM officials.

He appeared to have his opportunities to put away Carlos Molina on the Showtime main card but didn't. After the fight, he made offensive racial comments that prompted a response from in-ring interviewer Jim Gray.

Broner was adequate in his 140-pound debut but little more than that. Big fights await for him at this weight class, however, he'll have to be better in more ways than one to make the most of them.

May, 4, 2014
May 4
10:10
AM ET
By
Brian Campbell
| ESPN.com
So, it looks like we've got a new blueprint on how to defeat Floyd Mayweather Jr., right?
Well, not exactly, mostly because Marcos Maidana, despite an inspired performance, was unable to come away with a victory over Mayweather (46-0, 26 KOs) on Saturday in their welterweight title-unification bout at the MGM Grand Garden Arena in Las Vegas.
But Maidana (35-4, 31 KOs), who lost by majority decision, clearly provided the pound-for-pound king with his toughest fight since Mayweather's victory over Jose Luis Castillo in their first meeting in 2002.
So how, exactly, did this 12-to-1 underdog nearly pull off a performance most felt was improbable against the unbeaten Mayweather?
Well, he did it with volume punching and by showing an outright lack of respect for Mayweather, above all else. But he also benefited from a perfect storm of other factors that conspired together to provide fans with the most exciting Mayweather fight of his career.
Let's take a look at how Maidana was so successful:
Relentless activity
We all knew Maidana's best shot at finding success would come by cutting off the ring and smothering Mayweather with a flurry of awkward punches from various angles. What we didn't know was that Maidana would still be fighting at relatively the same pace for the entire 12 rounds.
Maidana never buckled under the mental and physical fatigue that inevitably comes once Mayweather's patented midfight adjustment opens the door for him to land a series of flush right hands to the face. The Argentine slugger was able to do that by maintaining a hellish pace and overwhelming Mayweather with volume, which never allowed him to properly set himself or get comfortable for a prolonged time.
Not only did Maidana set a record for landing the most punches against Mayweather (221) in the 38 previous fights tracked by CompuBox, he also threw an astounding 858 punches in all, which was more than double those of Mayweather.
Outside of Castillo, only three Mayweather opponents proved able to produce legitimate success against him over a period of at least three to four rounds. But none of them -- Zab Judah (444), Oscar De La Hoya (587) and Miguel Cotto (506) -- proved able to match Maidana's output, and that was the difference.
Playing dirty
Veteran referee Tony Weeks had his hands full attempting to separate the two fighters and curb both men's low blows, holding, head butts and forearms.
Although Weeks was vocal in his warnings, he never took away a point from either and allowed the fight to remain physical, which played into Maidana's hands.
[+] Enlarge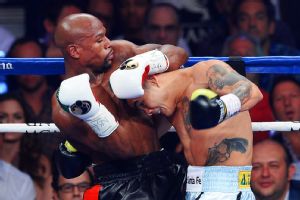 Ethan Miller/Getty ImagesMarcos Maidana, right, used every trick in the book... as did Floyd Mayweather Jr.
Not only did a fourth-round head butt open up a cut above Mayweather's right eye for the first time since early in his career, Maidana's mugging style consistently backed Mayweather up to the ropes and forced him to fight on the inside.
Mayweather was vocal in his disapproval of Weeks' performance after the fight, claiming it allowed Maidana an opening to consistently foul. And there's little question it played a major role in Maidana's success.
Ricky Hatton's attempt at a similarly aggressive style against Mayweather in their 2007 fight was mainly kept in check by referee Joe Cortez's quickness in breaking the fighters apart each time they clinched. This time, Mayweather wasn't so lucky, allowing Maidana chances to hit on the break and be physical at close range.
Distractions, distractions
Mayweather maintained after the bout that he wanted to give the fans their money's worth by standing and trading with Maidana instead of outboxing him from distance.
Sound familiar? It should. It's the same stance Mayweather employed after his last relatively close fight against Cotto in May 2012. And both times it wasn't believable.
The fights share a common parallel in the sense that Mayweather appeared to be battling outside the ring distractions in both, which likely played a major role in both fights being so competitive.
While Cotto certainly exceeded expectations against Mayweather two years ago, it can't be ignored that Mayweather entered the ring one month before serving a three-month jail term. And the buildup to Saturday's fight against Maidana appeared to have the same affect on Mayweather.
Not only was he enduring the aftermath of a reported breakup with his ex-fiancée, there also was a prefight glove controversy with Maidana and the lingering rumors of a rift between Golden Boy's De La Hoya and Richard Schaefer.
Exactly how all of that affected Mayweather is uncertain. But he talked of a possible retirement in the final news conference days before the fight and appeared both emotional and distant in many of his public appearances, often speaking of his career in the past tense.
Yes, Mayweather could very well be slowing down just a bit at 37. And, yes, Maidana clearly performed at a level much higher than anyone expected. But even though Mayweather impressively dug deep to come away with a victory, this wasn't the same fighter who pitched near shutouts in 2013 against Robert Guerrero and Canelo Alvarez.
Whether the reasons for Maidana's success can be attributed to anything written above or reflect more on the fact that he employs a style that was always meant to give Mayweather fits only remains to be seen should the two do it again this fall.
But Maidana clearly found success where others have failed before him, even if he benefited, in part, from the stars aligning perfectly in his favor. Either way, he forced Mayweather, who landed 54 percent of his punches overall and 65 percent of his power shots, to prove once again why even in his twilight, he's still the best in the game.
February, 16, 2014
Feb 16
8:20
PM ET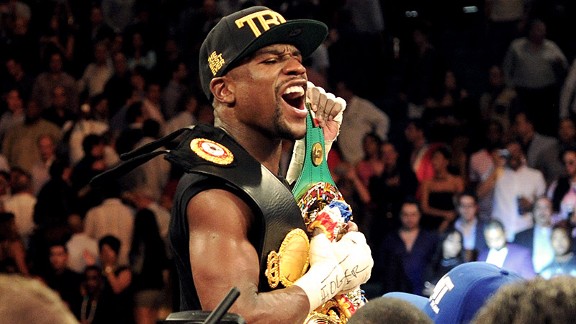 Jayne Kamin-Oncea/USA TODAY SportsFloyd Mayweather has to decide soon on an opponent for his next fight.
Amir Khan or Marcos Maidana? Marcos Maidana or Amir Khan?
They are who it is down to for welterweight champ Floyd Mayweather Jr.'s next fight on May 3 (Showtime PPV) -- unless he pulls a shocker out of his hat. Rumors circulate daily as to who will get the fight. Fight fans are going crazy about it and media is on the daily watch.
It does seem a bit later than usual for Mayweather to announce his opponent. For some May fights he has announced his opponent as early as December.
Whatever is going on behind the scenes it is clear Maidana and Khan both want the fight and both have said so. Over and over. Of course, I am on record strongly believing that Maidana deserves the fight far more than Khan because of their recent performances inside the ring, especially his dismantling of Adrien Broner to win a welterweight title in December.
Whatever happens, Golden Boy chief executive Richard Schaefer told me on Saturday that no deal was done yet for either guy -- contrary to those rumors -- and he also shot down the persistent rumor that the guy who didn't get the fight with Mayweather would be facing Broner on the pay-per-view undercard.
"No, not at all," Schaefer said of Broner facing either Maidana or Khan on the card. "Floyd's fight is not done either. ... I am waiting on Floyd but have a pretty good idea on what's going to happen and what the undercard will look like."
In any event, Team Maidana tried to set the record straight for the moment and issued a statement on Sunday.
"Considering that rumors have been circulating in the last few hours addressing a 'done deal' fight between WBA welterweight champion Marcos Maidana and WBC champ Floyd Mayweather Jr., we want to clarify that those versions are not accurate," the statement said.
"Maidana is well aware that he is indeed a firm candidate to face Mayweather Jr. next May 3rd, but the fight is far from being made or confirmed as other fighters are still also in the mix. Hopefully, we will have news in the next few days but, in the meantime, we don't want to confuse the fans or the boxing press. Maidana, of course, wants to unify titles with Mayweather, but for now we will have to wait."
Wait like the rest of us.
December, 22, 2013
12/22/13
8:49
AM ET
By
Bernardo Pilatti
| ESPN.com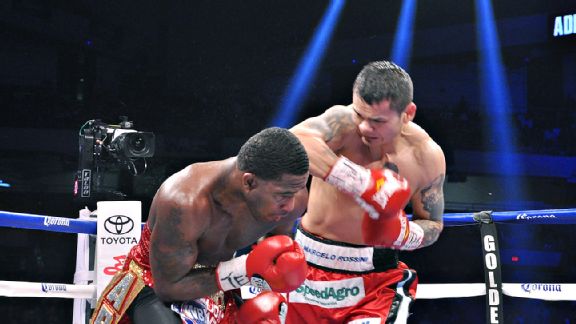 Ramon Cairo for ESPNMarcos Maidana, right, became an instant fan favorite after dismantling Adrien Broner.
In the spirit of the holidays, ESPN is celebrating the season with our own "12 Days" wish list of the fights we want to see most, regardless of promotional or other entanglements. Keep checking back in the coming days to see new fights revealed, discuss our choices or even suggest some of your own in the comments section or via Twitter using #ESPN12Days.
Whether the super fights all fans want to see come to fruition often depends on a number of different circumstances, including rankings, titles, rivalries between fighters and nations, or just the curiosity of seeing them face each other. We include a possible fight between countrymen Marcos Maidana and Lucas Matthysse as one of those duels we can only imagine, but it could be a reality in 2014.
Both fighters are members of a true golden generation of Argentine boxing, and each occupies a place of respect in and around the welterweight division, perhaps boxing's most competitive weight class. They're also fearsome punchers with exciting styles.
So, what would happen if they faced each other in such an anticipated bout?
They have already met four times as amateurs (Maidana won twice, Matthysse once, and their last meeting ended in a draw), and both have answered questions about a hypothetical professional battle. A year ago, Maidana wasn't willing to accept a fight with Matthysse, but he acknowledged, "If we got a major purse tomorrow, we would fight without the shadow of a doubt." Around the same time, Matthysse told ESPNdeportes.com that "the fight is going to happen at some point," although manager Mario Arano made clear that the duel would have to be at 140 pounds.
Since then, things have changed. Maidana will end 2013 cresting after his impressive win over Adrien Broner. Matthysse is in a very different place: licking his wounds after a loss to Danny Garcia and preparing for his return, although his opponent has yet to be determined.
Could that opponent be Maidana? He would be the logical choice. A victory over "El Chino" would mean a return to the limelight for Matthysse. The fight, however, would now need to be negotiated under Maidana's terms, at 147 pounds, where he holds a title.
Golden Boy Promotions CEO Richard Schaefer has called it "a fight that many fans have been asking for," and it's clearly in his best interest to give the people what they want.
So if the dream comes true, what kind of battle will we see?
I lean toward a cocktail of changing narratives, a fight that features plenty of aggressiveness yet won't be lacking from a technical standpoint, allowing us to enjoy six or seven rounds of an undefined and exciting war. I also believe it will be a won by knockout.
But who will win? That is hard to predict. They are two boxers of great courage and different rhythms, yet with the same powerful punch. Maidana is overwhelming and obsessed with producing the knockout, while Matthysse, arguably the bigger puncher, can vary his angles by using movement.
It will be a fight that won't go to the ropes, with everything taking place in the center of the ring. The one who makes a mistake will pay for it big time. There will be sudden attacks, with both fighters intent on finishing each other. Maidana will prevail with his aggressiveness in the early rounds, but if he is unable to hurt "The Machine," things will get complicated after the sixth round.
The fight likely would end before the eighth round, leaving the audience in a standing ovation filled with adrenaline and emotion. Even if the fight takes place in Las Vegas, the excitement would reach as far down as South America, to the shores of Argentina.
December, 15, 2013
12/15/13
12:30
AM ET
By
Brian Campbell
| ESPN.com
We all knew Marcos Maidana had the punching power to potentially get in the way of brash, unbeaten Adrien Broner's best-laid plans to superstardom.
[+] Enlarge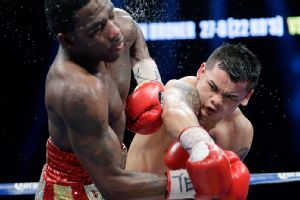 AP Photo/Eric GayAdrien Broner, left, couldn't get his offense untracked as Marcos Maidana overwhelmed him with power and volume punching Saturday in San Antonio.
But it turns out the hard-charging Argentine had equally abundant quantities of heart, poise and an unrelenting motor to expose the welterweight titlist on Saturday in a dramatic action bout at the Alamodome in San Antonio.
Maidana (35-3, 31 KOs), 30, hurt Broner in the opening round, knocked him down with a hard left hook in Round 2 and went on to simply outwork the 24-year-old to score a unanimous decision (115-110, 116-109, 117-109).
Broner (27-1, 22 KOs), who was knocked down a second time on yet another left hook in a wild Round 8 -- which featured Maidana being docked a point for head-butting -- showed plenty of heart in defeat after being rocked multiple times. But the loss clearly exposed his lack of punch output as Maidana beat him with activity just as much as with power shots and a focus to the body.
Maidana outlanded the three-division titlist 269-149, according to CompuBox, and attempted more than two times as many shots.
Key moment:
Maidana set the tone in the opening seconds by staggering Broner with his patented windmill right hand, forcing "The Problem" to spend the rest of the opening frame looking to tie up.
We've got your number:
231. That's the number of power shots landed by Maidana, who put Broner on the defensive right off the start and never stopped attacking with combinations from awkward angles.
Last word:
Broner is as talented as any fighter in boxing today, but Maidana, thanks to a suffocating attack, simply wanted it more and was able to overwhelm and overpower him. The way in which Broner was defeated begs an interesting question about whether a recent move up two weight divisions from 135 to 147 pounds was too hasty. Broner stands directly in front of his opponents, looking to counter with quick, accurate shots, but he hasn't necessarily convinced that he has carried his power with him up to welterweight. Maidana followed the blueprint for intelligent pressure against Broner, drawn up by Daniel Ponce De Leon and Paulie Malignaggi in tight defeats, and applied his punching power appropriately to see through the plan.
June, 9, 2013
6/09/13
5:36
PM ET
By
Brin-Jonathan Butler
| ESPN.com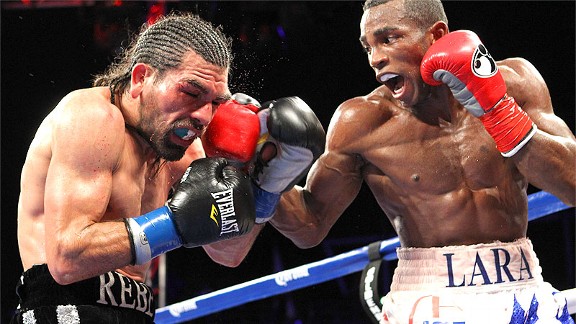 Tom Hogan/Hoganphotos/Golden Boy PromotionsAlfredo Angulo had Erislandy Lara on the ropes before suffering an injury and calling it quits.
CARSON, Calif. -- Cus D'Amato once said, "When two men are fighting, what you're watching is more a contest of wills than of skills, with the stronger will usually overcoming the skill."
On Saturday night in Carson, Calif., Erislandy Lara's demonstrative advantage of skill over Alfredo Angulo only served to inflame Angulo's reserve of willpower. The elegance of Lara's skills simply weren't capable of removing Angulo's will from the equation of the fight. Then, in the fourth round, Angulo's fiendish efforts were rewarded when he dropped Lara, the first knockdown Lara has suffered as a professional. For the duration of the round, every fan in attendance stood to roar approval. Round after round, Angulo took even more risks, applying pressure and striving to close out the fight while eating enough leather to reconfigure his face. Again Angulo dropped Lara, yet the Cuban got off the deck to continue.
In the 10th round, Angulo ate nearly everything Lara threw at him in order to land something meaningful of his own. Then a crisp left hand from Lara struck the swelling over Angulo's eye. Angulo grimaced as another left followed, then another, and finally the referee called off the bout, fearing a broken orbital bone.
Boos. Beer tossed into the ring. "Tijuana style!" a writer next to me laughed. Everywhere you looked, aggrieved faces contorted in expressions of betrayal.
It was all a little incomprehensible to me. Everyone on hand had enjoyed a brilliant fight stopped only after one fighter's health was gravely in danger.
Boos?
Wait a minute. When exactly was enough
enough
? What was the expectation here?
Victor Ortiz quit against
both
of Saturday's headliners, Marcos Maidana and Josesito Lopez. Were those unreasonable decisions? In one of those fights, Ortiz's jaw was broken in two places. Should he have been booed for not fighting on with a broken jaw, as Muhammad Ali did against Ken Norton? Ali was praised for such courage. Oscar De La Hoya was fully capable of getting off his stool to continue against Manny Pacquiao, yet sensibly recognized the futility. Does he get a pass? At the time, his corner asked if he felt like continuing, and Oscar didn't launch much of a protest when it was suggested he not bother. Joe Frazier was legally blind in the only good eye he had left against Ali in the "Thrilla in Manilla." Was his trainer, Eddie Futch, right to call off the fight? Did Futch betray his fighter?
What about the most famous quitter in boxing history? Is Duran's "No Mas" a more defining moment in his career than his victory over Sugar Ray Leonard in their first fight? For many, it is. Mike Tyson notoriously looked for a way out against Evander Holyfield when it was clear Holyfield had his number. Suddenly, Tyson's cowardice in gnawing off Holyfield's ear overshadowed nearly everything he had accomplished as a fighter. Twice, Andrew Golota snatched defeat from the jaws of victory against Riddick Bowe when he swung gratuitously low. His career never recovered.
So in boxing, when is it acceptable to quit? How much abuse is a fighter expected to endure before he can be allowed to show some concern for his own welfare? Anyone who has been around fighters knows they all share the same secret: They are more afraid of embarrassment and humiliation than injury. Do fans and writers use this fact against them in what we celebrate or criticize?
In the documentary "Facing Ali," nearly half the fighters involved required subtitles despite speaking English, their speech slurred by the physical toll of their ring lives. This was their reward for testing their furthermost physical and mental boundaries.
As Guillero Rigondeaux's recent near-shutout of 2012 ESPN.com fighter of the year Nonito Donaire demonstrated, the days of fans cheering Willie Pep for winning a round without throwing a punch are long over. Arturo Gatti's induction into the Boxing Hall of Fame is further testament of boxing giving fans what they clearly reserve their loudest cheers for: fighters who lay their lives on the line at every possible moment of every fight. The truth is, fighters have always done this. We just didn't used to boo the ones who committed the cardinal sin of trying to minimize some of the risk.
May, 21, 2013
5/21/13
2:10
PM ET
By
Brian Campbell
| ESPN.com
The interruption came with the subtlety and grace of a sledgehammer, not unlike the punches landed minutes before by Lucas Matthysse in his dismantling of Lamont Peterson on Saturday.

As Showtime's Jim Gray was set to begin his postfight interview with the Argentine slugger in the center of the ring at Boardwalk Hall in Atlantic City, N.J., the microphone was abruptly hijacked by Golden Boy CEO and Matthysse promoter Richard Schaefer.

"Let me say first something. We have -- we have a new Manny Pacquiao! He's from Argentina and his name is Lucas 'The Machine' Matthysse!" blurted an overwhelmingly giddy Schaefer, the fact that he also mispronounced Matthysse's surname making it all the more amusing.

Schaefer's commandeering of the spotlight in Matthysse's finest hour came off as something akin to the drunk uncle at a wedding going off the rails in an unsolicited serenade of the bride and groom. But aside from the comic relief the moment provided, Schaefer's outburst could also be viewed as a microcosm of Golden Boy's handling of the fighter up to this point.

Matthysse's performance on Saturday was a statement to future opponents and casual fans alike that he's for real, not just one of boxing's most devastating punchers. But based on the authentic reaction of Schaefer, who couldn't resist waiting another second to inform the free world just how valuable a commodity Golden Boy now possessed, it was as if Matthysse's promoter had no idea what it had in the first place.

So the natural question becomes: What the heck took Schaefer so long?

If it wasn't for Peterson's willingness to test himself against a fighter who has been so consistently avoided over the past two years, Matthysse's recent run of knockouts against a battery of faded, C-level, unknown and overrated fighters might have been forced to continue. And that's especially considering Golden Boy was beginning to look like an accomplice to Matthysse's problem, with the outside impression being the promoter was unwilling to match him with any of its prized in-house stars.

Matthysse campaigned constantly for a fight with the name at the top of the food chain at 140 pounds: fellow Golden Boy fighter Danny Garcia. Instead, he was continually persuaded to accept a fight he never wanted, one against fellow all-action countryman and friend Marcos Maidana, who had moved up to welterweight.

In a nutshell, that's exactly who Matthysse is -- a fighter not interested in being simply an attraction (like so many fighters today) and one whose sole focus is to test himself in every single fight against the very best in the world.

Finally, thanks to a perfect storm of events on Saturday, Matthysse will get that chance against Garcia in September, as long as the unbeaten Garcia doesn't win the Floyd Mayweather Jr. lottery in the meantime. And with the Peterson fight marking Matthysse's first under new manager Al Haymon, one can assume the days of him not getting the push he rightfully deserves are now over.

If Matthysse, 30, can learn English to increase his profile to an American audience, his potential as a breakout star has no limits thanks to his look and highly marketable style.

Not only has he finished 32 of the 34 fighters he has defeated, Matthysse also claims to have knocked down every single opponent who has gotten into the ring with him. Add to that the fact that both of his losses, a pair of split decisions in the hometowns of Zab Judah and Devon Alexander, were contentious enough that it isn't ridiculous to consider Matthysse an unbeaten fighter at this point.

It was just yesterday that Matthysse couldn't get a fight to save his life. Now his promoter is hailing him as the sport's next Pacquiao.

The Lucas Matthysse Era has begun, and it's nice to see everyone is finally on board.
March, 7, 2013
3/07/13
3:32
PM ET
By
Bernardo Pilatti
| ESPN.com

Expect an explosive clash of styles when junior welterweights Victor Cayo and Emanuel Taylor meet in Atlantic City, N.J., on this week's "Friday Night Fights" (ESPN/ESPN Deportes/WatchESPN, 10 p.m. ET).

Cayo, of the Dominican Republic, is a veteran whose only losses have come against world champions (Lamont Peterson, Nate Campbell and Marcos Maidana). Taylor, nicknamed "Transformer," is a promising fighter who thus far has no big names on his résumé. Taylor is fighting in the main event of a nationally televised card for the first time in his career, and he'll do so against a qualified opponent.

"Victor Cayo is a very good fighter, but I'm sticking with my style -- I'm going all out," Taylor said. "I am a boxer and a puncher. I love to walk people down, but if need be, I can box as well."

Taylor (16-1, 11 KOs) is an aggressive, frontal fighter who likes to take the center of the ring early, imposing his rhythm and using a strategy similar to that exhibited by Peterson when he stopped Cayo in 2011. Taylor most recently was in action in January, when he scored a sixth-round TKO against the promising Raymond Serrano.

Cayo (31-3, 22 KOs) -- quick, fast on his feet and supremely technical -- has won his past four fights, three by stoppage, since being stopped by Campbell last March. Cayo figures to stay on the move and try to impose his jab and land double combinations against Taylor.

"We studied Victor and we saw he throws a lot of punches," Taylor said. "He puts combinations together very well. That's what makes me train harder: I know he is going to be prepared."

Cayo needs to avoid short-range exchanges and Taylor's counterpunching, one of the youngster's best assets. It was counter shots that Taylor used to open up Serrano before demolishing him with powerful combinations on the ropes until the referee stopped the bout.

"There are several flaws in Victor's style," Taylor said. "He keeps his hands down, he leans forward when he's trying to rest. But he's very deceptive; he throws punches from difficult angles. I think my defense is pretty tight. It will need to be against Victor."

A more objective observer might kindly comment that Taylor's defense needs work. He properly protects his left side too infrequently, either holding his arm too low or seeking to elude punches by rolling his shoulder Floyd Mayweather Jr.-style. Against Cayo -- a faster fighter who throws lots of straight punches and volleys with his right hand -- that style spells trouble.



And although Taylor typically throws very little at his opponent's midsection, body punching should be on the menu against Cayo. In 2010, Maidana used his powerful hooks to the liver to neutralize Cayo's speed before knocking him out.

In the co-main event, Russia's undefeated heavyweight prospect and knockout artist Magomed "Mago" Abdusalamov (16-0, 16 KOs) defends his regional heavyweight belt against former Puerto Rican Olympian Victor Bisbal (21-1, 15 KOs). Abdusalamov, now living in Oxnard, Calif., has won all his fights by KO -- none of them going beyond the fourth round. Bisbal is coming off two straight knockout wins.
September, 20, 2012
9/20/12
2:13
PM ET
By
Brian Campbell
| ESPN.com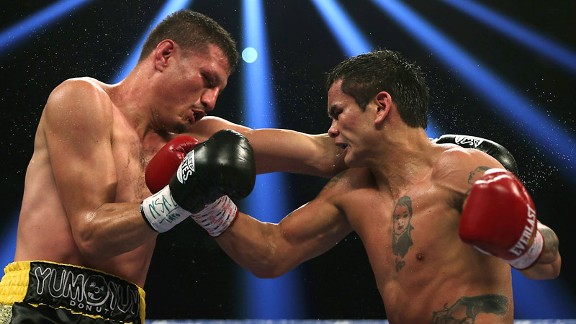 Josh Hedges/Getty ImagesMarcos Maidana, right, and Jesus Soto Karass traded with abandon. Did a KO bonus provide incentive?
Somewhat lost in boxing's explosive return to center stage last Saturday was a sweet little cash bonus offered by Golden Boy Promotions on the B-side of dueling Las Vegas cards.
Golden Boy, which promoted the aptly titled "Knockout Kings" card -- headlined by Saul "Canelo" Alvarez's fifth-round stoppage of Josesito Lopez at the MGM Grand -- awarded a cool $100,000 to the fighter who recorded the best knockout, as voted by the fans.
Set aside the fact the fans got it wrong (Alvarez won the popular vote for his TKO in a mismatch with Lopez, overshadowing Marcos Maidana's thrilling finish in a rousing war against Jesus Soto Karass) and that the premise itself reeked of a gimmick.
Whether the bonus itself raised the levels of expectation or whether the ensuing results were simply a case of happenstance when you consider the all-action tendencies of the fighters involved, the results were spectacular. And that, my friends, is progress.
The promise of action created by the KO bonus helped spice up (no Canelo pun intended) an already stacked Showtime undercard, one created to pull viewers away from purchasing the pay-per-view of the Sergio Martinez-Julio Cesar Chavez Jr. card being held simultaneously at the nearby Thomas & Mack Center.
How much of the card's success and attention had to do with the mere presence of Alvarez, the rising 22-year-old Mexican star, is hard to ignore, as the main event produced Showtime's largest audience (1.04 million) since it began tracking bout viewership. But the overall card still produced the network's second-highest rating for a boxing telecast since 2007.
The bonus also offered the fighters a substantial financial carrot, even if
most kept a poker face
as to their intentions to capitalize on it. Still, when you consider that five of the eight eligible fighters had an opportunity to at least double their
purse figures
with the bonus, it's hard to deny its impact.
Which leads to the bigger question: Did boxing just improve its future by taking a page from its past?
In a sports landscape so heavily dominated by guaranteed contracts, boxing is no different with its financial gain rewarded up front. The final product -- what actually ends up happening inside the ring -- becomes a crapshoot.
Does that mean that every fight needs to be a brawl to be compelling, or that all fighters should be forced to throw caution to the wind, thrusting themselves into sure danger to satisfy the unceasing appetite of a combat-crazed society? Not necessarily.
But let's not forget something equally important. We are talking about a sport once known universally as "prizefighting," and the further we depart from the essence of what that term implies, the closer the sport moves toward irrelevance, and possibly extinction.
Boxing needs more incentive for its participants to give their all, something to help steer the sport away from the typical black eyes (bad decisions, boring main events, crooked promoters) that continue to set it back. When viewed against that backdrop, knockout bonuses are an exceptional step forward.
Look at the business model and practices of the UFC, an entity rescued from the brink by a group of boxing fans looking to inject elements into its fledgling product that were missing from the sport they once loved. Some of those same tactics include bonuses on every card for best knockout, fight and submission.
Although boxing doesn't have the same central governing system that has helped the UFC stoke excitement via monetary rewards, promoters should follow Golden Boy's lead -- as long as the incentives don't punish those who actually make an art out of the science of boxing. Some kind of incentive for a fighter to be the best boxer-puncher he can be is a great thing for all fans.
Certain fighters will always command more money based on their marketability alone, and rightfully so. But a future in which two fighters compete for a set percentage of both purses as a reward for the winner would be a fantastic compromise.
In the end, Golden Boy's knockout bonus could turn out to be nothing more than a gimmick. But if you look closely, it also could open the door to opportunities that just might stem the tide of a sport suffering from self-inflicted decay.
July, 10, 2012
7/10/12
11:02
PM ET
By
Brian Campbell
| ESPN.com

There hasn't been much separating Amir Khan over the past few years from the pound-for-pound adulations that his outstanding talent has merited.

With a rare exception: the element of doubt.

From the self-doubt following a shocking first-round knockout loss to Breidis Prescott in 2008 to the increased critical skepticism of his chin in the wake of a hazardous victory over Marcos Maidana two years later, the exact appraisal of Khan's stock has been in flux for years.

Down it went again in the wake of a controversial split-decision loss to Lamont Peterson in November, igniting mainstream doubt whether Khan, 25, will ever be truly ready to make the leap.

As Khan (26-2, 18 KOs) readies for Saturday's fight against unbeaten junior welterweight titlist Danny Garcia (23-0, 14 KOs) in Las Vegas, that familiar uncertainty follows him.

There's little question that Khan is the favorite to dispatch the 24-year-old Garcia, a game yet still somewhat green fighter. But it could be argued that the pressure has never been higher, because a dominant victory would offer Khan a unique opportunity at a time when the landscape surrounding him appears more ripe for the taking than ever.

With nearly every marketable fighter outside of Canelo Alvarez in boxing's "glamour" divisions (140 to 154 pounds) in a state of damage control following a defeat, controversial victory, jail term or drug suspension, the door is wide open for Khan to crack the P4P top 10 and likely place himself in line for a meeting with boxing royalty (e.g., Floyd Mayweather Jr.) within the next 12 months.

The Peterson loss was dismally ill-timed in light of Khan's projected career arc, and was equally undeserved given the fight's gratuitous point deductions and questionable scorecards (not to mention, Peterson's failed drug test). But what the loss did was provide Khan the invaluable opportunity to see his shortcomings so brightly illuminated.

The hard-charging Peterson consistently pushed Khan outside of his comfort zones, exposing vulnerabilities to aggressive, volume punching -- particularly to the body -- and an almost allergic (and at times incompetent) reaction when forced to fight on the inside.

Khan's fastball is well-regarded as elite, fueling the flashy combinations that combine with genetic advantages in height and reach to make for a dangerous package. But a closer look reveals an inability to harness that breathtaking sparkle -- Khan is probably the most sensational opening-round fighter in the sport -- and iron out a level of consistency for a full 12 rounds.

The fact that Khan was able to ward off Peterson with pockets of inspired counterattacks late in the bout -- sandwiched around alternating rounds of inactivity -- showed maturity and an ability to adapt on the fly under pressure.

Khan also tempered questions about his ability to take a punch by standing and trading with Peterson for sustained periods. Although it would be disingenuous to imply that a good chin is a skill that can be acquired, an increase in self-confidence and maturity never hurts (see: Wladimir Klitschko).

Had Khan won the Peterson bout, he would have been in line for a good deal of praise for gutting out a victory in the face of an unexpectedly dire challenge. The fact that he received nothing but criticism shows the tenuous nature of his reputation, specifically in the eyes of American fans who often view him as pompous and overrated, the same way they once saw fellow Brits Lennox Lewis and Naseem Hamed.

When Khan commits to attacking the body -- a strategy that produced knockdowns against Maidana and Zab Judah -- he is at his most dangerous. But until he balances the same athleticism that allows him to shine offensively and puts it to use on the defensive end, Khan will be considered a vulnerable, incomplete fighter.

Khan has shown a tendency to be a front-runner, able to put fighters away with an arsenal of lethal methods when things are going his way, only to panic when the chips are down. But even that assessment doesn't get it entirely right.

Those who criticized Khan for getting rocked by Maidana failed to properly credit him for the way he stood his ground, forcing his opponent back on his heels by the end of the final round.

Where Khan's loss to Prescott forced him to rededicate himself and seek the full-time services of trainer Freddie Roach, the Maidana victory similarly helped him cross an internal threshold of self-belief. Considering those trends, it wouldn't be foolish to believe Khan can reap similar stores of career-altering wisdom from the Peterson fight.

It's very unlikely that Khan will have to endure the same level of impassioned blitzkrieg from Garcia that Peterson unleashed in front of his hometown crowd. But if there was ever a time for Khan to fulfill the promise that began with him winning silver at the 2004 Athens Olympics, this is it.

His path to validation begins Saturday, when we'll begin to discover whether or not Khan was ever truly fit to be king.
May, 19, 2012
5/19/12
12:25
AM ET
By
ESPN.com staff
| ESPN.com

"Friday Night Fights" analyst Bernardo Osuna has the latest on Miguel Cotto's possible next opponent (hint: Could be another classic Puerto Rico-versus-Mexico throwdown), where Amir Khan goes from here and Marcos Maidana's next move.
February, 26, 2012
2/26/12
1:23
AM ET
A boxing fan learns quickly it is sometimes best to be satisfied with small victories.
It makes ample sense to book the fight all of us are hungering for, Floyd Mayweather-Manny Pacquiao, but for some reason, that isn't occurring. So rather than dwell excessively on that and fall into a river of mopiness, I will instead look on the bright side, and acknowledge that Friday and Saturday passed, and there were no egregious judging screw-ups in big fights.
Here are five other takeaways from the big bouts this weekend.
5. Boxing's not like a cold
Omar Sheika, almost a dozen years after his first title crack against Joe Calzaghe (TKO5 loss in London) is still at it. The Paterson, N.J., resident fought on Friday in Pennsylvania, and scored a 10-round unanimous decision over Tony Ferrante. Sheika is 35 years old and no longer in the mix for title shots, not unless we're talking about maybe a state strap. But he soldiers on. Because it's in his blood, it's who he is, it's what he knows. Boxing for many isn't like a cold; it's not something that passes through your blood after a certain span of time.
4. Cleverly should be careful what he wishes for
Nathan Cleverly hasn't been shy about calling out some big names at 175. So it was a bit surprising that the Welshman went along with the program, and agreed to meet the unheralded Tommy Karpency, a 21-2-1 American lefty with a genetically modified record. Cleverly rose to 24-0 with a shutout win in Wales over the catcher Karpency, but did it really do him any good? Sure, he got some rounds in, but he drew scorn on both sides of the pond for accepting such a gimme defense. And if he does ever lure someone like Carl Froch or Bernard Hopkins into a tussle, he will find rounds with Karpency didn't do anything to prep him.
3. Devon wasn't great, but was darn good
There was a lot to like about
Devon Alexander's showing against Marcos Maidana
in St. Louis, but, to be nitpicky, some things to critique. Yes, he shut out the bomber Maidana, but at 147, the Argentine is not really a bomber. Alexander took to welter seamlessly, but Maidana, as he stated post-bout, is best at 140. Plus, Devon can craft combos and use his feet so smartly; why then does he so often resort to the John Ruiz method of operation, the toss-and-clinch style? To his credit, he said post-bout to Max Kellerman that he knows he's still a work in progress. So all in all, tag us as Alexander fans.
2. Broner can become a star
Alexander had his moments against Maidana, yes, but I left the weekend being most intrigued by thoughts of how far Broner, the 22-year-old from Cincinnati, can go. His hand speed is ridiculous, as Eloy Perez, no slouch, figured out when he ate a nasty shot and was separated from his senses in round four in St. Louis. I'm looking forward to WBO super featherweight champ Broner moving to a sexier division and seeing what he can accomplish. I'm thinking he can be big, and can beat "AmeriCANS, MexiCANS," etc. (You did see his post-fight interview with Kellerman on HBO, right?)
1. Paging Dr. Atlas
I have my doubts whether Teddy Atlas would even take the call, he's so hurt by the split. But Alexander Povetkin proved he's about 100 times better with Atlas in his corner, and in his life, than without.
Povetkin was chomping for air
in Stuttgart early on against Marco Huck, and if rounds went 3:25, Huck would today be the holder of the WBA heavyweight strap. He had Povetkin
thisclose
to being KO'd in Germany Saturday night. Povetkin should pick up the horn and beg and plead Atlas to come back and work with him, because his prep and game need fixing up.