Boxing:

Mayweather-Guerrero
May, 3, 2013
5/03/13
4:32
PM ET
LAS VEGAS -- When Robert Guerrero enters the ring to face Floyd Mayweather Jr. at the MGM Grand on Saturday night, his trunks will bear the logo of an organization called Be The Match, a nonprofit entity that runs the national registry of potential bone marrow donors.

It is, of course, a cause dear to his heart, given that his wife Casey was diagnosed with leukemia in 2007 and relapsed three times before finding a matching marrow donor. She underwent a successful transplant in 2010 and has since been declared cancer-free.

"My wife was fortunate to find a marrow donor," Guerrero said. "But there are thousands of other blood cancer patients out there who still need a match. So I'm spreading the word: Go to BeTheMatch.org and join the Be The Match registry. You could be someone's cure."

May, 2, 2013
5/02/13
10:13
AM ET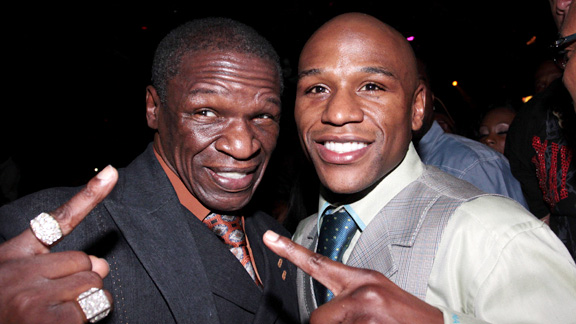 Johnny Nunez/Getty ImagesFloyd Mayweather Sr. has encouraged his son to focus on getting his rest throughout training camp.
LAS VEGAS -- After years of simmering turmoil that came to a boil with an emotional argument in front of HBO cameras in 2011, Floyd Mayweather Sr. and Jr. are -- for now at least -– reconciled, with Mayweather père returning to his son's corner for this Saturday's clash with Robert Guerrero.
But while the proximate cause of Floyd Sr. taking the place of his brother Roger as the younger Mayweather's trainer is Roger's declining health, the switch has also apparently resulted in a slight change of philosophy in the Mayweather Boxing Gym.
Call it "Hard Work, Relaxation."
"There's certain things only my dad may see in the camp," Floyd Jr. said in a laidback session with reporters at the MGM Grand on Tuesday. "For this fight, I made sure I got more rest. My dad said, 'You need the rest. And when you've rested, you can come back and box in the gym and you're going to look a lot better.' And he was right."
It's a situation he contrasts with the build-up to his most recent contest, a grueling 12-round win over Miguel Cotto in the same ring one year ago.
"I think I was overworked for the Cotto fight. I think I probably overtrained for the Cotto fight," Mayweather Jr. revealed.
And while he is legendary for his workouts and his fitness, he says there is one particular aspect of that camp that worked against him.
"I did more boxing for the Cotto camp. I'd come into the gym and one day I'd box 12 rounds and the next day I boxed another 12 rounds, and the next day I'd come back and do 10," he said. "And we're talking all of this within five days, so that's a lot of wear and tear on a body. But I shouldn't even have been making the mistakes I was making in the Cotto fight. I wasn't the best Floyd Mayweather. But I'm not crying or complaining. I got the job done."
May, 1, 2013
5/01/13
2:51
PM ET
LAS VEGAS -- There are elements of Floyd Mayweather's welterweight title fight with Robert Guerrero on Saturday that bring to mind his 2011 tilt against Victor Ortiz. Both Guerrero and Ortiz earned their shots on the back of impressive victories over Andre Berto, for one. Mayweather gives the impression of being as dismissive of Guerrero's chances as he was contemptuous of what Ortiz brought to the table, for another. (In contrast, the build-up to his contest with Miguel Cotto last year was marked by mutual respect from both sides.)

There's something else, too. Mayweather couldn't abide the constant prefight references to Ortiz's famously difficult childhood -- in which first his mother and then his father deserted he and his siblings. Mayweather hinted that there was less to the story than met the eye and even promised to invite Ortiz's father to the fight. He also fumed at the attention the Ortiz upbringing received on HBO's 24/7 series.

It appears he feels much the same way about the seminal element of the Robert Guerrero story -- in which he took time out from the ring to help care for his ailing wife Casey, as she battled and ultimately defeated leukemia.

"Do I feel bad about the situation his wife went through? Absolutely," Mayweather said on Tuesday. "But trying to gain fans by having the sympathy story every week, I don't think that's a good thing. I'm glad that his wife was able to beat the leukemia. I don't feel anyone should have to go through a situation like that. But we all go through certain things. But I think just to gain fans, you're using your wife's story, you're using a sympathy story. I'm glad she was able to beat leukemia, that's a great thing. And I'm glad those two have such a great bond. But I don't like every week they keep selling the same story."

And then, in typical Mayweather style, he took the opportunity to take one more dig, a riposte to Guerrero's arrest after he declared and attempted to check a handgun at New York's JFK Airport -- an arrest that came after Guerrero had pointedly referred to Mayweather's incarceration for assault last year. It is possible, although unlikely, that Guerrero may himself face jail time for the firearm charge.

"The main thing that he really needs to focus on at this time is that he's going away to do time after the fight," smiled Mayweather with apparent satisfaction. "He was pointing the finger and talking trash about me, and now you have to go and do time."