Boxing:

Miguel Angel Garcia
June, 16, 2013
6/16/13
1:16
AM ET

DALLAS -- The extra weight Mikey Garcia kept on in failing to make the mandatory 126-pound weight limit meant something on Saturday night.

It allowed Garcia to put forth a dominant performance against Juan Manuel Lopez to remain undefeated by scoring a TKO at 1:34 of the fourth round at the American Airlines Center in a featherweight title bout.

Garcia's victory means he most likely will leave the featherweight division and move to super featherweight.

Garcia (32-0, 27 KOs) lost his belt on the scales on Friday afternoon at the American Airlines Center when he failed to make weight. He had to vacate the title and give his opponent a six-figure settlement as punishment for the extra weight.

"Well, the belt, it's mine to keep," Garcia said. "It's on the record books now, but sadly I didn't expect that. It does upset me. I was actually walking to the weigh-in and I was upset, and I was crying a little bit that I was no longer champion."

In the ring, Garcia won all four rounds, dropping Lopez twice as he used a stifling jab to set up the knockdowns.

The first knockdown came on a straight right that sent Lopez down in the second round. The final knockdown was set up by a straight right hand followed by a left hook to the nose, sending Lopez flat to his back. Over nearly four rounds, Garcia's right hand produced swelling under both of Lopez's eyes.

It was easy to see that Garcia was the heavier man and that staying at 126 pounds is no longer in his future.

A potential fight with super featherweight titlist Rocky Martinez could be in the works for Garcia by the end of the year.

If you don't believe Garcia is ready to move up, review his work from Saturday night:

His punches, no matter how long or short, came with power and pushed Lopez back. Garcia weighed 141 pounds on Saturday night, and his trainer and older brother, Robert Garcia, said the added weight didn't affect his fighter.

Lopez, on the other hand, felt the effects quickly.

"I thought I hit him with a couple of shots and he took them very well," Lopez said through an interpreter. "It surprised me and it let me know he was a lot bigger and a lot stronger. I was hoping to take him in the later rounds, hoping he would get tired for making the weight, but it didn't work out that way."

Garcia normally takes his time when he fights. He waits for his opponent to make mistakes before taking over. Saturday night, he started faster, throwing a jab then stepping away and waiting for Lopez to do something.

Lopez wanted to wear his opponent down but couldn't because Garcia's punches were wearing him down instead.

When his night was over, Garcia was talking about staying at featherweight. But that's not happening if he wants to continue to struggle to make the weight. He says he felt dizzy at times when he tried to make weight.

"I feel like I could fight here and regain my title," he said. "But there is still an option to move up to 130, and if I decide to stay at 130 because I feel comfortable there after I try it, I may decide to stay there. But I really want to come back to 126. I think this is where I belong. I'm the featherweight champion of the world, and I think this is where I belong."

That might still be true in Garcia's mind. But his body, and the reality of the situation, say he's moving up.
March, 15, 2013
3/15/13
5:46
PM ET
By
Carlos Narvaez Rosario
| Special from ESPNdeportes.com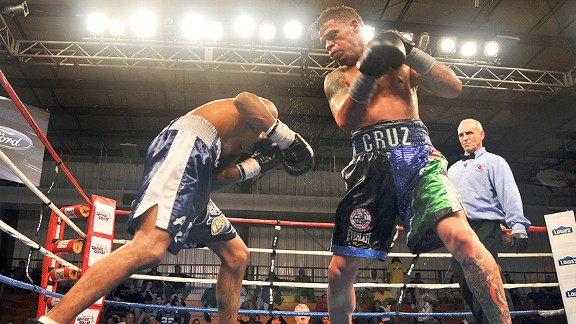 AP Photo/Reynaldo SanchezOrlando Cruz, right, is wary of getting ahead of himself in his quest for a featherweight title.
The fact that Orlando Cruz was mentioned by featherweight titlist Miguel Angel "Mikey" Garcia's group as a possible future opponent is something that greatly pleases the top challenger.
But it isn't Garcia's name that has been on Cruz's mind lately -- particularly in recent days, as the debate opened over who would face the 126-pound belt holder. That's because Cruz (19-2-1, 9 KOs) is focused on Friday's meeting with Aalan Martinez, a clash that could open the door to a Garcia fight -- or, if things go poorly, might have the opposite effect.
"Right now, I'm not thinking about what might happen after this fight," said Cruz, a 31-year-old from Puerto Rico. "I'm thinking of Aalan Martinez. If I don't defeat Martinez, I can't defeat Mikey Garcia neither.
"But if Mikey Garcia is thinking about me right now, that's good for me. He must know that I'm a good boxer and that I've earned the position. Right now, I'm focused on this fight. Then we will have time to sit and talk and think about the publicity."
Cruz's most recent fight, last October's unanimous decision win over Jorge Pazos, turned into a bit of a spectacle that captured the attention of many media outlets, including HBO, as it was Cruz's first bout since publicly declaring that he is gay. In addition to his recent performances -- three wins since a 2010 knockout loss to current featherweight titlist Daniel Ponce De Leon -- Cruz's landmark announcement seems to have helped fuel his career resurgence.
"We want to take advantage of this good moment we are living in," Cruz said. "I'm very happy with everything that is happening around me. And you can be sure -- both my people of Residencial Quintana and my fans in Puerto Rico -- to expect a lot from me."
Cruz arrived in Kissimmee, Fla., last week after three months of hard training in Buffalo, N.Y. He says the sparring work he got in with a number of good New York-area prospects -- most of them active between 122 to 165 pounds -- will be a difference maker against Martinez.
"We got what we wanted with them: speed and good movement," Cruz said.
And what of Martinez (14-1-1, 10 KOs), a southpaw from Mexico whose only defeat came to new featherweight titlist Evgeny Gradovich? Might he upset Cruz's future plans for a Garcia fight and disrupt all those recent good vibes?
"Martinez is a strong boy," said Top Rank vice president Carl Moretti, who added that Cruz hasn't yet been mentioned as a possible opponent for Garcia. "Orlando has to pass this test first before they think about a possible fight with Mikey."