August, 1, 2014
Aug 1
1:45
PM ET
By
Brandon Rios
| ESPN.com
After a stunning loss to Manny Pacquiao in November, Brandon Rios is ready to get back on the horse Saturday against Argentina's Diego Chaves in Las Vegas.

Rios (31-2-1, 23 KOs), a former lightweight titlist who is coming from two tough losses in 2013 --to Pacquiao and Mike Alvarado in March -- faces Chaves (23-1, 19 KOs) at The Cosmopolitan Casino in Las Vegas (HBO, 9:45 p.m. ET).

Looking to be reborn with his longtime trainer Robert Garcia, Rios, 28, feels that this is the right time -- and the right opponent -- to start his comeback.

In his own words, Rios talks about returning to the ring and looking for a much-needed victory.

"When you are on top of the world, there are people who always want to be with you. I didn't really know some of them, but they wanted to be close to me. But when you are at the lowest point in [your] career, no one comes around. No one seems to care.

"This is why my fight against Diego Chaves is do-or-die for me. And I want to make it a 'do' and not the 'die' part.

"I promised Robert [Garcia, chief trainer] I would follow his instructions in the gym and do whatever it takes. I told Robert I want to be the old 'Bam Bam' again.

"I don't need that strength and conditioning stuff. It drained me, actually. I am naturally a strong person, and I won a lot of fights before without it.

"They tell me Chaves is real rough and strong. That he can punch hard. That's OK with me. I want to come back and against a strong, tough fighter.

"The old Bam Bam -- the one who everyone knows -- will be back in the ring on Aug. 2."

Robert Garcia

"After the Pacquiao fight, Brandon got rid of a lot of people. He was quiet and doing family stuff. We traded texts, and that was about it for a long time.

"When Brandon got back to the gym, we went back to old-school training. Rough stuff. Brandon is much more dedicated and, more importantly, is listening to everything I say and executing my instructions.

"Brandon is ready to fight. Bam Bam is back."

November, 22, 2013
11/22/13
9:46
AM ET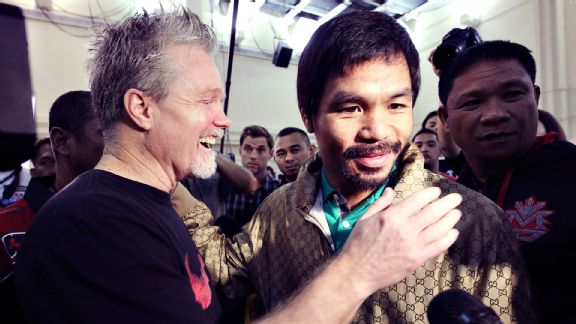 Chris Farina/Top RankFreddie Roach expects his fighter, Manny Pacquiao, to receive little resistance from Brandon Rios.
MACAU -- Brandon Rios and his trainer, Robert Garcia, think that Manny Pacquiao is in decline. It's an assertion that brings a snort of derision from Pacquiao's trainer, Freddie Roach.
"When does he watch my guy? Does he see my guy train every day? I don't think his opinion really counts," Roach said of Garcia in Macau on Friday. "I watch my fighters carefully. If Manny had shown any signs of slippage in training camp, I'd be the first person to tell him it's time to go. It's not time yet, that's for sure."
Pacquiao, Roach says, knows full well that he has to be impressive against Rios in the Venetian Macao's Cotai Arena on Sunday morning (Saturday night in the United States), particularly as he is coming off two straight losses -- even if one of those losses, a decision defeat against Timothy Bradley Jr. in June 2012, was highly disputed.
"Being impressive is not winning a close decision," Roach said. "Being impressive is winning by knockout. He needs to win in good fashion, and the best way he can do that is by knocking the other guy out."
That's a scenario the trainer has no trouble envisioning.
"I don't feel like Brandon Rios can go the distance with the talent of Manny Pacquiao," Roach said. "I'm very confident about that. It's a world-class fighter going up against a guy who's maybe a journeyman at best."
Of course, Pacquiao was also determined to look impressive against Juan Manuel Marquez in his most recent outing, to prove once and for all that he was the superior fighter after three incredibly close battles between the two. That resulted in his being overly aggressive and walking into a sixth-round counter right hand that knocked him cold. Isn't there the danger that it could happen again?
"Sure, it can lead to that, but I think he learned his lesson last time," Roach said of Pacquiao. "He tried to finish Marquez and paid for it. I don't think we're fighting a guy like Marquez, though. Marquez is one of the slickest fighters of all time, let's face it. They had four great, close fights together. I don't think we're in against Marquez. This is not the same class as Marquez. It's not the same ability as Marquez. I don't feel this guy. He's too slow."
Indeed, Roach is doing little to sell the notion that fans should buy the pay-per-view to watch an enthralling, close battle.
"He won a title at 135 pounds; he was losing the fight eight rounds to zero, and he landed a lucky punch and got the win," Roach said. "Quality opponents: I don't see him have any. His last fight, he lost [to Mike Alvarado]; and then my guy Ruslan Provodnikov destroyed [Alvarado].
"I hope they're overconfident, because Manny's going to destroy this guy."
October, 22, 2013
10/22/13
1:56
PM ET
By
Brian Campbell
| ESPN.com
If you followed the prefight build-up to Ruslan Provodnikov's all-action victory over junior welterweight titlist Mike Alvarado, a number of prefight foreshadowing quotes rang true in the aftermath.

Provodnikov promised that the bout would turn into a street fight and spoke intensely of his belief that technique and skill wouldn't play a part in deciding which fighter would impose his will on the other.

In both cases, Provodnikov's predictions were shrewd, helped along, of course, by his predisposition for going to war.

But there was one more statement from "The Siberian Rocky" that, frighteningly, hit home harder than all the others. In reference to his urgency to face the most dangerous opponents available for the simple glory of making memorable fights -- in lieu of traditional rewards such as money and titles -- Provodnikov said, "I don't have much time left in my career."

With a face-first style dependent on his absorbing punishment in exchange for inches of space that can be used to close the distance on his opponent, Provodnikov, who turns 30 in January and is as honest a fighter as the definition allows, is telling the truth.

A fighter of his ilk, one willing to go to such barbaric lengths to outlast his opponent and win a single fight, simply doesn't have a long shelf life at the top end of the sport. But the fact that he has a place among the sport's elite to begin with is remarkable enough on its own.

Provodnikov, who identifies himself of Mansi descent, an endangered indigenous people living in Western Siberia, grew up in the tiny Russian village of Beryozovo amid the ruthless climate that formed his dogged resolve. He had a nondescript amateur career and, until recently, was considered nothing more than a club fighter.

Yet, when taken with his performance in a March defeat against unbeaten Timothy Bradley Jr., this win appears to have launched Provodnikov into the rarified air of truly must-see action fighters. Those two fights also recalibrate expectations of what might be possible for him as he continues to seek out the toughest challenges available.

There are plenty of fighters who throw around clichéd variations of the notion that they are willing to die in the ring in order to win. But Provodnikov, even when compared to those savage few who are eager to give away large chunks of themselves for greater glory, is cut from a different cloth.

Skill and will in boxing aren't mutually exclusive, but it could be argued that fighters generally fall somewhere along a spectrum between the two. Provodnikov, in case you hadn't guessed, pushes the boundaries of the latter. He doesn't utilize his jab, his punches are wide and his defense nonexistent. But unlike those who rely on speed and technique or one-punch power, Provodnikov specializes in the maniacal pursuit and poaching of his opponent's willpower, a hunt that won't end until he runs out of time or his relentless pressure causes the pipes to burst.

There's little question about whether Provodnikov is a candidate to be controlled by an elite boxer who relies on movement, as was the case for half of his fight of the year candidate with Bradley. But that opponent had better be equipped with the backbone to withstand the storm.

Did Alvarado spend too much time trying to outbox Provodnikov by switching stances instead of trying to hurt him? It's possible. And might Alvarado, at 33, simply be broken down from the toll of an incredible fifth straight toe-to-toe slugfest in just a two-year span? Sure.

But let's not overlook Provodnikov's role in the outcome. He did more than score the biggest victory of his career on Saturday, securing an unlikely world title in the process. He broke the will of one of the sport's greatest action fighters in stunning fashion, and that is something truly special.

How high, exactly, Provodnikov will be able to elevate himself on sheer blood and guts remains to be seen, but history tells us that a firecracker of his kind will shine bright only briefly before spectacularly burning out.

No one knows that more than Provodnikov, who is set on emptying himself each time out, regardless of the consequences, in order to build his legend and discover just how good he can be.

It's a quality as unnerving as it is endearing, but it's why, at our deepest core, we watch: To see if a fearless fighter with the one skill that can't be taught is able to redefine what's possible for a fighter of his class by testing his manhood in the most unforgiving sport of them all.

Enjoy him while you can.
August, 20, 2013
8/20/13
4:26
PM ET
By
Brian Campbell
| ESPN.com
So let's be real with each other about boxing in 2013:
Like a no-hitter through seven innings, this year shouldn't be celebrated too early. Can't be too careful to avoid jinxing anything to do with this cruel and unpredictable sport. But ... this year has been crazy. Amazing. Riveting. Scintillating. And it just seems to keep getting better with every week.
[+] Enlarge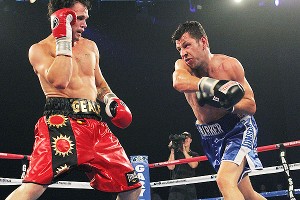 Courtesy of Alex Ridley.Saturday's fight between Daniel Geale and Darren Barker continued this year's trend of barnburners, stirring something unfamiliar in fight fans: hope.
From the blockbuster cards to the low-profile shows featuring prospects and journeymen, it isn't just that there has routinely been something to talk about at the proverbial watercooler. The talk has even been
positive
.
Even now, in the midst of a promotional cold war I personally abhor and will never accept as simply "Well, that's just the way it is," we are getting the fights we want -- and they are actually living up to expectation.
Fans have been able to enjoy at least five legitimate candidates for fight of the year (and that was before Saturday's Darren Barker-Daniel Geale scrap), including at least two -- Timothy Bradley Jr.-Ruslan Provodnikov and Mike Alvarado-Brandon Rios II -- that produced enough drama and savage artistry to be considered on par with the best of this century.
But it goes beyond that. We've also seen breakout campaigns from exciting and marketable action fighters such as Gennady Golovkin, Lucas Matthysse, Adonis Stevenson and Sergey Kovalev. We've seen the development of young stars who appear more than ready to be labeled "next." (I'm looking at you, Abner Mares, Adrien Broner and Mikey Garcia.) And we've seen more than the typical number of under-the-radar fights (think Omar Figueroa-Nihito Arakawa and Sakio Bika-Marco Antonio Periban) deliver unexpected fireworks.
What this all amounts to, especially with a jam-packed final five months already on the slate, with fight-of-the-year hopefuls and big-name pairings jumping off the
schedule
, is two-fold.
First of all, and probably most important, the sport is relatively healthy again. Go ahead, bring on the backlash to that comment. And don't forget to mention the lack of a central governing body, too many titles, far-from-ideal drug-testing protocols and, oh yeah, that whole promotional catfight. But all things considered, boxing appears to be moving in the right direction after such an up-and-down decade.
And it clearly had been a rough ride for the sport since 2004, when a clear and distinct changing of the guard began to take place. There was the sudden crumbling of the heavyweight division, with the retirements of Lennox Lewis and Vitali Klitschko, not to mention the fallout of two knockout losses in a 17-month span for current champion Wladimir Klitschko. You also had a group of fighters who had become the face of the sport over the previous seven or eight years -- Oscar De La Hoya, Roy Jones Jr., Shane Mosley, Felix Trinidad -- hit career snags as losses and the impact of age began to erode their elite status.
Every valley, however, eventually leads back to another peak, and boxing rebounded in a big way with a banner year in 2007. In fact, it was the sport's last truly great year.
You had the anchor of the highest-grossing fight in history between Floyd Mayweather and De La Hoya. There were marquee bouts between unbeaten fighters such as Mayweather-Ricky Hatton, Kelly Pavlik-Jermain Taylor I and Joe Calzaghe-Mikkel Kessler. There also was a run of memorable action fights: Miguel Cotto-Mosley, Paul Williams-Antonio Margarito, Cotto-Zab Judah, Juan Manuel Marquez-Marco Antonio Barrera and the first two Rafael Marquez-Israel Vazquez wars. (And let's not forget about the Bika-Jaidon Codrington "Contender" finale and the two Michael Katsidis fights with Graham Earl and Czar Amonsot.)
Seriously, take inventory of the past 10 years or so in boxing and you simply won't find a more action-packed and memorable year than 2007 ... until now. And that leads to my second point.
The buzz of excitement surrounding the sport in 2013 has been a virtual runaway train. For the first time in many years, boxing's traditionally cynical group of fans and experts have grown to expect things to go their way. This is a huge departure from just a year ago, when a flurry of injuries and drug suspensions wiped out nearly a complete summer of entertaining fights.
So what was the tipping point? Ironically, it was a date that was supposed to have been representative of the type of greed that continually has plagued the sport in recent years. With both HBO and Showtime airing competing blockbuster cards on Sept. 15 -- which pitted a Sergio Martinez-Julio Cesar Chavez Jr. PPV against a cable show headlined by Canelo Alvarez -- a night that was expected to further darken the sport's black eye somehow had the opposite effect.
Instead, the fighters on both cards applied the black eyes to each other. The momentum of the evening then spilled into a memorable three months to close out the year, highlighted by Marquez-Manny Pacquiao IV, and it hasn't slowed yet.
The fact that 2013's biggest fight to date -- Mayweather's May 4 win over Robert Guerrero -- featured a poor promotion, lackluster sales and a rather unexciting in-ring result, yet still hasn't killed the buzz, is proof that this will be a year to remember.
And think about this for a second: The next few months, we expect, will bring us continued excitement from the likes of Danny Garcia-Lucas Matthysse, Bradley-Marquez, Alvarado-Provodnikov and Pacquiao-Rios. But what about Mayweather-Canelo? What if this fight -- the one most experts continue to downplay as likely one-sided, with an almost predetermined result -- ends up bringing the kind of action, drama and excitement on par with what we've seen throughout most of 2013? What happens next?
It's crazy to think about, of course. But for a sport that is regularly labeled as cursed to yield a year so sublimely fun to be a part of, I'm not going to bet against it.
I have to admit, it's kind of weird going into a season of big fights and actually expecting them to live up to expectations. Don't lose heart -- this is really how it's supposed to be. Let's savor the flavor while we can.
July, 10, 2013
7/10/13
1:18
PM ET
As the dog days of summer kick into low gear, we reach the midyear mark of the 2013 boxing calendar. So what have we learned from this small sample size of the sweet science? In a fun, taking-stock exercise to cure the summertime blues, this week we unveil our midyear awards for the categories of best boxer, fight, knockout and round through the year's midpoint.
Agree with our selections? Disagree? In any case, let your voice be heard and weigh in on each category in our SportsNation polls and on Twitter.
What makes one round of boxing action stand out from any others? What makes fans leap to their feet and has commentators breathless?
Action, for one thing, and plenty of it. For all his sustained brilliance, Floyd Mayweather Jr. is rarely, if ever, in a round-of-the-year candidate. His erstwhile putative nemesis, Manny Pacquiao, on the other hand, frequently is -- and so is Pacquiao's November opponent, Brandon Rios.

Rios is the kind of guy who won't just take a punch to give a punch; he'll take six to give seven. He did that to great effect in his first against Mike Alvarado last year, and he did so to less effect in the rematch with Alvarado earlier this year. But there was a time early on in that March 30 contest when it looked as if Rios would overwhelm his rival, only for Alvarado to fight back strongly -- and at no point was the back-and-forth more dramatic than the incredible second round, which is my round of the half-year so far.
It didn't take these two 140-pound warriors long to pick up where they left off after their 2012 slugfest. After a slow burn of an opening round, Rios began the second by attacking Alvarado with left hooks, to which Alvarado responded with a short right hand. Alvarado then caught Rios with a hard left hook. And then Rios landed a jab -- of all things -- that sent Alvarado stumbling backward. Smelling blood, Rios attacked, but Alvarado fought fire with fire until a short right hand in the middle of another exchange hurt him again. Somehow, Alvarado found the wherewithal to back Rios off with an explosive combination to the jaw, before Rios came back yet again, snapping back Alvarado's head with an uppercut as the bell rang.
The task of a ringside reporter is to try and observe the action and note what's happening without looking away. The action flowed so thick and fast in this round that I gave up any pretense of note-taking, instead simply scrawling in my notebook at the end of the three minutes: "That was insane." The speed and ferocity of the exchanges and the refusal by either man to give any quarter are why I rate this make this the best round of 2013 so far.
Honorable mentions:
Sakio Bika-Marco Antonio Periban, Round 12:
On the other hand, if your vote went to this Rock 'em, Sock 'em slobberknocker, it would be hard to disagree. This initially unremarkable super middleweight bout finally caught light around the midway point. Finesse and defense went out the window as the two opponents threw punches with progressively greater abandon, culminating in a wild final round that would have been deleted from a "Rocky" screenplay for being too fanciful. A big right hand from Bika, a big right from Periban, a
huge
right from Bika, a
huge
right from Periban ... back and forth it went, an insane finish to what turned out to be a surprisingly entertaining fight.
Timothy Bradley Jr.-Ruslan Provodnikov, Round 12:
"Just box the [expletive] out of him," beseeched Bradley's trainer, Joel Diaz, at the start of the 12th round of this welterweight war. Bradley had been dropped and nearly stopped in the first couple of rounds but rebounded to open up a lead on the scorecards. All he needed to do during the final three minutes was stay out of trouble. But Bradley is a warrior, and after about 20 seconds of moving around the ring, he landed a left hook and began to engage. In the final minute of the fight, he threw a right hand and took a hard left hook as payment. Sent reeling, his response was to try and fight his way out of trouble until a right hand had him in trouble again. A barrage put him down to one knee with only 12 seconds on the clock, but he beat the count and the bell rang to end the fight before battle could be resumed.
Guillermo Jones-Denis Lebedev, Round 7:
Lebedev's eye was already swelling into a horrific mass after six rounds of this cruiserweight battle, but the Russian looked like the more likely of the two to secure a stoppage victory for much of this seventh round. He tore into Jones repeatedly with 1-2 combos, and Jones, who had been outlanded to that point even as he had clearly done more damage, began to wilt. And yet somehow, in the final 30 seconds of the frame, he landed a sequence of heavy blows of his own as if from nowhere. They backed Lebedev off and presaged a second wind for the Panamanian, who would finally stop his (by now horribly disfigured) foe in the 11th.
May, 1, 2013
5/01/13
1:25
PM ET
By
Bernardo Pilatti
| ESPN.com
Mauricio Herrera and Ji-Hoon Kim will meet in a 10-round junior welterweight fight on Thursday at the Omega Products International in Corona, Calif., in a special edition of ESPN2's "Friday Night Fights" (10 p.m. ET).

Despite dropping his past two bouts, Herrera (18-3, 7 KOs), of Lake Elsinore, Calif., has a respectable record with resounding victories over Mike Dallas Jr., Ruslan Provodnikov, Efren Hinojosa, Cleotis Pendarvis and Jason Davis. His first defeat came in 2009 against Mike Anchondo; the others were in 2012, against Mike Alvarado and Karim Mayfield.

Meanwhile, South Korea's Kim (24-8, 18 KOs) is coming off a defeat in December against Raymundo Beltran. He lost a decision for a vacant lightweight belt against Miguel "Titere" Vazquez in August 2010, and in order to face Herrera, he is going up in weight to the 140-pound division.

On paper, this fight can be an all-out war. Herrera and Kim bring styles that complement each other thanks to their clear commitment to exchange, but with different nuances. Herrera is a hard, tough and aggressive fighter with a penchant for making fans rise from their seats. His loss against Alvarado -- the reigning junior welterweight titleholder -- in April 2012 was a fight of the year candidate. Herrera has good defense and is technically superior.

Despite being equally as overwhelming on offense, Kim's defense still needs work. Most of the time his power makes up for his defensive deficiencies. He has managed to throw more than a thousand punches in a fight. With his all-action style, Kim has earned many followers. He has won more than 56 percent of his bouts by way of knockout.

Kim tends to harass his opponents until he manages to land, using the idea that the more he throws, the better his chances become to get a stoppage. If he manages to overwhelm Herrera and land his punches, he'll win by knockout. On the other hand, the risk of him being exposed due to his defensive deficiencies grows as the fight wears on. In an elimination bout against Australia's Leonardo Zappavigna in 2010, a mistake cost him the fight in the first round.

In the co-feature, former lightweight titlist Miguel "Aguacerito" Acosta (29-6-2, 23 KOs) faces Miguel Gonzalez (20-3, 15 KOs) in a 10-round bout. Acosta won an interim lightweight title by stopping Mexican Urbano Antillon in the ninth round in 2009. Then he traveled to Namibia and finished Paulus Moses in the sixth round. He was later stopped by Brandon Rios in the third round, before easily beating Luis Cardozo in Colombia.

Acosta sought to regain his title against Cuban Richard Abril in 2011, but lost the decision. He also failed to win his previous bout, on July 20. It was a close battle that ended in a split decision against Armenian Art Hoyhannisyan. On Thursday, Acosta will go for a much-needed win that enables him to get another title opportunity.

Gonzalez, 27, of Cleveland, is a rising prospect who had a 14-bout winning streak before falling on the scorecards in his previous fight against Mike Dallas Jr. For Gonzalez, defeating Acosta also would mean an open door to a possible title fight in the near future.
March, 31, 2013
3/31/13
2:52
PM ET

LAS VEGAS -- It was an eventful night of boxing on two continents on Saturday, from an impressive knockout by Gennady Golovkin in Monaco to a war at the Mandalay Bay. Here are five thoughts on what we saw and learned:

1. Despite itself, boxing continues to amaze
Far too often, boxing coverage and chatter dwells on the negative: fights that don't get made or don't live up to the hype; judging decisions that seem improbable at best or larcenous at worst; promoters not talking to networks and vice versa; ear bitings and Fan Man; boxers getting arrested, publicly burying their faces into very private parts or otherwise acting like buffoons.

And yet, when boxing gets it right, all that even the most cynical observer can do is stand back, applaud and acknowledge that professional prizefighters are athletes like no other. Think of the endlessly cycled "SportsCenter" highlights when a shortstop suffers a nose bleed after a seemingly routine grounder bounces into his face; and then look at a picture of Brandon Rios and, especially, Mike Alvarado at the end of their 12-round war. Grueling doesn't begin to describe their combat. The physical conditioning of both men has to have been off the charts for them to have dished out and withstood what they did, to say nothing of their extraordinary heart and courage.

There were times during Saturday night's battle in Las Vegas when the punches were flowing with such speed and ferocity and the momentum was shifting with such whiplash rapidity, that there was no hope of keeping up and making accurate, detailed notes; there was nothing to be done except to sit slack-jawed in amazement at it all. And although the attention will rightfully be on the punishment each man meted out, there was subtlety, as well -- boxing brains as well as brawn, particularly on the part of Alvarado, whose success came not just from his right hands and left hooks but from his feet and his ability to move laterally, shift position and reduce his opponent's effectiveness.

It was one of those truly remarkable nights when it was a privilege to be able to sit ringside. And at the risk of returning to the extra-curricular shenanigans touched on earlier, with this war coming on the heels of Timothy Bradley Jr.-Ruslan Provodnikov, do you really think HBO is missing Adrien Broner or Bernard Hopkins right now?

2. Being respectful outside the ring doesn't preclude going to war inside it
Forget the tension in the ring in the immediate aftermath of the fight, which came when adrenaline was pumping and Rios, having had his brain rattled around in his skull for 12 rounds, was coming to terms with his first loss. Focus instead on the build-up to this contest and the mutual respect from both men. They had been to war once and were about to do so again, but in the interim they smiled, shook hands, even hugged on the weigh-in stage. At the end of the night, they both went to the same trauma center at the same hospital. What do you want to bet that, a la Arturo Gatti and Micky Ward, they at one point found themselves in adjacent beds and, in the small hours of the morning, exchanged compliments about what they had just done to each other?

3. GGG keeps rolling
Granted, nobody expected Nobuhiro Ishida to defeat Gennady Golovkin. It's doubtful many people not called Mrs. Ishida even expected him to make it an especially close contest. And Ishida himself didn't aid his own cause by eschewing his jab and reach, and choosing instead to stand in Golovkin's wheelhouse and fight.

But if there aren't official style points awarded in boxing, the way in which a boxer wins a fight still counts for a lot, and the spectacular right hand that dropped Ishida onto his back and out in the third round added to the growing Golovkin mythology. Golovkin combines the pressuring, stalking, suffocating style of a python with the sudden, vicious finishing strike of a rattlesnake. He is as much of a beast inside the ring as he is a gentleman outside of it. Once Dmitry Pirog heals from a back injury, his postponed clash with Golovkin is aching to take place. And the prospect of GGG ultimately colliding with Sergio Martinez to see who truly is the best middleweight in the world is something to savor.

4. There are few things to match British fight crowds
In the grand scheme of things, there is nothing extraordinary about either Derry Mathews or Anthony Crolla. Crolla, by way of illustration, was previously stopped by Mathews, who was in turn halted by Gavin Rees, who was swatted aside with contempt by Adrien Broner. Matthews and Crolla had 12 losses between them as they walked to the ring in the Liverpool Echo Arena in the co-main event for Tony Bellew's light heavyweight battle with Isaac Chilemba, but the British fans roared them into the ring as if Lennox Lewis were fighting the ghost of Henry Cooper.

Part of that came down to the fact Mathews is from Merseyside and Crolla from Liverpool's hated local rival, Manchester. But as anyone who will recall Ricky Hatton's magical nights in Las Vegas can verify, British fight fans display a genuine passion that few, if any, North American cities outside Montreal can match.

5. Macau awaits its turn on the stage
This week Monte Carlo, Liverpool and Las Vegas. Next week, the boxing world turns its eye to Macau for what promises to be both an entertaining card and, potentially, the first of many to come. Top Rank's Bob Arum has long talked of staging a fight in Macau, and now circumstances have conspired to make it possible. The signing of Chinese amateur standout Zou Shiming is an important key to unlocking the door. At the same time, Macau itself brings increasing riches to the table, with the territory's casinos generating more income in January this year than all of the Las Vegas strip's properties average in six months.

Over dinner with media members on Friday night, Arum sounded confident that Manny Pacquiao's next bout -- slated for Sept. 14 -- would be at the same venue as next Saturday's card, unless its sister property in Singapore proves able to wrest it away. None of which is to say that the MGM Grand will go without a fight. Nor does it mean that Sin City's position as the undisputed fight capital of the world is under any imminent threat just yet; a number of factors, including geography and TV money, will see to that. And plenty of other rivals -- Atlantic City, Cowboys Stadium in Dallas, even Madison Square Garden -- have come and gone or continue to fall short of what the MGM Grand and Mandalay Bay offer. But if the trial balloon floats as planned next week, then with the right boxers and the right cards, catering to the right demographics and fighting for the right money, Macau may place itself in contention as a major stop on the global boxing circuit.
March, 29, 2013
3/29/13
6:27
AM ET
By
Julio Gonzalez
| ESPN.com
OXNARD, Calif. -- Like most any Mexican or Mexican-American boxer today, Brandon Rios grew up captivated by the performances of Julio Cesar Chavez.
Inspired by the Mexican idol, Rios visualized himself from a very young age as a future world champion, going forward at all times in the ring, just as Chavez did. He also imagined himself wearing one of those green belts worn by champs such as Chavez. Those moments left a lasting impression.
"I'm half Mexican and half American, so that belt means a lot to me," Rios said. "Since I was a kid I wanted that belt; I told my dad I wanted the green belt of the World Boxing Council."
Rios didn't have the opportunity to fight for a WBC world title when he fought in the lightweight division. And now, as a junior welterweight, he isn't in the mix to earn the WBC title because of conflicts between promotional companies.
What's left for the Lubbock, Texas native is to deliver another dominant performance on Saturday when he faces Mike Alvarado (33-1, 23 KO) in a rematch of one of the best fights of 2012.
In last October's action battle, Rios got the better of the fighters' exchanges and won by seventh-round TKO, winning the respect of fans. In the rematch, he'll be fighting for more tangible stakes: a vacant junior welterweight interim title and, most likely, the chance to face the 140-pound elite and become a legend in his own right.
Rios (31-0-1, 23 KO), 26, believes he's ready to emerge, but he has no problem admitting the obvious: "I'm not the best yet. To be the best, you have to face the best."
Rios says he has watched video of the first fight at least 200 times, claiming he has detected his opponent's errors as well as his own -- he says he'll use more head movement this time around -- and is certain he'll win.
"I give it five or six rounds this time," Rios said. "I guarantee a victory. I never guarantee anything, but this time I feel very confident."
Predicting a knockout win within any number of rounds is a bold enough statement, and Rios acknowledges Alvarado as a plus-size junior welterweight and a hard-hitting warrior who will have extra motivation after coming up short in their first meeting. Still, Rios can't get over how great he feels at 140 pounds.
"My weight is perfect now," Rios said. "One-thirty-five was difficult -- it was killing me to make that weight. Now I'm making 140 easy and I feel great."
Trainer Robert Garcia believes that Rios has not only avoided losing his typical power advantage since moving up in weight, but that he has actually increased it.
"I can assure you that he has gained strength," Garcia said, "because those five pounds off hurt him, he would lose so much muscle."
For this camp, Garcia increased the number of sparring rounds for Rios, estimating that his fighter put in somewhere in the neighborhood of 170 or 180. The trainer also added track work, including sprints, to improve Rios' quickness and explosiveness.
"We are ready for whatever Alvarado could bring," Garcia said. "He has to change -- he lost the first fight. We are prepared in case he wants to box or if he wants to stand up and exchange blows."