August, 24, 2013
Aug 24
1:40
AM ET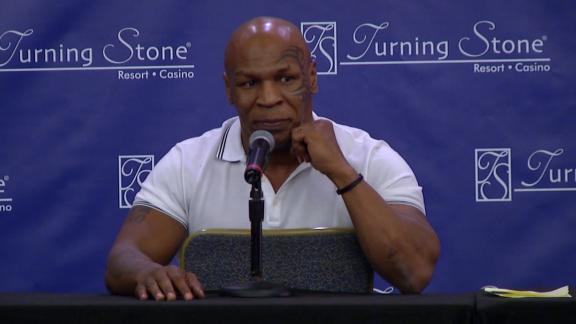 The most impactful moment occurring on the "Friday Night Fights" season finale didn't occur in the ring, in the main event -- which pitted junior lightweight titlist Argenis Mendez against Arash Usmanee -- on the undercard at Turning Stone Casino in Verona, NY.
No, that signature moment occurred when Mike Tyson, the promoter of the event, walked up to ESPN analyst Teddy Atlas before the TV bouts kicked off.
Not so strange, considering Atlas had helped train Tyson, along with their common mentor, Cus D'Amato, in upstate NY in the early 1980s. But the falling out between Atlas and Tyson was explosive.
Atlas, in his biography, recalled that he reacted heatedly after he found out that the young boxer, then age 15, had approached a young girl, who was a relative of Atlas' wife, in a crude manner. Atlas borrowed a .38 from a pal, tracked down Tyson one night in 1982, told him to smarten up, and fired the gun, deliberately missing, for emphasis. That was the end of Atlas helping Tyson learn the ropes.
Through the years, the analyst hasn't been shy about critiquing the power-punching former Kid Dynamite. He dismissed his moral fiber, labeled him "boxing's version of the Jerry Springer show."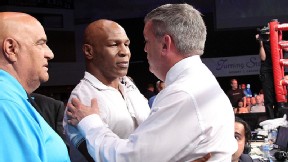 Tom Casino/Iron Mike ProductionsMike Tyson and Teddy Atlas embraced and spoke Friday for the first time since a falling out in 1982.
"Mike has always been looking for an escape, a trap door," said Atlas of Tyson in 2003. "He always lacked one essential ingredient in situation building character: the ability to confront himself."
They haven't had a relationship, save for maybe a nod at a charity dinner, since the blowup.
Until Friday. Tyson, before the show started, came up to Atlas at his station. "He behaved like a man, what can I say," Atlas recollected to partner Joe Tessitore. "He came over, extended his hand and asked me if I'd shake it and said, 'You're not still mad at me, are you? I wish you wouldn't be'. ... I give him credit for showing a gentleman's side."
"Life is short, I made amends with everybody," Tyson explained about the gesture to FNF host Todd Grisham after the first fight finished. He said making amends is important to his sobriety, describing himself as a "vicious addict. I'm recovering and I'm gonna die. If I don't follow my steps, I'm useless." Atlas, he said, was extremely important to him back then. "I was wrong," he admitted, so he's was happy to get a chance to say so.
"I have a lot of pain, and I just want to heal it, and that was part of it, right there," he said, before the main event, which saw Mendez fight to a majority draw against Usmanee, started. Tyson told Grisham his mom was a hooker, his dad was pimp, he's shot at people, and so all that fame and fortune didn't feel right to him. He said he feels better emotionally than he ever has.
It was riveting material, a powerful expression of the power and possibilities of forgiveness, and redemption.
June, 9, 2013
Jun 9
5:36
PM ET
By
Brin-Jonathan Butler
| ESPN.com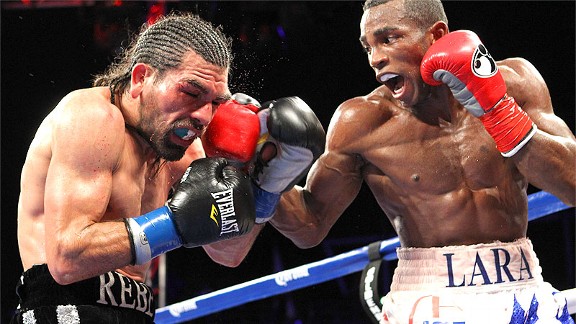 Tom Hogan/Hoganphotos/Golden Boy PromotionsAlfredo Angulo had Erislandy Lara on the ropes before suffering an injury and calling it quits.
CARSON, Calif. -- Cus D'Amato once said, "When two men are fighting, what you're watching is more a contest of wills than of skills, with the stronger will usually overcoming the skill."
On Saturday night in Carson, Calif., Erislandy Lara's demonstrative advantage of skill over Alfredo Angulo only served to inflame Angulo's reserve of willpower. The elegance of Lara's skills simply weren't capable of removing Angulo's will from the equation of the fight. Then, in the fourth round, Angulo's fiendish efforts were rewarded when he dropped Lara, the first knockdown Lara has suffered as a professional. For the duration of the round, every fan in attendance stood to roar approval. Round after round, Angulo took even more risks, applying pressure and striving to close out the fight while eating enough leather to reconfigure his face. Again Angulo dropped Lara, yet the Cuban got off the deck to continue.
In the 10th round, Angulo ate nearly everything Lara threw at him in order to land something meaningful of his own. Then a crisp left hand from Lara struck the swelling over Angulo's eye. Angulo grimaced as another left followed, then another, and finally the referee called off the bout, fearing a broken orbital bone.
Boos. Beer tossed into the ring. "Tijuana style!" a writer next to me laughed. Everywhere you looked, aggrieved faces contorted in expressions of betrayal.
It was all a little incomprehensible to me. Everyone on hand had enjoyed a brilliant fight stopped only after one fighter's health was gravely in danger.
Boos?
Wait a minute. When exactly was enough
enough
? What was the expectation here?
Victor Ortiz quit against
both
of Saturday's headliners, Marcos Maidana and Josesito Lopez. Were those unreasonable decisions? In one of those fights, Ortiz's jaw was broken in two places. Should he have been booed for not fighting on with a broken jaw, as Muhammad Ali did against Ken Norton? Ali was praised for such courage. Oscar De La Hoya was fully capable of getting off his stool to continue against Manny Pacquiao, yet sensibly recognized the futility. Does he get a pass? At the time, his corner asked if he felt like continuing, and Oscar didn't launch much of a protest when it was suggested he not bother. Joe Frazier was legally blind in the only good eye he had left against Ali in the "Thrilla in Manilla." Was his trainer, Eddie Futch, right to call off the fight? Did Futch betray his fighter?
What about the most famous quitter in boxing history? Is Duran's "No Mas" a more defining moment in his career than his victory over Sugar Ray Leonard in their first fight? For many, it is. Mike Tyson notoriously looked for a way out against Evander Holyfield when it was clear Holyfield had his number. Suddenly, Tyson's cowardice in gnawing off Holyfield's ear overshadowed nearly everything he had accomplished as a fighter. Twice, Andrew Golota snatched defeat from the jaws of victory against Riddick Bowe when he swung gratuitously low. His career never recovered.
So in boxing, when is it acceptable to quit? How much abuse is a fighter expected to endure before he can be allowed to show some concern for his own welfare? Anyone who has been around fighters knows they all share the same secret: They are more afraid of embarrassment and humiliation than injury. Do fans and writers use this fact against them in what we celebrate or criticize?
In the documentary "Facing Ali," nearly half the fighters involved required subtitles despite speaking English, their speech slurred by the physical toll of their ring lives. This was their reward for testing their furthermost physical and mental boundaries.
As Guillero Rigondeaux's recent near-shutout of 2012 ESPN.com fighter of the year Nonito Donaire demonstrated, the days of fans cheering Willie Pep for winning a round without throwing a punch are long over. Arturo Gatti's induction into the Boxing Hall of Fame is further testament of boxing giving fans what they clearly reserve their loudest cheers for: fighters who lay their lives on the line at every possible moment of every fight. The truth is, fighters have always done this. We just didn't used to boo the ones who committed the cardinal sin of trying to minimize some of the risk.
June, 19, 2012
6/19/12
1:45
AM ET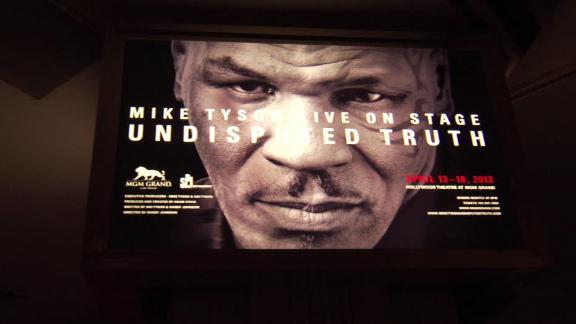 Mike Tyson
, the man who once bit off a portion of his foe's ear during a fight, is doing a one-man show on Broadway, to be directed by
Spike Lee
.
Richard Nixon
must be sitting straight up in his grave.
What does it say about this age that a man can go from walking tabloid headline to convicted sex offender to the toast of Broadway in a matter of a couple decades? Have we really made such strides in the area of forgiveness? (Nixon would certainly marvel at this development and wonder why he wasn't born later -- or hadn't lived longer -- so that he could've enjoyed a triumphant comeback tour).
Or have we reached a level of permissiveness that too easily allows rogues an indefinite period of atonement, a self-prescribed humility quarantine to reinvent themselves and fairly seamlessly enter into a lucrative redemption tour?
Not to be a hater -- I have rooted for Tyson since he burst on the scene as a wrecking ball of fury who also had a contemplative and humble side, which he trotted out right after he finished applying the finishing touches to another cerebrum-rattling KO -- but I do sometimes wonder what
Desiree Washington
, the woman Tyson was convicted of raping, thinks about this transformation.
Is it totally legit? Is a backslide inevitable? Has he served enough penance? Should he have to serve any at all?
I admit, I am looking forward to taking in a performance of "Mike Tyson: Undisputed Truth" live on Broadway (July 31-Aug. 5) at the Longacre Theatre in NYC, and seeing if the most interesting athlete of his era will help me process and clarify my complicated and ever-shifting take on his fascinating life.