December, 18, 2013
12/18/13
1:41
PM ET
By
Salvador Rodriguez
| ESPNDeportes.com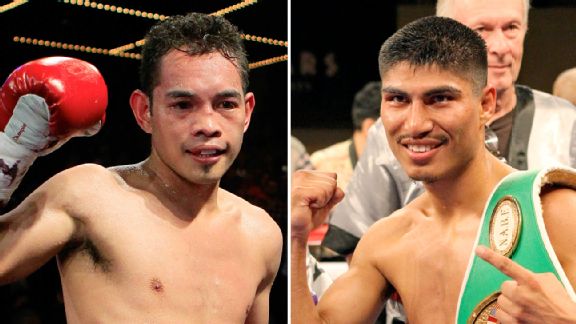 Getty ImagesNonito Donaire and Mikey Garcia are friends, but if they fight each other, we'd all watch.
In the spirit of the holidays, ESPN is celebrating the season with our own "12 Days" wish list of the fights we want to see most, regardless of promotional or other entanglements. Keep checking back over the coming days to see new fights revealed, discuss our choices or even suggest some of your own in the comments section or via Twitter using #ESPN12Days.
"No, we are brothers, I don't think we are ever going to face each other," Nonito Donaire told me during a promotional stop in Mexico City before his fight against Vic Darchinyan.
Yes, he was talking about junior lightweight titlist Mikey Garcia.
But, what if?
What if they weren't like brothers? What if they trained in different gyms? What if they didn't like each other the same way Ricardo Mayorga and Fernando Vargas did? What if, instead of friendship, they had genuine hate for each other?
Without a doubt, we would have one heck of a fight.
Garcia-Donaire might be best served at a catchweight of 128 pounds, directly between each fighter's current weight class. And if we take a closer look, their styles are a perfect match.
Both fighters can mix it up if necessary and trade the type of punches that could send either to the canvas at any time. But they also each possess good technique, speed, execution and defense.
Garcia seems to be the hotter fighter right now, but in his most recent fight he raised some eyebrows by showing some unexpected hiccups. Roman Martinez dropped him in the second round before succumbing to an eighth-round knockout, something that was completely out of Garcia's fight plan. Meanwhile, Donaire created questions of his own in a somewhat shaky November knockout of Vic Darchinyan.
If speed is a potential Kryptonite for Donaire, we must point out that Garcia is a fighter with incredible technique, respectable power and a lethal repertoire of combinations, even if he lacks the speed to outright trouble the "Filipino Flash."
On the other hand, Donaire's power seems like enough of a reason to keep Garcia alert every step of the way, if he wants to avoid facing that devastating left hook.
On the surface, it would seem the stars are aligned for this fight to make sense. Both are represented by the same promoter and manager, and both are highly esteemed by the same network. This fight would be an easy sell at any venue, whether in California, Texas, New York or Las Vegas.
Unfortunately, both fighters also share the same trainer -- Mikey's older brother Robert Garcia -- making the fight unlikely, at least as things currently stand.
But if Top Rank should ever run out of big-name opponents for either fighter, it wouldn't need to look any further than Robert Garcia's Oxnard, Calif., gym to find the most attractive option for either one. They are made for each other.
November, 10, 2013
11/10/13
12:42
AM ET
By
Brian Campbell
| ESPN.com
Mikey Garcia didn't just announce himself as the man to beat at 130 pounds in his debut in the division Saturday in Corpus Christi, Texas. The unbeaten Mexican-American star on the rise also made a strong case for pound-for-pound consideration with his eighth-round, body-shot knockout of titlist Rocky Martinez.

With a systematic dismantling of an action-friendly opponent who was never able to put enough punches together to get himself into the fight, Garcia showcased his full talents in the stoppage. Whether he was using the thudding jab to bank rounds in the early going or transforming into a counterpuncher later in the fight and picking apart Martinez with an array of hard right hands and short left hooks, Garcia -- who didn't forget to sprinkle in some top-shelf defense -- was nearly flawless in his execution.

Key moment: With Martinez appearing weary to open Round 8, Garcia connected with a damaging overhand right at 2:21 that proved to be the beginning of the end. Garcia swarmed in to facilitate Martinez's exit, seconds later landing a left hook to the body that floored Martinez and ended his night.

We've got your number: 45-8. That was the disparity in punches landed for Garcia in Rounds 6 and 7, according to CompuBox, when he began to implore his technical brilliance and take over the fight completely. In fact, Martinez landed just two of 21 punches in Round 7 as Garcia set traps and took advantage.

Last words: If Garcia showed one sign of weakness, it was when he absorbed a perfect overhand counter right on the chin in Round 2, sending him to the canvas for just the second time in his career. Did the punch reveal the lone weakness in Garcia's otherwise impeccable stock? The results were inconclusive. Although the knockdown proved to be of the flash variety, Martinez was unable to capitalize on the opportunity. In fact, out of respect for Garcia's power -- which carried up in weight with him beautifully -- Martinez was unwilling, and more importantly unable, to close the distance and do anything else of note at close range.
November, 7, 2013
11/07/13
11:26
AM ET
By
Carlos Narvaez
| ESPNDeportes.com
Mikey Garcia won't listen to any predictions making him the favorite Saturday against junior lightweight titlist Roman "Rocky" Martinez (HBO, 9:30 p.m. ET/PT) at the American Bank Center in Corpus Christi, Texas.

Garcia, the former featherweight titlist, would rather keep his distance and give credit to the only current Puerto Rican belt holder, who will defend his title for the third time after winning it with a majority decision over Miguel Beltran Jr. in September 2012.

"I think Rocky will be tougher than what people expect," Garcia told ESPNDeportes.com. "He is not receiving the proper credit. He is a boxer who will put a really tough fight. He is a warrior and won't give up easily. This fight could go the distance. I won't step inside the ring thinking that I will take him down quickly."

Garcia will be making his debut at 130 pounds. In June, during the weigh-in for the first defense of his featherweight title, Garcia was stripped of the belt because he failed to make the 126-pound limit.

"I'm not really proud of that situation, but this stuff happens in boxing," said Garcia. "But I really want to become world champion with a great fight. Rocky is a courageous boxer -- tight style, can punch on short distance. He will give his best inside the ring. He might be one of the toughest challenges in my career. I might win most of the rounds."

Garcia has followed a strict nutritional plan and worked on the physical side with trainer Alex Ariza, although Ariza won't be in his corner on fight night.

"We took extra care on the nutritional side, something that wasn't among my priorities in previous fights," said Garcia. "We brought Alex on board to take care of my diet and my conditioning, and we will be just fine. I had never done that before."

Garcia (32-0, 27 KOs) is one fight removed from a fourth-round stoppage of former champion Juan Manuel Lopez in Dallas. Martinez (27-1-2, 16 KOs) defeated Diego Magdaleno in April in Macau by majority decision.

Despite being the boxer moving up in weight, Garcia said he feels comfortable fighting as a junior lightweight.

"We are getting real close. Right now I'm at 138 pounds, and by Friday I should be down to 135," Garcia said. "I feel good. My speed is fine. We are still doing some glove workouts, and this week we fought 12 rounds twice."
August, 20, 2013
8/20/13
4:26
PM ET
By
Brian Campbell
| ESPN.com
So let's be real with each other about boxing in 2013:
Like a no-hitter through seven innings, this year shouldn't be celebrated too early. Can't be too careful to avoid jinxing anything to do with this cruel and unpredictable sport. But ... this year has been crazy. Amazing. Riveting. Scintillating. And it just seems to keep getting better with every week.
[+] Enlarge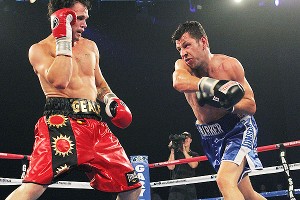 Courtesy of Alex Ridley.Saturday's fight between Daniel Geale and Darren Barker continued this year's trend of barnburners, stirring something unfamiliar in fight fans: hope.
From the blockbuster cards to the low-profile shows featuring prospects and journeymen, it isn't just that there has routinely been something to talk about at the proverbial watercooler. The talk has even been
positive
.
Even now, in the midst of a promotional cold war I personally abhor and will never accept as simply "Well, that's just the way it is," we are getting the fights we want -- and they are actually living up to expectation.
Fans have been able to enjoy at least five legitimate candidates for fight of the year (and that was before Saturday's Darren Barker-Daniel Geale scrap), including at least two -- Timothy Bradley Jr.-Ruslan Provodnikov and Mike Alvarado-Brandon Rios II -- that produced enough drama and savage artistry to be considered on par with the best of this century.
But it goes beyond that. We've also seen breakout campaigns from exciting and marketable action fighters such as Gennady Golovkin, Lucas Matthysse, Adonis Stevenson and Sergey Kovalev. We've seen the development of young stars who appear more than ready to be labeled "next." (I'm looking at you, Abner Mares, Adrien Broner and Mikey Garcia.) And we've seen more than the typical number of under-the-radar fights (think Omar Figueroa-Nihito Arakawa and Sakio Bika-Marco Antonio Periban) deliver unexpected fireworks.
What this all amounts to, especially with a jam-packed final five months already on the slate, with fight-of-the-year hopefuls and big-name pairings jumping off the
schedule
, is two-fold.
First of all, and probably most important, the sport is relatively healthy again. Go ahead, bring on the backlash to that comment. And don't forget to mention the lack of a central governing body, too many titles, far-from-ideal drug-testing protocols and, oh yeah, that whole promotional catfight. But all things considered, boxing appears to be moving in the right direction after such an up-and-down decade.
And it clearly had been a rough ride for the sport since 2004, when a clear and distinct changing of the guard began to take place. There was the sudden crumbling of the heavyweight division, with the retirements of Lennox Lewis and Vitali Klitschko, not to mention the fallout of two knockout losses in a 17-month span for current champion Wladimir Klitschko. You also had a group of fighters who had become the face of the sport over the previous seven or eight years -- Oscar De La Hoya, Roy Jones Jr., Shane Mosley, Felix Trinidad -- hit career snags as losses and the impact of age began to erode their elite status.
Every valley, however, eventually leads back to another peak, and boxing rebounded in a big way with a banner year in 2007. In fact, it was the sport's last truly great year.
You had the anchor of the highest-grossing fight in history between Floyd Mayweather and De La Hoya. There were marquee bouts between unbeaten fighters such as Mayweather-Ricky Hatton, Kelly Pavlik-Jermain Taylor I and Joe Calzaghe-Mikkel Kessler. There also was a run of memorable action fights: Miguel Cotto-Mosley, Paul Williams-Antonio Margarito, Cotto-Zab Judah, Juan Manuel Marquez-Marco Antonio Barrera and the first two Rafael Marquez-Israel Vazquez wars. (And let's not forget about the Bika-Jaidon Codrington "Contender" finale and the two Michael Katsidis fights with Graham Earl and Czar Amonsot.)
Seriously, take inventory of the past 10 years or so in boxing and you simply won't find a more action-packed and memorable year than 2007 ... until now. And that leads to my second point.
The buzz of excitement surrounding the sport in 2013 has been a virtual runaway train. For the first time in many years, boxing's traditionally cynical group of fans and experts have grown to expect things to go their way. This is a huge departure from just a year ago, when a flurry of injuries and drug suspensions wiped out nearly a complete summer of entertaining fights.
So what was the tipping point? Ironically, it was a date that was supposed to have been representative of the type of greed that continually has plagued the sport in recent years. With both HBO and Showtime airing competing blockbuster cards on Sept. 15 -- which pitted a Sergio Martinez-Julio Cesar Chavez Jr. PPV against a cable show headlined by Canelo Alvarez -- a night that was expected to further darken the sport's black eye somehow had the opposite effect.
Instead, the fighters on both cards applied the black eyes to each other. The momentum of the evening then spilled into a memorable three months to close out the year, highlighted by Marquez-Manny Pacquiao IV, and it hasn't slowed yet.
The fact that 2013's biggest fight to date -- Mayweather's May 4 win over Robert Guerrero -- featured a poor promotion, lackluster sales and a rather unexciting in-ring result, yet still hasn't killed the buzz, is proof that this will be a year to remember.
And think about this for a second: The next few months, we expect, will bring us continued excitement from the likes of Danny Garcia-Lucas Matthysse, Bradley-Marquez, Alvarado-Provodnikov and Pacquiao-Rios. But what about Mayweather-Canelo? What if this fight -- the one most experts continue to downplay as likely one-sided, with an almost predetermined result -- ends up bringing the kind of action, drama and excitement on par with what we've seen throughout most of 2013? What happens next?
It's crazy to think about, of course. But for a sport that is regularly labeled as cursed to yield a year so sublimely fun to be a part of, I'm not going to bet against it.
I have to admit, it's kind of weird going into a season of big fights and actually expecting them to live up to expectations. Don't lose heart -- this is really how it's supposed to be. Let's savor the flavor while we can.
June, 26, 2013
6/26/13
12:06
PM ET
By
Carlos Narvaez
| ESPN.com
SAN JUAN, Puerto Rico -- Orlando Cruz says he wants people to talk about him not because of his private life, but because of his boxing skills. He'll soon get a prime opportunity to create the buzz he seeks in the ring.
[+] Enlarge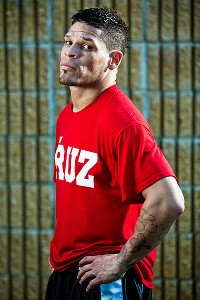 AP Photo/Dennis M. Rivera PichardoOrlando Cruz, the first openly gay boxer in history, is ready to become known as something more: a champion.
Puerto Rico's Cruz, who stole headlines last October by becoming the first boxer to publicly reveal that he is gay, appears to be on his way to fighting Orlando Salido for a vacant featherweight title.
Ranked the No. 1 126-pound contender by one of the alphabet organizations, Cruz (20-2-1) would likely take on Salido in Puerto Rico or New York City in August. He claims he is ready to become boxing's first openly gay titleholder.
"This crown is headed to Puerto Rico before the end of 2013," Cruz said. "I will be the first openly gay world champion in history, and it will be huge."
Cruz was lined up for the title shot when the belt was stripped from Mikey Garcia after he failed to make the featherweight limit at the weigh-in before his defense against Juan Manuel Lopez on June 15.
Lopez was still eligible to win the title, but he lost to Garcia by fourth-round TKO.
"I know that in boxing there are many people like me who haven't dared to take the step like I did, revealing that I'm gay," Cruz said. "Being the first gay champion will be a big accomplishment to all of them."
Cruz had been scheduled to fight Saturday in Kissimmee, Fla., but his promoter pulled him from the tune-up bout to avoid jeopardizing his shot at the title after the news broke that Garcia had vacated it.
"I was really surprised when I heard about the decision," Cruz said.
"But I am really happy for all the opportunities that have lined up. I have the ultimate respect for Orlando 'Siri' Salido, and I've had the chance to talk to him on several occasions."
Salido (39-12-5, 27 KOs) hasn't fought since he lost to Garcia by technical decision in January.
"I think he has never faced an opponent like me: slick, able to counter-attack and also a puncher," Cruz said. "I've got all the tools. I'm not underestimating him, but I've got some good skills and will give my best effort."
June, 16, 2013
6/16/13
1:16
AM ET

DALLAS -- The extra weight Mikey Garcia kept on in failing to make the mandatory 126-pound weight limit meant something on Saturday night.

It allowed Garcia to put forth a dominant performance against Juan Manuel Lopez to remain undefeated by scoring a TKO at 1:34 of the fourth round at the American Airlines Center in a featherweight title bout.

Garcia's victory means he most likely will leave the featherweight division and move to super featherweight.

Garcia (32-0, 27 KOs) lost his belt on the scales on Friday afternoon at the American Airlines Center when he failed to make weight. He had to vacate the title and give his opponent a six-figure settlement as punishment for the extra weight.

"Well, the belt, it's mine to keep," Garcia said. "It's on the record books now, but sadly I didn't expect that. It does upset me. I was actually walking to the weigh-in and I was upset, and I was crying a little bit that I was no longer champion."

In the ring, Garcia won all four rounds, dropping Lopez twice as he used a stifling jab to set up the knockdowns.

The first knockdown came on a straight right that sent Lopez down in the second round. The final knockdown was set up by a straight right hand followed by a left hook to the nose, sending Lopez flat to his back. Over nearly four rounds, Garcia's right hand produced swelling under both of Lopez's eyes.

It was easy to see that Garcia was the heavier man and that staying at 126 pounds is no longer in his future.

A potential fight with super featherweight titlist Rocky Martinez could be in the works for Garcia by the end of the year.

If you don't believe Garcia is ready to move up, review his work from Saturday night:

His punches, no matter how long or short, came with power and pushed Lopez back. Garcia weighed 141 pounds on Saturday night, and his trainer and older brother, Robert Garcia, said the added weight didn't affect his fighter.

Lopez, on the other hand, felt the effects quickly.

"I thought I hit him with a couple of shots and he took them very well," Lopez said through an interpreter. "It surprised me and it let me know he was a lot bigger and a lot stronger. I was hoping to take him in the later rounds, hoping he would get tired for making the weight, but it didn't work out that way."

Garcia normally takes his time when he fights. He waits for his opponent to make mistakes before taking over. Saturday night, he started faster, throwing a jab then stepping away and waiting for Lopez to do something.

Lopez wanted to wear his opponent down but couldn't because Garcia's punches were wearing him down instead.

When his night was over, Garcia was talking about staying at featherweight. But that's not happening if he wants to continue to struggle to make the weight. He says he felt dizzy at times when he tried to make weight.

"I feel like I could fight here and regain my title," he said. "But there is still an option to move up to 130, and if I decide to stay at 130 because I feel comfortable there after I try it, I may decide to stay there. But I really want to come back to 126. I think this is where I belong. I'm the featherweight champion of the world, and I think this is where I belong."

That might still be true in Garcia's mind. But his body, and the reality of the situation, say he's moving up.
June, 13, 2013
6/13/13
2:04
PM ET
By
Carlos Narvaez
| ESPN.com
SAN JUAN, Puerto Rico -- Former two-division titlist Juan Manuel Lopez, like many others, has his opinions about boxing's Mexico-Puerto Rico rivalry -- including that it has been extremely favorable to his career.

Nearly half of Lopez's 35 professional bouts have come against Mexican fighters -- fourteen, to be precise. Four, specifically, have had a major impact on his path.

"Fighting against Mexicans has been a huge part of my career," Lopez said. "But I see it more as a competition between two countries with big fighting styles. Puerto Rico fighters move well, they are more technical. Mexico fighters like to clash, there are very few who like to counterattack. Juan Manuel Marquez is one of the few, and we might consider Oscar De La Hoya, since he is of Mexican origin but developed in the United States.

"If we want to talk about the topic, we have to divide it by eras. The [Wilfredo] Gomez era was huge. 'Tito' Trinidad and his 'Fight of the Millenium' against Oscar De La Hoya was huge. [Ivan] Calderon had two big clashes against [Hugo] Cazares. And back in the day, Hector Camacho was a headache to the Mexican boxers. They were all transitions."

Lopez won a junior featherweight title in 2008 when he defeated Mexico's Daniel Ponce De Leon by first-round TKO. He moved up to featherweight in 2010, winning a title in his first bout in the division, and later bested Rafael Marquez (yet another Mexican star) to run his record to 30-0.

But the prestige that came with those wins all but vanished in 2011 when Lopez put his belt on the line against another of Mexico's finest: Orlando Salido.

"Salido is the toughest fighter I've ever faced," Lopez said. "Sometimes, styles define the fights. Salido is a fighter who takes a lot of punches, and that's one of the factors that helped him beat me."

On Saturday, Lopez will face featherweight titlist Miguel Angel "Mikey" Garcia (who, like De La Hoya, is Mexican-American). In January, Garcia mostly had his way with Salido before winning a technical decision and grabbing the belt that Salido had lifted from Lopez.

"Mikey was a huge puzzle for Salido, but that won't be the case for me," Lopez said. "Styles make fights, and Mikey has the perfect style for me."
May, 17, 2013
5/17/13
12:16
PM ET
By
Carlos Nava
| ESPN.com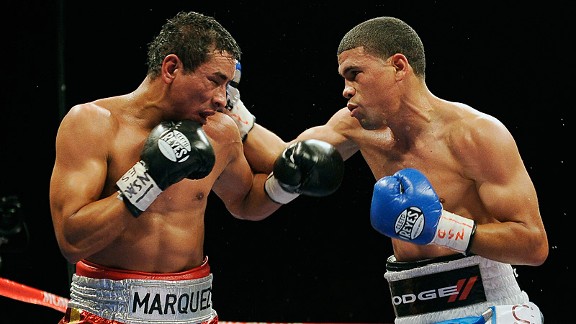 Robyn Beck/AFP/Getty ImagesJuan Manuel Lopez, right, says he has adjusted his style to take less punishment moving forward.
DALLAS -- Juan Manuel Lopez says he has learned his lesson.
Two defeats against Mexico's Orlando Salido -- and worse, the loss of his featherweight title -- left a mark that the Puerto Rican star hopes to carry with him as a reminder for the rest of his career.
"I realized that I'm not invincible," Lopez said. "At one point I think I felt invincible. I had never lost.
"But the fight with Salido helped me realize that I have to work harder and harder. It helped me to work with more vigor. I've learned to take things more calmly."
Lopez will have the opportunity to regain his 126-pound belt against current titleholder Mikey Garcia when the fighters meet on June 15 at American Airlines Center in Dallas.
Garcia won that title in January by beating Salido in a fight that he dominated before it was stopped in the eighth round by an accidental head-butt that had fractured Garcia's nose.
But as far as Lopez is concerned, there is nothing to read into Garcia's victory over Salido when it comes to predicting the outcome of his own bout with Garcia.
"Mikey faced a beaten Salido, who was coming off a very difficult fight against me," Lopez said. "Mikey is a great fighter with a style quite different from mine. I've always said that styles make fights, and Mikey has the style required to dominate a fighter like Salido.
"Many say that Mikey hurt [Salido's] right eye socket, and I am sure that I hurt his orbital [bone] fighting in Puerto Rico," Lopez added. "I really damaged Salido. I'm not taking anything away from Mikey -- he is a great fighter with a very fine style. But I helped him defeat Salido."
Lopez (33-2, 30 KOs) was knocked out by Salido in the eighth round of their first bout, in April 2011. Salido then repeated the feat with a 10th-round stoppage in their March 2012 rematch.
The second time around, a concussed Lopez, 29, cried fraud and accused the fight judges and organizers of gambling and was suspended from boxing for a year by the Puerto Rico Boxing Commision.
The punishment was lifted 11 months later. Since then, he has won by knockout in both of his matches, against Aldimar Silva Santos and Eugenio Lopez.
"The year I was inactive helped me recover, to think about boxing, to regain the hunger for the sport and for a world championship," Lopez said.
Garcia (31-0, 26 KOs), 25, expects a tough and experienced opponent in Lopez, one who is motivated to regain the title he won in January 2010 against Steve Luevano.
"I'm getting ready to fight the best JuanMa, which I think is going to surface that night -- a good fighter with good technique," Garcia said. "And nothing's going to have to do with my victory over Salido. It has nothing to do if I beat Salido and he beat JuanMa. I'm going to face a great fighter."
Lopez said he is going to show up in Dallas an improved boxer. He claims that he will continue to press forward in his fights -- which has long characterized his style -- but will also try to box more to avoid taking too much punishment.
"I'm going to move a little more and be a little more calm," he said. "Before, I was just a slugger, in search for action all the way.
"I'm going to keep my style but with some adjustments that you will see in front of Mikey. You will see me be aggressive, but I'll box at the same time."
Lopez, who has fought mostly in Puerto Rico and just once in the U.S. since beating Luevano for the title, recently visited American Airlines Center. He had been there just once before -- back in 2010 when he dropped in on an NBA game to see his friend, Mavericks guard Jose Juan Barea.
"And I hope that the third time around, it's to win a championship," he said.
March, 15, 2013
3/15/13
5:46
PM ET
By
Carlos Narvaez Rosario
| Special from ESPNdeportes.com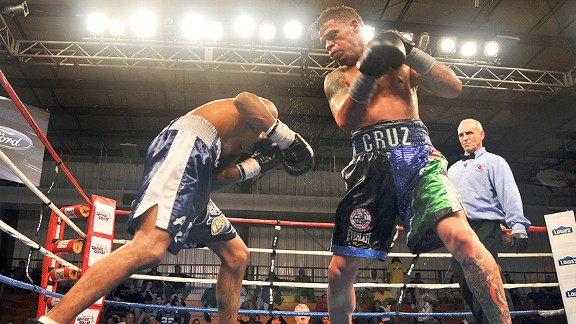 AP Photo/Reynaldo SanchezOrlando Cruz, right, is wary of getting ahead of himself in his quest for a featherweight title.
The fact that Orlando Cruz was mentioned by featherweight titlist Miguel Angel "Mikey" Garcia's group as a possible future opponent is something that greatly pleases the top challenger.
But it isn't Garcia's name that has been on Cruz's mind lately -- particularly in recent days, as the debate opened over who would face the 126-pound belt holder. That's because Cruz (19-2-1, 9 KOs) is focused on Friday's meeting with Aalan Martinez, a clash that could open the door to a Garcia fight -- or, if things go poorly, might have the opposite effect.
"Right now, I'm not thinking about what might happen after this fight," said Cruz, a 31-year-old from Puerto Rico. "I'm thinking of Aalan Martinez. If I don't defeat Martinez, I can't defeat Mikey Garcia neither.
"But if Mikey Garcia is thinking about me right now, that's good for me. He must know that I'm a good boxer and that I've earned the position. Right now, I'm focused on this fight. Then we will have time to sit and talk and think about the publicity."
Cruz's most recent fight, last October's unanimous decision win over Jorge Pazos, turned into a bit of a spectacle that captured the attention of many media outlets, including HBO, as it was Cruz's first bout since publicly declaring that he is gay. In addition to his recent performances -- three wins since a 2010 knockout loss to current featherweight titlist Daniel Ponce De Leon -- Cruz's landmark announcement seems to have helped fuel his career resurgence.
"We want to take advantage of this good moment we are living in," Cruz said. "I'm very happy with everything that is happening around me. And you can be sure -- both my people of Residencial Quintana and my fans in Puerto Rico -- to expect a lot from me."
Cruz arrived in Kissimmee, Fla., last week after three months of hard training in Buffalo, N.Y. He says the sparring work he got in with a number of good New York-area prospects -- most of them active between 122 to 165 pounds -- will be a difference maker against Martinez.
"We got what we wanted with them: speed and good movement," Cruz said.
And what of Martinez (14-1-1, 10 KOs), a southpaw from Mexico whose only defeat came to new featherweight titlist Evgeny Gradovich? Might he upset Cruz's future plans for a Garcia fight and disrupt all those recent good vibes?
"Martinez is a strong boy," said Top Rank vice president Carl Moretti, who added that Cruz hasn't yet been mentioned as a possible opponent for Garcia. "Orlando has to pass this test first before they think about a possible fight with Mikey."
February, 1, 2013
2/01/13
5:00
PM ET
By
Rigo Cervantez
| ESPN.com
LOS ANGELES -- After losing his perfect record and a featherweight belt and then being suspended for 11 months, Juan Manuel Lopez will return to action this Saturday against Brazil's Aldimar Silva Santos in a bout that could determine the Puerto Rican fighter's future plans within Top Rank Promotions.

"JuanMa wants a big fight [later in the year]," Ricardo Jimenez, a Top Rank spokesperson, told ESPNDeportesLosAngeles.com. "We'll see how he does against Silva Santos in a bout at 128 pounds."

Among Lopez's possible options, should he win Saturday -- a fight that has been adjusted to be competed at 130 pounds -- is a matchup with Miguel Angel "Mikey" Garcia for the featherweight belt that Lopez had held before losing it to Orlando Salido in April 2011.

"JuanMa is willing to make 126 pounds for a bout against Mikey," Jimenez said. "Another possibility for JuanMa would be fighting Wilfredo Vazquez Jr., also at 126."

Jimenez said that Garcia could return to the ring in either May or June, but that his opponent hasn't been chosen yet. But Garcia has already dismissed the notion of a rematch with Salido, who seems to be most interested in a challenge for Roman "Rocky" Martinez's junior lightweight belt.