December, 24, 2013
12/24/13
10:35
AM ET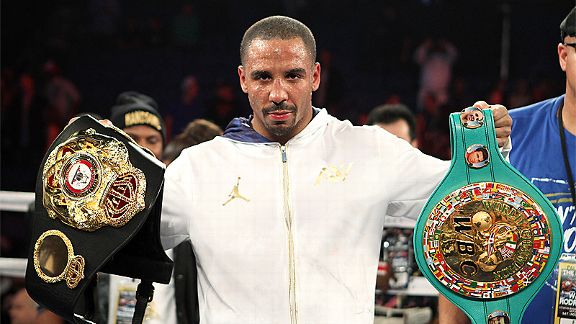 Tom Hogan/Hoganphotos.comCome and get them: Andre Ward is the man with the belts in the super middleweight division.
In the spirit of the holidays, ESPN is celebrating the season with our own "12 Days" wish list of the fights we want to see most, regardless of promotional or other entanglements. Keep checking back over the coming days to see new fights revealed, discuss our choices, or even suggest some of your own in the comments section or via Twitter using #ESPN12Days.
Oh, sure, it's fun enough to debate fantasy matchups that will always remain fantasy, confidently predicting outcomes secure in the knowledge that you will never be proved wrong because the fight will never come to pass.
But, to my mind, that's far less exciting than the anticipation of a bout that isn't just possible but arguably probable. Andre Ward against Gennady Golovkin is just such a bout.
None of the usual disqualifiers apply here. Both men are staples of the same network. Although they are represented by rival promoters (for now, at least; Ward is still desperately trying to sever his professional relationship with his), neither of those promoters would rather stick a fork in his face than deal with the other. Add to that the fact that neither man is exactly deafened by the clamor of credible opponents beating down his door, and this is a very makable contest.
It's arguable that Golovkin, with his fan-pleasing, all-action style and his friendly out-of-the-ring demeanor, has developed a larger fan following in the past year than Ward has secured since turning pro in 2004; but Ward would enter the fight as a big favorite, and deservedly so. The Californian is almost universally regarded as, at worst, the second-best boxer in the world, and he has shown an ability to adapt to whatever his opponent throws at him. He can box from the outside, brawl on the inside, rough his guy up and work behind a tight defense.
By contrast, Golovkin is rapidly compiling a Hall of Fame highlight reel, but questions remain. Although analysts love the subtle things he does -- his shifts in stance, his footwork, his feints, the way he cuts off the ring -- almost as much as his bludgeoning blows, his commitment to offense can come at the expense of his defense. After all, if Curtis Stevens could nail him with some big punches en route to being badly beaten, what might Ward do? And Golovkin's opposition, although solid and improving, still falls some way short of the likes of Mikkel Kessler's or Carl Froch's.
But that, as they say, is why they fight the fights. One man is at the top and looking to establish himself there. Another is trying to knock him off his throne before he has even had a chance to make an indentation in the seat pillow. It's a clash of styles, personalities and unbeaten records. And it could well happen in 2014.
I think Ward-Golovkin plays out similar to how Garcia-Matthysse did earlier this year, with Ward out working the Golovkin #ESPN12Days

— Andres Iglesias © (@DreStiles) December 24, 2013
#ESPN12Days mayweather vs Garcia.. ggg vs ward..mikey vs gamboa

— Erik beltran (@Air_ek) December 25, 2013
May, 29, 2013
5/29/13
2:58
PM ET
By
Brian Campbell
| ESPN.com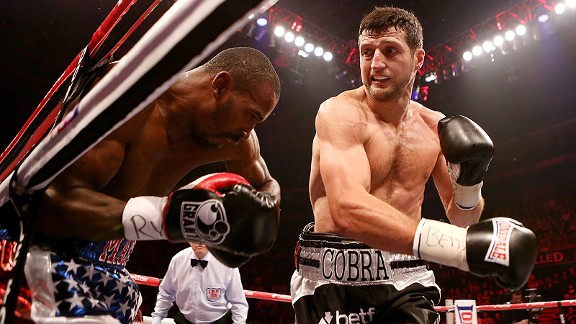 Scott Heavey/Getty ImagesCarl Froch's recent run has raised the ceiling in terms of his potential legacy -- but by how much?
There was a time when Carl Froch's mouth did as much talking for his career as his performances inside the ring.
Beginning with his first fight on American soil -- a 2009 come-from-behind TKO of Jermain Taylor in the 12th round that put him on the radar in the U.S. -- Froch used his new platform as an attempt to lure recently retired, and fellow U.K. star, Joe Calzaghe back into the ring.
Froch, of course, never did end up fighting Calzaghe, the longtime super middleweight king who retired in 2009 with a perfect 46-0 record, over their two-year public feud that followed. (They have since made amends, with Calzaghe openly backing Froch entering his rematch with Mikkel Kessler this past Saturday. Froch won by unanimous decision.)
But in the three full years since Froch's career-making victory over Taylor, the native of Nottingham, England, has done nothing but continue to impress with each performance. In fact, he's on such a hot run right now -- and doesn't appear to be slowing down entering the peak of his marketability at age 35 -- that if things continue to go his way, it's not completely out of the realm of possibility that he ends up defeating Calzaghe in a way that few had thought possible: by surpassing his legacy in the pantheon of great British fighters.
It might sound premature to think about. And I won't begin to make the case that if they had mythically faced off in their prime, the result would be anything different than a Calzaghe victory. But the glaring weakness on Calzaghe's résumé has always been his lack of top competition and the fact that it took him until age 38 to fight outside of Europe.
Calzaghe scored the biggest victories of his career over his final three years against unbeatens Jeff Lacy and Kessler, along with his two triumphs in America over Bernard Hopkins and a faded Roy Jones Jr. He carries the glitz of having walked away unblemished as one of the top super middleweights in history thanks to a 10-year title run and 21 defenses, not to mention the lineal light heavyweight crown he took from Hopkins.
But as things stand now, Froch (31-2, 22 KOs), who endears himself to the hard-core fan with his willingness to constantly face the best, may have already fought better competition than the protective Calzaghe did throughout his entire run.
Froch was not only the first fighter to hand defeats to the likes of Jean Pascal, Andre Dirrell and Lucian Bute, he also has scored additional victories over former champions Taylor, Arthur Abraham, Glen Johnson and now Kessler, without taking anything resembling a soft touch in between.
And with his debated 2010 defeat to Kessler now avenged, Froch is focusing on correcting his other blemish: a 2011 decision loss to unbeaten super middleweight champion Andre Ward in the finals of the Super Six World Boxing Classic.
Any designs on besting Calzaghe's legacy would be heavily bolstered by Froch's defeating boxing's
almost unanimous
No. 2 pound-for-pound fighter. And it's clearly a hard sell to try to create a scenario in which Froch could do such a thing considering Ward's versatility, toughness and the fact that we still likely haven't seen him pushed enough to find out how great he truly is.
But if there's a fighter who is relentless and confident enough to come close, it might be Froch who, despite appearing to have lost by a fairly wide margin against Ward, used his pressing style to persuade two of the judges sitting ringside to score it daringly close at 115-113.
Could Froch do any better in a rematch? That remains to be seen. But he clearly has shown himself to be the rare fighter who has improved into his mid-30s with each fight, while others have begun to fade. And claiming he has four big fights left before retirement, Froch isn't just saving his best for last, he's forcing us to recalculate his ceiling.
Suddenly Froch is in high demand and could find himself in a number of high-profile bouts, from additional rematches with Kessler and Ward to showdowns with Hopkins or fellow super middleweight titlist Robert Stieglitz. Froch has shown himself to be an exciting, honest and durable fighter, but how many expected to see him setting up shop at this stage of his career
in the pound-for-pound Top 10
?
It may be a reach to expect Froch to defeat a fighter the class of Ward and to carry on his remarkable run should they meet again, just as it might be too much to expect him to surpass Calzaghe when it's all said and done. But what makes it refreshing to watch is that Froch is willing to go down swinging while giving it a try.
August, 24, 2012
8/24/12
3:23
PM ET
By
Diego Morilla
| ESPN.com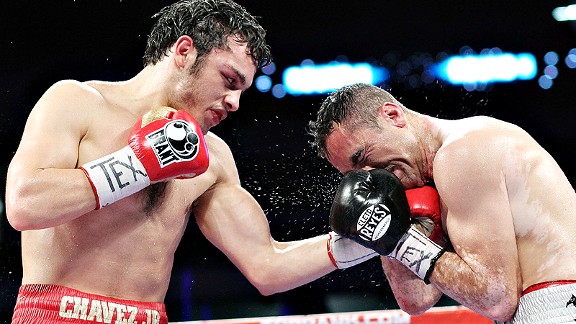 Chris Farina/Top Rank Could Julio Cesar Chavez Jr. bring his power to the super middleweight division and be a force?
The rumors have been rampant for more than a year, since right around the time of his first title fight, in June 2011, when it became obvious that making weight was turning into a problem for him. It has grown into such a concern that many believe his next fight will be his last at 160 pounds.
For Julio Cesar Chavez Jr., the climb through several weight divisions is a family tradition of sorts, and a journey through which his father, a former three-division champ, could perhaps help guide him. But if Junior ventures into heavier weight divisions without a proper plan, he may have to learn it the hard way.
However, before Chavez takes the first step on that long, hard road to success at 168 and beyond, he will face a fighter who claims he can still make 154 if he sets his mind to it. And there's no reason not to believe Sergio Martinez, who has accomplished most of the things he set out to do in boxing so far.
One of those feats was grabbing the undisputed middleweight championship from Kelly Pavlik, in what turned out to be Pavlik's last fight at 160 before he moved up to super middleweight. Which suggests that Chavez's challenge Sept. 15 will be doubly difficult. Of course he'll want to make a statement against Martinez in order to sell the idea that he belongs in a division currently dominated by a few of the finest fighters in the planet. But Chavez will have his work cut out simply to avoid joining Pavlik as a bigger man who failed against Martinez.
Let's assume for a moment that Chavez is capable of besting Martinez. The next step would be to take aim at the most talented and profitable fighters in his new division. That's a list that became a short one when Andre Ward cemented his place as one of the world's top pound-for-pound fighters with his run through the Super Six tournament, capped by a well-earned decision over England's Carl Froch. And after Froch routed Lucian Bute -- the only legitimate contender who hadn't been involved in the tournament -- the pecking order became clear: Ward in a class by himself, Froch a step below and ... everyone else.
The conundrum for Chavez, if he does make the jump in weight, is that he'll have his hands full just getting past those fighters jockeying for position below Ward and Froch.
His most serious challenges likely would come from a handful of battle-hardened veterans who can still mix it up. Two immediately come to mind: Denmark's Mikkel Kessler and Pavlik, Martinez's vanquished foe.
Kessler proved he can still bang with the best in a highlight-reel KO of Allan Green in May. He's a tough fighter who could be lured back to 168 despite claiming he will continue his career at light heavyweight, and his style would match perfectly with that of Chavez.
Pavlik makes even more sense, from both a boxing and a business standpoint. In light of the ongoing feud between boxing's top promoters, Pavlik's affiliations -- like Junior, he's a Top Rank fighter -- would be as attractive to the Chavez side as the name value Pavlik would bring to a fight and his seemingly diminished skills. After all, why risk getting the kid bludgeoned before he's had a chance to get his feet wet at a higher weight?
Still, as carefully as he has been moved during his career, Chavez won't be as well-protected operating as a championship-caliber fighter at 168 as he was while rising to contender status at 160. After taking on Martinez in what will be one of the most scrutinized fights of the year, Junior will have to pick a serious opponent for his next fight, win or lose. And that could lead him to names such as Robert Stieglitz, Andre Dirrell or even an over-the-hill Arthur Abraham, who could still give the plodding Chavez a run for his money.
Although Chavez has left the door open to stay at middleweight for an undetermined amount of time, he may not have a choice. The Chavez-Martinez weigh-in ceremony will be one of the highlights of fight week, and even if Junior makes it through the proceedings and hits his mark, the drain to make weight likely will leave him at something less than his peak when he climbs into the ring a day later.
One thing is certain, though: We can count on Chavez's top-five status at 160 pounds being left behind if he does choose to move up the ladder. Win or lose against Martinez, reaching the summit of his new mountain at super middleweight will take time. It could be a while before we find out whether Chavez is capable of rumbling with the gatekeepers of the division, let alone its legitimate contenders and titleholders.
November, 25, 2011
11/25/11
2:50
PM ET
By
Igor Guryashkin
| ESPN.com
Buried among the rigmarole surrounding Antonio Margarito's now finally licensed eye, Julio Cesar Chavez Jr., the prodigal son of his Hall of Fame father, defeated the semi-retired (and now likely permanently retired) Peter Manfredo Jr. last Saturday night. The result was expected; less so was trainer Freddie Roach's assertion that Chavez, based on this performance, is capable of dispatching middleweight sultan Sergio Martinez.
"[Chavez] can kick [Martinez's] a-- right now, in my opinion,"
Roach told Boxing Scene's Chris LaBate
. "I don't think he's a great fighter. He's a great athlete, I'll give him that. But he's not a great fighter."
Roach has recently developed a habit of making predictions that have gone awry (a Marquez knockout for one), but this one is downright outlandish. Chavez did look impressive in this latest performance, but against limited opposition. It was a credible win against a game but faded fighter.
Perhaps triumphs over more established middleweights such as Andy Lee and Matthew Macklin would add credence to the assertion that Chavez has what it takes to vanquish Martinez, widely regarded as the third-best fighter on the planet. But for now, Chavez remains one half of a duo of arguably overprotected middleweight Mexican fighters.
Froch desperate for vengeance
Carl Froch is a confident man. After the December Super Six Final concludes and the brash Englishman emerges victorious over favorite Andre Ward (as Froch is certain he will), he has only one opponent in mind: Mikkel Kessler, the one man who has beaten Froch.
"To fight Kessler means something, too, especially as I don't believe he beat me,"
Froch told The Daily Mail
.
It's clearly an arrangement that Kessler's own promoter, Kalle Sauerland, is keen to set up.
"I believe that Kessler-Froch Part I was a classic, and that a second or even a third part would be justified," Sauerland said.
"We would love that fight at the Parken Stadium in Copenhagen and we will make the biggest offer ever to a super middleweight boxer to make that fight."
Quote of the week
Every time I fight, I put on a problem, man. You can always expect fireworks and that's what [I] bring. It's not even the Fourth of July yet, man. Every day is Independence Day in the gym for me. I'm a seasonal Fourth of July." --
The demure, reserved Adrien Broner, who will fight Vicente Rodriguez on Saturday on HBO, told Fight Hype