February, 9, 2013
2/09/13
7:38
PM ET
Carl Frampton, the busy Belfast boy with an entire nation in his corner, announced his arrival in the most exciting weight division in boxing on Saturday, courtesy of a stunning one-punch ninth-round knockout of Kiko Martinez.

In front of a vociferous home crowd in Northern Ireland's Odyssey Arena, Frampton inflicted the first loss in more than three years -- and the first stoppage of a 30-fight career -- to the Spaniard Martinez, relieving the long-standing champion of his European junior featherweight belt in the process.

Hot on the heels of September's sixth-round TKO of Canada's former two-time titlist Steve Molitor, Frampton improved to 16-0 (11 KOs) and confirmed his arrival as a genuine world title contender at 122 pounds.

Headed up by world champions Nonito Donaire, Guillermo Rigondeaux and Abner Mares, the junior featherweight division is red hot right now, with the top three being chased by a strong pack of young, undefeated and hungry challengers -- off which Frampton is now certainly a fully paid-up member.

With former world featherweight champion Barry McGuigan in his corner (son Shane is also Frampton's head trainer), the latest in a long line of exciting Irish world title prospects showed he had the tenacity and temperament to go with the talent.

After a bright, controlled start from Frampton, Martinez took him into the trenches -- especially through Rounds 6, 7 and 8 -- but Frampton, 26, never panicked; he took his licks and produced the finish when it mattered most.

The finish, which came with 14 seconds remaining in Round 9, was as explosive as it was unexpected. Martinez was enjoying his best spell of the fight as his pressure was seemingly getting to the local prospect, who in prior rounds was getting caught on his heels with his hands down and had stopped slipping and picking his way through rounds.

But shortly after being caught by a warning right hand against the ropes, another crude Martinez foray was capitalized on by the young Irishman. As Martinez burst forward, Frampton took a small skip back and, with hooks winging in from Martinez, fired a straight one-two through the middle with the right cross landing flush across the jaw.

Martinez's fitness got him back on his feet before the count of nine, but he stumbled back into his own corner and was stopped by the referee just as Belfast exploded.

Afterwards, McGuigan and promoter Eddie Hearn spoke about Frampton, with McGuigan saying: "He can box, he can punch, he can take a shot. He can fight in the trenches and he can knockout a guy who had never been knocked out. This kid is a world beater."

Frampton added: "I want to be a world champ and I'm getting close. [Martinez] was tough as nails. I told him I'd box him at the start and fight him at the end. And that's exactly what I did. And I also showed I have a solid chin -- he's one of the biggest punchers in the division and I took them all day."

The fight European fans would like to see Frampton in next, of course, is with England's Scott Quigg, another of the unbeaten super bantamweights stalking the chosen few with the belts at the top. But that fight needs a world title attached first.

The problem for both Frampton and Quigg in the meantime, however, is how they get their hands on one from three of the very best titlists in any weight division.

On the undercard, former Emanuel Steward protégé Andy Lee began his career without the Kronk gym legend in a controlled points victory over game local scrapper Anthony Fitzgerald. It was Lee's first fight with David Haye's coach Adam Booth in his corner, and he looked relieved to get this new chapter of his career up and running after 10 rounds.

January, 24, 2013
1/24/13
8:09
PM ET
Twenty years ago, the city of Las Vegas played host to a young boxer from East L.A. who would go on to become one of the greatest pound-for-pound champions in boxing history. Oscar De La Hoya collected the fifth win of his professional career by defeating Jeff Mayweather at the Hilton in March 1993, an early step in his Hall of Fame career.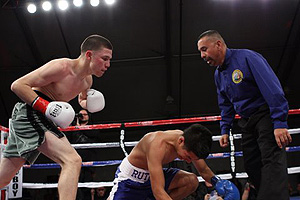 Courtesy of Team RamirezJulian Ramirez's aggressive style makes him one of the more entertaining rising prospects to watch.
And this weekend, three decades on, one of East L.A.'s latest Mexican-American fighting sensations, Julian Ramirez, hopes to follow in the footsteps of his promoter and inspiration.
One of boxing's hottest young prospects, Ramirez, 19, will enter the ring at the Hard Rock Hotel and Casino aiming to take the next step in his blossoming career. On Saturday, he can complete an almost punch-perfect first 12 months in the professional ring, adding a seventh win to his unblemished record -- form that's not too surprising when you consider the family history.
As the great nephew of Genaro Hernandez, the Mexican-American former unified junior lightweight champion who dominated the division throughout the '90s, Ramirez knows all about pressure. Signing with Golden Boy after just two fights only amplified the expectations.
"My family would never compare me to Genaro, but they do play a role in motivating me," Ramirez told ESPN.com. "They always say there is somebody better than me out there, and that I've just not faced him yet. And that drives me to work hard. I try not to think of what's happening to me as pressure. Signing with Golden Boy, I never saw none of this coming. I knew I was good to a certain level, but I never expected to get signed by Joel, Oscar's brother. So all this has happened just so fast, and I am just going with it."
Ramirez insists his style is also very different from his uncle's. "It's kind of the opposite to his, so there is nothing to compare. I mean, I can box too, but he was a complete boxer and I'm a little more aggressive."
Ramirez's glittering 73-5 amateur card proves that. However, despite winning gold medals at both the Junior Olympics and Mexican Games in 2011, and not forgetting his four National PAL titles, the stylish featherweight insists the amateur ranks lost their appeal a long time ago.
Despite proud parents who were keen to see their son box under the Olympic rings, Ramirez always had his eyes fixed firmly on the pro ranks. A mixture of politics and a lack of scoring for body punches, he says, turned him off the amateur code. "I actually wanted to go pro at age 16," he said. "I wanted to run away to Mexico and go pro, but my parents reassured me that things would work out at home."
Call it divine intervention, or simply parental experience, but the advice has paid off in spades. With Golden Boy in his corner, and having already traveled to spar with world-class operators such as Miguel Vazquez and Scott Quigg -- who utilized Julian as his main sparring partner in a junior featherweight world title eliminator last year -- the quiet southpaw's future certainly looks bright.
Quigg, who defeated former title challenger Rendall Munroe in November to put himself within striking distance of a title shot, is a big fan: "I've sparred very good fighters from all over the world, and Julian is definitely one of the very best I've been in with," he said. "And he's only had a couple of fights."
Dubbed "Little Canelo" by fight fans across the West Coast -- a nod to current light middleweight titlist Saul Alvarez -- Ramirez certainly doesn't lack ability or the confidence to go with it. He believes the "Canelo" comparisons have more to do with the light shade of his skin than his in-ring style. After all, Ramirez says,
he's
the more exciting fighter to watch.
"When it comes to fighting style, I wouldn't say I'm better, but I do think I have more of a fan-pleasing style, because 'Canelo' holds back a lot," Ramirez said. "He's a really good fighter, but for me, personally, I didn't like his style because when he'd hurt somebody he wouldn't go in for the kill right away. He would try to play it safe. That's the truth right there. 'Canelo' is really strong, but he would hurt his opponent and then wait a round or two to finish them."
De La Hoya took out Jeff Mayweather in four rounds 20 years ago. Safe money would be on Ramirez doing the same to outgunned club fighter Juan Sandoval this weekend. Ramirez has a world of work ahead of him before he can be talked about in the same breath as great ones such as the Golden Boy, but the early returns should motivate him all the more.
November, 30, 2012
11/30/12
6:15
PM ET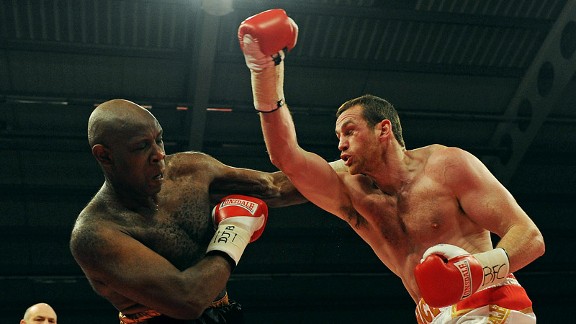 Chris Brunskill/Getty ImagesDavid Price, right, again displayed his prodigious power in Friday's second-round TKO of Matt Skelton.
LIVERPOOL, England -- David Price has earmarked Tony Thompson as his first big-name American opponent on his way to what he hopes will be a world heavyweight title fight in 2013.
Price and manager Frank Maloney were quick to call out Thompson on Friday night, just minutes after the British heavyweight champion had smashed his way through yet another former world title contender in fellow Brit Matt Skelton.
Already dubbed a sensation on this side of the Atlantic -- where he has now racked up 13 stoppages in 15 straight victories since handing in his amateur headguard following a bronze medal-winning performance at the Olympic Games in 2004 -- Price proved once again that he's a real-deal contender.
The 29-year-old effectively ended Skelton's career just 2 minutes, 56 seconds into the second round, and now the 6-foot-8, 250-pound wrecking machine has his sights set on lighting up rings stateside. Although Skelton (28-7, 23 KOs) lasted far longer than Price's last victim, Audley Harrison (who was KO'd in 62 seconds), Price maintains that he's ready for the next level.
"Next year, for sure, I want to crack America. That's high on the agenda," Price told ESPN.com. "I've done a lot of rounds in U.S. gyms already, but it's certainly not the same as competitive rounds. We had a date in Atlantic City this past summer, but it never made sense in the end. But tonight's fight went out on U.S. TV once more, and next I want to fight there live."
And Thompson is the opponent of choice for the contender's camp, and fits in with the step up that Price is pushing for.
"Thompson is a big, tall, awkward southpaw -- a bit like Harrison," Price said. "But again, it just proves that I'm not looking to do things the easy way. If he was good enough to fight [Wladimir] Klitschko six months ago, then he's a good next opponent for me."
Price (15-0, 13 KOs) is no stranger to U.S. shores. He presently divides his training camps between trips across Eastern Europe and regular working vacations in Philadelphia, New York and Las Vegas. But he clearly has a burning desire to prove himself in front of American fans too.
Skelton did manage to land a scuffing right hand Friday at Aintree Racecourse, along with more than a number of stray head-butts. But in the end, he was no different than any of the other opponents bulldozed by Price, who has displayed exciting power in both hands and, perhaps most satisfyingly, a predatory taste for the finish.
It's clear the domestic leash needs to come off now, however, and Price wants and needs to be tested on foreign shores. And with Maloney at the helm of the ship -- the same diminutive London businessman who took Britain's greatest heavyweight champion, Lennox Lewis, to the top of the sport -- Price's world title crusade is well and truly on track.
Said Maloney of his charge: "I've seen heavyweights of all shapes and sizes from all over the world, and it's just about getting this fella into the right place now.
"Tony Thompson is another step towards a world title fight, and that's a fight we are currently negotiating. I hear one of the Klitschkos will retire next year, and when he does we'll be ready to pounce. Seth Mitchell has been exposed; believe me, there is only one heavyweight champion in waiting in the world right now, and he's from Liverpool."
November, 24, 2012
11/24/12
7:43
PM ET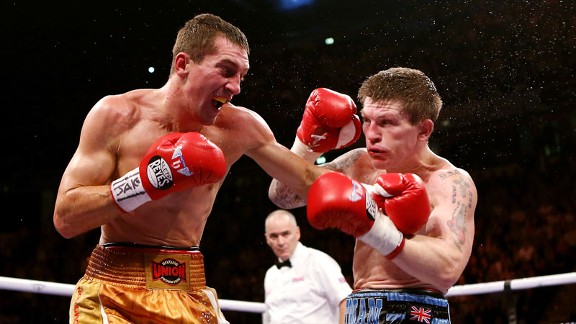 Scott Heavey/Getty ImagesFormer titlist Vyacheslav Senchenko, left, sent Ricky Hatton back to retirement with one punch.
MANCHESTER, England -- The dreaded comeback. Is there a more painful word in sports? How often has a champion returned for one last hoorah, only to discover Father Time in the opposite corner?
Ricky Hatton came back Saturday night. But it lasted just less than nine rounds. In front of 16,000 possessed Brits in his hometown of Manchester, England, Hatton's fantasy revival was obliterated by the more-than-capable Vyacheslav Senchenko via a one-punch knockout at the Manchester Arena.
It was to Hatton's credit that he matched himself up against the Ukrainian, who just seven months ago was an undefeated welterweight titlist. Yet, despite Hatton edging into an ugly points lead in the opening four or five rounds, the tide soon changed as Senchenko put his fears behind him, grew in stature and landed with more frequency.
With just seconds left in the ninth round of this nontitle 10-rounder, Senchenko smashed Hatton with a left hook to the body straight out of Hatton's personal scrapbook of career knockouts. As soon as the shot landed, Hatton -- who also had been out-tagged in the three previous rounds -- screamed in pain before collapsing onto all fours. He was unable to beat the count of referee Victor Loughlin.
For the first time, the capacity home crowd -- who sold out the venue long before Hatton's opponent or undercard was even considered -- fell deathly silent.
Hatton had shown glimpses of the style and tenacity that led him to world title reigns in two weight divisions -- the constant bobbing and weaving on his toes, the menacing tick of pushing his left fist into his right palm, and the smooth left body shot and lead right cross. But the menacing, mauling, stinging Hatton was nowhere to be seen.
His timing was way off, of course, the least to be expected after three and a half years in the boxing wilderness. But it was the suicidal lack of head movement and his inability to maintain any real concerted pressure -- the type that overwhelmed so many during his pomp -- that left the door open for Senchenko.
Hatton's face -- long before the referee's count of nine -- told the true story of a veteran champion who had bitten off far more than he could chew. But he has only himself to blame. Hatton quite literally had his pick of opponents for this fight. And, on paper at least, Senchenko was tailor-made for him. That long torso was a big target left wide open by his classic European stand-up style. And yet the "opponent" tore up the script and used it as confetti as he danced from the ring.
A win Saturday night would have set up Hatton for a rematch with welterweight titlist Paulie Malignaggi, who took the belt from Senchenko in April. The New Yorker was ringside, working for Showtime, and looked as devastated as anyone when Hatton crumbled. After all, Hatton's rude awakening probably cost Malignaggi close to a $5 million payday.
Also gone for Hatton is any thought of a highly lucrative bout with fellow Brit Amir Khan, which would have sold out a 40,000-seat stadium in the U.K.
But after Hatton's typically heartfelt retirement statement to the adoring British media Saturday, perhaps he's finally ready to close this chapter on his career -- undoubtedly Britain's most celebrated and successful in half a century.
Losing to Manny Pacquiao inside of two rounds never sat right with him. He never could quite come to terms with it. He wanted one last chance to go out on his own terms. But now, thankfully, Hatton appears to have made peace with the fact his time is over.
Hopefully the demons that have haunted him since the Pacquiao defeat three and a half years ago will now leave Hatton alone for good. And perhaps now "The Hitman" will find life as a promoter, boyfriend and father rewarding enough to satisfy his thirst for success.
After all, he's earned it.
November, 17, 2012
11/17/12
8:06
PM ET
NOTTINGHAM, England -- With Ricky Hatton's eligibility one week away from definition, Amir Khan exposed and David Haye bizarrely locked in an Australian jungle for a reality TV show, the U.K.'s true pound-for-pound No. 1 reaffirmed his foothold Saturday night and made a huge statement toward his intentions for 2013.
It has been 12 months since Carl Froch lost the Super Six tournament finale to Andre Ward, but Froch fed the growing momentum as the leading challenger to the 168-pound linchpin's reign at the top.
[+] Enlarge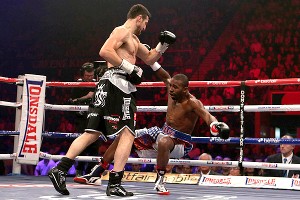 Press Association/AP ImagesCarl Froch chopped down Yusaf Mack in three rounds to set his hometown fans abuzz with talk of The Cobra getting a second crack at Andre Ward.
Yusaf Mack was fed to the lions in Nottingham, plain and simple. He was totally overwhelmed by a revitalized Froch, who quite simply looks like a different animal in 2012 -- especially on his home soil.
Half a dozen Macks' wouldn't have stopped Froch in this form, with the super middleweight titlist illustrating the same drive and thirst for the finish that led to the fifth-round dismissal of then-unbeaten Lucian Bute in May. Whether it's enough to tempt Ward into a return is rudimentary. The fact is that Froch eating up challenges in this manner is fueling every fight fan's desire to see Ward-Froch II.
Naturally, The Cobra insists he wasn't quite 100 percent when they met the first time, but in this form -- especially inside his hometown arena -- it's tough to see any man being able to fend off Froch's slashing attacks.
He has been simply electric. Bute, unbeaten in 30 starts and a long-reigning 168-pound champion at the time, and onetime light heavyweight world title challenger Mack have both been annihilated by Froch, who seems like a fighter reborn.
In Nottingham, the beloved Sheriff disposed of Mack at a canter. The champion hardly hit third gear as he dropped the Philadelphia warrior in the opening round and punched the gumshield from his grill in the closing seconds of Round 2, with Mack pinned up against the ropes and unable to slip in shots.
In the third, Froch's whipping shots -- slicing the head and dicing the body -- chopped Mack down and onto all fours. He made little effort to get back to his feet this time. This was Froch at his clinical best, and he captured the wave of furor around the entire boxing scene across the Atlantic.
Boxing in Britain is booming once more, with Froch, who has been featured in nine consecutive world title fights, as the band leader. Fans here want to see only one matchup in 2013.
All the talk at ringside was about Ward-Froch II. And the Brit maintained tonight, "It will be a different story next time me and Ward fight. I lost the fight with him before I stepped into the ring last year. I was OK whilst we were in New York, and I was nice and angry. But in Atlantic City, it was like Groundhog Day. I switched off out there. That won't happen again."
Adonis Stevenson is Froch's IBF mandatory, and although Bute could trigger the contract agreement he has for a rematch, that seems hugely unlikely after tonight's performance.
Prior to the first bell in England, Ward tweeted that he had no interest in even watching tonight's broadcast -- screened live in the U.S. on pay-per-view. Whether that's true, just minutes after Froch's success Ward returned to social networking and hinted at the possibility of a trip across the Atlantic.
With the money in the U.K., especially with plans in place for a Froch-headlined stadium fight in the summer, how long can Ward realistically turn down the dollars that a return with the Brit brings?