December, 18, 2013
12/18/13
1:41
PM ET
By
Salvador Rodriguez
| ESPNDeportes.com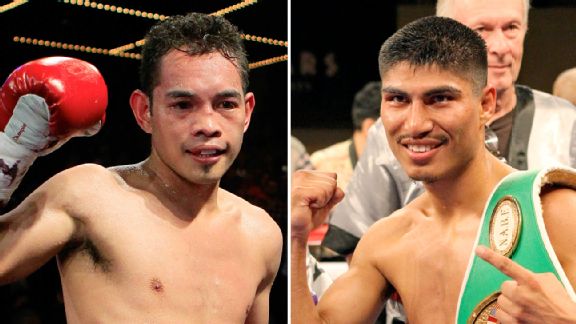 Getty ImagesNonito Donaire and Mikey Garcia are friends, but if they fight each other, we'd all watch.
In the spirit of the holidays, ESPN is celebrating the season with our own "12 Days" wish list of the fights we want to see most, regardless of promotional or other entanglements. Keep checking back over the coming days to see new fights revealed, discuss our choices or even suggest some of your own in the comments section or via Twitter using #ESPN12Days.
"No, we are brothers, I don't think we are ever going to face each other," Nonito Donaire told me during a promotional stop in Mexico City before his fight against Vic Darchinyan.
Yes, he was talking about junior lightweight titlist Mikey Garcia.
But, what if?
What if they weren't like brothers? What if they trained in different gyms? What if they didn't like each other the same way Ricardo Mayorga and Fernando Vargas did? What if, instead of friendship, they had genuine hate for each other?
Without a doubt, we would have one heck of a fight.
Garcia-Donaire might be best served at a catchweight of 128 pounds, directly between each fighter's current weight class. And if we take a closer look, their styles are a perfect match.
Both fighters can mix it up if necessary and trade the type of punches that could send either to the canvas at any time. But they also each possess good technique, speed, execution and defense.
Garcia seems to be the hotter fighter right now, but in his most recent fight he raised some eyebrows by showing some unexpected hiccups. Roman Martinez dropped him in the second round before succumbing to an eighth-round knockout, something that was completely out of Garcia's fight plan. Meanwhile, Donaire created questions of his own in a somewhat shaky November knockout of Vic Darchinyan.
If speed is a potential Kryptonite for Donaire, we must point out that Garcia is a fighter with incredible technique, respectable power and a lethal repertoire of combinations, even if he lacks the speed to outright trouble the "Filipino Flash."
On the other hand, Donaire's power seems like enough of a reason to keep Garcia alert every step of the way, if he wants to avoid facing that devastating left hook.
On the surface, it would seem the stars are aligned for this fight to make sense. Both are represented by the same promoter and manager, and both are highly esteemed by the same network. This fight would be an easy sell at any venue, whether in California, Texas, New York or Las Vegas.
Unfortunately, both fighters also share the same trainer -- Mikey's older brother Robert Garcia -- making the fight unlikely, at least as things currently stand.
But if Top Rank should ever run out of big-name opponents for either fighter, it wouldn't need to look any further than Robert Garcia's Oxnard, Calif., gym to find the most attractive option for either one. They are made for each other.
May, 15, 2013
5/15/13
7:56
AM ET
By
Salvador Rodriguez
| ESPN.com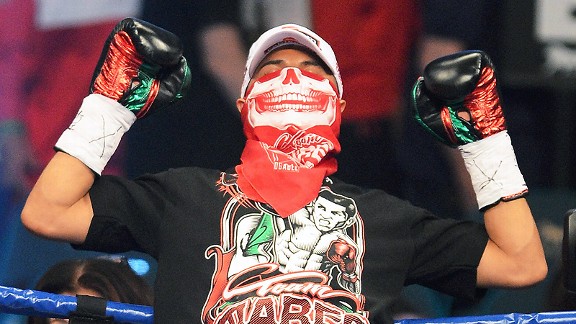 Ethan Miller/Getty ImagesAbner Mares won't rule out a move back to 122 pounds if it means making the best fight available.
MEXICO CITY -- With his shiny green championship belt in hand, sunglasses perched on his nose and an ear-to-ear smile on his face, junior featherweight titlist Abner Mares arrived in this city on Monday fresh off his May 4 defeat of Daniel Ponce De Leon -- and for the first time as a three-division champ.
A native of Guadalajara who has been adopted by Mexico City, Mares spoke to ESPNDeportes.com about his future, the possibility of challenging for another belt and whether he might return to his former weight class to settle old scores.
"I want to offer good fights," he said. "Where there are good fights, I'll be there -- either at super featherweight, or even at featherweight. ... I'm even willing to go down again to super bantamweight to face Nonito [Donaire] or Guillermo Rigondeaux. Where I'm offered a good fight, I'll be there."
Mares was reminded that Rigondeaux outclassed Donaire as no one had since Donaire's second professional fight (his only other defeat), and that the Cuban is a difficult matchup and a largely non-marketable fighter.
"I am aware that styles make fights," Mares said. "Nonito tried at times to figure out Guillermo's style, but Nonito lacked the fire that I think I have. I have the fire, I know that I can beat Ringondeaux, and that's why I'm challenging him."
Mares' immediate plans' are a vacation in Acapulco and Cancun with his family. But looking further ahead, he didn't close the door on a potential fight with Donaire, who had been expected to continue campaigning as a junior featherweight after his defeat. Mares, for one, believes that Donaire might reconsider.
"I think Nonito is more interested in the fight than before," Mares said. "Now I'm the champion, and he's not. He lost, and people know that I was asking for that fight. He also said he wanted to fight me, but you never saw that interest from his promoters."
February, 14, 2013
2/14/13
1:34
PM ET
Floyd Mayweather Jr. certainly knows how to make the most of social media. He doesn't just post random tweets of betting slips; he knows how to use 140 characters to stir things up.

One day, he's proclaiming that he's likely to fight Devon Alexander on May 4, despite all the evidence to the contrary. Then, yesterday he tweeted: "Me & my trainer (my dad) back working together getting ready for May 4th." To prove the point, there was a photograph of the two standing together, a scene that seemed improbable at best after their bust-up in the gym in front of HBO's cameras on "24/7" in August 2011.

The notion that the two Floyds might reunite in the corner had been mooted recently (even as Roger Mayweather -- senior's brother and, in recent years, junior's trainer -- struggles with health issues). So this is another twist in the ongoing saga of their personal and professional relationship. Of course, they are far from the only notable father-and-son corner team in boxing, and like parental-filial relationships elsewhere, they run the gamut. Here is a short selection of some of the more colorful, sometimes successful and sometimes painful case studies:

1. Roy Jones Jr. and Roy Jones Sr.

At times, the apparent dysfunction between these two has been enough to make Floyd Sr. and Jr. look like Bill Cosby and Malcolm-Jamal Warner (kids, ask your parents). On the plus side, Big Roy did teach his son how to box; against that, he also shot his boy's favorite dog. After years of personal and professional estrangement, Jones invited his father to work in his corner for the third fight against Antonio Tarver. When Jones lost that bout by a wide margin, he essentially said he didn't try to win because he didn't want his father to take the credit.

2. Nonito Donaire Jr. and Nonito Donaire Sr.

Donaire pere trained Donaire fils until an incident during training for the son's November 2008 fight with Moruti Mthalane led to the end of their professional relationship. Despite occasional talk of reconciliation, the father-son personal relationship, too, has become strained, at times very publicly so.

3. Danny Garcia and Angel Garcia

There doesn't appear to be any strain between Angel and junior welterweight titlist Danny. If anything, Angel's love for Danny at times verges on the overwhelming, as his extreme defensiveness of his son leads to intense verbal confrontations with Danny's opponents, including Amir Khan and most recently Zab Judah.

4. Shane Mosley and Jack Mosley

It's easy to forget now, but in 1998 Jack and Shane Mosley became the first ever father-son tandem to receive trainer of the year and fighter of the year honors from the Boxing Writers Association of America. But after losses to Vernon Forrest and Winky Wright, Jack and Shane -- who remained close personally -- broke up professionally before reuniting and breaking up again. They were slated for another reunion if Shane's putative bout with Paulie Malignaggi had taken place as planned this month.

5. Joe Calzaghe and Enzo Calzaghe

An unalloyed success: Enzo steered Joe to world titles at super middleweight and light heavyweight. And after Joe retired with an undefeated record, he and Enzo then formed a promotional partnership. Although Joe had well-documented personal troubles in his immediate post-retirement years, his relationship with his father has evidently remained strong.
November, 11, 2012
11/11/12
1:56
AM ET
By
Brian Campbell
| ESPN.com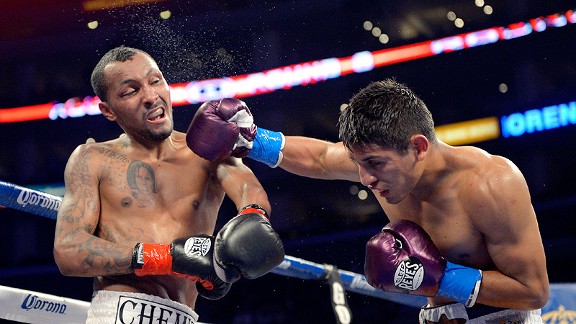 AP Photo/Mark J. TerrillThe near-constant pressure of Abner Mares, right, snuffed Anselmo Moreno's reach and slick boxing.
The way in which unbeaten junior featherweight titlist Abner Mares lowers his head and bulls forward in an attempt to break his opponents' will is nothing short of relentless.
In fact, it mirrors the stubborn determination with which Mares seeks out the toughest challenges available to him.
Coming off an impressive streak of five difficult bouts against a who's who at 118 and 122 pounds, Mares outworked defensive wizard Anselmo Moreno in arguably his most difficult challenge to date, claiming a unanimous decision (116-110, 116-110, 120-106) Saturday at the Staples Center in Los Angeles. ESPN.com scored it 115-111 for Mares.
Mares (25-0-1, 13 KOs), 26, not only used his aggressive -- and, at times, borderline dirty -- style to smother Moreno (33-2-1, 12 KOs), he raised the ante on his lofty goals after the fact by effectively declaring two coinciding intentions: conquering 122-pound champion Nonito Donaire by way of thawing the Golden Boy-Top Rank promotional cold war.
Asked after the fight by Showtime's Jim Gray whether he would seek next to face fellow Golden Boy fighter and unbeaten bantamweight titlist Leo Santa Cruz, who was victorious on the undercard, Mares offered an answer that was as honest as his fighting style.
"No, come on man, I want to fight Nonito Donaire," Mares said. "That's the only guy to fight. I can't take a step back. You know what I'm saying? No disrespect to what's his name, Santa Cruz, he's a great champion and a great fighter. But we want to fight the best. We want to continue to step it up."
Both Mares and Moreno would have preferred the opportunity to face Donaire instead of each other on Saturday. Donaire, in fact, has said on record that he wants nothing more than to face Mares next.
All of that would be fine in an alternate reality that didn't involve the competitive dislike between promotional moguls Oscar De La Hoya and Bob Arum.
"It's up to Nonito [Donaire's] promotion, because on our side, we're willing," Mares said. "Oscar [De La Hoya] said he is willing to drive [or] walk to Vegas and knock on Bob Arum's door. We're willing to make the fight happen, so let's go. If Bob Arum wants to and Nonito will do it, we want the fight."
Mares used an unyielding body attack to constantly bend Moreno on Saturday, close to the point of breaking him under the intense pressure. Mares, who often led with his head and was warned for low blows and rabbit punches, then used a series of looping right hands from close range to do damage, including one in the fourth round that floored the bantamweight titlist.
Mares' proposition for a fight with Donaire is easier said than done considering the growing list of fights that should be made -- but have yet to -- involving both companies. Yet if there's a fighter involved with the doggedness to refuse to let anything stand in the way of his plans (yes, even a cold war), it could be Mares.
• Bantamweight titlist and hot prospect Leo Santa Cruz showed something on Saturday that should serve as a warning to everyone at 118 pounds and above.
As Santa Cruz, 24, continues to improve and deliver the kind of performance he put forth Saturday in a ninth-round TKO of a determined Victor Zaleta (20-3-1, 10 KOs), the question quickly becomes: Who is going to be able to stand up to that kind of pressure for 12 rounds?
The wiry, 5-foot-7 Santa Cruz (22-0-1, 13 KOs) not only possesses a fan-friendly style of straight-ahead fighting, it's his accuracy and uncommon patience within the furious-storm pace he creates with his unrelenting punch output that makes him so dangerous.
It's becoming hard for opponents to keep up with the stalking Santa Cruz -- already described as some as the most determined body puncher in the sport -- and it's only getting harder due to his technical proficiency and (get this) defensive skills, uncommon for a pressure fighter.
And unlike fellow greenhorn fighters managed by Al Haymon (does Gary Russell Jr. ring a bell?), Santa Cruz has been refreshingly allowed to climb the ladder of competition at a steady pace.
Santa Cruz said Saturday he would like one or two fights in order to allow his body to transition up to 122 pounds, where bigger names and challenges await.
[+] Enlarge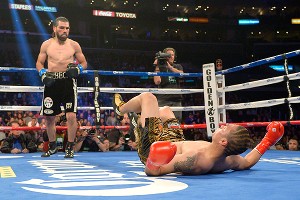 AP Photo/Mark J. TerrillIt was satisfying enough to see Alfredo Angulo free and in the ring again Saturday, but he spiced up his return with a spectacular knockout.
• Just getting a chance to see exciting junior middleweight Alfredo Angulo back in the ring Saturday was a joy in itself, but watching the way he dismantled Raul Casarez in 57 seconds was the icing on the cake.
Angulo (20-2, 17 KOs) had been out of action for one year and five days since his last bout -- a sixth-round TKO defeat against James Kirkland in a fight-of-the-year candidate that has come to define Angulo's fearless style.
But after spending seven months in a California detention center due to immigration issues, his first-round knockout of Casarez -- via textbook left hook -- brought Angulo, who openly wept in the ring after the bout, full circle.
Angulo fights with the kind of style that leads you to believe that watching him fight off a cold could somehow be exciting. But seeing him so thankful and emotional for simply getting a chance to return to doing what he loves was more rewarding to see than any one of his gripping battles in the ring.
Welcome back.
February, 5, 2012
2/05/12
1:00
PM ET
SAN ANTONIO -- On Saturday, Julio Cesar Chavez Jr. returned to the scene of his legendary father's first professional blemish -- an infamous draw to Pernell Whitaker at the Alamodome more than 18 years earlier. He was there perhaps to defend his family name, but also a middleweight title belt in seemingly his first strenuous test, against deserving contender Marco Antonio Rubio. Joining them on the card was Nonito Donaire, a former multidivision champion aiming for another belt in his first bout at junior featherweight, something of a grudge match against Wilfredo Vazquez Jr. Here's what we learned from one night in San Antonio:
1. Julio Cesar Chavez Jr. is a real fighter ...

Not for the first time in recent bouts, Chavez showed that when the chips are down and he has to suck it up, dig in and fight, he can do just that. Rubio was advertised as potentially his toughest foe yet, and so he proved, refusing to give any quarter even as Chavez walked him down and dug into his body with hard hooks. In fact, Rubio was landing what appeared to be the higher percentage of punches as Chavez loaded up for big combinations. But Chavez kept coming, and the final two rounds had the crowd on its feet as the two men exchanged hellacious blows, each looking to provide a definitive conclusion to the contest.
2. ... But he probably isn't a real good one

At the same time, Rubio isn't exactly a top-drawer talent. Yes, he stopped David Lemieux, but in hindsight, Lemieux was likely overrated. Rubio was flattened inside a round by Kofi Jantuah and was brutalized by Kelly Pavlik in the only fight in which Pavlik has looked half-decent in years. He showed little, if any, originality in his attack, yet Chavez was unable to nullify it. Similarly, two fights ago, Chavez went tooth-and-nail with an opponent (Sebastian Zbik) whom HBO once dubbed too poor to broadcast in a middleweight title fight.
Chavez has shown some genuine signs of improvement since connecting with trainer Freddie Roach. But there are also signs that the improvement may be plateauing. Of course, adding 20 pounds after the weigh-in couldn't have helped; if Chavez is to develop into anything more than an entertaining battler, he needs to dedicate himself a lot more to his gym work and road work, and stay away from bars during training camp. That may not be enough -- what you see may simply be what you get -- but it won't hurt.
3. Nonito Donaire has become dominant and disappointing

A year ago, Donaire blasted out Fernando Montiel in the knockout of the year, and there appeared to be no ceiling to his potential. But his two outings since then, although clear victories, have been underwhelming. In both cases there were extenuating circumstances: Omar Narvaez didn't try to fight, while Wilfredo Vazquez Jr. at times also seemed content to hide behind a tight defense, at least until Donaire apparently broke his left hand. But, notwithstanding the fact that Donaire was a clear, and mostly one-handed, winner over a good young opponent (even though one judge, maintaining the tradition of criminally bad Alamodome scorecards, somehow contrived to score the contest for Vazquez), the victory felt unsatisfying.
Part of the problem is that "The Filipino Flash" showed signs on Saturday of regressing into a home run hitter, looking to please the crowd with spectacular bombs thrown from all angles. That's all well and good, but when faced with a patient foe such as Vazquez, some basic jabbing and hooking might have served Donaire well, and perhaps helped to break his opponent down.
There's no need to panic: The train hasn't left Donaire's station. But it's warming up, and some disgruntled fans likely are starting to climb aboard. A trip back to basics would serve Donaire well if he is to reclaim and consolidate his place alongside Andre Ward as the best under-30 boxer in the world.
4. Vanes Martirosyan needs to step it up

Martirosyan is an engaging guy and a genuine talent, but in his 32nd professional contest, he needs to be facing opposition far more demanding than the utterly outmatched Troy Lowry, whom he beat up for three rounds on Saturday's undercard. Martirosyan is good at calling out opponents (after dispatching Lowry, he mentioned Mexico's Saul Alvarez), but whether because of him, his management or his promoter, he hasn't followed that up with much in the way of actual, credible tests in the ring. It's time for him to be matched in a meaningful contest against a real opponent, if only to see exactly what he can bring to the table.
5. HBO Boxing is off to a better start in 2012 than 2011

HBO's kickoff bout last year seemed, on paper, a solid one: a clash between undefeated junior welterweight titlists Timothy Bradley Jr. and Devon Alexander. But the fight was a stinker, and the venue -- the cavernous Pontiac Silverdome -- was even worse, and not even close to being filled. By contrast, although Saturday night's fights might not have had the same theoretical significance, they were far more entertaining. Meanwhile, the Alamodome was smartly configured for 15,000 people -- and close to that many showed up, providing an enthusiastic crowd that roared at seemingly every punch. All told, it was a far more positive start to the year.