July, 18, 2013
7/18/13
2:01
PM ET
By
Bernardo Pilatti
| ESPNDeportes.com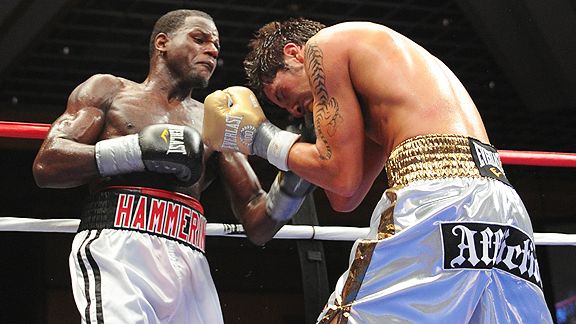 Fightwireimages.com Former prospect Hank Lundy will look to avoid his third straight defeat when he faces Olusegun Ajose.
Two explosive fighters will look for a victory to boost their confidence in the main event of ESPN2's "Friday Night Fights" (9 p.m. ET on WatchESPN, tape-delayed on ESPN2 at 10:30 p.m. ET) from Rockingham Park in Salem, N.H.
Former prospect "Hammerin'" Hank Lundy (22-3-1, 11 KOs) looks to get off the hot after two straight defeats when he takes on Olusegun Ajose (31-1, 14 KOs) in a 10-round junior welterweight bout.
Lundy, a native of Philadelphia, dropped a majority decision against Raymundo Beltran last July before traveling to the Ukraine in March and falling to Viktor Postol.
"I won that fight, took most of the rounds, and [Postol] was dead tired," Lundy said. "It was not a fair decision."
Ajose, who fights out of England by way of Nigeria, is best known for his gritty performance in a 10th-round TKO loss to Lucas Matthysse in an interim title bout last September.
"Honestly, when I faced Matthysse I was a bit rusty due to inactivity, but I'm not taking away any credit from him, he is the toughest puncher I've ever faced," said Ajose.
After the loss to Matthysse, Ajose's trainer Joe Mensah left his corner because of an illness, opening up the door for Buddy McGirt to take over. In the first bout for the new pairing, Ajose defeated Runnel Griffin by unanimous decision in April.
Lundy will also have a new trainer in his corner after making the switch to Zaire Justice.
"He is a good trainer, whom I knew from my amateur years," said Lundy, who served as a sparring partner for Adrien Broner during his preparation for his fight against Paulie Malignaggi. "We've focused on gaining strength and more punch."
Both fighters have had their share of good victories throughout their respective careers. Lundy has recorded wins against former lightweight titlist David Diaz, via sixth-round knockout, and current titleholder Richar Abril, who Lundy defeated by split decision. Ajose, meanwhile, has defeated the likes of Nigel Wright and Colin Lynes.
Ajose enters the fight with advantages in height and reach, but this doesn't seem to worry Lundy.
"Consider that Olusegun throws awkward punches from any angle, I trained with somebody that resembled him," Lundy said. "I am ready for everything."
Despite his confidence, this matchup is expected to be a difficult one for Lundy because of the aggressive Ajose's rhythm and persistent attack. Ajose also has good speed with both his hands and feet.
Lundy, on the other hand, employs a more conservative approach by looking to punish from the sides or in-and-out at close range. Ajose's longer reach will likely force Lundy to some chances if he wants to remain competitive, although it could be a dangerous bet.
The two recent losses, plus all the doubts raised about his potential in the 140-pound division, could mean extra pressure for Lundy. A third consecutive defeat would be a mortal wound for his future aspirations.
Ajose, a 2000 Olympian, has a similar need for a win, but for different reasons. He seems to be on a more positive note after claiming victory in his last fight, and all the positive feedback he received from the Matthysse clash should help him learn from his mistakes.
It should be an entertaining fight, with Olusegun establishing the pace of the fight with a more aggressive approach, throwing fast combinations from distance. The possible difference from his previous fights might be a more responsible use of his guard to contain Lundy's attack.
Lundy will wait, using his body to skip punches. He will likely move laterally, using the element of surprise to throw combinations at short distance like he did in the Postol fight.
In the co-main event, Ryan "Polish Prince" Kielczweski (16-0, 3 KOs), from Quincy, Mass., faces Puerto Rico's Miguel Soto (11-0, 11 KOs) in an eight-round junior lightweight bout.
Both fighters have similar aggressive, dynamic styles -- they also love to exchange punches. Kielczweski, who averages almost 100 punches thrown per round, had a remarkable amateur career (118-26). In Soto's case, his pro record speaks for itself, having knocked out every single opponent.
September, 9, 2012
9/09/12
1:25
AM ET
By
Brian Campbell
| ESPN.com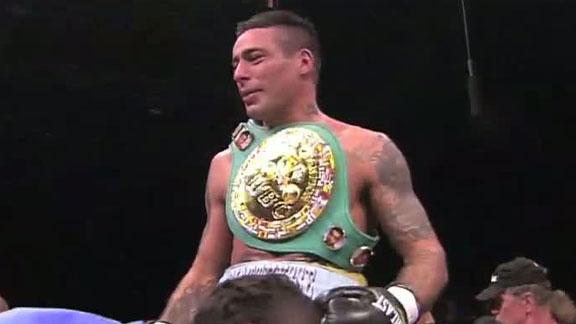 For the past few years, Lucas Matthysse has built a reputation as a hard-luck fighter who was unable to secure the benefit of the doubt from American judges in the two biggest fights of his career.
But after his two most recent bouts -– culminating in Saturday's dismantling of an incredibly gutsy Olusegun Ajose at the Hard Rock in Las Vegas -– you now could make the case that Matthysse is rebranding himself as the best fighter in the world at 140 pounds.
Following up on his five-round destruction of Humberto Soto in June, Matthysse (32-2, 30 KOs, 1 ND) finished the previously unbeaten Ajose (31-1, 14 KOs) with an exclamation point of a right hand to claim an interim junior welterweight title. Referee Russell Mora called an end to the bout by technical knockout at 2:59 of Round 10 just as Ajose fell to the canvas for the first time as a professional.
The Nigerian-born Ajose, who fights out of England, had long been the WBC's No. 1 contender, but he had been continuously passed over for a title shot. His willingness to make the most of his opportunity, standing in the pocket and trading with the heavier-punching Matthysse, produced continuous two-way action in an incredibly exciting bout, considering the one-sided nature of the outcome.
Unlike in his controversial split-decision losses to Zab Judah and Devon Alexander, the hard-charging Matthysse jumped out of the gate early with a relentless attack of combination punching that consistently cornered and hurt the southpaw Ajose against the ropes.
Ajose showed tremendous resolve to withstand brutal punishment and keep firing back, eventually to his own detriment. Despite good hand speed and slick boxing ability, Ajose was never able to hurt Matthysse and spent too much time in front of him trying to do so.
Matthysse was able to steal the rounds in which he was outworked simply by landing the heavier blows that backed up Ajose in the final 30 seconds. Ajose was game throughout and never stopped attacking, but he eventually broke from the unyielding pressure in the 10th, after a series of merciless right hands led to the finish.
The question now becomes: Who at 140 pounds will be able to withstand the kind of pressure and balanced attack that Matthysse has produced over his past two bouts?
With his two disputed defeats -– both coming in his opponents' hometowns -– you could make the case that Matthysse should be undefeated at this point. And with his rocket right hand that the Argentine claims has floored every one of his professional opponents, you also could make the case that Matthysse is the most dangerous junior welterweight opponent available.