October, 10, 2013
10/10/13
7:01
PM ET
By
Carlos Narvaez
| Special to ESPNDeportes.com
LAS VEGAS -- Orlando Cruz will take his message of equality all the way to the ring on Saturday -- although the way he chose to do it was off-putting to some in his Puerto Rico homeland.
Cruz, who enters his first world title fight against Mexico's Orlando Salido for a vacant featherweight belt on the Timothy Bradley Jr.-Juan Manuel Marquez undercard in Las Vegas (HBO PPV, 9 p.m. ET), caused a stir after his outfit for the fight was revealed on promoter Top Rank's Facebook page.
[+] Enlarge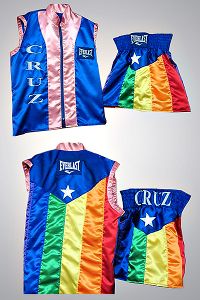 EverlastOrlando Cruz will honor the LGBT community and raise awareness for breast cancer in the color patterns on his trunks and gloves Saturday.
Last year, Cruz became the sport's first openly gay boxer. For the fight against Salido, Cruz replaced the colors of the Puerto Rico flag (red, white and blue) with those of the rainbow flag, the symbol of the LGBT community. He also plans to wear pink gloves to raise awareness for breast cancer.
Hundreds of fans commented on this subject, most of them voicing their disagreement by claiming he was altering the colors of his national flag. However, fans showed little rejection toward Cruz based upon his sexual orientation.
Cruz claims his plan wasn't to create any discomfort among his fans.
"I totally respect the Puerto Rican flag," Cruz said. "There are no bad intentions involved with this. I will always proudly represent my country and my fans. Please, accept my apologies if I made you feel offended. I didn't mean to create any controversies."
The Puerto Rican boxer, who will dedicate the fight to the memory of the late Emile Griffith -- a former two-division champion who late in life admitted that he was bisexual -- said he had no idea about who may have leaked the photo.
"I have no idea about who could have published the photo," Cruz said. "Maybe that person saw that the outfit was quite flashy, and just published it on Facebook. I'm calm, focused on the upcoming fight. I want Puerto Rico to know that I will proudly carry the flag on my chest."
June, 26, 2013
6/26/13
12:06
PM ET
By
Carlos Narvaez
| ESPN.com
SAN JUAN, Puerto Rico -- Orlando Cruz says he wants people to talk about him not because of his private life, but because of his boxing skills. He'll soon get a prime opportunity to create the buzz he seeks in the ring.
[+] Enlarge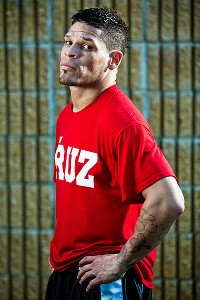 AP Photo/Dennis M. Rivera PichardoOrlando Cruz, the first openly gay boxer in history, is ready to become known as something more: a champion.
Puerto Rico's Cruz, who stole headlines last October by becoming the first boxer to publicly reveal that he is gay, appears to be on his way to fighting Orlando Salido for a vacant featherweight title.
Ranked the No. 1 126-pound contender by one of the alphabet organizations, Cruz (20-2-1) would likely take on Salido in Puerto Rico or New York City in August. He claims he is ready to become boxing's first openly gay titleholder.
"This crown is headed to Puerto Rico before the end of 2013," Cruz said. "I will be the first openly gay world champion in history, and it will be huge."
Cruz was lined up for the title shot when the belt was stripped from Mikey Garcia after he failed to make the featherweight limit at the weigh-in before his defense against Juan Manuel Lopez on June 15.
Lopez was still eligible to win the title, but he lost to Garcia by fourth-round TKO.
"I know that in boxing there are many people like me who haven't dared to take the step like I did, revealing that I'm gay," Cruz said. "Being the first gay champion will be a big accomplishment to all of them."
Cruz had been scheduled to fight Saturday in Kissimmee, Fla., but his promoter pulled him from the tune-up bout to avoid jeopardizing his shot at the title after the news broke that Garcia had vacated it.
"I was really surprised when I heard about the decision," Cruz said.
"But I am really happy for all the opportunities that have lined up. I have the ultimate respect for Orlando 'Siri' Salido, and I've had the chance to talk to him on several occasions."
Salido (39-12-5, 27 KOs) hasn't fought since he lost to Garcia by technical decision in January.
"I think he has never faced an opponent like me: slick, able to counter-attack and also a puncher," Cruz said. "I've got all the tools. I'm not underestimating him, but I've got some good skills and will give my best effort."
March, 15, 2013
3/15/13
5:46
PM ET
By
Carlos Narvaez Rosario
| Special from ESPNdeportes.com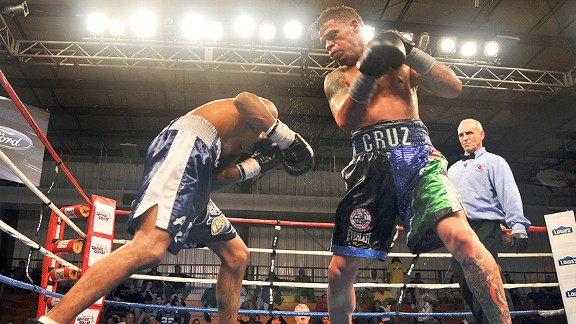 AP Photo/Reynaldo SanchezOrlando Cruz, right, is wary of getting ahead of himself in his quest for a featherweight title.
The fact that Orlando Cruz was mentioned by featherweight titlist Miguel Angel "Mikey" Garcia's group as a possible future opponent is something that greatly pleases the top challenger.
But it isn't Garcia's name that has been on Cruz's mind lately -- particularly in recent days, as the debate opened over who would face the 126-pound belt holder. That's because Cruz (19-2-1, 9 KOs) is focused on Friday's meeting with Aalan Martinez, a clash that could open the door to a Garcia fight -- or, if things go poorly, might have the opposite effect.
"Right now, I'm not thinking about what might happen after this fight," said Cruz, a 31-year-old from Puerto Rico. "I'm thinking of Aalan Martinez. If I don't defeat Martinez, I can't defeat Mikey Garcia neither.
"But if Mikey Garcia is thinking about me right now, that's good for me. He must know that I'm a good boxer and that I've earned the position. Right now, I'm focused on this fight. Then we will have time to sit and talk and think about the publicity."
Cruz's most recent fight, last October's unanimous decision win over Jorge Pazos, turned into a bit of a spectacle that captured the attention of many media outlets, including HBO, as it was Cruz's first bout since publicly declaring that he is gay. In addition to his recent performances -- three wins since a 2010 knockout loss to current featherweight titlist Daniel Ponce De Leon -- Cruz's landmark announcement seems to have helped fuel his career resurgence.
"We want to take advantage of this good moment we are living in," Cruz said. "I'm very happy with everything that is happening around me. And you can be sure -- both my people of Residencial Quintana and my fans in Puerto Rico -- to expect a lot from me."
Cruz arrived in Kissimmee, Fla., last week after three months of hard training in Buffalo, N.Y. He says the sparring work he got in with a number of good New York-area prospects -- most of them active between 122 to 165 pounds -- will be a difference maker against Martinez.
"We got what we wanted with them: speed and good movement," Cruz said.
And what of Martinez (14-1-1, 10 KOs), a southpaw from Mexico whose only defeat came to new featherweight titlist Evgeny Gradovich? Might he upset Cruz's future plans for a Garcia fight and disrupt all those recent good vibes?
"Martinez is a strong boy," said Top Rank vice president Carl Moretti, who added that Cruz hasn't yet been mentioned as a possible opponent for Garcia. "Orlando has to pass this test first before they think about a possible fight with Mikey."
December, 26, 2012
12/26/12
1:05
PM ET
There are two kinds of year-end awards: the ones that matter, and the ones you're about to read.

First, an acknowledgement: Boxing is a deadly serious sport, and just for having the guts to step into the ring, every professional fighter deserves the respect of us know-it-alls on press row.

But it is sometimes a writer's job to provide levity and to playfully mock the brave men (and women) whom he wouldn't dare mock to their faces. In that spirit, enjoy these awards recognizing some of boxing's best, worst and just plain weirdest from 2012:

The Fastest Way to Throw Away All of Your Street Cred Award goes to Floyd Mayweather Jr., whose carefully cultivated gangsta image unraveled when "Money May" went to prison and insisted he couldn't survive without bottled water. I'm pretty sure when Suge Knight did time, he didn't complain about the scarcity of Evian. I can't wait until Floyd meets Dewey Bozella and bends Dewey's ear with tales of how tough his two-month stretch was.

The Male Undergarment Trendsetter of the Year Award goes to Julio Cesar Chavez Jr., who turned heads and burned out retinas with his neon pink briefs on "24/7." It could have been worse, I suppose; at least Chavez never forced HBO to go to the blurcle.

The Most Appropriate Name Award goes to Guy Robb, who was the guy robbed when ref Vic Drakulich called a premature stoppage in his January fight with Joel Diaz. Sure, Robb was behind on points and probably going to lose anyway. But I'm willing to stretch a bit to give him this award, because the alternative involved making a bunch of jokes about Adrien Broner's last name that would have put my editor in an uncomfortable position. Speaking of Mr. Broner ...

The Most Polarizing Figure in Boxing Award was a tight race between Broner and Danny Garcia's father Angel, but in the end, I'm giving it to the Twinkie-tweetin' lightweight sensation. By a nose, it's the "Can Man" over the least popular man in Pakistan.

The Live TV is not for Everyone Award goes to Chuck Giampa, who in his debut appearance as a Showtime analyst in January took us inside the mind of a boxing judge ... revealing it to be an awful lot like going inside Al Capone's vault. Giampa hit for the cycle of on-camera work: The freeze, the repeat-your-line, the four-letter word and the premature cutaway were all represented in his first 10 seconds on the air.

The Wasted Year Award goes to Gary Russell Jr., who, at age 24, followed up his ESPN.com Prospect of the Year campaign by fighting just twice against nondescript opposition. If Russell doesn't show up to collect his award (a realistic possibility, given his recent disinclination toward public appearances), we'll instead give it to his Olympic teammate Demetrius Andrade, in recognition of his racking up five rounds of professional experience this year as a fellow 24-year-old.

The Best Performance of a Bette Midler Song by Two Men About to Fight Each Other Award goes to Kevin Johnson and Tyson Fury, who delivered a stirring piano-and-vocals rendition of "Wind Beneath My Wings" in December. Full-on "Beaches" remake, anyone?

The Best Story About Biting out Another Dude's Eye Award goes to Freddie Roach, as revealed on the outstanding HBO documentary series "On Freddie Roach." Meanwhile, the Worst Investigative Journalism Award goes to the production team behind "On Freddie Roach." Freddie tells this amazing and gruesome story about getting jumped and biting out the eyeball of one of his attackers, a one-eyed man happens to work at his gym and appears regularly on the show ... and we don't get any follow-up questions?

The Most Inspiring Fighter Award (hey, nobody said we couldn't mix in a serious category or two) goes to Paul Williams, who handled his motorcycle crash and subsequent partial paralysis with more positivity than I ever would have thought possible. A runner-up nod to Orlando Cruz, who this year became the first openly gay active pro boxer.

The You Might Want to Stick to Promoting Award goes to 50 Cent, for the quality of his rapping during Yuriorkis Gamboa's ring entrance in December.

The Worst Refereeing Award goes to Luis Pabon, who simply wouldn't get out of the way in February's Marco Huck-Alexander Povetkin heavyweight fight and almost certainly cost Huck a knockout win as a result. Pabon proved to be the fight game's equivalent of a helicopter parent, always hovering, always looking to break clinches before they even happened. Pabon even got clocked by an errant punch at one point -- which is the sort of thing that happens when a ref inserts himself while the fighters are actively attempting to, you know, fight.

The Hottest Twitter Trending Spectacles of the Year Award goes to Jim Lampley's tortoise-shell frames. Better luck next year, Jim Lampley's matte black frames and Jim Lampley's wire frames.

The Please do Your Business Off TV From Now on Award goes to Miguel Vazquez, who put two audiences to sleep in a six-week span late in the year with his action-free decision wins over Marvin Quintero and Mercito Gesta. Vazquez is a skillful fighter who has every right to make a living in the ring. I just don't want to know about it until the fight is over and the result is posted somewhere on the Internet.

The Least Welcome Fight of the Year winner is a toss-up between Christy Martin-Mia St. John II and Wladimir Klitschko-Jean-Marc Mormeck. In the end, I lean toward Klitschko-Mormeck because it lacked the potential for a wardrobe malfunction from a former "Playboy" cover girl.

The Chin of the Year Award would have gone to Mariusz Wach for the beating he endured from Klitschko, but because Wach's performance was tainted by a positive drug test, I'm instead giving this one to all the loyal boxing fans who took it on the chin from the sport's feuding, counterprogramming power brokers on Sept. 15. The fans who support this sport take enough abuse week in and week out without being forced to miss either a Chavez fight or a Canelo Alvarez fight because rival promoters and rival networks need to have their diva standoffs. Hopefully, in 2013 more of the powers that be will consider what's best for the fans and the Chin of the Year Award can be bestowed on an actual fighter.
October, 4, 2012
10/04/12
2:49
PM ET
Puerto Rican featherweight Orlando Cruz announced to the world that he is gay on Wednesday, becoming the first practicing prizefighter to declare he is homosexual.

"I've been fighting for more than 24 years and as I continue my ascendant career, I want to be true to myself," Cruz said in a statement after taping a spot on a Telemundo show, which will air Monday. "I want to try to be the best role model I can be for kids who might look into boxing as a sport and a professional career. I have and will always be a proud Puerto Rican. I have always been and always will be a proud gay man."

Cruz, 31, is scheduled to fight Oct. 19 against Jorge Pazos in Kissimmee, Fla. Cruz, who represented Puerto Rico in the 2000 Olympics, will defend his WBO Latino featherweight crown.

The promoter of that event, Tuto Zabala Jr., told ESPNNewYork.com that he has promoted Cruz (18-2-1) for a year. He said he heard rumors that Cruz was gay, and assumed he was gay, but never broached the subject with the fighter "because I respect him, and it would have been insensitive to ask him."

Zabala, 44, grew up in the business. His dad promoted in Puerto Rico, and also the Miami area, so he is well aware that boxing is a sport in which machismo is exuded on a constant, and sometimes crude, basis.

"His announcement is courageous," Zabala said of Cruz. "We hung out yesterday, at a press conference for another boxer. He acted normal. I didn't feel like he had to talk about it."

The fighter will talk about his life and his sexual orientation on the Telemundo show "Al Rojo Vivo" on Monday (5 p.m. ET).

Zabala said he will be there to support Cruz during this period. "His life is more important than what other people think of him," Zabala said.

Many fight fans are aware that New York-based Hall of Famer Emile Griffith said he liked the company of both women and men in the 2005 documentary "Ring of Fire: The Emile Griffith Story."

In 1962, Griffith responded fiercely to taunts from foe Benny Paret and savagely battered Paret in the third bout between the men, leaving him comatose. Ten days after that brutal battle at Madison Square Garden, Paret, who had teased Griffith with a gay slur, died.

Today, the 74-year-old Griffith, who left the ring in 1977, suffers from dementia. One wonders how his life would have been altered had he, if he wanted to do so, been open about his sexual orientation. He spent decades dodging the issue when confronted.