Boxing:

paulie malignaggi
August, 17, 2014
8/17/14
11:09
AM ET
For a split second, Kell Brook must have felt like he was in the ring with Sakio Bika. Moments after his majority decision over Shawn Porter was announced, his promoter, Eddie Hearn, wrapped him in a joyous embrace as both rolled around on the canvas. But Brook survived his post-fight spill and will return to England a conquering hero, a nick over his left eye the only visible sign he'd been in a fight.
The Brook-Porter bout capped a long evening at the StubHub Center that also featured Anthony Dirrell's ugly decision over Bika and Omar Figueroa's sizzling TKO of Daniel Estrada. Brook's win was the most significant, Figueroa's shootout with Estrada the most exciting and Dirrell's MMA-style rumble with Bika the one we'd like to forget. Each bout told us something about the combatants. Let's see if we can figure out what.
1.Brook is almost ready:
Brook is now a player in the talent-rich welterweight division, and seems eager to take on all comers. A match with Keith Thurman would be excellent, but Kell is not yet ready for the likes of Floyd Mayweather Jr., Manny Pacquiao or Juan Manuel Marquez.
The logical next step would be a bout with fellow Brit Amir Khan, which would surely be a box-office bonanza in the U.K. Khan, of course, is still hoping for a fight with Mayweather, and has also expressed an interest in taking on Pacquiao. But it doesn't seem that either of those are going to happen anytime soon, and Brook is clearly his best alternative.
2. Porter enthusiasm wasn't enough:
Porter was as hyper as a kid who had overdosed on Halloween candy, while Brook was cool, composed and focused, just like an unflappable Englishman is supposed to be. His savvy movement, spearing jab, straight-as-an-arrow rights and judicious clinching blunted Porter's flailing attacks. And although he never stopped trying, Porter's enthusiasm and one-dimensional approach just weren't enough. Maybe he'll learn from his first defeat, but don't count on it.
3. Porter is not special:
We have at tendency to jump to conclusions and prematurely anoint a fighter as the next big thing, which is what happened with Porter, a likeable jumping bean of a slugger with a big smile and an aggressive attitude. His victories over Paulie Malignaggi and Devon Alexander -- a faded veteran and a reluctant dragon -- fooled a lot of people into thinking he was something special. But after the thumping he took from Brook, we know better. But that doesn't mean we won't make the same mistake again the next time a young fighter comes along and scores a couple of good wins. We believe because we want to believe.
[+] Enlarge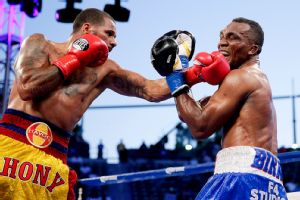 AP Photo/Chris CarlsonAnthony Dirrell won a super middleweight title by outslugging Sakio Bika.
4. Who knew Dirrell could fight dirty?
That's exactly what he did in his rematch with notorious brawler Bika. In their first bout, the slick-boxing Dirrell allowed "The Scorpion" to bully him just enough for the Australian tough guy to hold onto his super middleweight belt with a draw. But this time Dirrell almost matched Bika foul-for-foul in a rough and tumble affair, winning a unanimous decision in a fight that had harried referee Jack Reiss running around like the Mad Hatter.
5. Omar Figueroa is fun to watch, but for how long?
It wasn't quite as sensational as Figueroa's amazing decision over Nihito Arakawa in July 2013, but the way the Texas lightweight produced a thunderous right hand in the ninth round that ended Daniel Estrada's brave bid to take the title was reminiscent of some of Arturo Gatti's spectacular finishes. Figueroa's dramatic victory underlined his status as a must-see fighter, but how long he can keep winning vicious slugging matches remains to be seen. Let's appreciate him while we can.
October, 15, 2013
10/15/13
6:37
PM ET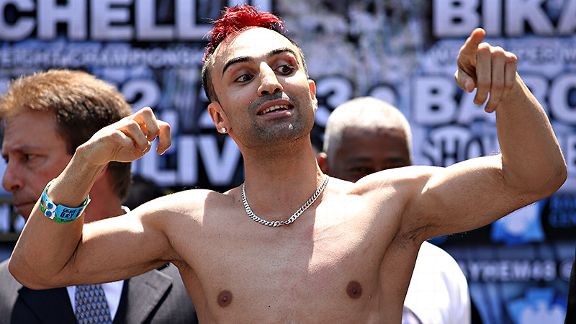 Nick Laham/Getty ImagesPaul Malignaggi could get another title opportunity ... if he defeat Zab Judah on Dec. 7.
Floyd Mayweather Jr. has emerged as the face of boxing this year. His Sept. 14 bout against Canelo Alvarez vaulted him to another level of awareness in the minds of folks outside the hardcore fight crowd, including casual viewers of boxing. After last month's win, he was booked on "The Colbert Report," and even MSNBC, if you need proof that "Money" has transcended the narrow channel of boxing stardom to something a bit beyond that.
Paul Malignaggi and Zab Judah -- talented pugilists who have toiled as professionals since 1996 and 2001, respectively -- face off, in a battle of Brooklyn, at Barclays Center, on Dec. 7.
No title will be at stake, but "bragging rights" will be on the line, as Barclays (and Nets) CEO Brett Yormark noted during Tuesday's news conference to hype the Golden Boy promoted clash, which will run on Showtime. And maybe more than bragging rights will be at stake.
The bout will take place at 147 pounds, which is Mayweather's territory. Do not be surprised, boxing fans, if the winner of this bout gets kicked up a notch higher in the Floyd-stakes, that short list of boxers who could be Floyd's opponent in the near future (Floyd has had two fights in his six-fight deal with Showtime, and is booked to fight next May, and September).
Judah said he'd be keen to tangle again with Mayweather. They battled in 2006, and fought some tight rounds before the bout dissolved in disarray (Mayweather won a unanimous decision after 12 rounds, but the flow was interrupted when a fracas, involving both corners, broke out in round ten).
"That sounds great, where the check at?," Judah said when I asked him about that prospect. "I'd like some of that Mayweather money. They call him 'Money May,' check it out, let's work," he said.
As for Malignaggi, he's proven himself to be one of the best self-managers in the game. He has the incredible ability to mix severe candor -- when he excoriated the boxing press, or portions of it, at Tuesday's news conference for being "fanboys" instead of real-deal journalists -- and activist trash-talking (a couple times, he publicly chided promoter Golden Boy for low-ball monetary offers), yet he retains a seat as a Showtime analyst and secures himself high-profile bouts. I have zero doubt that he'd love to finish out his professional run with a clash against Mayweather, the desired IRA bout for practically every world-class boxer from 140 to 160 pounds.
Showtime executive Stephen Espinoza agreed that this bout could in fact be something of a Mayweather eliminator.
"If the winner gets some solid wins, why not?" he told me.
April, 17, 2013
4/17/13
9:02
PM ET
It has been almost 15 years since he closed the book on his four-fight rivalry with Azumah Nelson by scoring a unanimous decision win at the very venue where Canelo Alvarez and Austin Trout will face off on Saturday. But San Antonio's own Jesse James Leija still looked pretty close to being in fighting shape as he surveyed the crowd that gathered on Alamo Square on Wednesday to watch several of Saturday's fighters go through their paces in a public workout.
[+] Enlarge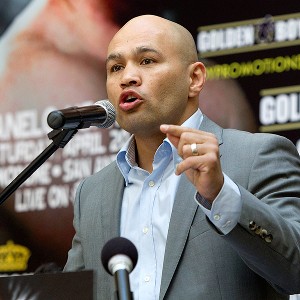 Bob Levey/Getty ImagesJesse James Leija says he's proud of his native San Antonio for the fans who attended Wednesday's workouts. "You can't do this in Vegas," he said.
The former world champion now trains a stable of boxers -- including Raul Martinez (29-2, 17 KOs), a former Nonito Donaire victim and two-time title challenger, who will face off against Shawn Nichol in a four-rounder on Saturday and who worked up a swift sweat in the humid air while Leija watched carefully. And he is one half of Leija-Battah Promotions, which has staged some local cards over the past year and is co-promoting Saturday's showdown at the Alamodome.
At this particular moment, though, Leija was primarily an admirer of his fellow San Antonio fight fans.
"I am so proud of the fans," he said as he scanned the faces -- by this reporter's guesstimation, a couple hundred of them -- who watched and cheered the workouts, as a microphone-wielding Paulie Malignaggi kept them animated. "You see this crowd? This is just an open workout, on a Wednesday morning when people are at work and at school. You can't do this in Vegas. But here you can do it, and I'm so proud of San Antonio."
Such crowds are reminiscent of the heyday of Oscar De La Hoya, and there was little question which of the main event fighters the throng was most keen to see.
"Alvarez is the next De La Hoya," Leija said. "He's been the next Oscar De La Hoya for the past two years. He just has that superstar quality to him. He has the looks, he has the charisma, he has the talent."
But all of that counts for little when the bell rings, and Leija is one of many who believe that in Trout, the young Mexican has selected an exceptionally dangerous opponent.
"He's in a really, really, really tough fight Saturday," Leija said. "If you asked me to pick a winner, I couldn't tell you right now."
He did, however, offer some unsolicited advice, from one champion to another: "He has to slow Trout down. How do you slow down a fighter who moves around a lot? Body shots. Don't worry about the head. Chop down the body and the head will fall."
August, 13, 2012
8/13/12
6:09
PM ET
Paul Malignaggi, the WBA welterweight champion, has begun light training for his Oct. 20 bout at the Barclays Center, presumably against Pablo Cesar Cano.

Malignaggi told NYFightBlog that Cano (25-1-1) hasn't been locked down 100 percent as of today, but he expects that the 22-year-old Mexican fighter will be the man standing across from him on the first fight night at the new Brooklyn arena.

Malignaggi jetted from New York to Los Angeles last week to begin training. "I'm training lightly," he said, "but will pick up the pace soon enough."

He's still saving room for some summer fun. The 31-year-old with a 31-4 record will judge a ring card girl competition in Las Vegas this weekend.

Once Cano has been locked in, Malignaggi will sit down with trainer Eric Brown and start talking about a game plan. He'll fly back to New York three or four weeks before the fight and resume training here so he can help with the promotional push.