September, 12, 2013
9/12/13
3:20
PM ET
By
Salvador Rodriguez
| ESPN.com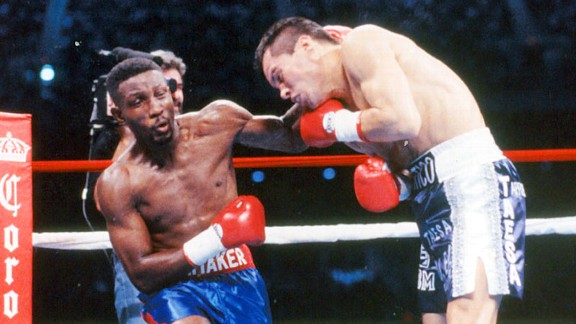 The Ring Magazine/Getty ImagesJulio Cesar Chavez, right, fell short against Pernell Whitaker but helped establish a fight tradition.
LAS VEGAS -- It was exactly 20 years ago this past Tuesday that Julio Cesar Chavez headlined the main event in a Mexican Independence Day celebration at San Antonio's Alamodome, before 60,000 fans, on a mission to become the first Mexican fighter in history to become a four-time champion.
Chavez was unable to achieve the feat, of course, and his draw against Pernell Whitaker in a welterweight title bout that night initiated a series of mishaps for Mexican boxing in the month of September -- although it didn't stop the country's top fighters from becoming staples at stateside shows celebrating the national holiday.
After the Whitaker draw, Chavez went on to star in four more major events around the annual September festivities. He bested Meldrick Taylor in 1994, defeated David Kamau in '95 and fell to Oscar De La Hoya in '98, all in Las Vegas, before bowing out in a technical defeat to Grover Wiley after suffering a fracture hand in 2005 -- Chavez's final fight.
In a gradual, symbolic passing of the torch, it was De La Hoya who took over as the ringleader of boxing's Mexican Independence Day celebrations. He outpointed Hector Camacho in Las Vegas in 1997, the year before his clash with Chavez. And in a blockbuster that remains one of the most significant editions in boxing's Mexico-Puerto Rico rivalry, De La Hoya saw his September winning streak ended by Felix Trinidad in a majority decision in Las Vegas.
"The Golden Boy" renewed his participation in the September ritual in 2002, defeating Fernando Vargas in a battle between Mexican-Americans, but in 2003 he dropped a decision to Shane Mosley in their rematch, and a year later was knocked out by Bernard Hopkins -- all in Sin City.
In 2005, Erik Morales took up the mantle from De La Hoya, but on a night of surprises, 'El Terrible' lost to Zahir Raheem in a duel that was supposed to be a tune-up Morales' second war with Manny Pacquiao. He bounced back with a September triump in 2010, knocking out Willie Limond in Mexico City, and a year later won an interim junior welterweight title by topping Pablo Cesar Cano in Las Vegas.
Also headlining Mexican Independence Day events in recent years, all of them staged on the Vegas Strip, were Marco Antonio Barrera -- against Robbie Peden in 2005 and Rocky Juarez in '06, both unanimous decision wins -- and Juan Manuel Marquez in a spectacular knockout of Joel Casamayor in 2008 and a 2009 points loss to Floyd Mayweather Jr., who has a history of raining on Mexico's Independence Day parades.
And what of the new guard? Last year Julio Cesar Chavez Jr. and Canelo Alvarez brought Las Vegas to a standstill with fights at the Thomas & Mack Center and MGM Grand on the same night. Chavez came up just short of a thrilling last-minute knockout, but lost his middleweight belt and undefeated record to Sergio Martinez. Alvarez, meanwhile, overwhelmed Josesito Lopez in a hail of body punches for a fifth-round TKO. That performance helped lead him to the doorstep of this year's most important night for Mexican boxing -- and maybe the highest-profile night the sport has seen in a decade.
Canelo won't be the favorite on Saturday, but win or lose, he seems poised to become a mainstay as Mexico's next September superstar.
February, 1, 2012
2/01/12
11:25
AM ET
Since he first stepped foot into the ring as a professional prizefighter, looking for all the world as though he were just 12 years old, his every step has inevitably been compared to his father's -- not only because they share name, but because that father was also one of the greatest boxers of all time, a first-ballot Hall of Famer and perhaps the most celebrated pugilist in Mexico's long fistic history.

On Saturday night, the linkages will be stronger than ever; but whereas Julio Cesar Chavez Jr. may at times have wished that comparisons of his career with his father's had to this point been more favorable, he will certainly be hoping to exit San Antonio's Alamodome with more positive reviews than did his father 18 years and change ago.

Chavez Jr. will face Marco Antonio Rubio on HBO in a defense of a middleweight belt that many believe rightfully belongs to Sergio Martinez, who was stripped of the title as a result of the kind of political chicanery and machinations that have granted boxing permanent residency in the Red Light District of sports. But it is also, perhaps more accurately, a measuring stick by which fans can judge the progress of a young contender who, much maligned in his earlier career, is showing signs of developing an all-round game that will meet potentially its toughest test yet in the form of veteran Marco Antonio Rubio.

On Sept. 10, 1993, Chavez Sr. walked into the ring in the very same arena, in front of 56,959 paying fans, placing his 87-0 record on the line against Pernell Whitaker, who had suffered a larcenous loss to Jose Luis Ramirez in his first tilt at a world title five years earlier but was otherwise undefeated in 33 contests. The two men were meeting for the welterweight championship of the world -- which Whitaker had snatched from Buddy McGirt in his previous fight -- but also for more than that: recognition as the best fighter in the world, pound for pound.

(A brief aside: The notion of two welterweights actually deciding who is the best fighter in the world by meeting in the ring might, to today's generation of boxing fans, seem an absurdity, a fiction so improbable as to be without any kind of credibility. Time was, however, when such things happened. But that's another story ...)

Chavez, the betting favorite, began aggressively, looking to bury his patented left hook to Whitaker's liver, as the champion wheeled away and popped his pursuer with a retreating right jab from a southpaw stance. Beginning in the third, Whitaker threw that jab with greater authority, combining it with the footwork and slippery defense for which he was renowned, befuddling Chavez and taking away seemingly every aspect of his game, beating him with punches from inside and outside. From Round 4 onward, it was, to ringside observers, largely a shutout -- a masters class culminating in what was surely a nine rounds-to-three or, at worst, eight rounds-to-four victory.

Except that it wasn't.

One judge scored the fight for Whitaker, 115-113. The other two saw it dead-even, 115-115 -- a result that even many in the pro-Chavez crowd, who had become progressively quieter as their man had been given a boxing lesson, booed.

The New York Times dubbed the result "an oddity of a decision even for this most confusing of sports."

"I went to talk to one of the judges afterward, but I tripped over his seeing-eye dog," Bert Sugar quipped.

"Whitaker put on one of the most dazzling ring performances in recent years," wrote Sports Illustrated, "yet, within minutes, two of the three judges reduced this magnificent show to a mockery."

SI's cover featured a picture of Whitaker landing a right hand on Chavez's jaw, accompanied by a one-word headline: 'Robbed!' (Hey, on the plus side, boxing was on the cover of Sports Illustrated! Yes, kids, sometimes that happened, too.)

Three fights later, Chavez suffered his first official loss, when he was dropped and outpointed by Frankie Randall, and things were never really the same after that. He beat up the likes of Ken Sigurani, Verdell Smith and Marty Jakubowski, but he lost comprehensively to Oscar De La Hoya (twice), Kostya Tszyu (in a fight that never should have been made) and even Willy Wise and Grover Wiley.

Junior avenged the last of those defeats, in a way, splattering the man -- in three one-sided rounds in 2007 -- who had ended Senior's career. And although a clean and clear win on Saturday won't exactly atone for the flimflam that spared his old man from defeat that long-ago September night, it will enable him to boast one accomplishment that eluded his more celebrated father: to walk out of the Alamadome, with his hands in the air and head held high, to the sound of his fans celebrating a Chavez victory.