October, 16, 2013
10/16/13
12:03
AM ET
By
Brian Campbell
| ESPN.com
It's safe to say ESPN boxing analyst and veteran trainer Teddy Atlas believes in the talent of two-time Ukrainian Olympic gold medalist Vasyl Lomachenko even more than most.
A veteran of four Olympic games as a television analyst, Atlas has followed Lomachenko's career rise through the amateur ranks leading up to his professional debut on Saturday. Atlas, in fact, was in attendance in Las Vegas when Lomachenko knocked out veteran featherweight contender Jose Ramirez in the fourth round on the undercard of the Timothy Bradley Jr.-Juan Manuel Marquez pay-per-view.
Lomachenko, 25, who was also 6-0 in four quasi-professional bouts in which the fighters were paid and fought without headgear under the "World Series Of Boxing" banner, impressed many with his performance.
Atlas wasn't surprised with what he saw from Lomachenko, one of the most decorated amateur fighters in history. But he was so thoroughly impressed after just one pro fight that he gave Lomachenko a vote as his No. 10 pound-for-pound fighter in ESPN's latest rankings.
"I have the experience of having seen these guys up close and called their [Olympic] fights," Atlas said. "I'm obviously more familiar than maybe the average guy out there on Lomachenko. I know what he is. I know what he's about.
[+] Enlarge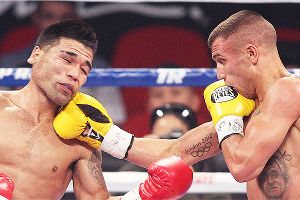 Tom Hogan/Hoganphotos.comVasyl Lomachenko, right, destroyed former title contender Jose Ramirez to impress one P4P voter.
"Besides the obvious of a two-time gold medalist, he's a very dedicated, complete fighter. There's no satisfaction for him other than being the best fighter in the world. There's nothing short of that as a goal. A lot of guys talk about it because they are expected to say that. But it's beyond that with him in a way. He really feels a supreme confidence that he's the best and wants to prove it."
Lomachenko is so confident, in fact, that his original intention was to fight for a world title in his pro debut. That didn't happen, of course, yet he still is angled toward a title shot in his second bout in January, likely against Orlando Salido, a veteran of 55 pro fights who stopped Orlando Cruz on Saturday's undercard to claim a vacant title.
"To me, it's almost hieroglyphics in the boxing world what Lomachenko is doing because most guys want to be pampered and want to be able to slowly squeeze what they can out of their career and the sport," Atlas said. "Usually, most guys want to take as little risk as possible to get paid as much as they can. He has taken as much risk as is necessary for him to fulfill what he believes is his destiny.
"I believe that he has the belief that his destiny is to be a very special fighter and be the best fighter that there is to the extent that is possible."
Atlas admits Lomachenko's drive is very impressive to "a guy who doesn't get impressed that easily, meaning me." He also sees correlations and parallels between Lomachenko and naturals in other sports like Tiger Woods.
"I look beyond the ring and how Tiger and his father had plans for him to do things that golfers had never done before," Atlas said. "Their plan was for him to do it quicker and faster, and they trained for that ever since the beginning. And not only do you learn how to bring your 9-iron back to be more successful, you learn how to overcome and believe in yourself in those pressure situations so that you will be dominant and will conquer.
"[Lomachenko] is fulfilling that part in the same way. He is putting himself in those waters with the best that's there and he's doing it right away. He put his money where his mouth is, and I appreciate that. I know how uncommon that is, and because it's so uncommon, I applaud it and I recognize it. And my way to do that is to put him in the top 10 pound-for-pound."
Atlas believes he is matching Lomachenko's desire to be the best right away by recognizing him, right now, among the sport's elite.
"I have no doubt in my mind that he is going to be a world champion in his next fight," Atlas said. "I have no doubt in my mind that he is going to knock Salido out. No doubt in my mind. In my mind, he's already a world champion, it's just a matter of him getting in the ring to fulfill that destiny. I have no doubt that it's done. The moment he gets in the ring, it's done."
May, 13, 2013
5/13/13
9:34
PM ET
It was just a week ago that, along with everyone else with even a passing interest in the sport of basketball, I found myself asking, "Who is that idiot who voted for Carmelo Anthony over LeBron James for NBA Most Valuable Player?"
Turns out there were four fingers pointing back at me and I'm the idiot.
To clarify, I'm not the guy who cast a vote for 'Melo. But if being the lone dissenter on a sports media panel makes you an idiot in the minds of the majority, then I'm just as bumbling.
[+] Enlarge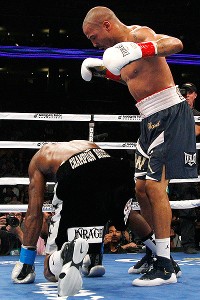 AP Photo/Jeff ChiuAndre Ward stands tall -- even above Floyd Mayweather Jr. -- by virtue of his superior résumé, including last September's TKO of Chad Dawson.
Granted, the sole Carmelo-over-LeBron voice was heard among 120 other voters, which makes for a much sorer thumb than being the contrarian among a field of 10. But I'm a sore thumb just the same, the only one of ESPN.com's 10 pound-for-pound voters who still ranks Andre Ward No. 1.
Going into Floyd Mayweather Jr.'s May 4 fight with Robert Guerrero, there were three of us. But Teddy Atlas and Joe Tessitore both abandoned me and moved Mayweather back into their respective top spots a week ago, and when the new rankings were published, there was Floyd with 99 of a possible 100 points. I was suddenly the only thing preventing him from being a unanimous choice.
It's a bit uncomfortable knowing every one of your peers (at least among these nine particular peers) disagrees with you. But I stand by my rankings. I don't dispute Mayweather's ability in the least and I understand why most people rank him No. 1, but I still believe Ward is the best boxer in the world, pound for pound, at this moment.
I actually wrote a year ago on Grantland
, just prior to Mayweather's fight with Miguel Cotto, that I felt Ward might already be the best in the business, only without the signature win to justify ranking him No. 1. A few months later, Ward, the lineal champ at super middleweight, dominated and stopped Chad Dawson, the lineal champ at light heavyweight. He had the signature win. He validated my suspicions. He became, for me, a downright obvious choice, particularly with Mayweather having struggled more than most observers expected he would with a past-prime Cotto.
Against Guerrero, Mayweather gave one of the more sterling performances of his lengthy career and erased the doubts raised by the Cotto fight. But was one great performance against a solid opponent enough to change the order at the top for those who previously favored Ward? Especially given that Ward's most recent performance was even more dominant, much more physically destructive, and came against Dawson, a better all-around fighter than Guerrero? For me, no. Not quite.
Part of the argument against Ward is that he's coping with injuries, hasn't fought in eight months and probably won't fight for another three or four months. That's fair, and if his inactivity extends to a full year, he'll need to be dropped from the rankings, per ESPN.com guidelines, at that time.
But if we look at recent history -- not just the last few months when Ward hasn't fought, but going back to the start of Mayweather's un-retirement in 2009 after a 21-month break from the sport -- I believe Ward has the superior résumé.
Mayweather has beaten some high-profile foes, but there are asterisks almost everywhere: He didn't try to make weight for the Juan Manuel Marquez bout, thus gaining an unsportsmanlike advantage he never needed; he sucker-punched Victor Ortiz, again taking a legal but unnecessary shortcut; he got rocked by Shane Mosley; he had a tougher time beating Cotto than Austin Trout did a few months later.
Again, they were all quality wins, and Mayweather is undoubtedly still very close to the peak of his powers. But Dawson, Mikkel Kessler and Carl Froch were all pound-for-pound top-20 fighters when Ward convincingly beat each of them, and in Ward's lesser tests, he might not have lost a round to Allan Green, Sakio Bika or Arthur Abraham. In fact, he hasn't lost more than two rounds to anyone in his entire professional career except for maybe Froch -- who, by the way, currently resides one spot outside
ESPN.com's current P4P top 10
.
Stylistically, Mayweather fights in a manner that makes his greatness more obvious, more tangible. There's an aesthetic beauty to the way he boxes that Ward lacks. Ward doesn't have Mayweather's ridiculous hand speed or reflexes. But Ward's boxing brain is a wonder. It's perhaps the greatest weapon that exists in boxing today.
Ward fights in a style reminiscent of Bernard Hopkins, mauling and negating and nullifying without producing a preponderance of oohs and aahs. Mayweather, meanwhile, is capable of some of the spectacular displays of athleticism that Roy Jones Jr. used to offer in his prime. It's no surprise that Jones spent a lot more time at No. 1 on the P4P list than Hopkins did. But history will be more kind to Hopkins because history doesn't care as much that his style, like Ward's, is a turn-off to many fans.
Another flaw of most pound-for-pound rankings is that, typically, it takes so long to
prove
your greatness that it isn't recognized until you've started to decline. Mayweather wasn't considered boxing's pound-for-pound No. 1 when he was at his absolute best, eviscerating Diego Corrales in 2001. He wasn't even No. 2 or 3; most people had the more proven Jones, Shane Mosley and Felix Trinidad ahead of Mayweather after Floyd, in his true prime, scored the greatest victory of his career.
At 29, Ward is currently in his prime. He has sufficiently proven his worth at the elite level to me over the past four years. I'll drop Ward if he isn't ready to fight by September or if, when he does fight, he doesn't perform as effectively as Mayweather did against Guerrero. But for now, to my eyes, Andre Ward is the best there is.
And if all nine of my colleagues at ESPN.com believe differently, that's fine. It doesn't make them wrong. But it doesn't make me wrong, either.
August, 27, 2012
8/27/12
6:07
PM ET
By
Brian Campbell
| ESPN.com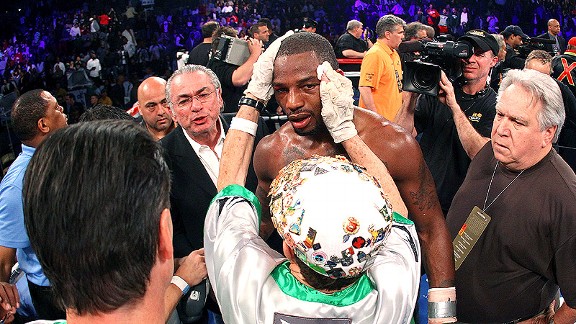 Al Bello/Getty ImagesChad Dawson's career has been messy and unfulfilling. Will an Andre Ward fight mark a new start?
Sometimes there's just no nice way to sugarcoat the truth.
For all of light heavyweight champion Chad Dawson's considerable talent, it's hard to shake the feeling that he's about as insufferable a figure as there is in boxing today.
Armed with a public persona that's equal parts whiny, brooding and defensive (with an in-ring style to match), Dawson has trudged through a prime as unremarkable as anyone could imagine for a 30-year-old American champion with a 31-1 record.
He has been a hard sell to fans who rightfully believe Dawson's safety-first style is what's increasingly wrong with the sport. It's also hard to imagine that there has been a fighter as talented who looks so painfully uninterested in the performance aspect of his craft or the maximizing of his skills.
Most observers have long given up on the day when Dawson wakes up and realizes just how good he really is. That's what made his recent decision to willingly move down seven pounds to challenge super middleweight champion Andre Ward all the more puzzling -- and equally fantastic.
Has the prodigal son of boxing's pound-for-pound elite finally come full circle after years of us selling him short?
Although that question remains to be seen, Dawson's willingness to move down and challenge the best -- setting up a rare matchup between lineal champions -- is a positive trend that we can only hope becomes contagious. It's also a sign that he's moving his career in the right direction.
It wasn't so long ago that Dawson was almost universally lauded as an exciting prospect with a bright future, but soon something changed in his demeanor.
Dawson survived an all-action slugfest in his first meeting with Glen Johnson, in 2008. Despite showing a ton of heart in claiming a disputed victory, he never again displayed the same hunger and willingness to do more than the bare minimum to win, evidenced in uninspiring wins against Antonio Tarver (twice) and in a rematch with Johnson. Despite being an unbeaten champion, Dawson drifted into boxing purgatory as a high-risk/low-reward opponent with a sour attitude and limited marketing potential.
He continued to unsuccessfully lure Bernard Hopkins into the kind of marquee fight that would elevate his name, eventually landing the bout years later only by accepting step-aside money to allow for Hopkins' immediate rematch with Jean Pascal. And the ensuing fights with Hopkins couldn't have been more disastrous for Dawson, from the debacle ending of their first bout (a pay-per-view, no less) to his childish behavior in the aftermath. Dawson received little credit for winning the excruciatingly bland rematch, seeming reluctant to attack the 47-year-old Hopkins when he had him in trouble.
That's what made Dawson's decision to make the Ward fight so pleasantly surprising. Dawson publicly offered a drop to super middleweight without the aid of a catchweight -- in a fight that will be held in Ward's Oakland, Calif., hometown -- and enters as the underdog despite advantages in height and reach.
Finally, Dawson finds himself in a rare win-win situation. A victory would be the biggest of his career, catapulting him up the P4P rankings. Meanwhile, a respectable loss still leaves him as the champion at 175 pounds, in line for potential paydays in both divisions.
Maybe we have sold Dawson short all along, despite the fighter himself giving us plenty of reasons to disbelieve our eyes. Or maybe this is merely a case of an underachiever coming of age before the window of his prime passes him by.
By showing the boldness to move down in weight to secure a fight against an opponent on the verge of true stardom -- an undefeated champion and undisputed top-five pound-for-pounder, no less -- Dawson proved he is willing to go all-in on maximizing his true potential. Now it's up to him to produce a performance that's equally inspiring.