August, 1, 2014
Aug 1
1:45
PM ET
By
Brandon Rios
| ESPN.com
After a stunning loss to Manny Pacquiao in November, Brandon Rios is ready to get back on the horse Saturday against Argentina's Diego Chaves in Las Vegas.

Rios (31-2-1, 23 KOs), a former lightweight titlist who is coming from two tough losses in 2013 --to Pacquiao and Mike Alvarado in March -- faces Chaves (23-1, 19 KOs) at The Cosmopolitan Casino in Las Vegas (HBO, 9:45 p.m. ET).

Looking to be reborn with his longtime trainer Robert Garcia, Rios, 28, feels that this is the right time -- and the right opponent -- to start his comeback.

In his own words, Rios talks about returning to the ring and looking for a much-needed victory.

"When you are on top of the world, there are people who always want to be with you. I didn't really know some of them, but they wanted to be close to me. But when you are at the lowest point in [your] career, no one comes around. No one seems to care.

"This is why my fight against Diego Chaves is do-or-die for me. And I want to make it a 'do' and not the 'die' part.

"I promised Robert [Garcia, chief trainer] I would follow his instructions in the gym and do whatever it takes. I told Robert I want to be the old 'Bam Bam' again.

"I don't need that strength and conditioning stuff. It drained me, actually. I am naturally a strong person, and I won a lot of fights before without it.

"They tell me Chaves is real rough and strong. That he can punch hard. That's OK with me. I want to come back and against a strong, tough fighter.

"The old Bam Bam -- the one who everyone knows -- will be back in the ring on Aug. 2."

Robert Garcia

"After the Pacquiao fight, Brandon got rid of a lot of people. He was quiet and doing family stuff. We traded texts, and that was about it for a long time.

"When Brandon got back to the gym, we went back to old-school training. Rough stuff. Brandon is much more dedicated and, more importantly, is listening to everything I say and executing my instructions.

"Brandon is ready to fight. Bam Bam is back."

April, 30, 2014
Apr 30
6:03
PM ET
By
Bernardo Pilatti
| ESPNDeportes.com
Welterweight Roberto Garcia squares off with Victor Cayo in the main event of a special Thursday edition of ESPN's "Friday Night Fights."

The 10-round bout headlines a card outdoors from the iconic Hialeah Park Race Track in Hialeah, Fla. (ESPN2, 9 p.m. ET) with both fighters entering the bout in search of a return to the spotlight.

Garcia (34-3, 22 KOs), of Weslaco, Texas, has lost just once in the past 10 years, a 2010 unanimous decision against Antonio Margarito. He scored a pair of victories in 2013 at junior middleweight against Miguel Angel Munguia and Larry Smith and enters Thursday's bout less than three months removed from a February win over Norberto Gonzalez.

Cayo (32-4, 23 KOs), a native of the Dominican Republic, enters his second welterweight bout after a long stretch fighting at 140 pounds, where he faced elite opponents like Marcos Maidana, Lamont Peterson, Nate Campbell and Julio Diaz. Cayo has won five of his last six fights, including four by knockout.

The fight promises plenty of action due to the offensive styles of both fighters.

The 29-year-old Cayo is fast, has good power and throws many combinations. However, his game plan is limited by his defensive deficiencies, which have been detrimental to his career.

Cayo has been, at times, too confident with his waist movements, which draw comparisons to that of middleweight champion Sergio Martinez. He doesn't close his guard and is repeatedly exposed to counter shots. That limitation has cost him dearly during his four defeats, which have all come by stoppage.

Despite these problems, his opponent Garcia, 34, will need to take very seriously the speed of Cayo.

Garcia will be making his debut under the tutelage of trainer Robert Norris and has admitted to having problems with fast opponents. That's why he has trained with fast sparring partners, with the idea of getting used to Cayo's style. His game plan will be to apply constant pressure, trying to hurt his opponent with powerful shots.

The clash of styles will surely define the characteristics of the bout. Cayo will move sideways, getting in and out with speed to drop his combinations. Garcia, who is slower but more aggressive and fights at a good distance, will use the jab to attempt to control Cayo while looking to slow him down with body shots.

In the co-feature, undefeated Jonathan Gonzalez (17-0-1, 14 KOs) of San Juan, Puerto Rico, faces Rogelio Medina (32-5, 26 KOs) of Mexico in a 10-round middleweight bout.
November, 24, 2013
11/24/13
1:17
AM ET
By
Brian Campbell
| ESPN.com

With the alternative being a third straight loss and possible retirement, it wouldn't be a stretch to say that Manny Pacquiao is back following his 12-round whitewash of hard-charging Brandon Rios on Saturday at the CotaiArena in Macau.

A month shy of his 35th birthday, this might not have been the same Pacquiao who had dismantled top opponents at the peak of his prime with a spellbinding combination of speed and power. But in his first fight following a scary, one-punch knockout against Juan Manuel Marquez last December, coming off the longest layoff his career, it wasn't too shabby.

Pacquiao simply had his way with the one-dimensional Rios, establishing himself early to the body before continuously peppering the Mexican-American fighter with combinations upstairs en route to an easy, unanimous-decision win.

Key moment: Round 1. Nearly all of boxing waited on the edge of their seats for that first moment in which Rios landed a clean shot against Pacquiao. In the end, the drama was short-lived, as Pacquiao took Rios' best shots -- although he admitted after the fight to being hurt in Round 5 -- and showed no ill effects of his knockout against Marquez. With that hurdle cleared, it became clear that Pacquiao was simply a better fighter and Rios, despite plenty of heart, was in for a long night.

We've got your number: 20-5. That was the disparity in punches landed between Pacquiao and Rios in Round 1. The PacMan set the tone in the first three minutes that his speed and explosive accuracy were going to be a problem for Rios and went on to land 48 percent of his power punches over 12 rounds, according to CompuBox.

Last word: There's no question Pacquiao's comeback victory likely reopens the conversation regarding the outcry for him to finally face Floyd Mayweather Jr. Unfortunately, we aren't any closer politically than we were during the original period the fight should have been made. Pacquiao, however, still finds himself in good position to land marketable rematches with both Timothy Bradley Jr. and Marquez in 2014. As far as Rios is concerned, the all-action brawler endured tremendous punishment for the third straight fight, following two memorable brawls with Mike Alvarado. A long break is in order.
November, 22, 2013
11/22/13
9:46
AM ET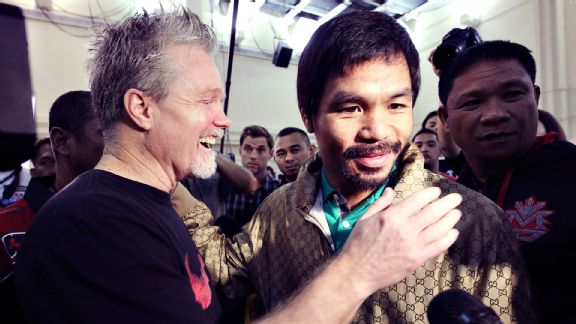 Chris Farina/Top RankFreddie Roach expects his fighter, Manny Pacquiao, to receive little resistance from Brandon Rios.
MACAU -- Brandon Rios and his trainer, Robert Garcia, think that Manny Pacquiao is in decline. It's an assertion that brings a snort of derision from Pacquiao's trainer, Freddie Roach.
"When does he watch my guy? Does he see my guy train every day? I don't think his opinion really counts," Roach said of Garcia in Macau on Friday. "I watch my fighters carefully. If Manny had shown any signs of slippage in training camp, I'd be the first person to tell him it's time to go. It's not time yet, that's for sure."
Pacquiao, Roach says, knows full well that he has to be impressive against Rios in the Venetian Macao's Cotai Arena on Sunday morning (Saturday night in the United States), particularly as he is coming off two straight losses -- even if one of those losses, a decision defeat against Timothy Bradley Jr. in June 2012, was highly disputed.
"Being impressive is not winning a close decision," Roach said. "Being impressive is winning by knockout. He needs to win in good fashion, and the best way he can do that is by knocking the other guy out."
That's a scenario the trainer has no trouble envisioning.
"I don't feel like Brandon Rios can go the distance with the talent of Manny Pacquiao," Roach said. "I'm very confident about that. It's a world-class fighter going up against a guy who's maybe a journeyman at best."
Of course, Pacquiao was also determined to look impressive against Juan Manuel Marquez in his most recent outing, to prove once and for all that he was the superior fighter after three incredibly close battles between the two. That resulted in his being overly aggressive and walking into a sixth-round counter right hand that knocked him cold. Isn't there the danger that it could happen again?
"Sure, it can lead to that, but I think he learned his lesson last time," Roach said of Pacquiao. "He tried to finish Marquez and paid for it. I don't think we're fighting a guy like Marquez, though. Marquez is one of the slickest fighters of all time, let's face it. They had four great, close fights together. I don't think we're in against Marquez. This is not the same class as Marquez. It's not the same ability as Marquez. I don't feel this guy. He's too slow."
Indeed, Roach is doing little to sell the notion that fans should buy the pay-per-view to watch an enthralling, close battle.
"He won a title at 135 pounds; he was losing the fight eight rounds to zero, and he landed a lucky punch and got the win," Roach said. "Quality opponents: I don't see him have any. His last fight, he lost [to Mike Alvarado]; and then my guy Ruslan Provodnikov destroyed [Alvarado].
"I hope they're overconfident, because Manny's going to destroy this guy."
November, 22, 2013
11/22/13
1:33
AM ET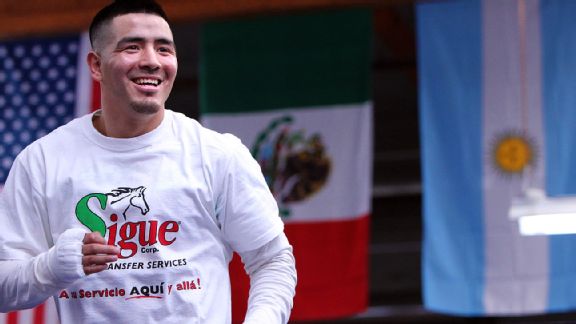 Chris Farina/Top Rank Brandon Rios is seemingly much healthier at welterweight and working with strength coach Alex Ariza.
MACAU -- Alex Ariza may have made his most public mark on fight week so far with The Kick Heard 'Round the World, but for Team Brandon Rios, Ariza's biggest contribution came long before then, and the evidence of it was in the form of the light food that Rios was eating in his suite as he spoke to a small group of reporters on Monday.
Rios is, of course, infamous for struggling to make weight. Indeed, he failed to do so for two consecutive lightweight title bouts, against John Murray and Richar Abril, in 2011 and 2012. Not surprisingly, his performance in both those contests was sluggish, and many observers believe he was fortunate to escape with a points victory against Abril.
This week, though, the hollow-cheeked prefight Rios of fights past has been replaced by a man who is apparently healthy, happy and on weight. And although it surely helps that Saturday's bout with Manny Pacquiao will be contested at the welterweight limit, Rios trainer Robert Garcia gives most of the credit to Ariza, the strength and conditioning coach whose switch from Team Pacquiao to Camp Rios is one source of the underlying tension between the two sides.
"Now that we have brought in Alex Ariza, we learned the importance of eating, drinking water and resting," Garcia said. "Before that, we all thought that making weight was not drinking water for four or five days before a fight, not eating for four or five days before a fight. That's how I did it, that's how [my former promotional mate] Fernando Vargas did it, that's what my brother Mikey did, that's what Brandon was doing. But now it's the opposite. Brandon is eating three or four times a day now. He's drinking one of these" -- Garcia holds up a bottle of water -- "every couple of hours, up and until Friday, the day before the weigh-in. That's one thing we learned. And resting: That's another thing that makes a really big difference."
His fighter's improved condition is one reason for Garcia feeling optimistic about this weekend's contest. Another is what he perceives as terminal decline in Pacquiao's skills.
"We know that Pacquiao has been a great champion, considered perhaps one of the best in history," Garcia said. "But we've seen the last two years, the last two fights, there are some differences, there are some changes, and especially his last fight when he got knocked out. We don't know -- nobody knows -- how that really affected him. We've seen other fighters -- and I would say nine out of 10 are never the same -- but we don't know."
It's a theme echoed by Rios.
"Pacquiao, in his last fight, wasn't as fast as he was in previous fights," he said. "I think he has slowed down a lot. You could see that his legs were cramping up as well. I don't know what's going on. Maybe it's his age. It's amazing: When the body says it's time to go, it's time to go."
November, 19, 2013
11/19/13
10:24
AM ET
MACAU -- Fight week allows observers only the briefest of glimpses, through slightly open windows, behind the curtain of boxers' camps. Sometimes, though, even those glimpses are enough to allow for a reasonable inference of conditions and contrasts in the rival corners.
Brandon Rios elected not to work out as usual on Tuesday morning, but he and his team hung out as promotional mate Evgeny Gradovich went through his paces, and while "The Russian Mexican" approached his business with a quiet diligence, Rios and friends, including trainer Robert Garcia, were more ebullient.
"You're going to hear all kinds of things from this guy," said Lee Samuels, PR maven for Rios promoter Top Rank, shaking his head with a wry smile. "Words, noises, everything."
Most of those words, Rios himself might have observed, began with the letter "F." He says he learned from watching himself on HBO's "24/7" that he says those words a lot. But amid the colorful language, there was a lot of joking, laughing, pulling of pranks and, at random intervals, Rios dropping to the floor to do push-ups -- the result, he says, of him losing a bet to strength and conditioning coach Alex Ariza, the details of which seem hazy even to the bet's apparent winner.
Ariza concedes that the uninhibited, free-flowing atmosphere in Camp Rios is somewhat different to the one that surrounds his most recent and most famous employer, and that contrast was soon on display after the Oxnard, Calif., crew exits and Manny Pacquiao appears, greeted by a throng of cameras and microphones.
If Rios is completely devoid of filters, Pacquiao's utterances are sifted through a series of them -- to ensure accuracy of language, to avoid any semblance of controversy. Where Rios is voluble and loud, Pacquiao is reticent and quiet.
As he wraps his hands in readiness for his own workout, Pacquiao listens to each question posed to him by a small gaggle of reporters, takes each inquiry on board and seemingly rolls it around in his head for a few seconds, then offers a concise and suitably sanitized response.
And yet, for anyone looking for signs of intrigue, even PacMan's considered answers showed hints.
Asked what he thought about Garcia and Rios suggesting their best chance would come in the later rounds, Pacquiao offered only that such things were easy to say, and he smiled when it was suggested to him that it wouldn't necessarily be easy for his opponent to survive into those later rounds. Prompted to describe his foe's most dangerous attributes, he suggested that Rios might be better served to say less and save his talking for the ring. And when it is pointed out to him that Rios has said he hopes to send Pacquiao into retirement, the Filipino icon responded that only God can tell him when to retire. "Brandon Rios," he said, "is not greater than God."
It wasn't exactly Mike Tyson grabbing his crotch and launching into a profanity-laced tirade, but by Pacquiao's gentle standards, those were some major burns. And there are enough subplots to the contest -- Ariza's somewhat acrimonious departure from Team Pacquiao and subsequent partnership with Rios;
the burgeoning rivalry between Garcia and Pacquiao trainer Freddie Roach
; and Rios being captured on camera a few years ago apparently mocking Roach's Parkinson's disease (and don't think Pacquiao, for one, has forgotten about that) -- to suggest that maybe, just maybe, there is a genuine needle between the two sides.
Sometimes, opposites attract. Sometimes, they're just opposites. And when opposites meet in the ring, the result is often an intriguing and even explosive clash. Boxing fans will be hoping for just that on Saturday night.
November, 18, 2013
11/18/13
11:45
AM ET

MACAU, China -- "You know what the funniest thing about a fight card in Macau is?"

"What?"

"It's the little differences. Fight week in a casino in China is a lot like fight week in a casino in Las Vegas, but it's just a little ... different."

"Examples?"

For folks following fight-week proceedings on HBO and online, any divergences between this Saturday's card, headlined by Manny Pacquiao's welterweight tussle with Brandon Rios, and the usual Vegas fare are likely to be minimal at most. The final prefight press conference, scheduled to kick off at 8.30 a.m. ET on Wednesday, is somewhat earlier in the day than usual; the weigh-in, slated to take place at 6 p.m. ET on Friday, is perhaps a smidgen later. But the HBO PPV broadcast kicks off at 9 p.m. ET on Saturday night, as always; the main event is billeted to kick off around 11:15 p.m. ET or so, as is normally the case.

On the ground in Macau, though, where local time is 13 hours ahead of New York and Washington, D.C., the distinctions are somewhat more noticeable. The press conference is late at night; the weigh-in is very early on a Saturday morning. And the fight card itself will get underway bright and early on Sunday.

Not that Brandon Rios professes to be bothered by any of that.

"I've been here already for one week, and I already got used to the time difference," he told a small group of reporters, all of whom had been in Macau for approximately four hours, in his suite at the Venetian Macao on Monday. "Actually, today was the first time I woke up at the right time, not waking up at 4 or 5 in the morning like I was before. I woke up at 7, 8 o'clock, right before training at 9, and I feel great."

As for fighting in the morning instead of late at night? That, said Rios, shouldn't pose a challenge, either.

"If you're a fighter, you don't care what time you fight, as long as you have an opponent in front of you," he said. "I don't care who I'm fighting, where I'm fighting or what time it is. As long as he's in front of me and he's ready, that's all that matters."

Besides, as trainer Robert Garcia pointed out, it isn't as if Rios is the only one facing an unusual schedule. Pacquiao will be fighting at the same time -- it would be an unusual and unentertaining spectacle if he weren't, after all. And in fact, the start time potentially makes for a seamless segue for Rios, whose fight-week training schedule is from 9 a.m. to 11 a.m. each day in on-site facilities that the two camps must share.

"When I got here, they asked me what time we wanted to train," Garcia told reporters after they had spoken with Rios. "I said around noon, and they told me, 'Sorry, you can't train at noon, because Freddie Roach took 11 to 4. Five hours? So I figure that's kind of on purpose, to [mess] with us a little so that we have to train either early or late. Five hours? Who the [heck] trains for five hours? 'Oh, he's got two fighters on the card.' So do I. I've got Evgeny Gradovich, too. We're going to train him and Brandon together, at the same time. But I don't let that affect my fighters or my team. We're waking up early anyway. Around that time [on Sunday] Brandon will likely be walking to the dressing room anyway."

Garcia smiled. "Hey, they can get away with things like that. Maybe after this fight, we'll be the ones who can do that."
June, 16, 2013
6/16/13
1:16
AM ET

DALLAS -- The extra weight Mikey Garcia kept on in failing to make the mandatory 126-pound weight limit meant something on Saturday night.

It allowed Garcia to put forth a dominant performance against Juan Manuel Lopez to remain undefeated by scoring a TKO at 1:34 of the fourth round at the American Airlines Center in a featherweight title bout.

Garcia's victory means he most likely will leave the featherweight division and move to super featherweight.

Garcia (32-0, 27 KOs) lost his belt on the scales on Friday afternoon at the American Airlines Center when he failed to make weight. He had to vacate the title and give his opponent a six-figure settlement as punishment for the extra weight.

"Well, the belt, it's mine to keep," Garcia said. "It's on the record books now, but sadly I didn't expect that. It does upset me. I was actually walking to the weigh-in and I was upset, and I was crying a little bit that I was no longer champion."

In the ring, Garcia won all four rounds, dropping Lopez twice as he used a stifling jab to set up the knockdowns.

The first knockdown came on a straight right that sent Lopez down in the second round. The final knockdown was set up by a straight right hand followed by a left hook to the nose, sending Lopez flat to his back. Over nearly four rounds, Garcia's right hand produced swelling under both of Lopez's eyes.

It was easy to see that Garcia was the heavier man and that staying at 126 pounds is no longer in his future.

A potential fight with super featherweight titlist Rocky Martinez could be in the works for Garcia by the end of the year.

If you don't believe Garcia is ready to move up, review his work from Saturday night:

His punches, no matter how long or short, came with power and pushed Lopez back. Garcia weighed 141 pounds on Saturday night, and his trainer and older brother, Robert Garcia, said the added weight didn't affect his fighter.

Lopez, on the other hand, felt the effects quickly.

"I thought I hit him with a couple of shots and he took them very well," Lopez said through an interpreter. "It surprised me and it let me know he was a lot bigger and a lot stronger. I was hoping to take him in the later rounds, hoping he would get tired for making the weight, but it didn't work out that way."

Garcia normally takes his time when he fights. He waits for his opponent to make mistakes before taking over. Saturday night, he started faster, throwing a jab then stepping away and waiting for Lopez to do something.

Lopez wanted to wear his opponent down but couldn't because Garcia's punches were wearing him down instead.

When his night was over, Garcia was talking about staying at featherweight. But that's not happening if he wants to continue to struggle to make the weight. He says he felt dizzy at times when he tried to make weight.

"I feel like I could fight here and regain my title," he said. "But there is still an option to move up to 130, and if I decide to stay at 130 because I feel comfortable there after I try it, I may decide to stay there. But I really want to come back to 126. I think this is where I belong. I'm the featherweight champion of the world, and I think this is where I belong."

That might still be true in Garcia's mind. But his body, and the reality of the situation, say he's moving up.
March, 29, 2013
3/29/13
6:27
AM ET
By
Julio Gonzalez
| ESPN.com
OXNARD, Calif. -- Like most any Mexican or Mexican-American boxer today, Brandon Rios grew up captivated by the performances of Julio Cesar Chavez.
Inspired by the Mexican idol, Rios visualized himself from a very young age as a future world champion, going forward at all times in the ring, just as Chavez did. He also imagined himself wearing one of those green belts worn by champs such as Chavez. Those moments left a lasting impression.
"I'm half Mexican and half American, so that belt means a lot to me," Rios said. "Since I was a kid I wanted that belt; I told my dad I wanted the green belt of the World Boxing Council."
Rios didn't have the opportunity to fight for a WBC world title when he fought in the lightweight division. And now, as a junior welterweight, he isn't in the mix to earn the WBC title because of conflicts between promotional companies.
What's left for the Lubbock, Texas native is to deliver another dominant performance on Saturday when he faces Mike Alvarado (33-1, 23 KO) in a rematch of one of the best fights of 2012.
In last October's action battle, Rios got the better of the fighters' exchanges and won by seventh-round TKO, winning the respect of fans. In the rematch, he'll be fighting for more tangible stakes: a vacant junior welterweight interim title and, most likely, the chance to face the 140-pound elite and become a legend in his own right.
Rios (31-0-1, 23 KO), 26, believes he's ready to emerge, but he has no problem admitting the obvious: "I'm not the best yet. To be the best, you have to face the best."
Rios says he has watched video of the first fight at least 200 times, claiming he has detected his opponent's errors as well as his own -- he says he'll use more head movement this time around -- and is certain he'll win.
"I give it five or six rounds this time," Rios said. "I guarantee a victory. I never guarantee anything, but this time I feel very confident."
Predicting a knockout win within any number of rounds is a bold enough statement, and Rios acknowledges Alvarado as a plus-size junior welterweight and a hard-hitting warrior who will have extra motivation after coming up short in their first meeting. Still, Rios can't get over how great he feels at 140 pounds.
"My weight is perfect now," Rios said. "One-thirty-five was difficult -- it was killing me to make that weight. Now I'm making 140 easy and I feel great."
Trainer Robert Garcia believes that Rios has not only avoided losing his typical power advantage since moving up in weight, but that he has actually increased it.
"I can assure you that he has gained strength," Garcia said, "because those five pounds off hurt him, he would lose so much muscle."
For this camp, Garcia increased the number of sparring rounds for Rios, estimating that his fighter put in somewhere in the neighborhood of 170 or 180. The trainer also added track work, including sprints, to improve Rios' quickness and explosiveness.
"We are ready for whatever Alvarado could bring," Garcia said. "He has to change -- he lost the first fight. We are prepared in case he wants to box or if he wants to stand up and exchange blows."
June, 8, 2012
6/08/12
11:15
AM ET

Cameron Dunkin is a prized persona in the fight game, from a writer's perspective, because he will often traffic in the truth. Sure, he has his moments when he plays his cards with a politician's instincts, but by and large, he will speak his mind honestly when asked.

The manager admitted that the mental/physical/spiritual/emotional/technical reclamation project that is Kelly Pavlik looked like "doo-doo" in his first fight at 168 pounds, against Alfonso Lopez on last May's Manny Pacquiao-Shane Mosley undercard. Yes, the former middleweight champion scored a win, but one judge had it even, and many wondered whether too much outside-the-ring drama had cut short Pavlik's efficacy. Hell, Dunkin wondered as much. But new trainer Robert Garcia, when he and Pavlik hooked up in January, talked him off the ledge.

"Give me to September," Garcia told Dunkin. "By that third fight, Kelly will be ready to do something -- he can tangle with anybody at the top level."

Pavlik (38-2, 30 KOs), 30, famously born and raised in Youngstown, Ohio, relocated earlier this year to California to work with Garcia and for a fresh start after battling a drinking problem. The early returns are promising. He looked loads better in taking out Aaron Jaco on March 31, scoring a second-round TKO victory and showing that his hand speed and crispness were back in form. Tonight, Pavlik will take a quarter-step up in competition when he headlines "Friday Night Fights" against Scott Sigmon at the Hard Rock in Las Vegas as he continues to work on acclimating to a new weight class (and lifestyle).

Sigmon (22-3, 12 KOs), the underdog, is a 25-year-old Virginia resident and winner of six fights in a row. A self-motivated type who promotes the heck out of himself, Sigmon makes a solid living selling tickets to his bouts and sponsorships, and he even trains himself. He knows that movement bothers Pavlik, but he's self-aware enough to know that this isn't his strength. He likes to exert pressure, and so does Pavlik, so this could be a good style matchup. Sigmon certainly seems to think so: "This will be an early candidate for fight of the year," he said.

Dunkin, again offering a surprising and refreshing degree of truth, acknowledges that Sigmon isn't close to the level of competition that Pavlik was beating a few years ago.

"I know Kelly is not in with the greatest opponent in the world, but if he looks anything like he looked [against Jaco], he'll be ready to fight some top guys by September, and after that, he'll be ready to fight for the title. I think he's got several more years left in him at the top level. I think he's going to be a big deal in boxing again."


---

Friday also marks the return of prospect Mike Lee (8-0, 5 KOs), of Chicago, who had a busy-as-hell 2011, during which he went 5-0. But Lee hurt his right hand against Allen Medina in New York on the Cotto-Margarito undercard in December and then had surgery to repair it in January. He told me he got down for a week or two, but like all successful types, he turned the negative into a positive.

"I thought, 'What am I gonna do? I can't punch.' Then I said, 'Let's make this a blessing.'"

So Lee went to the gym with trainer Robbie Shields and drilled on refining his jab and his defense.

"I'm so much more comfortable with the jab and head movement," Lee said. "In the last three months, people who see me sparring say it looks like a new kid."

Now he's looking to show off the new bells and whistles against Mexico's Eliseo Durazo (4-2, 1 KO) at the Hard Rock.

Lee is known in some circles as "the Subway boxer guy" because he snagged a national TV commercial for the sandwich chain in the fall of 2011, and has since been re-signed by the company. He totally appreciates the exposure, but admits that he is burning to be recognized much more for his ring prowess than for his acting chops.

"In the near future I want to be known not just as 'the Subway kid,' but as a world champion."
November, 30, 2011
11/30/11
1:16
AM ET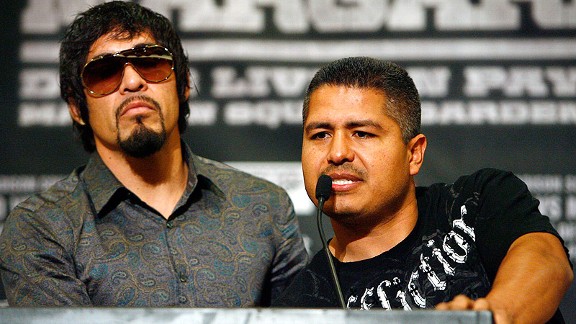 Chris Farina/Top RankAntonio Margarito's surgically repaired right eye is ready for battle, says trainer Robert Garcia.
NEW YORK -- Pretty much everyone in the building on Saturday night expects Miguel Cotto to play "Pin the Glove on the Eye" on that messed-up, iffy right orb of Antonio Margarito.
I know what the doctors, a whole bunch of them, say: that the eye is fit to fight, that the Mexican-born hitter isn't any more susceptible to damage in his right eye than in his left. I accept that on face value. But if it were me in there, I'd like to do some tests myself.
I'd like to go at that thing without remorse, and test the doctors' theory. It's a pretty good bet that we'll see more jabs than usual from the Puerto Rican boxer this weekend at Madison Square Garden, and that his hook will be cookin' from minute one. He will be testing the doctors' findings for as long as the fight lasts.
Margarito's trainer, Robert Garcia, expects the same. He told ESPN.com that he asked sparring partners in camp not to steer away from the eye, but to target it, as he expects Cotto to do.
"I'm not even worried about the eye," Garcia said. "We have nothing to hide. We had [HBO's] '24/7' in camp and I never tried to prevent left hooks. I asked sparring partners to throw more jabs and hooks to get ready for it, because I know Cotto will. We have no worries about the eye. Like the doctor says, the same thing could happen to either eye. And if something happens, that's part of the sport."
Garcia was a more-than-fair pugilist in his day; he boxed from 1992 to 2001, and won a super featherweight crown while accruing a 34-3 mark. He lost three of his final five bouts, each time by KO, so he well understands the feeling and risk of getting tagged.
I wondered if he would have soldiered on if he had had surgery on a busted orbital bone, surgery to fix a detached retina and surgery to fix a cataract within a span of six months, as Margarito did. Garcia said he would if the doctors told him he could.
"He's healthy, the vision is good, and I was telling sparring partners to throw more left hooks," Garcia said of Margarito. "We have to be ready for that."
The trainer said he foresees a stoppage win for his guy.
"Last time, it was Round 11, and I see a similar kind of fight. I don't think Cotto is as fast and as strong as at welterweight, so it could happen maybe two rounds earlier."
I have a vision of that right eye getting puffed up quick, and it being a drag on Margarito. What about you, readers?