September, 11, 2013
9/11/13
10:12
PM ET
Floyd Mayweather Jr. isn't particularly known for humility, but when discussing his most recent performance against Robert Guerrero in May, he holds no punches.

"I can rate myself," Mayweather said, at Wednesday's final press conference. "In the Robert Guerrero fight, I gave myself probably a 'D' I wasn't impressed with myself. I knew I could have done better."

Judges scoring the bout in Las Vegas disagreed, awarding Mayweather unanimous scores of 117-111. The welterweight title fight was Mayweather's first appearance after serving a two-month jail sentence for a domestic battery case.

"I had been off a year. My body had totally changed," Mayweather said. "I got big from doing pushups every day. Things happen in this sport and we live and we learn, but I wasn't impressed with myself. I go back and watch that fight and say to myself, 'I look like s---.'

"I know me as a fighter and I could have done better, but this fight I'm going to be totally different. Watch."

July, 14, 2013
7/14/13
1:41
PM ET
By
Salvador Rodriguez
| ESPN.com

MEXICO CITY -- Saul "Canelo" Alvarez departed Mexico last week as a world titlist, and when he finally returns home, it could be as boxing's new pound-by-pound king.

On Monday, Alvarez boarded a private jet bound for Los Angeles, where he is stopping over before setting up camp in Big Bear, Calif. He'll train at the popular high-elevation destination for the next 55 days in advance of his Sept. 14 challenge of Floyd Mayweather Jr. in Las Vegas.

Alvarez was joined by Jose "Chepo" Reynoso, Eddy Reynoso, Canelo's brother Ricardo Alvarez and a trainer for the trip.

"We are really excited, thrilled, and for good reason -- because we are confident about Saul's capacity and quality, besides the hard work that we will do to get the victory," Reynoso told ESPNDeportes.com. "It is the fight of our lives. Not only for Canelo, but for all of us."

Team Alvarez spent the week in L.A. evaluating potential sparring partners who can join the group for sessions in Big Bear and replicate Mayweather's style. When asked about the strategy Alvarez's team is outlining for the fight, Reynoso said that it's Mayweather who should be worried most.

"You'd better ask Mayweather how is he planning to beat Canelo -- that's the more accurate question," Reynoso said. "Because Canelo is not [Juan Manuel] Marquez, [Victor] Ortiz, [Robert] Guerrero or [Miguel] Cotto. He is a different fighter. Ask him how he is going to defeat Canelo, because we already have figured out how to win."

Reynoso believes that Canelo will have extra motivation against Mayweather, in addition to an opportunity to face the world's best fighter: the chance to earn a spot in Mexico's boxing lore, alongside the names of Julio Cesar Chavez, Marco Antonio Barrera and Erik Morales. He says Canelo has a chance to become a new national icon.

"It comes at the right time," Reynoso said. "Saul is the top draw in Mexican boxing right now, and he's also earned his spot in the international boxing world, like he did in the United States, because that's where the top boxing material is. Mexico is eager for a new icon, and it's the right time since all the big names like Chavez, [Oscar] De La Hoya, Barrera, Morales are long gone.

"Many people say that Saul needed two or three more fights, but we've known him for a long time, and we are sure it's the right time to show the world that on Sept. 14 there will be a new king. We are looking forward to ending Mayweather's reign and letting Canelo start his own."
May, 13, 2013
5/13/13
9:34
PM ET
It was just a week ago that, along with everyone else with even a passing interest in the sport of basketball, I found myself asking, "Who is that idiot who voted for Carmelo Anthony over LeBron James for NBA Most Valuable Player?"
Turns out there were four fingers pointing back at me and I'm the idiot.
To clarify, I'm not the guy who cast a vote for 'Melo. But if being the lone dissenter on a sports media panel makes you an idiot in the minds of the majority, then I'm just as bumbling.
[+] Enlarge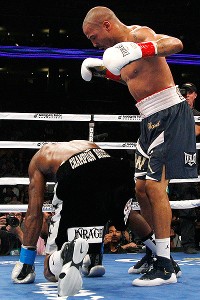 AP Photo/Jeff ChiuAndre Ward stands tall -- even above Floyd Mayweather Jr. -- by virtue of his superior résumé, including last September's TKO of Chad Dawson.
Granted, the sole Carmelo-over-LeBron voice was heard among 120 other voters, which makes for a much sorer thumb than being the contrarian among a field of 10. But I'm a sore thumb just the same, the only one of ESPN.com's 10 pound-for-pound voters who still ranks Andre Ward No. 1.
Going into Floyd Mayweather Jr.'s May 4 fight with Robert Guerrero, there were three of us. But Teddy Atlas and Joe Tessitore both abandoned me and moved Mayweather back into their respective top spots a week ago, and when the new rankings were published, there was Floyd with 99 of a possible 100 points. I was suddenly the only thing preventing him from being a unanimous choice.
It's a bit uncomfortable knowing every one of your peers (at least among these nine particular peers) disagrees with you. But I stand by my rankings. I don't dispute Mayweather's ability in the least and I understand why most people rank him No. 1, but I still believe Ward is the best boxer in the world, pound for pound, at this moment.
I actually wrote a year ago on Grantland
, just prior to Mayweather's fight with Miguel Cotto, that I felt Ward might already be the best in the business, only without the signature win to justify ranking him No. 1. A few months later, Ward, the lineal champ at super middleweight, dominated and stopped Chad Dawson, the lineal champ at light heavyweight. He had the signature win. He validated my suspicions. He became, for me, a downright obvious choice, particularly with Mayweather having struggled more than most observers expected he would with a past-prime Cotto.
Against Guerrero, Mayweather gave one of the more sterling performances of his lengthy career and erased the doubts raised by the Cotto fight. But was one great performance against a solid opponent enough to change the order at the top for those who previously favored Ward? Especially given that Ward's most recent performance was even more dominant, much more physically destructive, and came against Dawson, a better all-around fighter than Guerrero? For me, no. Not quite.
Part of the argument against Ward is that he's coping with injuries, hasn't fought in eight months and probably won't fight for another three or four months. That's fair, and if his inactivity extends to a full year, he'll need to be dropped from the rankings, per ESPN.com guidelines, at that time.
But if we look at recent history -- not just the last few months when Ward hasn't fought, but going back to the start of Mayweather's un-retirement in 2009 after a 21-month break from the sport -- I believe Ward has the superior résumé.
Mayweather has beaten some high-profile foes, but there are asterisks almost everywhere: He didn't try to make weight for the Juan Manuel Marquez bout, thus gaining an unsportsmanlike advantage he never needed; he sucker-punched Victor Ortiz, again taking a legal but unnecessary shortcut; he got rocked by Shane Mosley; he had a tougher time beating Cotto than Austin Trout did a few months later.
Again, they were all quality wins, and Mayweather is undoubtedly still very close to the peak of his powers. But Dawson, Mikkel Kessler and Carl Froch were all pound-for-pound top-20 fighters when Ward convincingly beat each of them, and in Ward's lesser tests, he might not have lost a round to Allan Green, Sakio Bika or Arthur Abraham. In fact, he hasn't lost more than two rounds to anyone in his entire professional career except for maybe Froch -- who, by the way, currently resides one spot outside
ESPN.com's current P4P top 10
.
Stylistically, Mayweather fights in a manner that makes his greatness more obvious, more tangible. There's an aesthetic beauty to the way he boxes that Ward lacks. Ward doesn't have Mayweather's ridiculous hand speed or reflexes. But Ward's boxing brain is a wonder. It's perhaps the greatest weapon that exists in boxing today.
Ward fights in a style reminiscent of Bernard Hopkins, mauling and negating and nullifying without producing a preponderance of oohs and aahs. Mayweather, meanwhile, is capable of some of the spectacular displays of athleticism that Roy Jones Jr. used to offer in his prime. It's no surprise that Jones spent a lot more time at No. 1 on the P4P list than Hopkins did. But history will be more kind to Hopkins because history doesn't care as much that his style, like Ward's, is a turn-off to many fans.
Another flaw of most pound-for-pound rankings is that, typically, it takes so long to
prove
your greatness that it isn't recognized until you've started to decline. Mayweather wasn't considered boxing's pound-for-pound No. 1 when he was at his absolute best, eviscerating Diego Corrales in 2001. He wasn't even No. 2 or 3; most people had the more proven Jones, Shane Mosley and Felix Trinidad ahead of Mayweather after Floyd, in his true prime, scored the greatest victory of his career.
At 29, Ward is currently in his prime. He has sufficiently proven his worth at the elite level to me over the past four years. I'll drop Ward if he isn't ready to fight by September or if, when he does fight, he doesn't perform as effectively as Mayweather did against Guerrero. But for now, to my eyes, Andre Ward is the best there is.
And if all nine of my colleagues at ESPN.com believe differently, that's fine. It doesn't make them wrong. But it doesn't make me wrong, either.
May, 3, 2013
5/03/13
4:32
PM ET
LAS VEGAS -- When Robert Guerrero enters the ring to face Floyd Mayweather Jr. at the MGM Grand on Saturday night, his trunks will bear the logo of an organization called Be The Match, a nonprofit entity that runs the national registry of potential bone marrow donors.

It is, of course, a cause dear to his heart, given that his wife Casey was diagnosed with leukemia in 2007 and relapsed three times before finding a matching marrow donor. She underwent a successful transplant in 2010 and has since been declared cancer-free.

"My wife was fortunate to find a marrow donor," Guerrero said. "But there are thousands of other blood cancer patients out there who still need a match. So I'm spreading the word: Go to BeTheMatch.org and join the Be The Match registry. You could be someone's cure."

May, 2, 2013
5/02/13
10:13
AM ET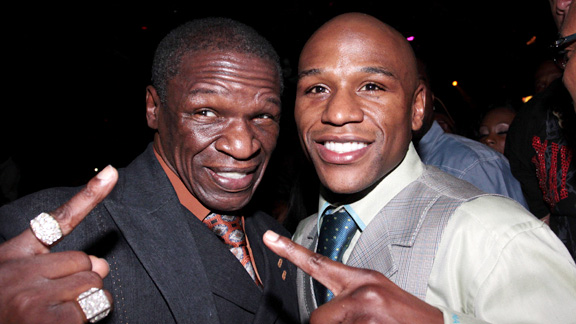 Johnny Nunez/Getty ImagesFloyd Mayweather Sr. has encouraged his son to focus on getting his rest throughout training camp.
LAS VEGAS -- After years of simmering turmoil that came to a boil with an emotional argument in front of HBO cameras in 2011, Floyd Mayweather Sr. and Jr. are -- for now at least -– reconciled, with Mayweather pŔre returning to his son's corner for this Saturday's clash with Robert Guerrero.
But while the proximate cause of Floyd Sr. taking the place of his brother Roger as the younger Mayweather's trainer is Roger's declining health, the switch has also apparently resulted in a slight change of philosophy in the Mayweather Boxing Gym.
Call it "Hard Work, Relaxation."
"There's certain things only my dad may see in the camp," Floyd Jr. said in a laidback session with reporters at the MGM Grand on Tuesday. "For this fight, I made sure I got more rest. My dad said, 'You need the rest. And when you've rested, you can come back and box in the gym and you're going to look a lot better.' And he was right."
It's a situation he contrasts with the build-up to his most recent contest, a grueling 12-round win over Miguel Cotto in the same ring one year ago.
"I think I was overworked for the Cotto fight. I think I probably overtrained for the Cotto fight," Mayweather Jr. revealed.
And while he is legendary for his workouts and his fitness, he says there is one particular aspect of that camp that worked against him.
"I did more boxing for the Cotto camp. I'd come into the gym and one day I'd box 12 rounds and the next day I boxed another 12 rounds, and the next day I'd come back and do 10," he said. "And we're talking all of this within five days, so that's a lot of wear and tear on a body. But I shouldn't even have been making the mistakes I was making in the Cotto fight. I wasn't the best Floyd Mayweather. But I'm not crying or complaining. I got the job done."
May, 1, 2013
5/01/13
2:51
PM ET
LAS VEGAS -- There are elements of Floyd Mayweather's welterweight title fight with Robert Guerrero on Saturday that bring to mind his 2011 tilt against Victor Ortiz. Both Guerrero and Ortiz earned their shots on the back of impressive victories over Andre Berto, for one. Mayweather gives the impression of being as dismissive of Guerrero's chances as he was contemptuous of what Ortiz brought to the table, for another. (In contrast, the build-up to his contest with Miguel Cotto last year was marked by mutual respect from both sides.)

There's something else, too. Mayweather couldn't abide the constant prefight references to Ortiz's famously difficult childhood -- in which first his mother and then his father deserted he and his siblings. Mayweather hinted that there was less to the story than met the eye and even promised to invite Ortiz's father to the fight. He also fumed at the attention the Ortiz upbringing received on HBO's 24/7 series.

It appears he feels much the same way about the seminal element of the Robert Guerrero story -- in which he took time out from the ring to help care for his ailing wife Casey, as she battled and ultimately defeated leukemia.

"Do I feel bad about the situation his wife went through? Absolutely," Mayweather said on Tuesday. "But trying to gain fans by having the sympathy story every week, I don't think that's a good thing. I'm glad that his wife was able to beat the leukemia. I don't feel anyone should have to go through a situation like that. But we all go through certain things. But I think just to gain fans, you're using your wife's story, you're using a sympathy story. I'm glad she was able to beat leukemia, that's a great thing. And I'm glad those two have such a great bond. But I don't like every week they keep selling the same story."

And then, in typical Mayweather style, he took the opportunity to take one more dig, a riposte to Guerrero's arrest after he declared and attempted to check a handgun at New York's JFK Airport -- an arrest that came after Guerrero had pointedly referred to Mayweather's incarceration for assault last year. It is possible, although unlikely, that Guerrero may himself face jail time for the firearm charge.

"The main thing that he really needs to focus on at this time is that he's going away to do time after the fight," smiled Mayweather with apparent satisfaction. "He was pointing the finger and talking trash about me, and now you have to go and do time."

May, 1, 2013
5/01/13
1:58
AM ET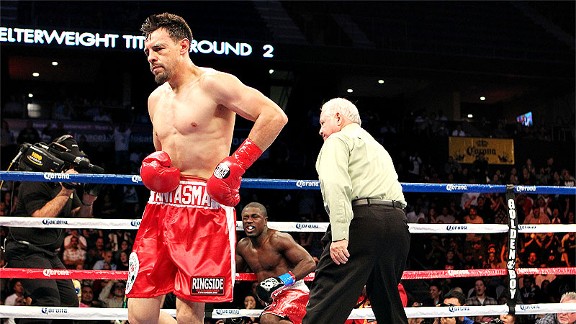 Tom Hogan/Hoganphotos/Golden Boy PromotionsRobert Guerrero put Andre Berto down last November, but couldn't get him out in a grueling decision win.
LAS VEGAS -- Robert Guerrero earned his shot at Floyd Mayweather Jr. on Saturday partly because he is the mandatory challenger to Mayweather's welterweight belt, and partly because, after calling him out for what seemed like years on end, the former featherweight proved he could compete at a high level at 147 pounds in a gritty win over Andre Berto last November.
Most observers were impressed by Guerrero's in-the-trenches, brawling win over Berto. Mayweather affects not to be one of them.
"Any time you close both a guy's eyes, you're supposed to be able to finish him. But Berto was still able to close
his
eye," Mayweather sniffed during a conversation with reporters on Tuesday. "So I look at certain things like that, absolutely. Then I look at certain things like [Joel] Casamayor going the distance with him at age 40 [actually 39 when they fought in July 2010]. Is this guy on the same level as a Floyd Mayweather? Or having a dogfight with [Michael] Katsidis, and then you've got guys like [Juan Manuel] Marquez knocking Katsidis out.
"He was grappling when he fought Berto. I think Berto's a good fighter, but I don't think he has the movement of a Floyd Mayweather. He don't have the angles I move. I don't think his résumé is like mine. Is Andre Berto a better fighter than Miguel Cotto [whom Mayweather defeated last May 5]? Ask yourself that question. Do you think Andre Berto can go the distance with Miguel Cotto? Absolutely not. I'm not saying he's not a good fighter, but he won't be able to go the distance with a Miguel Cotto that's in top shape like he was when he fought me."
May, 1, 2013
5/01/13
1:19
AM ET
It's one of the best months on the sports calendar: May is home to several iconic sporting events, including the Kentucky Derby (on Saturday), the start of the French Open and the Indianapolis 500 (both on May 26).

The month also marks the return of boxing's best pound-for-pound fighter, Floyd Mayweather Jr. (43-0, 26 KOs). The five-division champ will put his welterweight title on the line against Roberto Guerrero (31-1-1, 2 NC, 18 KO) on Saturday in Las Vegas. Mayweather's career has become synonymous with the fifth month on the calendar. Seven of his career wins have come in May -- more victories than he has in any other month.

Among Mayweather's seven May victories are a split decision over Oscar De La Hoya and his most recent win, a unanimous decision against Miguel Cotto. Those fights are the two highest-grossing non-heavyweight bouts in pay-per-view history. Mayweather-De La Hoya, in particular, generated 2.46 million buys and $137 million in pay-per-view revenue. Both are all-time records in any weight class.

That's good news for Showtime, which inked Mayweather to a six-fight, 30-month deal in February. Saturday's fight will mark Mayweather's debut on the network.

Mayweather's opponent, Robert Guerrero -- a former titleholder at 126 and 130 pounds -- has never lost in May (2-0, both knockouts).
November, 25, 2012
11/25/12
1:32
AM ET
By
Brian Campbell
| ESPN.com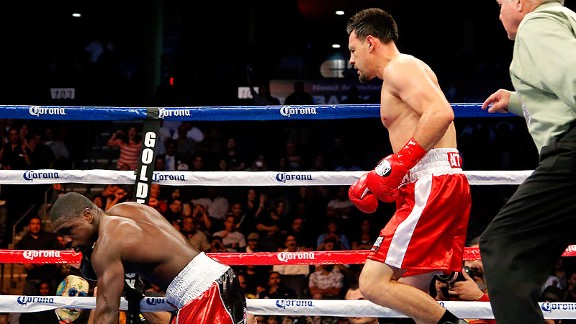 AP Photo/Jae C. HongRobert Guerrero banked two early knockdowns before outlasting Andre Berto in a riveting brawl.
If Saturday's welterweight bout between interim titlist Robert Guerrero and former belt holder Andre Berto served as a de facto audition for a shot at pound-for-pound king Floyd Mayweather Jr., consider Guerrero an intriguing candidate.
The former lightweight and featherweight titlist, who spent nearly his entire career at or below 135 pounds, transformed Saturday in just his second bout at 147 pounds from a slick southpaw boxer to a mauling and aggressive welterweight.
Guerrero (31-1-1, 18 KOs) defended the title he won from Selcuk Aydin in July with a grueling -- and often dirty -- unanimous decision win (116-110 on all three scorecards) in a crowd-pleasing main event at Citizens Business Bank Arena in Ontario, Calif. ESPN.com scored the bout 114-112 for Guerrero.
The bout resembled a street fight, not merely because both exhaustedly traded heavy punches at close range despite badly swollen eyes, but because of how liberally it was officiated by veteran referee Lou Moret, playing perfectly into Guerrero's hands.
The native of Gilroy, Calif., overcame speed and power advantages from the talented Berto by consistently smothering him against the ropes -- often leading with his head -- and bullying him with body shots and short hooks.
"I told Andre that I was going to beat him down so I had to be a man of my word," Guerrero told HBO's Max Kellerman after the bout. "He defended himself like a true champ. I knew I had to turn it into [a brawl] because he has those fast hands and that hard punch."
While Guerrero proved he carried his power well after moving up two weight classes by knocking Berto down twice in the opening rounds, it wasn't without a bending or two of the rules. Guerrero held the back of Berto's head with his right hand and clubbed him with a series of lefts -- including some to the back of the head -- in the sequence that led to the first knockdown.
Berto (28-2, 22 KOs) did his fair share of holding, as well, which led to the majority of the bout being contested in a phone booth, with Guerrero bulldozing forward and Berto backed up to the ropes. But it appeared Berto was the only fighter receiving consistent warning from Moret, partially due to some veteran tactics taken from the Bernard Hopkins playbook by Guerrero.
"It's just ridiculous, man. I was real timid to do a lot of things like throw punches on the inside because the referee kept warning me for doing things that I didn't have any control over," Berto said. "I just didn't understand it. He was coming in grabbing and holding me, and every time I got off, the referee kept warning me."
Berto, whose right eye was nearly swollen shut after a rough first round that foiled his plans to box, rallied back in the middle rounds to land the heavier shots, including a right uppercut that staggered Guerrero in the sixth. But Guerrero, who returned the favor by nearly stopping Berto to close the seventh, was simply too busy to be denied.
Guerrero, who outlanded Berto 258 to 182 according to CompuBox, won the bout by controlling the pace and consistently answering Berto's power shots with instant combinations of his own.
For Berto, it was not only his second career defeat, but it might prove to mark the second time he came up just short in an all-action fight with a shot at Mayweather on the line. Berto held a piece of the welterweight title for three-plus years before losing a close decision to Victor Ortiz in a 2011 fight of the year candidate (with Mayweather in attendance). A June rematch with Ortiz was scrapped when Berto tested positive for a performance-enhancing drug.
That leaves Guerrero as a possible candidate for Mayweather, who turns 36 in February and is coming off a three-month stint in jail. And if Saturday's victory was truly an audition for the 29-year-old, he might have upped the ante with his performance.
Known as "The Ghost" for his ability to box, moving in and out with precision, Guerrero switched gears in Saturday's nasty brawl with an even more aggressive game plan than the one effectively carried out by Miguel Cotto, who frustrated and roughed up the undefeated Mayweather in a May defeat.
"I want to fight the best; I'm looking for Floyd Mayweather next," Guerrero said. "'Pretty Boy,' let's do it, you know? I'm here. This is my second fight at 147 pounds and a unanimous decision against a great champion who is no joke. I came and showed up and did my thing."
Saturday wasn't the first time Guerrero went public regarding his desire for a financially friendly -- and potential career-making -- spot as the co-star in a Mayweather fight. But it almost certainly marked the first time the rest of the boxing world was listening.
August, 1, 2012
8/01/12
2:41
PM ET
By
Diego Morilla
| ESPN.com
In the domain of sports, as most everywhere else, it's an obvious and self-evident truth that the space between a champion and runner-up is usually the shortest possible distance to a title, and that second place always falls between first and third.

But in boxing -- an infinite source of surprises and oddities -- this isn't always the case.

Too often, second place (and with it, the right to challenge for first place) isn't given to the most deserving fighter, partly because of the multiplicity of rankings, lists and other methods of classification used in boxing. This anomaly is currently on full display in the 147-pound division, where the still-incarcerated and soon-to-be-released Floyd Mayweather Jr. is recognized as the champion by one of the main alphabet soup organizations, and where former three-time world champion Robert Guerrero earned the mantle of interim champ in a close but well-deserved win over Turkey's Selcuk Aydin on Saturday in San Jose, Calif.

Guerrero's achievement is impressive enough on its own. After having sustained a potentially career-ending injury (a torn rotator cuff in his left shoulder) that would have pushed many other fighters of his age (29) and accomplishments to consider early retirement, Guerrero soldiered on toward a seemingly unthinkable new challenge: making a two-division jump to face a top contender such as Aydin (considered the favorite in their fight) and with the support of a following from his native Gilroy, Calif., as his only readily apparent advantage.

But attempting to parlay the victory into an opportunity to face the best fighter on the planet, in which Mayweather would be fighting at his natural weight class, is a bridge too far -- and a difficult sell. Boxing's followers are already in a mild uproar about the revival of the old practice of champions defending their titles against challengers who move up from lower weight classes, such as the imminent Saul Alvarez-Josesito Lopez bout. Abusing the tactic again, in a high-profile bout such as Mayweather's first outing after his brief prison stint, would be counterproductive for both fighters.

A case can be made for the need to clarify the legitimacy of the championship, now that both own a piece of the same belt. But let's be reasonable. There is only one title, and it belongs to Mayweather. And we're not just talking about the glorified WBC trinket that hangs in Mayweather's ample trophy case, but also his mythical position as the best pound-for-pound fighter in boxing. The rest of the titles acknowledge temporary achievements in a division in constant change, and in which the best don't always face the best. The notion that Guerrero, an admirable and courageous fighter, should face an established welterweight such as Mayweather after making a single fight at 147 can't be taken seriously.

Just as important, the matter of star power must be taken into consideration. Because it's one thing to amass the requisite achievements to earn a championship bout with Mayweather -- and Guerrero remains a step or two short in that regard -- and a completely different thing to hold up the "other" half of a megafight that demands worldwide attention. Guerrero has a terrific backstory that could one day make for great material on an edition of "24/7," but it takes more than a compelling personal narrative to properly fill the role of Mayweather's dance partner in a pay-per-view event.

And setting aside titles and turnstiles, don't forget that Guerrero should nominally be expected to compete with Mayweather in a fight. Although he's currently riding a solid winning streak, Guerrero has notched every victory by points -- sometimes via generous margin, but never overwhelmingly large -- against a series of no-longer-in-their-prime former champs and respected contenders (Michael Katsidis, Vicente Escobedo, Joel Casamayor and Aydin) who offered a stiff challenge while highlighting a few of Guerrero's weaknesses. A fighter of Mayweather's class wouldn't merely highlight them, though. He'd brutally expose them.

Guerrero now has the difficult task of settling at this weight and proving he can mix it up with the toughest 147-pounders: Devon Alexander, Marcos Maidana, VÝctor Ortiz, Andre Berto and/or Amir Khan. Perhaps Mayweather will be waiting for him at the end of that path. And so will fight fans, who have grown fond of Guerrero's warrior attitude and terrific skills.

But whatever the case, let's not hold our collective breath or clear our schedules for Mayweather-Guerrero, at least not for the next 12 months.