Boxing:

Rodrigo Azurmendi
March, 5, 2014
Mar 5
3:03
PM ET
By
Rodrigo Azurmendi
| ESPNDeportes.com
OAKLAND, Calif. -- Alfredo "El Perro" Angulo opened camp in Northern California with the same cordiality as always when talking about the preparation for his next fight.
The Mexican will lock horns with countryman Canelo Alvarez on Saturday at the MGM Grand in Las Vegas in a fight that will match two opponents who are coming off defeats.
Angulo looked relaxed and in a good mood as he remarked that he liked his camp, meticulously run by Virgil Hunter.
"All has gone perfectly," Hunter said. "We are already waiting for the preparation phase to get behind us so that we can then go to Vegas and fight."
Angulo avoided stressing any specific area of focus, but said he is ready for everything.
"We have truly worked on everything, including the slightest detail that could concern us," he said. "I think that we have done a phenomenal all-around preparation."
For Angulo, this will not be just another box office fight in his career. It will be the chance to avenge his last loss to Erislandy Lara, when he was unable to continue due to an injury.
"I think everyone saw what happened," he said. "My eye was completely swollen. Nothing could be done, and they stopped the fight. We'll keep working."
The fight against Lara was high profile, with the Cuban boxer hitting the canvas and Angulo kissing the mat one time on his own before having to withdraw in Round 10 due to a fracture of his left orbital bone.
Nevertheless, the Mexicali native said the fight was a learning experience.
[+] Enlarge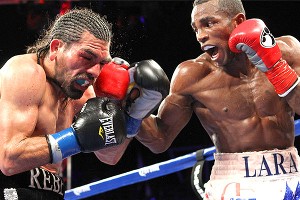 Tom Hogan/Hoganphotos/Golden Boy PromotionsAgainst Canelo Alvarez on Saturday, Alfredo Angulo (left) will attempt to leave his defeat to Erislandy Lara in the past.
"I think that you learn something from every fight, especially in the fights in which I did what was necessary to win and make the audience happy and emotional," he said.
His next opponent will basically be the opposite, given that Alvarez is a much more offensive boxer.
"These are two totally different boxers," he said. "One is an elusive fighter, a boxer, and the other has good, fast hands."
Despite this, Angulo acknowledges that, at the moment, Lara is the better fighter.
"I think Lara is a fighter with a lot of experience on both the amateur and professional levels," Angulo said. "I think that the fight with Lara will serve us well for this fight."
Angulo said he doesn't pay attention to the betting line that pegs his opponent as the favorite.
"Anyone can name anyone a favorite, but the only ones who will climb into the ring, the only ones stepping on the canvas, will be Canelo Alvarez and me," he said.
Regarding the progression of the fight and reading between the lines, it's clear that Angulo wants to have a battle.
"I would like to imagine a certain type of fight, but sincerely, I don't know," he said. "The fight is being called toe-to-toe, and if Canelo wants to honor this, then I'd be happy to oblige. But if not, we are ready. Don't worry."
Despite this, the former Mexican Olympian said that nothing would surprise him.
"The way 'El Perro' will fight, he will be the winner on fight night," Angulo said. "We have done excellent preparation for winning the 12 rounds, and that is all."
Regarding his opponent, Angulo agrees with the majority of experts and fans about Alvarez's performance against Floyd Mayweather Jr.
"I think that [Alvarez] fought a match that disillusioned a lot of people," Angulo said. "I think that many people expected more from Canelo Alvarez that night but unfortunately it wasn't to be."
Despite Mayweather's dominant performance, Angulo lamented not being able to use aspects of the American's strategy due to the stark difference in styles.
"I really doubt it because Floyd Mayweather and I have two totally different styles," he said. "If I were a boxer like Mayweather it would work for me, but we are totally different. He likes more punching. I've seen him fight live, and I can remember it perfectly."
Angulo (22-3) also hoped Alvarez wouldn't suffer from a loss of confidence in the aftermath of suffering his first loss, wanting instead to face the best that Alvarez has to offer.
"Each mind is its own world," Angulo said. "I hope he is 100 percent recovered so we can put on a good show for the people."
September, 29, 2013
9/29/13
3:55
AM ET
By
Rodrigo Azurmendi
| Special to ESPNDeportes.com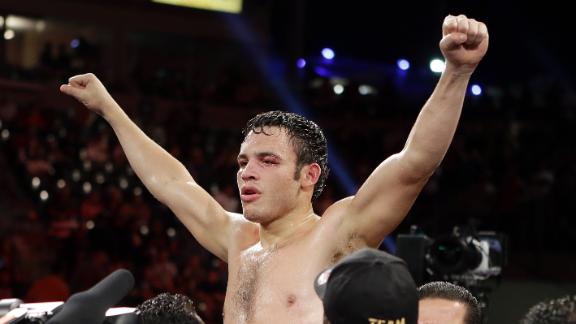 CARSON, Calif. -- No matter how you saw Saturday's main event at the StubHub Center unfolding, Bryan Vera was a victim.
Vera lost a unanimous decision to Julio Cesar Chavez Jr., but the Texas fighter wasn't alone in thinking he had done more than enough to earn the judges' approval.
"I think they know what happened in this fight, and I feel that I won," he said of fans in attendance, many of whom booed the decision -- which was scored 96-94, 97-93 and 98-92 for Chavez. "I was better than him, boxing-wise, and he hit me with a couple of shots because I was being very aggressive, because I felt I had to do that to beat him at his house."
Vera couldn't hide his frustration.
"I'm disappointed," he said. "I'm winning, and my trainer told me I was the winner. When I heard the 98-92 card, I felt they were going to steal it. I felt sick."
Vera said fighting at 173 pounds -- a catchweight that was settled on after the limit had been moved (more than once) from 160 -- favored him, contrary to conventional prefight wisdom.
"I felt like the biggest and the strongest," he said. "I'm a warrior and I sent him backwards the entire fight. He hit me a couple of times because I was moving very fast, but every time, I connected against him."
Vera believes he dominated the fight, moving Chavez around the ring as he pleased and outpunching his opponent, although those factors didn't translate on the scorecards.
After the fight, Vera was outspoken about his wish for a rematch, though he had his doubts that it would happen.
"I would love to face him again," he said. "I don't think he wants to do it."
Vera brushed off the allegations of Chavez, who complained repeatedly during and after the fight of head-butts and low blows.
"I can be messy, and he has a big head, so I can fight the same way," he said. "He was doing what he likes to do. I don't think I fought that dirty."
September, 29, 2013
9/29/13
3:21
AM ET
By
Rodrigo Azurmendi
| Special to ESPNDeportes.com
CARSON, Calif. -- Not that it came as a surprise, but Julio Cesar Chavez Jr. claimed he was a worthy winner after Saturday's unanimous-decision win over Bryan Vera, and he even ventured that he would have finished his foe before the cards were read had it not been for an injury.
Chavez said he was told by the ringside doctor that he had likely broken his right hand, which Chavez said he injured by "snapping" it on Vera's hand in the fourth round.
"I could not finish him," Chavez said. "I hurt him three times in the fight, and in the 10th round he no longer wanted to fight."
Chavez said that had it not been for the injury, he would have knocked out Bryan Vera.
"In the 10th round I hurt him with a punch to the liver," he said. "I really think I didn't knock him out because I broke my hand."
The judges saw Chavez as the unanimous winner, but the scores -- 96-94, 97-93 and 98-92 -- went against most expert analysis and the majority of fans in attendance at the StubHub Center, who booed the announced results.

"I respect everyone's opinion," Chavez said. "People wanted a knockout -- that was the reason."
According to Compubox numbers, Vera outlanded (176 to 125) and outpunched (734 to 328) Chavez, and also connected with more power shots. But Chavez said he landed the better punches in the fight.
"I give Vera my respect because he's a very seasoned fighter," he said. "But he threw a lot of punches that were not effective, and I definitely won most of the rounds and connected with the best shots."
Chavez said his opponent never had any clearly dominant moments, and he claimed that he had the fight under control.
"Maybe in three rounds he had more activity than I did, but he didn't win a clear round," Chavez said.
Chavez said his recent inactivity -- he hadn't fought in a little more than a year -- played a role in what most would consider a disappointing performance, although he again pointed to the injury as the determining factor.
"It affected me a bit," he said of the ring rust, "but I felt bad. The problem was my hand."
And although he praised the work of his father, Julio Cesar Chavez Sr. -- who was working in an official capacity in his son's corner for the first time on Saturday -- and trainer Vladimir Baldenebro, the fighter said he plans to work again with former coach Freddie Roach.
"Freddie is a great trainer, and I want to continue working with him," Chavez said of Roach, who had manned Chavez's corner in each of the fighter's previous seven bouts. "In the corner [against Vera], my dad was pushing me and helped me a lot."
Chavez pointed to an alteration in his style, which included more movement, as being a key to his win.
"We worked a lot more on moving from side to side," he said. "I think that puzzled Vera because he knew I was going to press. I'll keep working to improve it."
Chavez said he would like to fight again in 2013, although that will depend on the status of his hand. What seems more certain is that, despite his opponent's postfight comments seeking a rematch, Chavez won't fight Vera again.
"I'm ready for a rematch, but I don't need it because I clearly won," Chavez said.
September, 20, 2013
9/20/13
8:27
AM ET
By
Rodrigo Azurmendi
| Special to ESPNDeportes.com
LOS ANGELES -- As he gets ready to return to the ring, Julio Cesar Chavez Jr. says he is a more mature man after learning a few lessons along the way.
Chavez Jr. admitted his defeat against Sergio Martinez was a wake-up call.
"I learned to take better care of myself, physically and mentally," said Chavez Jr. "I took too many fights for someone like me that needs to drop all the way down to 160 pounds by dieting and making a lot of sacrifices. Doing it four times in a year really took a toll on me. It hurt me and I wasn't in prime condition against Martinez. I learned to space out my fights, cut it down a little bit."
The former 160-pound titlist (46-1-1, 32 KOs) said his defeat also allowed him to go back to the basics, which once led him to the top of the middleweight class.
"Training at the proper hours [is important]," said Chavez. "Having all kind of weight issues took a mental toll on me, and that led me to train after hours. I didn't feel like doing things, I was weak. A lot of things happened, but I learned my lessons."
That's why Chavez Jr. said his Sept. 28 fight against Texan Brian Vera (23-6, 14 KOs) at the StubHub Center in Carson, Calif., marks the beginning of Stage 2 of his pro career.
"The first [stage] brought a lot of learning along the way," said Chavez. "After a year away, I'm back inside a ring against an opponent that might be low-profile, but he is also really dangerous since he is in his prime."
For the fight with Vera, Chavez will have Vladimir Baldenebro as the lead man in his corner.
"It's not really a change of trainers because Vladimir has been with me for nine years," Chavez said. "Freddie Roach was the most famous name in my corner, but Vladimir has always been there. He got the call to be the leading man since Freddie is currently busy training both Manny Pacquiao and Miguel Cotto."
Chavez also said that he and Roach will work together again after the Vera fight and that there are no issues between the two of them.
"We've talked for like 20 minutes about boxing. We were cool, and Freddie said that all the after-hours training happened only for the Martinez fight," said Chavez, referring to what was aired on HBO's "24/7" reality series.
For the upcoming fight, Baldenebro focused on bringing back key elements that made Chavez successful that were not used against Martinez, such as the left-handed hook and more punching power.
[+] Enlarge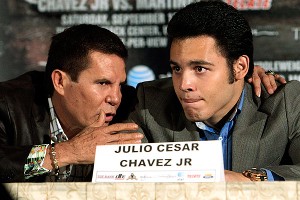 Reed Saxon/AP PhotosJulio Cesar Chavez Jr. will have the guidance of his legendary father in his corner for his next fight against Brian Vera.
"We are doing things my style," said Chavez. "Freddie gave me more explosiveness, but the working atmosphere with Vladimir is more like family, and we know what to do by just looking into each other's eyes."
Chavez will also have his father, Julio Cesar Chavez Sr., as a member of his team, performing a more active role in his corner.
"It will be better, because he will no longer be yelling stuff at the top of his lungs from a distance, he will be able to say those things closer and using a softer tone," Chavez Jr. said of his Hall of Fame father. "Honestly, it was the right decision because his habits were a bit distracting for us. It was not good at all."
Chavez hasn't fought since last September, although he believes being away from the ring for that long will not eventually backfire against him.
"Let's hope it doesn't since I still have a long life left in boxing," Chavez said. "We'll see what happens, but I feel in great shape."
He also said he will remain in the middleweight division only to face specific opponents.
"I will go down to 160 if there are good fights on the table, like the rematch against Martinez, or a clash against Gennady Golovkin," Chavez said. "Otherwise, I will fight at 168, against Sakio Bika or Andre Ward. Those fights are really appealing, but first we must take care of Vera."
August, 27, 2013
8/27/13
3:34
AM ET
By
Rodrigo Azurmendi
| Special to ESPNDeportes.com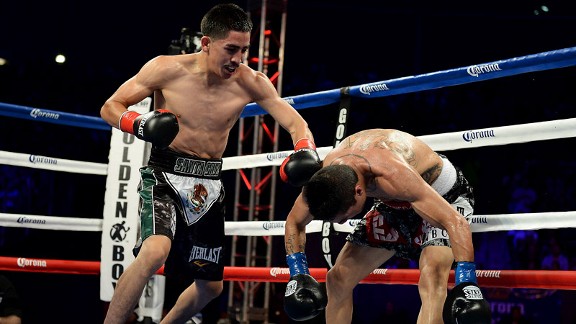 Harry How/Getty ImagesLeo Santa Cruz didn't expect a quick finish of Victor Terrazas, but struck when he had his chance.
CARSON, Calif. -- The Stub Hub Center fits Leo Santa Cruz like a glove ... a boxing glove, that is.
The former bantamweight titlist added a junior featherweight belt to his trophy case, once again making personal history here in Carson, where he defeated Victor Terrazas by third-round TKO.
Santa Cruz, a Mexican native who now lives in Rosemead, Calif., has had his heart set on a title from the WBC -- the sanctioning body based in Mexico City -- for quite some time.
"This was my dream as a child, and I started boxing when I was eight," Santa Cruz said. "This was my favorite belt, and now that I have it I can't believe it."
Santa Cruz was especially pleased to earn the title in his adoptive home of Southern California.
"There's a lot of joy for me because my home is here," Santa Cruz said. "To me, it's a great emotion because of the fans support."
Cruz was surprised at how quickly the end came against Terrazas.
"I didn't think it was going to be that easy," he said. "I thought it was going to be longer and that we would go the distance, but I saw that he couldn't stand the pressure and that I was hurting him."
The key moment came in the second round, when Santa Cruz's punches hurt Terrazas' right eye. That's when Santa Cruz knew he had to go all-in.
"In the second round, I saw his eye was swelling," he said. "When I saw him, I said to myself, 'I have to attack him to get this over with.'"
Santa Cruz said he would like to return to the ring as soon as possible, and didn't discount the idea of facing Jhonny Gonzalez, who stunned Abner Mares in a first-round knockout win to take back his featherweight title in the card's main event.
"The faster, the better," Santa Cruz said of his return. "If they tell me next month, I'm ready. Hopefully I can fight again this year. I would be willing to fight [Gonzalez] if my promoters say so. I don't say no to anyone."
Santa Cruz said that he would defend the title once or twice more before moving up in class again.
Golden Boy Promotions CEO Richard Schaefer said after the fight that Santa Cruz could return to the ring as soon as November, on an unspecified card.
August, 22, 2013
8/22/13
10:42
AM ET
By
Rodrigo Azurmendi
| ESPN.com
CARSON, Calif. -- Leo Santa Cruz is set to make just his second appearance as a junior featherweight, but he's convinced that the move will benefit his style.

Cruz, 25, who vacated his bantamweight belt to go up to 122 pounds and take on Alexander Munoz in May (a fifth-round TKO win for Cruz), is looking for a second crown. His shot comes against fellow Mexican Victor Terrazas on Saturday at the Stub Hub Center.

I feel stronger, better," Santa Cruz said. "The 118-pound division took a toll on me, and I had to eat a lot less. Now, I'm eating well and don't feel weak. Right now, I'm at 121 pounds."

"Santa Cruz (24-0-1, 14 KOs) says that his focus during training camp this time around was homing in on and correcting previous mistakes, keeping in mind the quality of his opponent.

"I need to have a sharp focus because it will be a really tough fight," Santa Cruz said. "I had to go at 100 percent, just concentrate to keep distractions and mistakes out of the picture."

Terrazas (37-2-1, 21 KOs), 30, who took a split decision over Cristian Mijares in April to earn a vacant junior featherweight strap, will be making his first defense against Santa Cruz.

Despite being the challenger, Santa Cruz is considered by many as the favorite for this fight. But he says that could be a double-edged sword.

"It's motivating, because people trust me, but at the same time I have a lot of pressure because people think that I will win easily," Santa Cruz said. "Anything can happen inside that ring. I will try my best to back the people's trust and not let anybody down."

Santa Cruz believes that moving up a weight division will allow him to take better advantage of his power.

"I think that being a bit heavier will favor me," he said. "I will be a bit fitter and will go forward, trying to wear him down little by little.

"I have to punish his body, because that will slow him down. I've got to wear him down and see if I can knock him out in the closing rounds. Since he is older than me, wearing him down will take a toll on his speed."
July, 16, 2013
7/16/13
4:49
PM ET
By
Rodrigo Azurmendi
| Special to ESPNDeportes.com

LOS ANGELES -- Apparently the breakdown in the working relationship between Julio Cesar Chavez Jr. and Freddie Roach has been a one-sided issue. Roach recently spoke to ESPNDeportes.com about the subject, providing further explanation about the lack of communication between the trainer and his former pupil.

"He called me and asked if I wanted to work with him, and I said, 'I would love to do that,'" Roach said. "But after that, I never heard from him again."

Roach, who is currently working with two-time Olympic gold medalist Zou Shiming for his July 27 fight in Macau, said that he wasn't totally sure about his current status with Chavez. He did, however, all but rule out the possibility of working with the 27-year-old former middleweight titlist for his comeback fight against Brian Vera on Sept. 7 in Los Angeles.

"Sometimes I read the reports on the Internet about us being cool, and others that say that I'm out," Roach said. "I really have no idea about what's going on; he is not being consistent. I wish him the best because he is a great kid. I don't think that I will train him for the Vera fight, because it's such short notice and Julio is not here."

Despite their differences, Roach said he's open to a reunion with Chavez. "I would work with him again, sure," Roach said. "Our first four fights together were really good -- he never said no, he worked really hard and looked outstanding. However, suddenly, he wanted to change everything and be the man in charge, and he fought horribly."

Roach, a 2012 International Boxing Hall of Fame inductee and five-time trainer of the year, offered a succinct take on Chavez's performance in his most recent fight, last September's decision loss to Argentina's Sergio Martinez.

"He almost won by knockout in the end, but it would have been pure luck," Roach said. "You really don't want to fight based on luck; Julio could have easily won that fight if he had trained properly."

Roach also made sure to set the record straight about who would be in charge if he and Chavez work together again.

"If that happens," Roach said, "the very first day he is a no-show, I will go home."