November, 23, 2014
11/23/14
3:50
AM ET
By
Brian Campbell
| ESPN.com

After Manny Pacquiao's one-sided thumping of unbeaten 140-pound titlist Chris Algieri on Saturday to defend his welterweight belt at the Venetian Macao's Cotai Arena in Macau, here are five things we learned:

1. Algieri may have won the promotion, but he badly lost the war

When Algieri was originally announced as Pacquiao's opponent, the reaction from boxing pundits centered around concerns of him being undeserving. With just one major win -- and a debated one at that -- Algieri made the unlikely leap from club fighter to pay-per-view co-headliner in less than one year. But something happened along the way to Macau -- Algieri stole the show. With Pacquiao busy training in Asia, Algieri won the promotion of the fight by soaking up the spotlight with his confidence and flamboyant swagger. If anything, it had a major effect on the odds of the fight, with Pacquiao closing as low as a 6-1 favorite. But the fight was a completely different story and more one-sided than the harshest of critics could have envisioned. (Raise your hand if you remember ever seeing a 120-102 scorecard before.) When Algieri wasn't moving backward, he was getting knocked down -- six times! The jab that dominated much of the prefight headlines was largely nonexistent. With nothing powerful coming back in return to keep Pacquiao honest, Algieri (20-1, 8 KOs) was quickly exposed as too one-dimensional against a complete -- and still very much elite -- version of Pacquiao (57-5-2, 38 KOs) one month shy of 36.

2. Algieri's trainer produced one of boxing's most infamous moments of 2014

It's easy to question Algieri's strategy of giving away the early rounds with hopes of hurting and eventually stopping Pacquiao late in the fight. Algieri not only entered the bout with just eight knockouts in 20 pro fights, his attempt at magically rebranding himself as a puncher failed just as miserably when Timothy Bradley Jr. tried the same thing in his April rematch with Pacquiao. In the end, Pacquiao not only proved how wide the gap exists (in both class and experience) between him and Algieri, his speed as a counterpuncher simply overwhelmed Algieri each time he stood still long enough to throw a meaningful shot. But adding insult to injury were the untimely comments made by Algieri co-trainer Tim Lane to HBO's Max Kellerman during Round 9. "[Algieri] is going to put him asleep here in a few minutes. I'm going to let him go one more round. I've got him in the cage right now." Almost immediately after Lane told Kellerman the round ("10 or 11") that he was going to let Algieri loose, Pacquiao floored him hard with a perfect left cross. It's a dubious moment that will likely live on for years in seven-second videos on social media. And it perfectly illustrated how delusional Algieri's strategy proved to be.

3. No more talking about Mayweather-Pacquiao until it happens

It's a vicious cycle. Five years into the soap opera that is Pacquiao's nonexistent superfight with pound-for-pound king Floyd Mayweather Jr., it's still the biggest fight the sport can make. And it's still on the tip of everyone's tongue. Sometimes we care about it and sometimes we pretend we don't. Other times we really don't care. But eventually it's rinse and repeat all over again. Deep inside we all want it, we just don't want to talk about it anymore. And given the chance following his domination of Algieri, Pacquiao did very little of it. Sure, when prompted, Pacquiao told Kellerman, "I think I'm ready to fight [Mayweather] next year." But there was no big call out or challenge to close the live broadcast. No trash talking was to be found. And it was somewhat apropos. Top Rank's Bob Arum and Mayweather adviser Al Haymon are either going to sit down in the same room and negotiate who gets what percentage of the purse or they won't. So no more talking about labor pains. We want that baby.

4. Lomachenko is the goods

He dares to be great in often unprecedented ways. Yet despite making his first title defense in just his fourth pro fight, 126-pound titlist Vasyl Lomachenko continued to impress and make strides. The two-time Ukrainian Olympic gold medalist dropped and outlasted Chonlatarn Piriyapinyo in a wide unanimous-decision win. But not only did Lomachenko (3-1, 1 KO), 26, impress with his movement, improving craft and power shots, he was forced to showcase his toughness in an unexpected way. Lomachenko, a southpaw, hurt his left hand after building an early lead and was forced to switch stances and fight off Piriyapinyo (52-2, 33 KOs) with one hand. Despite slowly working his injured left hand back into the mix late in the fight, Lomachenko never gave in to the pain, nor did he buckle mentally under the pressure caused by the sudden turn of events. In just four pro fights, Lomachenko has been forced to showcase his physical talents just as much as his intangibles. He not only has star written all over him, he took a major step forward toward a possible 2015 showdown with fellow featherweight titlist -- and huge puncher -- Nicholas Walters. Bombs away!

5. The Vargas-Jones marriage is a happy one

With future Hall of Fame fighter Roy Jones Jr. making his first appearance as his trainer, secondary junior welterweight titlist Jessie Vargas made a considerable leap in a hard-fought decision win over Antonio DeMarco. Vargas (26-0, 9 KOs) temporarily put to rest some of the negative stereotypes that have followed him with an exciting and gritty effort in his second title defense. Not only did Vargas ultimately outclass the southpaw DeMarco (31-4-1, 23 KOs), a former lightweight titlist, he showed good heart and a strong chin by routinely trading heavy shots at close range. Vargas had developed a reputation as a fighter who routinely received the heavy benefit of the doubt on the scorecards. But he earned everything on Saturday, becoming a dark-horse a candidate to possibly face Pacquiao in 2015. And a lot of that credit has to go to Jones, who also assisted in light heavyweight Jean Pascal's corner during his impressive January win over Lucian Bute.

September, 1, 2014
9/01/14
12:40
PM ET
By
Brian Campbell
| ESPN.com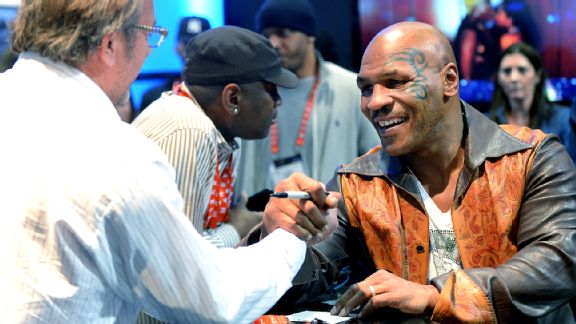 Joe Klamar/AFP/Getty ImagesThe Box Fan Expo will give fans the chance to meet some of their favorite fighters.
In a sport as disorganized and politically controlled as boxing, it's not uncommon to see the sport's two most important entities -- the fighters and the fans -- get the short end of the stick.
Alonzo Benezra wants to see that change.
"It's about the fighters and it's about the fans," said Benezra, the creator and organizer of the first annual Box Fan Expo. "That's the primary things. All the rest is secondary."
Modeled after a similar annual event put on by the UFC, the first Box Fan Expo will take place on Saturday, Sept. 13, from 10 a.m. to 6 p.m. PT at the Las Vegas Convention Center on the same day as Floyd Mayweather Jr.'s rematch against Marcos Maidana at the MGM Grand Arena (9 p.m. ET, Showtime PPV).
"It's going to be quite an experience for the boxing industry, as well as the fans who deserve this and need this," Benezra said. "Finally they get a chance to meet their boxing heroes and it's a chance for the promoters to tap into the fans that never get to see the fighters face to face. We want the fighters to make money and brand whichever product they want to brand."
Fans can expect to get a chance to meet some of boxing's most popular names, past and present, including fighters, trainers, promoters and broadcasters. Some of the confirmed names include Mike Tyson, Roy Jones Jr., Riddick Bowe, Juan Manuel Marquez, Sergio Martinez, Robert Guerrero and Brandon Rios, with more constantly being added.
After watching the success of the UFC Fan Expo, Benezra had a vision of a similar event for boxing.
"When you watch the UFC, you see that they are branding their company so well and have really set the mark," Benezra said. "I want to salute them as they are showing us how to do this."
Benezra, however, was quick to point out an obvious hurdle between the potential success of his event and that of the UFC -- organization. Yet, despite the clear advantages of the UFC's linear structure -- with all entities ultimately falling under one flag -- Benezra sees his event helping boxing get closer to a similar vision.
"Boxing is so fragmented, but because of that, it's a chance to take all these fragmented pieces and come together under one roof and show the world we can come together when it's for the fans," Benezra said. "This event was only built for the fans. But it also gives the boxing industry an opportunity to network in between for those who haven't had the chance to connect.
"I'm sure there are going to be deals made at the expo and we welcome every single angle. We just wanted to create a platform for the fighters to have a chance to promote themselves."
Getting boxing's biggest rivals, from a promotional sense, to come together under one roof would surely be a rare occurrence for the sport. But it's all part of Benezra's long-term vision for the event, which would annually take place on the weekend of the sport's biggest fight.
The way Benezra sees it, boxing's hard-core fan base will always be there to support the sport through thick and thin. But for the sport to truly cultivate new fans, there needs to be harmony, with its biggest players coming together to put the fans first.
"The message that I want to send to the boxing industry and to the top promoters is that they should support Box Fan Expo 100 percent because, in return, it will come back to them," Benezra said. "Imagine if they have all of their fighters coming together under one roof. This is going to be the most powerful event of the year because you are having all of these fans and all of these countries and top celebrities together. How can anyone compete?"
Tickets for the event are $30 in advance online and $40 at the gate. Fans can visit the
Box Fan Expo website
for more information.
September, 18, 2013
9/18/13
9:00
AM ET
Time flies, and last week's festivities at the MGM Grand brought home a sudden realization that Floyd Mayweather Jr.'s master class on Saturday night came 10 years and one day after my first credentialed fight.
There were a fair few differences between that first fight and my latest: In 2003, my credential was red (signifying I rated only a bleacher seat) instead of ringside green, my affiliation was merely "freelance," and in the identifying photo my mouth was smiling and my hair wasn't gray. But there were similarities, too: Both bouts were at the MGM, both involved the most popular boxer in the world at the time and both were the culmination of weeks of hype and publicity.
My memories of that first fight are as fresh as though it had been fought 10 months, rather than 10 years, ago, and the passage of time has spawned reflections on the numerous notable memories from a decade of being paid to watch fights.
So here's a list of my top 10 (12, actually, because I kind of cheated) ringside recollections -- not necessarily the best fights (although some of them were terrific) but what, for me personally, have been my most memorable ringside experiences so far.
Shane Mosley W12 Oscar De La Hoya -- MGM Grand, Las Vegas, Sept. 13, 2003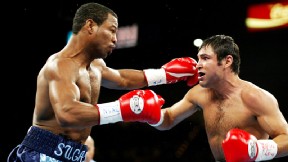 Chris Polk/Getty ImagesShane Mosley edged Oscar De La Hoya for a decision win in 12 rounds in 2003.
Not exactly a ringside recollection, as I watched proceedings from the auxiliary section, but this was the first of what -- although I had no way of knowing it at the time -- would turn out to be more than a decade of professional prizefights for which I was credentialed.
From my seat in the bleachers, I thought the Golden Boy had eked out a decision in a good fight; most of those ringside, where the power of Mosley's blows were more telling, seemed to agree with the official verdict. Personally, I most remember the thrill of experiencing my inaugural big-fight atmosphere, and the strange feeling of anticlimax on Sunday morning when it was all over.
Antonio Tarver TKO2 Roy Jones Jr. -- Mandalay Bay, Las Vegas, May 15, 2004
The defining moment of postfight shock and awe. Jones had looked mortal in the first encounter between the two men, but that had widely been attributed to his struggles returning to 175 pounds after his brief and successful excursion to heavyweight. But Tarver had his number, and when he landed the big punch that marked the end of Jones' era of dominance, the crowd responded with an initial roar, followed by a stunned silence, culminating in 12,000 people reaching simultaneously for their cellphones to tell friends, "Holy ****, Roy Jones just got knocked out!"
Diego Corrales TK10 Jose Luis Castillo -- Mandalay Bay, Las Vegas, May 7, 2005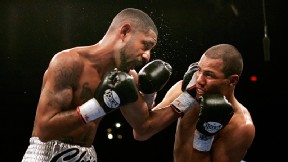 Donald Miralle/Getty ImagesEverybody in boxing remembers the incredible fight between Diego Corrales and Jose Luis Castillo fight in Las Vegas in 2005.
Even if this fight had been a dud, it would for me have been memorable: The previous night, the Boxing Writers Association of America's annual dinner had concluded with one of the finest gatherings of past and present champions to stand on one stage; and Gordon Absher, then the Mandalay Bay's PR guru, had indulged my literary bent by seating me next to the great Budd Schulberg on fight night. Seriously, how could it possibly get any better? Then Corrales and Castillo started throwing punches, and the 4,000 or so souls in the arena became bound together in witnessing one of the very greatest professional prizefights ever -- a fight that effectively ruined both the combatants while leaving an indelible memory on everyone fortunate enough to be there.
Manny Pacquiao TK10 Erik Morales -- Thomas & Mack Center, Las Vegas, Jan. 21, 2006
Manny Pacquiao KO3 Erik Morales -- Thomas & Mack Center, Las Vegas, Nov. 18, 2006
For reasons I can't quite remember, but presumably related to a lack of money, I watched the first tilt between these two on TV in my cabin in Alaska. The indelible memory of their second contest, apart from Pacquiao turning around a fight he was losing and storming to a stoppage win, was the unrelenting volume inside the arena, as rival Mexican and Filipino fight fans shouted themselves hoarse. I imagined it was like sticking your head next to a jet engine. The third was much the same, and at the end of that contest the feeling was of one man reaching the end of his career and another about to launch his into the stratosphere.
Floyd Mayweather TKO10 Ricky Hatton -- MGM Grand, Las Vegas, Dec. 8, 2007
Ah, the Brits. My people. So very many of them, so very drunk, and singing so very loudly. For a week, Las Vegas became Manchester with better weather and colder beer, as Hatton's fans sang constantly to remind themselves how many Ricky Hattons there are; and even when that one Ricky Hatton was stopped in the 10th round, they sang and drank some more.
Antonio Margarito TKO11 Miguel Cotto -- MGM Grand, Las Vegas, July 26, 2008
Miguel Cotto TKO10 Antonio Margarito -- Madison Square Garden, New York, Dec. 3, 2011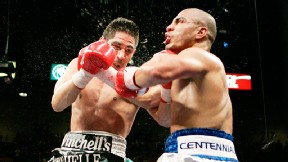 AP Photo/ Ronda ChurchillAntonio Margarito demolished Miguel Cotto in their first fight, but then was suspended for alleged handwrap tampering.
During the buildup to the first fight, I was convinced that Cotto was on the verge of breaking through to the next level, to the very top echelons of pound-for-pound lists. And for much of the early going, the Puerto Rican appeared vastly superior to his opponent in every way, until Margarito ground him down and stopped him in what became a truly violent brawl. The suspicions that emerged afterward, following Margarito's suspension for alleged handwrap tampering, led to a febrile atmosphere in New York three years later. The fact that Margarito was essentially a one-eyed man being served up for punishment concerned the Puerto Ricans in the arena not one bit, and the guttural roar when Cotto glared at his beaten foe segued into dancing on Seventh Avenue afterward.
Manny Pacquiao W12 Joshua Clottey -- Cowboys Stadium, Arlington, Texas, March 13, 2010
The fight itself was kinda meh. Clottey spent most of his time impersonating a turtle as Pacquiao bang-bang-banged away. But there was a real sense of occasion about it all: Jerry Jones, Cowboys Stadium, that scoreboard … One can only wonder how immense it all would have been had the man across the ring been, as originally intended, not Joshua Clottey but Floyd Mayweather.
Lamont Peterson W12 Amir Khan -- Walter E. Washington Convention Center, Washington, D.C., Dec. 10, 2011.
For all but seven of the nearly 20 years I've been in the United States, I've lived in the District of Columbia or its northern Virginia suburbs, so to have an HBO fight in what is effectively my hometown, and with a hometown fighter -- a hometown fighter who had grown up sleeping on the streets near the arena where he was now fighting, even –- scoring an upset win over a big star, with a fevered crowd screaming "D.C., D.C., D.C." … it was all very cool, even if a pair of point deductions by an over-officious referee (to say nothing of the later revelations of Peterson's synthetic testosterone intake) fouled the punch bowl.
Juan Manuel Marquez KO6 Manny Pacquiao -- MGM Grand, Las Vegas, Dec. 8, 2012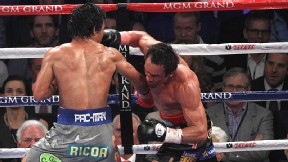 Zumapress/Icon SMIIn his fourth attempt, Juan Manuel Marquez finally beat Manny Pacquiao.
If much of the world greeted the buildup to their fourth encounter with a comparative shrug, the predominantly Mexican crowd viewed it with eager anticipation, desperate for Marquez to finally secure the official victory they felt he had three times been unjustly denied. It did not matter to them that Marquez entered the ring looking like the Incredible Hulk; they wanted a win, and when it came -– with Pacquiao dropping face-first like a stone -- the tide of emotion that crashed through the arena was a mixture of delirious joy and inconsolable grief, with the fevered wailing of a distraught Jinkee Pacquiao a powerful reminder of the realities of what is at stake when two men enter the ring.
Floyd Mayweather W12 Canelo Alvarez -- MGM Grand, Las Vegas, Sept. 14, 2013
From the massive throng that spilled out of the MGM Grand lobby to watch the fighters' arrivals on Tuesday, to the crowd that stood three-deep to catch a glimpse of even the undercard fighters working out the next day, to the incomparable weigh-in experience in front of 12,200 fans -- and, of course, the enthusiastic but ultimately futile cries of "si se puede" and "Ca-ne-lo" during the main event -- this was, from beginning to end, almost certainly the most intense big fight week I've yet experienced.
Note to the "this was boxing's last big fight" crowd: At the time of my first fight, nobody would have predicted that in 10 years' time, Mayweather Jr. would be the man carrying the sport on his back, as De La Hoya did before him, as Mike Tyson did before him. Someone out there is boxing's next big superstar. He may already be on HBO, he may be fighting undercard six-rounders, he may not yet have turned pro. But when he hits the highest heights, his biggest fights will be true events, just as much as Mayweather's are now. And if I'm fortunate, I'll be there covering them.
September, 11, 2013
9/11/13
10:30
PM ET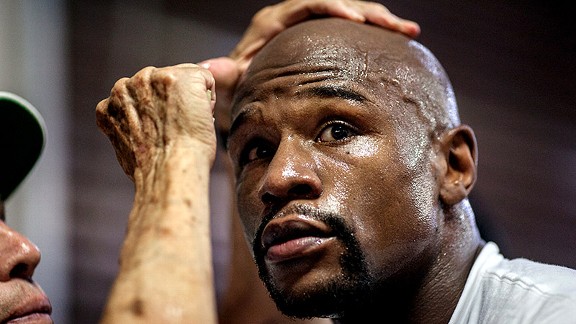 Benjamin Lowy for ESPN The MagazineAs Floyd Mayweather Jr. closes in on age 37, can he maintain his standing as the world's top fighter?
Floyd Mayweather Jr. has never lost a fight -- he also has never been so close to age 37.
The No. 1 pound-for-pound boxer in the world will celebrate his 37th birthday on Feb. 24 next year. Although Mayweather has shown few, if any, effects of age in the ring, we all know Father Time is undefeated and undisputed in the athletic world.
Of course, time treats all fighters differently, and in Mayweather's case, it likely will be less harsh. "Money" has taken phenomenal care of his body and has avoided damage throughout his career.
It's worth taking a look, though, at how different fighters fared in their last fight prior to their 37th birthday -- and afterward.
George Foreman
Born: Jan. 10, 1949; Returned from a 10-year retirement on March 9, 1987.
Following a 10-year absence from the ring, Foreman returned at age 38 and even used age as a partial reason for his comeback, wanting to prove doubters wrong. He eventually challenged 28-year-old Evander Holyfield for the heavyweight title in April 1991 and lost. Three years later, at 45, he became the oldest heavyweight champion in history when he knocked out Michael Moorer.
Post-37 record: 31-3
Evander Holyfield
Born: Oct. 19, 1962; Draw with Lennox Lewis on March 13, 1999.
This is the timeline Mayweather hopes to not follow. Many saw the draw as a robbery of Lewis, who outworked Holyfield throughout the bout. One could argue Holyfield never truly bounced back, even though he fought until 2011.
Post-37 record: 8-7-1
Bernard Hopkins
Born: Jan. 15, 1965; Defeated Felix Trinidad via TKO on Sept. 29, 2001.
Age is nothing more than a number for Hopkins. For the first time in years, oddsmakers had pegged the much older Hopkins as an underdog in the Trinidad fight. That reportedly prompted Hopkins to bet $100,000 on himself in that fight. He won.
Post-37 record: 13-4-1 (active)
Roy Jones Jr.
Born: Jan. 16, 1969; Lost to Antonio Tarver via UD on Oct. 1, 2005.
If Jones went from young to old in one night, it actually was most likely the previous year when he suffered a stunning second-round TKO loss to Tarver in May 2004, conceding his light heavyweight title.
Post-37 record: 7-4
Shane Mosley
Born: Sept. 7, 1971; Lost to Miguel Cotto via UD on Nov. 10, 2007.
Mosley saw a five-fight win streak end 10 months prior to his 37th birthday, but age didn't appear to be the reason. He rebounded with solid performances in knockouts over Ricardo Mayorga and Antonio Margarito -- but he has looked old in five fights since.
Post-37 record: 3-3-1 (active)
Sugar Ray Robinson
Born: May 3, 1921; Defeated Carmen Basilio via UD on March 3, 1958.
After retiring in 1952, Robinson returned to the ring in 1955 and reclaimed the middleweight world title. He lost it and reclaimed it again in 1957 ... and again in 1958. The win over Basilio, however, would be his final victory in a world title fight.
Post-37 record: 32-13-3
May, 17, 2013
5/17/13
9:56
PM ET
If a random reader strolled into my office this afternoon, looked me up and down, then said I should hit the bricks because I'm no good at my job anymore, you can imagine where I'd tell him to go. (And then I'd wonder how the guy got in the building and change the locks.)

So I don't expect Shane Mosley to heed my words -- or the warnings of anyone else, outside of those in his family or professional circle. Boxing is his trade, he's allowed to make an honest living, and if a boxing commission is still willing to green-light him, who am I to tell him not to step through the ropes again?

But here it is anyway: Shane, please take your gloves and go home.

Here's the thing: I actually believe Mosley, even at 41, remains a viable welterweight opponent at the second -- or third-tier levels. And when he returns Saturday in Cancun, Mexico to face Pablo Cesar Cano -- a tough 23-year-old kid whose only two losses came to Paulie Malignaggi and Erik Morales in close decisions where Cano gave as good as he got -- there will be an element of mystery to the proceedings. Mosley isn't being thrown to the wolves.

But it comes down to more than just an interest in honest competition, or even a preservationists' urge to hermetically seal the legacy of a three-division titlist and former pound-for-pound buzzsaw. (Mosley hasn't won a fight since 2009, going 0-3-1 since then, so that ship has sailed anyway.) Of greater concern is the toll exacted on him by 55 professional fights -- particularly the more recent ones, in which his hair-trigger reflexes seemed to rust before our eyes.

This isn't a broken-down Joe Namath or Shaquille O'Neal hobbling through his final days of athletic glory. Losing a few ticks off the fastball or a half-step down the line? A guy can live with that. But for a fighter whose foundation is built on reaction time and hand speed, a slight erosion of skills translates to fewer connects, longer bouts and more glancing blows coming back that turn into flush shots to the face. Can a guy live with that? Maybe. But even a handful of those sort of rounds can ruin the quality of that life over time.

Fighters and fans both understand the potential costs. You either make peace with them or move on. But no one who appreciates the sacrifices that boxing requires has the stomach for gratuitous carnage. Mosley might not be that far gone just yet, but he's testing those limits. For his own sake, is it too much to ask him not to?

With that, here are five fighters I'd like to see retire right now:

Shane Mosley
He hasn't thrown a meaningful punch since buckling the knees of Floyd Mayweather Jr. in the second round of their 2010 fight, when Mosley was coming off a 15-month layoff and suddenly appeared a different fighter. He went into a shell after those initial rounds against Mayweather, and he was painfully gun-shy against Manny Pacquiao a year later. Having trouble touching up Floyd is one thing. The fact that Mosley not only couldn't get to Manny but ultimately stopped trying was perhaps the more telling sign.

James Toney
Toney, 44, is a mess in just about every sense of the word. Once a devastating middleweight and super middleweight titlist, he's now a sloppy heavyweight who is 6-4-1 with two no-contests against middling competition since 2005. Toney still has power, but he's too slow to use it effectively. Worse, his titanium chin, which keeps him in fights even when he's overmatched, ironically has become one of the greatest threats to his health. After 87 pro fights -- an almost obscene number in this day and age -- he conducts blustery, unintelligible interviews that would be humorous if they weren't so heartbreaking.

Oliver McCall
McCall's moment in the sun -- a second-round TKO of heavyweight champ Lennox Lewis in London -- is now almost two decades old. Now consider that he has fought 40 times -- forty! -- since. McCall still has the goods to have somewhat recently beaten creaky former contender Fres Oquendo but couldn't measure up to Wladimir Klitschko victim Francesco Pianeta. That shouldn't inherently rule that "The Atomic Bull" be put out to pasture, but considering his age (48), the power of his heavyweights foes and the sustained punishment he has taken (McCall went the distance in 10- or 12-rounders in nine of his past 10 fights), I'd say enough is enough.

Pongsaklek Wonjongkam
Because they're often left with so little after being stripped of their speed in their early or mid-30s, most of boxing's little guys get out of the game at a more appropriate time relative to their primes. Wonjongkam, 35, never got the memo. The former flyweight champ and Thai stud seemed to be drained of most of his fight after outpointing Edgar Sosa in 2011. A draw and an upset loss to journeyman Sonny Boy Jaro followed, and his since then his wins (three against fighters making their debut) don't speak near the volumes of his single defeat (a TKO at the hands of sub-.500 foe Rey Megrino).

Roy Jones Jr.
For those who aren't old enough to remember or who were living on Neptune during Jones' prime from the mid-1990s through the early 2000s, here's a quick scouting report: Think Floyd Mayweather Jr. meets Mike Tyson. Jones was literally scary-good, combining speed and dominance with a fearsomeness that infused each of his fights with a sort of fascinatingly macabre inevitability. Which is why it's stunning to see the current version of Jones so utterly disarmed against fighters he would have ripped to shreds back in the day. Yes, he's 44. And of course the moves between divisions weren't kind to him. But even just five years ago, when Jones already was in mid-decline, the crushing knockout he suffered against Denis Lebedev (in 2011) would've been unthinkable. There's a reason we now only see Roy on HBO with a mic in his hand.
March, 12, 2013
3/12/13
1:06
PM ET

First, the caveat:

Purely from the perspective of its immediate importance in the world of boxing rankings, what Bernard Hopkins did at age 48 to Tavoris Cloud in New York on Saturday night was of less significance than what he meted out to Jean Pascal when Hopkins was a mere 46 years old a little less than two years ago.

Pascal, after all, was widely considered the man at light heavyweight, and Hopkins' comprehensive victory on that May evening in Montreal allowed the Philadelphian to usurp that position. But since then, the veteran has surrendered that title to Chad Dawson, and the fact Dawson dropped down to super middleweight to be taken apart by Andre Ward doesn't change that equation.

So Hopkins is still not the light heavyweight champion, but he is once more a light heavyweight titlist (which we note and celebrate even as we are supposed to spend all our waking days railing against sanctioning bodies' very existence. So be it). Had Hopkins been 20 years younger, Saturday's main event might have been regarded as a technically brilliant if not always aesthetically pleasing triumph over a lesser contender. However, Hopkins isn't 28, but a full two decades older -- and that, of course, is the point.

For all its achievements, for all its moments of brilliance, Hopkins' career is now defined by its longevity, and arguably has been ever since his seminal victory, when he stopped Felix Trinidad in September 2001 to become the undisputed middleweight champion of the world.

"I have a history of destroying young champions and never having to see them again," Hopkins said after his win over Cloud. And in that vein, it's worth noting that Trinidad, Oscar De La Hoya and Kelly Pavlik are all among the relatively young guns he has dispatched in the past 10 years or so and who are now retired; at the time of their last fight, they were all younger than Hopkins was when he overcame the Puerto Rican, and he has since added an additional decade-and-counting of ring victories.

As a way of grasping the length of The Executioner's presence on boxing's biggest stage, consider some of the following:

When Hopkins first challenged for a world title, a tilt for a vacant middleweight belt that he lost to Roy Jones Jr. in May 1993, Bill Clinton was president of the United States, George W. Bush had not declared his candidacy to be governor of Texas and Barack Obama was a lecturer at the University of Chicago Law School.

Osama bin Laden had not yet moved his base of operations to Afghanistan.

The U.S. national debt that year was almost 12 trillion dollars lower, and summer Arctic sea ice extent was approximately 1 million square miles greater, than they were in 2012.

J.K. Rowling was an unpublished writer. George Clooney played a recurring guest role on "Roseanne." Jennifer Lawrence was not quite 3 years old. Justin Bieber was not even a zygote.

O.J. Simpson was a popular former NFL running back and "The Naked Gun" co-star. His automobile association was with rental car commercials not Ford Broncos.

As a consequence, nobody had heard of Kato Kaelin.

Monica Lewinsky would not become a White House intern for two years.

There was no Viagra.

There was no ESPN.com -- or, indeed, very much .com at all. No Amazon, no Google, no Yahoo, Facebook or YouTube. No iPod or iPhone or BlackBerry. There would be, for at least a few more months, only one ESPN network. Max Kellerman's only TV outlet was on a New York public access station.

Oscar De La Hoya had just run his professional record to 7-0. Floyd Mayweather Jr. was a 106-pound amateur. Manny Pacquiao was living in poverty in Manila. Mike Tyson was in jail. Evander Holyfield had 100 percent of both his ears. What is today the biggest venue in boxing -- the MGM Grand Garden Arena in Las Vegas -- was in the process of being built.

And all of this, recall, was when Hopkins first challenged for a title. He made his professional debut before that -- when Ronald Reagan was still president and the Soviet Union still existed. But the remarkable element of Hopkins' career is not solely its length, per se, but the period over which it has been conducted at the highest level. The Philadelphian made reference in the wake of his win over Cloud to the fact he has left his contemporaries Roy Jones Jr. and James Toney in his dust. And indeed, whereas boxing fans everywhere cringe at every mention of Jones' next fight and Toney long ago waddled into irrelevance, Hopkins has adapted to age rather than yielding to it, his years of experience more than compensating for any inevitable physical decline.

While one might whimsically imagine a yet more aged Hopkins still fighting when, to quote Sheldon Cooper, we are transported to work at the Thinkatorium by telepathically controlled flying dolphins, even he apparently now has his sights set on the finish line. In the immediate aftermath of victory on Saturday, he joked that he wouldn't be around for more than five years. By the time of the postfight news conference, he had acknowledged that he wouldn't be in the ring when he turned 50. Come Sunday morning, he was telling the Associated Press that, "If I'm not motivated, and the competition is not there, if it's a meaningless fight, it's time to roll, man."

Time will tell. After all, Hopkins had already famously promised not to fight past age 40. Still, even popes retire these days -- something else that has changed since Hopkins started boxing. If Saturday were to prove the final time we see him in the ring (and it says here that it won't be), it would be a fitting finale, a Jedi master schooling a wannabe Padawan before riding off into the sunset -- a performance by the aged to cap a career for the ages.
February, 14, 2013
2/14/13
1:34
PM ET
Floyd Mayweather Jr. certainly knows how to make the most of social media. He doesn't just post random tweets of betting slips; he knows how to use 140 characters to stir things up.

One day, he's proclaiming that he's likely to fight Devon Alexander on May 4, despite all the evidence to the contrary. Then, yesterday he tweeted: "Me & my trainer (my dad) back working together getting ready for May 4th." To prove the point, there was a photograph of the two standing together, a scene that seemed improbable at best after their bust-up in the gym in front of HBO's cameras on "24/7" in August 2011.

The notion that the two Floyds might reunite in the corner had been mooted recently (even as Roger Mayweather -- senior's brother and, in recent years, junior's trainer -- struggles with health issues). So this is another twist in the ongoing saga of their personal and professional relationship. Of course, they are far from the only notable father-and-son corner team in boxing, and like parental-filial relationships elsewhere, they run the gamut. Here is a short selection of some of the more colorful, sometimes successful and sometimes painful case studies:

1. Roy Jones Jr. and Roy Jones Sr.

At times, the apparent dysfunction between these two has been enough to make Floyd Sr. and Jr. look like Bill Cosby and Malcolm-Jamal Warner (kids, ask your parents). On the plus side, Big Roy did teach his son how to box; against that, he also shot his boy's favorite dog. After years of personal and professional estrangement, Jones invited his father to work in his corner for the third fight against Antonio Tarver. When Jones lost that bout by a wide margin, he essentially said he didn't try to win because he didn't want his father to take the credit.

2. Nonito Donaire Jr. and Nonito Donaire Sr.

Donaire pere trained Donaire fils until an incident during training for the son's November 2008 fight with Moruti Mthalane led to the end of their professional relationship. Despite occasional talk of reconciliation, the father-son personal relationship, too, has become strained, at times very publicly so.

3. Danny Garcia and Angel Garcia

There doesn't appear to be any strain between Angel and junior welterweight titlist Danny. If anything, Angel's love for Danny at times verges on the overwhelming, as his extreme defensiveness of his son leads to intense verbal confrontations with Danny's opponents, including Amir Khan and most recently Zab Judah.

4. Shane Mosley and Jack Mosley

It's easy to forget now, but in 1998 Jack and Shane Mosley became the first ever father-son tandem to receive trainer of the year and fighter of the year honors from the Boxing Writers Association of America. But after losses to Vernon Forrest and Winky Wright, Jack and Shane -- who remained close personally -- broke up professionally before reuniting and breaking up again. They were slated for another reunion if Shane's putative bout with Paulie Malignaggi had taken place as planned this month.

5. Joe Calzaghe and Enzo Calzaghe

An unalloyed success: Enzo steered Joe to world titles at super middleweight and light heavyweight. And after Joe retired with an undefeated record, he and Enzo then formed a promotional partnership. Although Joe had well-documented personal troubles in his immediate post-retirement years, his relationship with his father has evidently remained strong.
July, 14, 2012
7/14/12
5:40
AM ET


CHICAGO -- It was bound to end here.

No, Glen Johnson wasn't destined to call it a career in Chicago, and it's not that 24-year-old hometown fighter Andrzej Fonfara was precisely the fighter meant to send the former light heavyweight champ into retirement. But the cramped, sparsely appointed locker room that Johnson occupied as he reflected on his brilliantly workmanlike (and occasionally just brilliant) career after Friday's unanimous decision loss was strangely fitting.

In boxing, endings are almost never awash in glory. They're ugly or bloody. Sometimes embarrassing or shameful. A fighter's swan song isn't a battle cry, but a whimper.

Yet it was none of those things for Johnson (51-17-2, 35 KOs), who gave a solid account of himself against a determined opponent who had a height advantage, throaty crowd support and the energy of a kid 20 years Johnson's junior. But the UIC Pavilion isn't the Garden, and Fonfara (22-2, 12 KOs) isn't a prime Roy Jones Jr. or Antonio Tarver. For "The Road Warrior," it seemed right that he finished propped on a folding chair tucked in the corner of a glorified walk-in closet in some other guy's hometown arena, with Johnson's sullen, silent crew assembled a few paces away while the fighter matter-of-factly critiqued his final ring performance.

Now, this seems an appropriate time to mention some personal feelings. In this line of work, you're taught that athletes should be treated like your kids: You don't play favorites. But you'd have to be made of stone not to have a soft spot for Johnson. He fought anyone, anywhere. He took bouts on short notice. He's been up, down, up again, down again and then up. And now down again. None of it fazes him. Johnson's honesty and thoughtfulness are often expressed through a toothy smile. In a business where B.S. is the business and self-delusion is a job skill, Johnson offered the smooth candor of a Magic 8-Ball.

"I'm fine with the decision," Johnson said when asked about the 99-91, 97-93 (twice) scores in favor of Fonfara. "I think I fought pretty good, but I can't argue with it. I think he won."

Johnson wasn't necessarily outboxed. And at no point over 10 rounds did he seem to start rehearsing that retirement speech in his mind. In fact, after appearing a little sluggish and perhaps puzzled about how to get around Fonfara's jab in the first few rounds, Johnson started to turn the fight. He began timing that long left in Round 4, ducking and then hammering Fonfara's midsection.

Johnson never had his opponent in trouble -- Fonfara acknowledged two of Johnson's biggest shots with a smile and a retaliatory flurry of his own -- but after seven rounds, the fight seemed to be a toss-up. By then, though, Johnson was breathing through his mouth, and in the eighth he threw an off-balance punch that seemed to carry him halfway across the ring and required two beats too long to recover his footing. To hear him tell it, Johnson, 43, just ran out of time.

"I decided to get a little more aggressive," he said of his approach in the middle rounds, "but I just couldn't keep it up. I know how to win that fight. It's just that I wasn't able to be consistent. Every time I would go at it in a particular way, to do what I needed to win, I would need a break. And then when I would take a break, he would come on again. I needed to maintain it and be consistent, like I did when I was younger. But Father Time caught up. I still know what to do, but I just don't have what it takes to maintain it."

Fonfara was respectful enough in victory, calling Johnson "a warrior" and giving props to his opponent for game efforts in recent battles with Carl Froch and Lucian Bute. But when pressed, he was as candid about Johnson's performance as Johnson was himself.

"He's an easy boxer," Fonfara said. "He was like, jab, jab, right hand and left body. That's it, you know? And I prepared for that. And I know he doesn't have [other] combinations or have something else."

Fonfara might have held on to that last thought if he had considered Johnson's elbow injuries -- torn ligaments in both joints -- that were discovered after the Bute fight. Or if he were aware of the number of oily decisions that had gone against Johnson over the years, including an April 2000 defeat against Silvio Branco in Padua, Italy. ("I thought I fought and won clearly," Johnson said. "Ray Charles could see it.")

And one wonders whether Fonfara knew that Johnson -- who arrived in Miami from his native Jamaica at age 15 -- was a late starter in boxing, learned on the job as a pro, worked construction jobs deep into his fighting career to pay the bills or that he practically willed himself to three separate acts as a contender.

The 2004 fighter of the year challenged for world titles at middleweight (losing to Bernard Hopkins in 1997), super middleweight (falling to Sven Ottke in 1999), light heavyweight (stunning Jones by KO and beating Tarver by split decision in his career year) and again at 168 pounds (getting outgunned by Froch in the Super Six last June).

But Fonfara, born in Warsaw and fighting out of Chicago (whose Polish community had his back Friday), was clearly more excited for his win than deliberately indelicate when discussing a man whom earlier in the week he had called "a legend."

And what about Johnson's take on Fonfara?

"It's hard for me to judge," he said. "I think he's a good fighter, solid, he's got a good chin, he's strong. But me not being what I was, I don't know if that's a good measuring stick. I can say he's better than what I had to be, so that should count for something."

The better man won. No excuses. Hats off. On to the next challenge. That's Johnson.

But what exactly will Johnson's next challenge be? He mentioned some of the usual paths for ex-pugs: trainer, TV analyst and, less typical, concert promoter.

"I have a few options," he said. "I'm not for sure 100 percent which way I'll go. But there are some things out there I'd like to do."

As fight fans, let's just be glad Johnson liked doing boxing's dirty work -- going on the road, standing in the pocket and slugging away -- for as long as he did, all while carrying himself as one of the sport's few true gentlemen.