August, 17, 2014
Aug 17
11:09
AM ET
For a split second, Kell Brook must have felt like he was in the ring with Sakio Bika. Moments after his majority decision over Shawn Porter was announced, his promoter, Eddie Hearn, wrapped him in a joyous embrace as both rolled around on the canvas. But Brook survived his post-fight spill and will return to England a conquering hero, a nick over his left eye the only visible sign he'd been in a fight.
The Brook-Porter bout capped a long evening at the StubHub Center that also featured Anthony Dirrell's ugly decision over Bika and Omar Figueroa's sizzling TKO of Daniel Estrada. Brook's win was the most significant, Figueroa's shootout with Estrada the most exciting and Dirrell's MMA-style rumble with Bika the one we'd like to forget. Each bout told us something about the combatants. Let's see if we can figure out what.
1.Brook is almost ready:
Brook is now a player in the talent-rich welterweight division, and seems eager to take on all comers. A match with Keith Thurman would be excellent, but Kell is not yet ready for the likes of Floyd Mayweather Jr., Manny Pacquiao or Juan Manuel Marquez.
The logical next step would be a bout with fellow Brit Amir Khan, which would surely be a box-office bonanza in the U.K. Khan, of course, is still hoping for a fight with Mayweather, and has also expressed an interest in taking on Pacquiao. But it doesn't seem that either of those are going to happen anytime soon, and Brook is clearly his best alternative.
2. Porter enthusiasm wasn't enough:
Porter was as hyper as a kid who had overdosed on Halloween candy, while Brook was cool, composed and focused, just like an unflappable Englishman is supposed to be. His savvy movement, spearing jab, straight-as-an-arrow rights and judicious clinching blunted Porter's flailing attacks. And although he never stopped trying, Porter's enthusiasm and one-dimensional approach just weren't enough. Maybe he'll learn from his first defeat, but don't count on it.
3. Porter is not special:
We have at tendency to jump to conclusions and prematurely anoint a fighter as the next big thing, which is what happened with Porter, a likeable jumping bean of a slugger with a big smile and an aggressive attitude. His victories over Paulie Malignaggi and Devon Alexander -- a faded veteran and a reluctant dragon -- fooled a lot of people into thinking he was something special. But after the thumping he took from Brook, we know better. But that doesn't mean we won't make the same mistake again the next time a young fighter comes along and scores a couple of good wins. We believe because we want to believe.
[+] Enlarge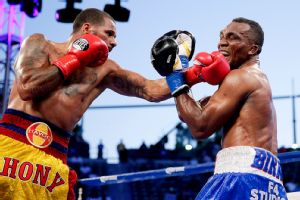 AP Photo/Chris CarlsonAnthony Dirrell won a super middleweight title by outslugging Sakio Bika.
4. Who knew Dirrell could fight dirty?
That's exactly what he did in his rematch with notorious brawler Bika. In their first bout, the slick-boxing Dirrell allowed "The Scorpion" to bully him just enough for the Australian tough guy to hold onto his super middleweight belt with a draw. But this time Dirrell almost matched Bika foul-for-foul in a rough and tumble affair, winning a unanimous decision in a fight that had harried referee Jack Reiss running around like the Mad Hatter.
5. Omar Figueroa is fun to watch, but for how long?
It wasn't quite as sensational as Figueroa's amazing decision over Nihito Arakawa in July 2013, but the way the Texas lightweight produced a thunderous right hand in the ninth round that ended Daniel Estrada's brave bid to take the title was reminiscent of some of Arturo Gatti's spectacular finishes. Figueroa's dramatic victory underlined his status as a must-see fighter, but how long he can keep winning vicious slugging matches remains to be seen. Let's appreciate him while we can.
July, 10, 2013
7/10/13
1:18
PM ET
As the dog days of summer kick into low gear, we reach the midyear mark of the 2013 boxing calendar. So what have we learned from this small sample size of the sweet science? In a fun, taking-stock exercise to cure the summertime blues, this week we unveil our midyear awards for the categories of best boxer, fight, knockout and round through the year's midpoint.
Agree with our selections? Disagree? In any case, let your voice be heard and weigh in on each category in our SportsNation polls and on Twitter.
What makes one round of boxing action stand out from any others? What makes fans leap to their feet and has commentators breathless?
Action, for one thing, and plenty of it. For all his sustained brilliance, Floyd Mayweather Jr. is rarely, if ever, in a round-of-the-year candidate. His erstwhile putative nemesis, Manny Pacquiao, on the other hand, frequently is -- and so is Pacquiao's November opponent, Brandon Rios.

Rios is the kind of guy who won't just take a punch to give a punch; he'll take six to give seven. He did that to great effect in his first against Mike Alvarado last year, and he did so to less effect in the rematch with Alvarado earlier this year. But there was a time early on in that March 30 contest when it looked as if Rios would overwhelm his rival, only for Alvarado to fight back strongly -- and at no point was the back-and-forth more dramatic than the incredible second round, which is my round of the half-year so far.
It didn't take these two 140-pound warriors long to pick up where they left off after their 2012 slugfest. After a slow burn of an opening round, Rios began the second by attacking Alvarado with left hooks, to which Alvarado responded with a short right hand. Alvarado then caught Rios with a hard left hook. And then Rios landed a jab -- of all things -- that sent Alvarado stumbling backward. Smelling blood, Rios attacked, but Alvarado fought fire with fire until a short right hand in the middle of another exchange hurt him again. Somehow, Alvarado found the wherewithal to back Rios off with an explosive combination to the jaw, before Rios came back yet again, snapping back Alvarado's head with an uppercut as the bell rang.
The task of a ringside reporter is to try and observe the action and note what's happening without looking away. The action flowed so thick and fast in this round that I gave up any pretense of note-taking, instead simply scrawling in my notebook at the end of the three minutes: "That was insane." The speed and ferocity of the exchanges and the refusal by either man to give any quarter are why I rate this make this the best round of 2013 so far.
Honorable mentions:
Sakio Bika-Marco Antonio Periban, Round 12:
On the other hand, if your vote went to this Rock 'em, Sock 'em slobberknocker, it would be hard to disagree. This initially unremarkable super middleweight bout finally caught light around the midway point. Finesse and defense went out the window as the two opponents threw punches with progressively greater abandon, culminating in a wild final round that would have been deleted from a "Rocky" screenplay for being too fanciful. A big right hand from Bika, a big right from Periban, a
huge
right from Bika, a
huge
right from Periban ... back and forth it went, an insane finish to what turned out to be a surprisingly entertaining fight.
Timothy Bradley Jr.-Ruslan Provodnikov, Round 12:
"Just box the [expletive] out of him," beseeched Bradley's trainer, Joel Diaz, at the start of the 12th round of this welterweight war. Bradley had been dropped and nearly stopped in the first couple of rounds but rebounded to open up a lead on the scorecards. All he needed to do during the final three minutes was stay out of trouble. But Bradley is a warrior, and after about 20 seconds of moving around the ring, he landed a left hook and began to engage. In the final minute of the fight, he threw a right hand and took a hard left hook as payment. Sent reeling, his response was to try and fight his way out of trouble until a right hand had him in trouble again. A barrage put him down to one knee with only 12 seconds on the clock, but he beat the count and the bell rang to end the fight before battle could be resumed.
Guillermo Jones-Denis Lebedev, Round 7:
Lebedev's eye was already swelling into a horrific mass after six rounds of this cruiserweight battle, but the Russian looked like the more likely of the two to secure a stoppage victory for much of this seventh round. He tore into Jones repeatedly with 1-2 combos, and Jones, who had been outlanded to that point even as he had clearly done more damage, began to wilt. And yet somehow, in the final 30 seconds of the frame, he landed a sequence of heavy blows of his own as if from nowhere. They backed Lebedev off and presaged a second wind for the Panamanian, who would finally stop his (by now horribly disfigured) foe in the 11th.