April, 17, 2013
4/17/13
9:02
PM ET
It has been almost 15 years since he closed the book on his four-fight rivalry with Azumah Nelson by scoring a unanimous decision win at the very venue where Canelo Alvarez and Austin Trout will face off on Saturday. But San Antonio's own Jesse James Leija still looked pretty close to being in fighting shape as he surveyed the crowd that gathered on Alamo Square on Wednesday to watch several of Saturday's fighters go through their paces in a public workout.
[+] Enlarge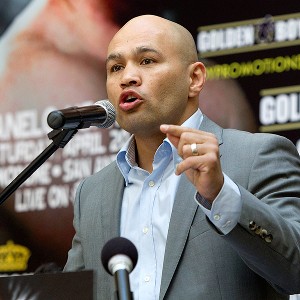 Bob Levey/Getty ImagesJesse James Leija says he's proud of his native San Antonio for the fans who attended Wednesday's workouts. "You can't do this in Vegas," he said.
The former world champion now trains a stable of boxers -- including Raul Martinez (29-2, 17 KOs), a former Nonito Donaire victim and two-time title challenger, who will face off against Shawn Nichol in a four-rounder on Saturday and who worked up a swift sweat in the humid air while Leija watched carefully. And he is one half of Leija-Battah Promotions, which has staged some local cards over the past year and is co-promoting Saturday's showdown at the Alamodome.
At this particular moment, though, Leija was primarily an admirer of his fellow San Antonio fight fans.
"I am so proud of the fans," he said as he scanned the faces -- by this reporter's guesstimation, a couple hundred of them -- who watched and cheered the workouts, as a microphone-wielding Paulie Malignaggi kept them animated. "You see this crowd? This is just an open workout, on a Wednesday morning when people are at work and at school. You can't do this in Vegas. But here you can do it, and I'm so proud of San Antonio."
Such crowds are reminiscent of the heyday of Oscar De La Hoya, and there was little question which of the main event fighters the throng was most keen to see.
"Alvarez is the next De La Hoya," Leija said. "He's been the next Oscar De La Hoya for the past two years. He just has that superstar quality to him. He has the looks, he has the charisma, he has the talent."
But all of that counts for little when the bell rings, and Leija is one of many who believe that in Trout, the young Mexican has selected an exceptionally dangerous opponent.
"He's in a really, really, really tough fight Saturday," Leija said. "If you asked me to pick a winner, I couldn't tell you right now."
He did, however, offer some unsolicited advice, from one champion to another: "He has to slow Trout down. How do you slow down a fighter who moves around a lot? Body shots. Don't worry about the head. Chop down the body and the head will fall."
April, 17, 2013
4/17/13
6:57
PM ET

Security cleared a pathway for him, but Oscar De La Hoya darted away from it, toward the crowd, famous grin at the ready as he shook hands and signed autographs for the fans who screamed his name.

Bob Arum doesn't get welcomes like that. But then, he doesn't plunge into throngs of fans the way De La Hoya does, either. That was always part of the secret to De La Hoya's success: Yes, he could fight. Yes, he was good-looking and articulate. But he knew how to work it, and work it he did. In his heyday, nary a hand would go unshaken or a soundbyte undelivered until everyone had had their fill.

Rarely did he attract bigger crowds than when he fought in Texas -- be it in El Paso against (ugh!) Patrick Charpentier or here in San Antonio against David Kamau -- and the tales of 36,000 seats being sold for Saturday's contretemps between Canelo Alvarez and Austin Trout, as well as the hundreds who skipped school and work to watch the fighters work out and cheer their promoter's name, are testament to the fact that Alamo City remains a boxing outpost.

"It just goes to show that San Antonio is a fight town," De La Hoya said. "There's no doubt about it. If you build it, they will come. We just feel that, starting with this fight, we will bring big-time boxing back to San Antonio. This is a perfect example that, if you put two good fighters in that squared circle together, you're going to get a good turnout."

That turnout has been helped by recruiting local legend and fellow world champion boxer-turned-promoter Jesse James Leija, who is co-promoting Saturday's show, to the cause.

"Oh, absolutely," De La Hoya agreed. "Leija has been extremely vital to the success of this event. Leija working here locally with everyone has been crucial. And that's going to be a key part in bringing regular boxing back here to San Antonio."

It also doesn't hurt, of course, to have a marketable main eventer, and De La Hoya has that in Alvarez. How does the sport's last matinee idol explain the burgeoning fan base of its newest one?

"You explain it by -- well, just taking a look at him," he said. "He's a redhead, he has freckles, he's a good-looking kid. And he can fight. People just love him. He has a presence about himself that really is captivating. His abilities in the ring solidify what he's all about. And what he's all about is will, strength, power, charisma -- all wrapped into one."

It says a lot about Alvarez, also, that he demanded the fight with Trout, despite the reticence of some at Golden Boy Promotions, who believed it was a match made in hell that could derail a possible future clash with Floyd Mayweather Jr.

"I wish every fighter out there was like this," De La Hoya said. "He wanted it, and now he's got it."