January, 23, 2014
Jan 23
10:07
AM ET
By
Bernardo Pilatti
| ESPNDeportes.com
In what may be the predecessor of a world title fight, undefeated light heavyweight Thomas Williams Jr. faces Cornelius White in the main event on "Friday Night Fights" (ESPN2, 9 p.m. ET) from the Little Creek Casino in Shelton, Wash.
[+] Enlarge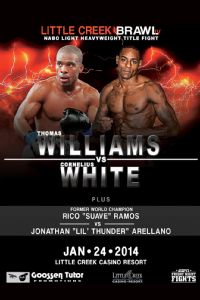 ESPN
Williams (15-0, 10 KOs), a southpaw, is coming off of the biggest victory of his career, a 10-round unanimous decision against former title challenger Yusaf Mack in November. White (21-2, 16 KOs), meanwhile, is one fight removed from a devastating knockout loss to unbeaten titlist Sergey Kovalev in June.
Williams' manager and trainer, George Peterson, who once guided former welterweight titlist Paul Williams, believes White will be a tough test.
"Cornelius White is a good fighter," Peterson said. "He's taller and experienced. We must respect him, but we are well prepared and we won't have any problem against him."
There's little question Williams is the favorite, and he will enter the ring with plenty of confidence. But White is looking forward to the challenge of facing the promising, unbeaten southpaw.
"This will be my first test against a lefty, but it's a great opportunity to reach the next level," White said. "I've been waiting for an opponent like him to take away his undefeated status. I'm ready for war and on [Friday] you will all know what I'm capable of."
Originally this bout was scheduled to take place on the undercard of a welterweight duel between Javier Molina and former junior welterweight titlist Kendall Holt. Molina, however, suffered a broken right hand, bumping Williams-White into the main slot.
Williams, a Baltimore native, is a quick and aggressive fighter with power in both hands. He has shown a good variety of combinations, but his main offensive tool is the outside hook with either hand. He fights behind a high guard, but tends to dodge most hits by moving his waist.
White is only an inch taller than Williams, but he has a four-inch reach advantage, which he will likely use to set the distance with his jab. His first priority will be to avoid trading shots at close range, a strategy which cost him against Kovalev.
If White can find success from the outside, his height advantage could help him as it did in December 2011 against Cuban Yordanis Despaigne, whom he slowed down with a persistent assault of hooks and straight punches to win by decision.
In the co-feature, former 122-pound titlist Rico Ramos (22-3, 12 KOs) faces Jonathan Arellano (14-2-2, 3 KOs) in a 10-round featherweight bout.
December, 23, 2013
12/23/13
2:57
PM ET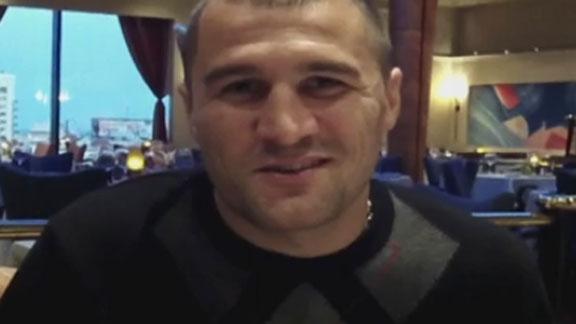 The clichéd "irresistible force versus immovable object" paradox makes for a pretty darned good stylistic showdown in the boxing ring. But it's second-best in terms of excitement to when the irresistible force meets another irresistible force.
The truth is, we don't really know how immovable either lineal light heavyweight champion of the world Adonis Stevenson or unofficial "baddest man" in the division Sergey Kovalev are. Kovalev has yet to have his chin and will properly tested. Stevenson lost by knockout once 3½ years ago, but that feels like ancient and irrelevant history -- and like Kovalev, he hasn't had to show his mettle much since. Stevenson and Kovalev are both destroyers, guys who bulldoze whatever you put in front of them. We don't know if they can take as well as they can give.
But good lord, can they both give it.
Stevenson boasts 20 knockouts among his 23 wins -- 10 of them coming in the opening round. He has won 10 straight, all by stoppage, since that 2010 loss (since avenged) to Darnell Boone. Kovalev has 21 knockouts in 23 wins, 15 of them coming in the first two rounds. He has never had to go beyond the eighth round (interestingly, it was Boone who took him the full eight back in 2010).
Stevenson-Kovalev would be irresistible force versus irresistible force, two heat-seeking missiles pointed directly at each other and released. Combustion is guaranteed -- and whoever emerges from the flaming wreckage is the universally recognized king of the 175-pound division.
And the best part is, there are no network rivalries or promotional entanglements to prevent this fight from happening. The only thing standing in the way of Stevenson-Kovalev, it would seem, is Stevenson's preference for one or two more defenses first that offer him a more favorable risk-reward ratio.
When they shared an HBO card in Quebec on Nov. 30 and Kovalev was asked who he wanted next, he declared simply, "Adonis." As a mere beltholder and not the true champion, it's obvious why he is so motivated to make the fight.
But when Stevenson was asked the same question, he tap-danced around Kovalev's name, instead calling out Carl Froch and Bernard Hopkins. Hey, we get it. Hopkins is still a household name who brings money to the table. Froch is a more established fighter than Kovalev, and he happens to be a weight class smaller and coming off a shaky performance. Neither of them is half the knockout threat at 175 that Kovalev is. So it's understandable why the "Krusher" from Russia wouldn't be Stevenson's first choice.
But he's undoubtedly the first choice of fight fans. This is the matchup that needs to happen, two of boxing's best pound-for-pound punchers, coming off breakthrough years, determining in an all-offense fight who rules the division.
It's irresistible force versus irresistible force, making for an irresistible attraction for boxing fans.
#ESPN12days @AdonisSuperman vs @KrusherKovalev; @Carl_Froch vs @StGeorgeGroves; @ChinoMaidana vs @DannySwift; @BCampbellESPN #boxingwishlist

— Chito Muņiz (@chitomuniz) December 23, 2013
December, 12, 2013
12/12/13
8:57
AM ET
By
Brian Campbell
| ESPN.com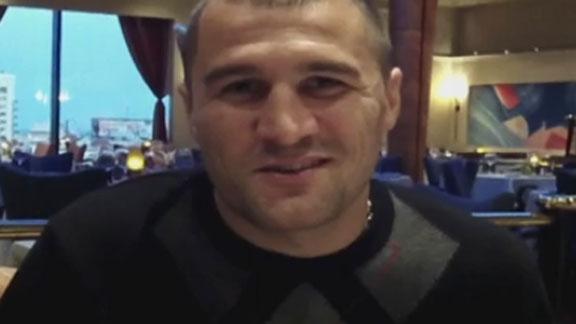 There's only so much that unbeaten light heavyweight titlist Sergey Kovalev can say about division champion Adonis Stevenson until the two fighters one day (hopefully) meet in the ring.
The anticipated showdown between two of the sport's most devastating punchers seemed like a slam dunk when HBO featured both fighters in showcase bouts on the same Nov. 30 card. It's a fight just about everyone in the boxing world is salivating over, from the fans and promoters to the network.
But that doesn't mean we'll see it right away. Stevenson, 36, who came out of nowhere in 2013 to make a case for fighter of the year consideration, with four knockout wins, is hoping to be handsomely rewarded for his efforts, seeking either more money from HBO or an opportunity for financially friendly options elsewhere.
Kovalev (23-0, 21 KOs), 30, typically deflects most questions about future opponents to the capable hands of promoter Main Events and manager Egis Klimas. But the Russian-born fighter makes no bones about the fact that he wants to stay active, with the goal being four more fights in 2014, including at least one against Stevenson.
"I hope he wants the fight [with] me, but maybe [he wants more] money. Maybe not yet, maybe later," Kovalev told ESPN.com. "Maybe he don't want [to fight] -- I don't know. You need to ask him. But what I'm thinking is that it will be a good fight and a very interesting fight for [boxing] fans.
"I want to fight Stevenson. I'm still waiting."
Kovalev clearly has respect for Stevenson (23-1, 20 KOs) as a fighter, calling him a dangerous puncher with both hands, especially from distance with his left. But he doesn't have the same admiration as others for the quality of Stevenson's biggest wins, including a first-round knockout of lineal champion Chad Dawson in June.
"You know, when I saw Chad Dawson go into the ring, I understood that he will lose because he [had] not recovered after he fought Andre Ward," said Kovalev, in reference to Ward's knockout of a weight-drained Dawson in September 2012. "[It was] the same look Mike Alvarado had against [Ruslan] Provodnikov. Alvarado already [went] into the ring [looking] like he is going to die. [Meanwhile,] Provodnikov just went into it. Alvarado had lost already before the fight."
Kovalev isn't necessarily speaking from a place of bravado or trash talk, although he did his fair share of the latter when provoked in his recent knockout of Ismayl Sillakh. He comes across as simply an honest fighter sharing his thoughts, which continued when he was asked about Stevenson's one-sided drubbing of Tavoris Cloud in September.
"Tavoris Cloud, he's a dangerous fighter, but he can only punch," Kovalev said. "If you will be boxing with him in the ring, you saw what [Cloud] can do. It was same fight like against [Gabriel] Campillo. He's only like a bull, like a fighter. There's no boxing. [Cloud] is ready for one punch and only that. At least that is my opinion."
Kovalev's notion that Stevenson's biggest wins need to be put into perspective isn't a great stretch considering both Dawson and Cloud were one fight removed from devastating losses against top-end fighters when Stevenson picked them off. Still, Stevenson
did
look spectacular in those wins -- both of which, it deserves to be mentioned, were bigger than any on Kovalev's résumé.
The timing for the light heavyweight showdown couldn't be any more perfect than now, with the slugger Kovalev having come into his own as a boxer through six fights with trainer and former two-division titlist John David Jackson.
"It's like [Jackson] is polishing a diamond," Kovalev said. "He is making me into a diamond and polishing out the little mistakes. He has improved my skills. He is keeping [me prepared] with hard work for any fight."
Kovalev, and just about everyone else in boxing, is hoping "any fight" turns out to be one with Stevenson. But does the fighter who instills fear in the hearts of opponents carry his own misgivings about the possibility of seeing such a must-see bout potentially marinate for too long?
"Maybe, you know? Maybe," Kovalev said. "But if he is not crazy and I am not crazy, this fight will [happen]."
Unfortunately for the rest of us, crazier things have happened.
August, 20, 2013
8/20/13
4:26
PM ET
By
Brian Campbell
| ESPN.com
So let's be real with each other about boxing in 2013:
Like a no-hitter through seven innings, this year shouldn't be celebrated too early. Can't be too careful to avoid jinxing anything to do with this cruel and unpredictable sport. But ... this year has been crazy. Amazing. Riveting. Scintillating. And it just seems to keep getting better with every week.
[+] Enlarge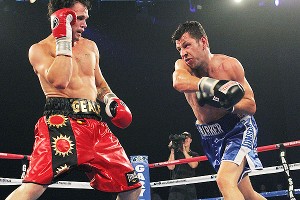 Courtesy of Alex Ridley.Saturday's fight between Daniel Geale and Darren Barker continued this year's trend of barnburners, stirring something unfamiliar in fight fans: hope.
From the blockbuster cards to the low-profile shows featuring prospects and journeymen, it isn't just that there has routinely been something to talk about at the proverbial watercooler. The talk has even been
positive
.
Even now, in the midst of a promotional cold war I personally abhor and will never accept as simply "Well, that's just the way it is," we are getting the fights we want -- and they are actually living up to expectation.
Fans have been able to enjoy at least five legitimate candidates for fight of the year (and that was before Saturday's Darren Barker-Daniel Geale scrap), including at least two -- Timothy Bradley Jr.-Ruslan Provodnikov and Mike Alvarado-Brandon Rios II -- that produced enough drama and savage artistry to be considered on par with the best of this century.
But it goes beyond that. We've also seen breakout campaigns from exciting and marketable action fighters such as Gennady Golovkin, Lucas Matthysse, Adonis Stevenson and Sergey Kovalev. We've seen the development of young stars who appear more than ready to be labeled "next." (I'm looking at you, Abner Mares, Adrien Broner and Mikey Garcia.) And we've seen more than the typical number of under-the-radar fights (think Omar Figueroa-Nihito Arakawa and Sakio Bika-Marco Antonio Periban) deliver unexpected fireworks.
What this all amounts to, especially with a jam-packed final five months already on the slate, with fight-of-the-year hopefuls and big-name pairings jumping off the
schedule
, is two-fold.
First of all, and probably most important, the sport is relatively healthy again. Go ahead, bring on the backlash to that comment. And don't forget to mention the lack of a central governing body, too many titles, far-from-ideal drug-testing protocols and, oh yeah, that whole promotional catfight. But all things considered, boxing appears to be moving in the right direction after such an up-and-down decade.
And it clearly had been a rough ride for the sport since 2004, when a clear and distinct changing of the guard began to take place. There was the sudden crumbling of the heavyweight division, with the retirements of Lennox Lewis and Vitali Klitschko, not to mention the fallout of two knockout losses in a 17-month span for current champion Wladimir Klitschko. You also had a group of fighters who had become the face of the sport over the previous seven or eight years -- Oscar De La Hoya, Roy Jones Jr., Shane Mosley, Felix Trinidad -- hit career snags as losses and the impact of age began to erode their elite status.
Every valley, however, eventually leads back to another peak, and boxing rebounded in a big way with a banner year in 2007. In fact, it was the sport's last truly great year.
You had the anchor of the highest-grossing fight in history between Floyd Mayweather and De La Hoya. There were marquee bouts between unbeaten fighters such as Mayweather-Ricky Hatton, Kelly Pavlik-Jermain Taylor I and Joe Calzaghe-Mikkel Kessler. There also was a run of memorable action fights: Miguel Cotto-Mosley, Paul Williams-Antonio Margarito, Cotto-Zab Judah, Juan Manuel Marquez-Marco Antonio Barrera and the first two Rafael Marquez-Israel Vazquez wars. (And let's not forget about the Bika-Jaidon Codrington "Contender" finale and the two Michael Katsidis fights with Graham Earl and Czar Amonsot.)
Seriously, take inventory of the past 10 years or so in boxing and you simply won't find a more action-packed and memorable year than 2007 ... until now. And that leads to my second point.
The buzz of excitement surrounding the sport in 2013 has been a virtual runaway train. For the first time in many years, boxing's traditionally cynical group of fans and experts have grown to expect things to go their way. This is a huge departure from just a year ago, when a flurry of injuries and drug suspensions wiped out nearly a complete summer of entertaining fights.
So what was the tipping point? Ironically, it was a date that was supposed to have been representative of the type of greed that continually has plagued the sport in recent years. With both HBO and Showtime airing competing blockbuster cards on Sept. 15 -- which pitted a Sergio Martinez-Julio Cesar Chavez Jr. PPV against a cable show headlined by Canelo Alvarez -- a night that was expected to further darken the sport's black eye somehow had the opposite effect.
Instead, the fighters on both cards applied the black eyes to each other. The momentum of the evening then spilled into a memorable three months to close out the year, highlighted by Marquez-Manny Pacquiao IV, and it hasn't slowed yet.
The fact that 2013's biggest fight to date -- Mayweather's May 4 win over Robert Guerrero -- featured a poor promotion, lackluster sales and a rather unexciting in-ring result, yet still hasn't killed the buzz, is proof that this will be a year to remember.
And think about this for a second: The next few months, we expect, will bring us continued excitement from the likes of Danny Garcia-Lucas Matthysse, Bradley-Marquez, Alvarado-Provodnikov and Pacquiao-Rios. But what about Mayweather-Canelo? What if this fight -- the one most experts continue to downplay as likely one-sided, with an almost predetermined result -- ends up bringing the kind of action, drama and excitement on par with what we've seen throughout most of 2013? What happens next?
It's crazy to think about, of course. But for a sport that is regularly labeled as cursed to yield a year so sublimely fun to be a part of, I'm not going to bet against it.
I have to admit, it's kind of weird going into a season of big fights and actually expecting them to live up to expectations. Don't lose heart -- this is really how it's supposed to be. Let's savor the flavor while we can.
January, 20, 2013
1/20/13
2:50
PM ET
By
Brian Campbell
| ESPN.com
UNCASVILLE, Conn. -- As far as coming-out parties are concerned, unbeaten light heavyweight contender Sergey Kovalev's was something to behold on Saturday night.

In his first headlining role on American television, which doubled as his first significant step up in competition, the Russian-born Kovalev demolished the usually slick and elusive Gabriel Campillo via third-round stoppage at the Mohegan Sun Arena.

With a seek-and-destroy style and tremendous potential to become a TV-friendly fighter in the United States, Kovalev (20-0-1, 18 KOs), 29, had drawn subtle acclaim as a rising knockout artist with frightening power in both hands. But what we saw out of him on Saturday, in his third fight with trainer John David Jackson, was a complete dismantling of a game opponent.

Kovalev didn't just stalk Campillo from the opening bell with heavy combinations, he balanced his attack by mixing in the jab and going hard to the body -- a strategy that led directly to the second of three knockdowns in the third round.

"This kid dismantled Campillo by going to the body, just like we worked on," Jackson said. "Campillo was doubled over from them. In the past, Sergey was more of a headhunter. Now he understands that, as a professional, you have to go to the body. And with his punching power, his body shots are going to open up a lot of doors for him."

Jackson, a former junior middleweight and middleweight titlist who has previously trained the likes of Bernard Hopkins and Shane Mosley, was quick to point out that he never tried to change Kovalev's style since joining his camp, but has worked hard on refining his fighter's talents to complement his tremendous punching power.

"Sergey is a very intelligent and smart fighter," Jackson said. "He's learning that he can slow down more and sit down on his punches."

Kovalev was all smiles after the fight, happy to have made such a splash in a starring role. He'll no doubt gain a legion of new fans from the performance and should contribute right away to providing a shot in the arm for the light heavyweight division.

But while his power has thus far proved to be unavoidable in the ring, it could have the opposite effect outside the ropes, prompting potential opponents to sidestep him.

"It's going to be hard for Sergey to get the fights that he wants unless they are title shots or if they are mandated that he fight someone next for the No. 1 position," Jackson said. "No one wants to fight him, and the way that he destroyed Campillo tonight gave me further belief that they will not fight him unless they have to."

That's a bridge Kovalev will cross in time as he continues his climb toward a title shot. Meanwhile, he'll need to prove he's strong enough to continue toppling those in his path and slick enough to outbox the ones who won't go down.

"I don't know who will be next, but I'm ready for everyone," Kovalev said. "If you want to be the best, you need to box with the best opponents. If you want to be a champion, you must fight only champions. I think my next step will be a more important fight because I am here in America. This is, for me, an important win."