December, 7, 2013
12/07/13
6:36
PM ET
By
Shaun Brown
| ESPN.com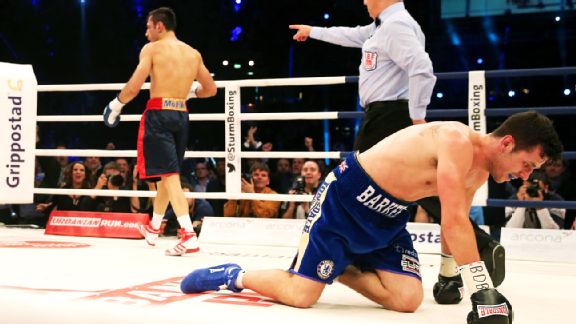 Simon Hofmann/Bongarts/Getty ImagesFelix Sturm dropped Darren Barker, who injured his hip, setting up Sturm's second-round TKO win.
If Atlantic City and the victory over Daniel Geale back in August provided the fairy tale for Darren Barker, then Stuttgart and Saturday's loss to Felix Sturm has provided the nightmare as the Brit's reign as middleweight titlist ended surprisingly early in Germany tonight.
Barker took the same tactics from his glory night against Geale into his bout with the much more seasoned and rounded Sturm, who from the get-go looked like he had a point to prove. Aggression, the left hook and the conclusive power proved too much for Barker, who seemed to suffer a reoccurrence of an old hip injury (Sky Sports reported the injury to be a dislocated hip), particularly on the second knockdown he suffered, which showed Barker grimacing and holding his right hip.
Key moment:
At 1:54 of the second round, Sturm threw a walloping overhand right that put Barker down and "scrambled the senses," as Sky co-commentator Jim Watt put it. Barker had been put down with similar impact by Sergio Martinez in 2011, and despite his bravery on Saturday, Sturm went in for the kill to dole out a second knockdown that led Barker's trainer, Tony Sims, to throw in the towel with 55 seconds left in the round.
We've got your number:
20. Sturm was taking part in, remarkably, his 20th world title fight on Saturday and proved that there's life in the old dog yet. After a somewhat disappointing couple of years, by his standards, the German became a four-time middleweight titleholder and places himself right back in the mix with the leading players at 160 pounds.
Last word:
A rematch clause was put in place before this fight, but thoughts now turn to Barker and whether or not he has a future. His career has been plagued by many injuries, and no one can ever take away that memorable and emotional night on which he captured a world title. But tonight it felt like a case of "fools rush in" -- Barker got the tactics wrong and paid the price, in potentially more ways than one. Sturm, however, made a statement and he is welcomed back to the top tier with open arms.
December, 1, 2013
12/01/13
12:51
AM ET
By
Shaun Brown
| Special to ESPN.com

Things went according to plan late Saturday night in Quebec City as the light heavyweight division edged closer to the fight that everyone wants.

After Sergey Kovalev delivered a two-round shellacking of Ismayl Sillakh to retain his belt, Adonis Stevenson had to deliver the goods in his title defense against Britain's Tony Bellew to ensure HBO and promoters Yvon Michel and Main Events walked away with smiles on their faces.

Bellew -- who talked a good game, as he always does -- had brought up Stevenson's anger at a fiery weigh-in, but unfortunately the fuel to that fire was extinguished in six rounds with a confident performance and conclusive stoppage from the champion.

Key moment: That would have been whenever the sometimes-unorthodox left hook landed from Stevenson's southpaw stance. It found its home in Round 1 and thereafter despite the challenger carrying a high right hand. Bellew's plan was to frustrate and take the fight to Stevenson late in the contest, but best-laid plans were put to rest long before that could begin.

We've got your number: Zero, and the paymasters will wonder how many they will have to add to the fighters' bank accounts to make a salivating unification super-fight between Stevenson and Kovalev. The former, however, talked about facing the super middleweight champion Carl Froch and "The Alien" Bernard Hopkins, and seemingly showed little interest in taking on Kovalev right away.

Last word: Froch and Hopkins line Stevenson's pockets rather handsomely, but given what he and Kovalev have done in the ring lately, all the stars will, one hopes, align to have two of the most fearsome punchers in the modern era lock horns in a bout that will have little odds of going the distance.
November, 29, 2013
11/29/13
9:46
AM ET
By
Shaun Brown
| Special to ESPN.com

Tony Bellew insists he will be forced to overcome more than light heavyweight champion Adonis Stevenson and his fans Saturday at the Colisee de Quebec in Quebec City, Canada.

"The best way to say it is, I'm the fly in the ointment," he said.

Bellew also believes he will need to contend with far greater powers that are being seduced by a unification superfight in the distance involving the Haitian-born Stevenson, 36, and 175-pound titlist Sergey Kovalev, who defends his title against Ismayl Sillakh in the co-feature.

"I've said I'm under no illusions that a points decision is enough for me in Canada," said Bellew, when asked if he will have to take more risks than normal in this fight.

"I get it. I'm not just up against one of the most formidable fighters in the division, I'm up against HBO and I'm up against two rival promoters in Yvon Michel and Main Events. These guys all want a multimillion dollar blockbuster in Kovalev and Stevenson. They don't want me around. I'm a big f---ing bogeyman in this big plan that they have. HBO has big plans for the two of them. They want this superfight and I'm the stumbling block."

Bellew, 30, is making his second world title attempt after falling short in a 2011 grudge match against British rival Nathan Cleverly. Lessons have been learned and two years later, a more refined Bellew believes that not only is this his time, but that the defending champion will likely be overlooking him.

"I don't believe he's paying the same respect to me that his trainer, [Javan] 'Sugar' Hill, is," Bellew said. "Stevenson wants the big paydays, that's what he's about. Hill can do all the studying he wants for him but Stevenson is not studying me for three hours at a time on a DVD. He doesn't have the concentration levels, anyway. I've been studying him for hours on end. I know what his feet are going to do and I know his move after he shows a feint. I know what he's going to do all the time, I know what he's about.

"Stevenson is cocksure of himself. He believes his own hype. He said to me at the press conference to announce the fight, 'You're facing a big dog now.' And my response was, 'Are you having a f---ing laugh? All 5-foot-10 of you?' He was quite shocked, he now understands I'm not there to f--- about or boost his ego. I'm there to prove a point and it will be proven on Saturday night."

November, 23, 2013
11/23/13
7:35
PM ET
By
Shaun Brown
| Special to ESPN.com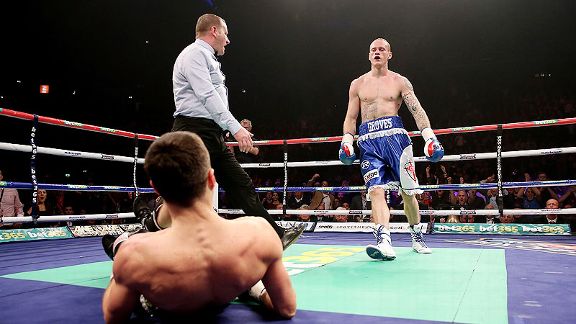 Scott Heavey/Getty ImagesGeorge Groves dropped Carl Froch early and had the fight in control before a controversial finish.
George Groves talked the talk and walked the walk, but "The Saint" still walked away a loser after a sensational super middleweight title fight against Carl Froch in Manchester, England, on Saturday.
After a buildup filled with needle, the two Brits locked horns and went toe-to-toe in front of a sellout crowd at the Phones 4U Arena. From the opening bell, Groves (19-1, 15 KOs) backed up his prefight game plan by taking it to Froch and putting the uberconfident fighter on the deck with a counter right hand in Round 1.
Both men engaged in vicious exchanges throughout, with Groves more often than not getting the better of them, to the surprise of many. But Froch (32-2, 23 KOs) rallied in Round 9 to hurt Groves before referee Howard Foster stepped in to wave the bout off -- a decision thought to be extremely premature by most in attendance.
It may not be complete, but tonight we witnessed the changing of the guard.
Key moment:
In Round 1, Groves backed Froch up as he said he would with a pair of right hands and pushed his man back. The Nottingham warrior was being outfought and went on to eat a spectacular counter right hand that put the champion on the canvas, leaving spectators and viewers in a state of shock.
We've got your number:
Eight. Groves should have taken a knee and an eight-count when Froch, with his trademark raiding combinations, finally had his man in trouble in Round 9. Instead it was Foster, the man trusted with the bout in front of 20,000 people, putting Groves in a headlock as he called an end to the fight.
Last word:
Did Froch underestimate a challenger he didn't deem worthy? Or did Groves prove that he belongs on the world stage? More of the latter, I believe. Froch, known as one of boxing's warriors, was at times schooled and bullied by the inexperienced and "chinny" Groves. It was a world title fight that will live long in the memory due to the action and controversial nature of the stoppage. Surely we will be given more of the same by a fully warranted rematch next year.
November, 18, 2013
11/18/13
11:20
AM ET
By
Shaun Brown
| Special to ESPN.com
British boxing and the super middleweight division have become synonymous with one another since the dizzy heights of 1993, when over 40,000 people filled Manchester United's Old Trafford football stadium to watch Nigel Benn attempt to settle a score against archrival Chris Eubank.

That night, which was was more memorable for the occasion rather than the fight, opened up a path for British bashers like Robin Reid, Joe Calzaghe, Richie Woodhall and Glenn Catley to become world champions and cement Great Britain's place as one of the leading lights in a division that exploded into life in the 1990s.

Twenty years ago, at age 16, Carl Froch, like the rest of the nation, watched on as Benn and Eubank fought to a draw which never really closed the book on who was "Simply the Best." Both fighters left an impression on the man who would grow into the world's 168-pound unified champ.

"I have to be honest, I've always been a Chris Eubank fan," Froch said. "I'm a Nigel Benn fan, too. I thought he was brilliant. He was aggressive, tenacious and he had a real attitude about him, which was great. But I loved the finesse and the flair of Eubank. I liked "Prince" Naseem Hamed as well back then, just because of the excitement he brought. Even though Eubank and Hamed are different, they are similar because you always wanted to watch them. You either loved or hated Eubank, and I loved him."

Fast forward to Saturday, when the U.K. will once again play center stage to another arena-filling super middleweight contest as Froch defends his titles against George Groves. On paper, the contest appears one-sided, but the fight's fuse has been lit thanks to the underdog's verbal assaults on the champion.

Froch admitted that it's always "nice" to have a British rival, but he doesn't see the unbeaten Groves as a challenge that could compel fans to talk about this bout with such fondness as they do those from years gone by.

"I never aspired to get a big British dust-up, and I don't think this is one of those because Groves hasn't really done much," Froch said. "If he had a world title, defended it a few times and was seen as a big threat and it was a 50-50 matchup, then you could compare it to that era, but he's a massive underdog. So it takes that sort of excitement away from it. But it's still exciting, the fact that two British fighters are fighting for a world title, because it doesn't often happen."
October, 26, 2013
10/26/13
10:22
PM ET
By
Shaun Brown
| ESPN.com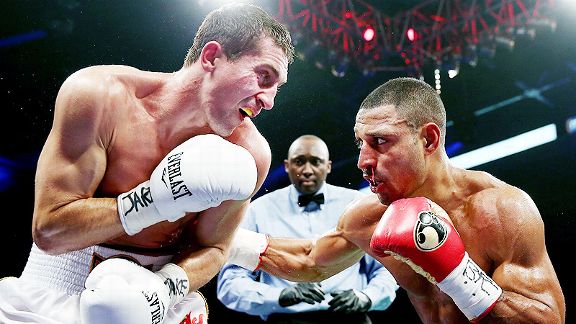 Scott Heavey/Getty ImagesKell Brook, right, controlled Vyacheslav Senchenko on Saturday, but hasn't swayed his doubters yet.
Delight and relief appeared to be the two overriding emotions from Kell Brook and his team after the 27-year-old Brit passed his "toughest test" against Vyacheslav Senchenko on Saturday in Sheffield, England, with a fourth-round TKO victory.
As sounds of triumph bellowed around the Motorpoint Arena for the local hero, Brook mouthed to his trainer, Dominic Ingle, "Thank f--- for that" after his career was rescued from the potential obscurity that could have followed a defeat.
After the wake-up call that was his first contest against Carson Jones (a majority-decision win after a trip to hell and back in July 2012), it had been hoped that Brook would rub his eyes and realize the word "potential" had been placed over his head for far too long and that he would throw it away for good. Fast-forward 15 months, and "All of the Lights" -- the tune that Brook walks out to -- were more or less switched on, but with one still flickering against the 36-year-old Ukranian.
Brook controlled and, for the most part, dominated Senchenko despite suffering a wobble of his own in the fourth round. The fact of the matter is that boxing fans are never going to know how good "The Special One" really is until he has had ring time with a marquee name at welterweight, such as titleholder Devon Alexander, domestic rival Amir Khan or even Paulie Malignaggi, who is kicking keen to fight, again, in the United Kingdom. Not all of the blame can be laid at Brook's door, however. On three occasions this year his challenge for Alexander's strap was cancelled, with injuries to one fighter or the other delaying a bout that now looks further away than ever.
At his best, Brook is like a Rolls-Royce going through the gears smoothly and delivering performance that makes one's head turn. But this particular vehicle has stalled at times and, at worst, still looks like it's being developed on the production line.
Many fighters never fulfill their god-given talents until they are met with their greatest challenge, and after tonight's postfight interview with Brook promoter Eddie Hearn, we are none the wiser as to who might provide it.
"I want the best out there, I'm ready, bring on whoever you want," Brook declared. Then, moments afterward, Hearn, with a glint in his eye, said, "We've got options."
Wait, what? So Brook verus the winner of Alexander-Shawn Porter isn't the foregone conclusion we all thought? So what are these options?
Khan on pay-per-view in the UK, and with their heated rivalry stemming from the usual "Who beat up whom in sparring?" does a right treat on these shores. And, hey, if it don't make dollars, it don't make sense, right? I mean, are we really all holding our breath for Khan to face the king of kings, Floyd Mayweather Jr.?
Hearn also said that one fight he would love to make in the UK is Brook-Adrien Broner. But is Broner and his circus really going to up sticks for someone with no profile in America? And as alluded to earlier, Malignaggi-Brook sells out tonight's venue comfortably and boosts Brook's reputation stateside.
When the Sheffield native looks around at who holds the four shiny belts, then all he will see is an obstacle that is far greater than a fighter who managed to overcome a shadowy figure of Ricky Hatton. But maybe, just maybe, that's when we'll see all of his lights switched on permanently.
"The Special One"? Not just yet.