Boxing:

Sugar Ray Leonard
October, 10, 2013
10/10/13
11:40
AM ET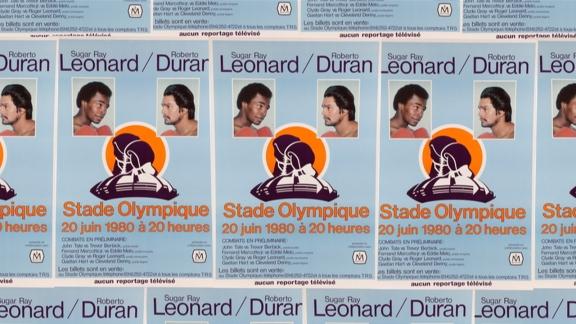 I left the IFC Center in Greenwich Village on Wednesday night pondering deep philosophical issues, and also what a badass Roberto Duran was in his prime and how skilled Sugar Ray Leonard was in his.
I'd just watched Eric Drath's documentary production "No Mas," which will run Tuesday on ESPN as part of the network's "30 for 30" series. The film examines the rivalry between Leonard, the 1976 Olympic golden boy who took the baton from Muhammad Ali and ran with it before Mike Tyson wrested it away; and Duran, the man with the Manson-esque eyes, whose extraordinary malevolence outside and inside the ring affected Leonard to the point that he admitted he felt fear.
Closure, and the ability to attain it, was the primary philosophical matter I chewed on after watching the doc. I cannot and will not give away too much of the film here. But suffice to say, Leonard has been affected since Nov. 25, 1980, when he clowned Duran and saw the Panamanian shame his nation by quitting during Round 8, by the way the bout ended and how it was perceived. Instead of being glorified for his supreme display of clever pugilism, Leonard found the press and fans obsessed with Duran, now age 62, and why he quit. It was not noted, to Leonard's satisfaction, how he had rebounded so robustly following the first fight, which took place five months earlier and saw Duran win a decision after 15 rounds.
[+] Enlarge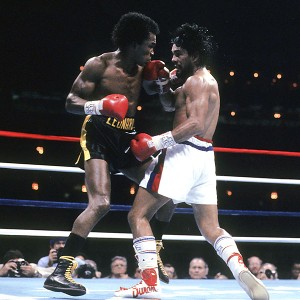 Focus On Sport/Getty ImagesRay Leonard found his footing and redemption in a rematch against Roberto Duran.
If Duran had since admitted that Leonard's skills and game plan and preparation were too much for him to handle, physically and mentally, and that is why he said -- or didn't; that's part of the story -- "No mas," then I suspect Leonard could have closed the book on what became a recurring torment.
During a post-screening Q&A, I asked Leonard, now 57, about his current degree of closure regarding the fight.
To be candid, I'm of the school that believes achieving total closure is a rarity in this life, and I'm an admitted cynic when anyone announces, "It's all good" -- that they have made total and complete amends with a wound that festered for decades. That isn't to say it's an impossible feat, but ... let me put it this way: Even Mother Teresa had doubts about the meaning of it all. Again, I will let you screen the film and decide how you perceive Leonard's viewpoint toward the "No mas" debacle, rather than give away plot points.
Striding out of the theater, I saw Leonard and addressed him: "Sugar Ray, I have to say, I think you schooled Duran. You outboxed him, masterfully. No matter if he can admit it or not, or you need to hear him admit that, or don't, that is what happened. I think that is why he quit. And I think true-blue boxing fans know this to be the case."
Leonard said nothing with his mouth, but his grin and smiling eyes told me something else.
I believe that more so than Duran's partying, or rapid weight loss, or cold water, or hot coffee, or too big a meal ingested prefight, or cramps, it was Leonard's in-ring wizardry that forced Duran to surrender.
Will we ever know the truth? You have to watch "No Mas" and decide for yourself.
Follow Woods on
Twitter.
October, 8, 2013
10/08/13
11:14
PM ET
By
Chris Lees
| ESPN Stats & Information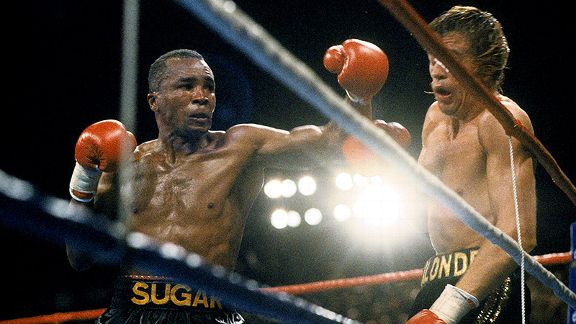 The Ring Magazine/Getty ImagesSugar Ray Leonard tarnished "The Golden Boy" Donny Lalonde and took two titles in one night.
Leading up to Juan Manuel Marquez's bid to win a world title in a fifth different weight class on Saturday, ESPN.com will look back at the elite group of fighters who have already achieved the feat -- we'll roll out a new one each day this week -- in our "Five In Five" series.
Three days after Thomas Hearns made boxing history by winning a world title in his fifth different weight class, the man who ended his reign as welterweight champion attempted to join him in that very class.
During his career to that point, Sugar Ray Leonard had won titles at 147, 154 and 160 pounds, winning each in dramatic fashion. Nov. 7, 1988 would be no different. There was one change for Leonard, however: This would mark his first fight without longtime trainer Angelo Dundee in his corner, after the two had parted ways because of a money dispute.
His opponent, Canadian-born Donny Lalonde, was unknown to most casual fans. He was tall, lean and could punch (26 of 31 wins by KO). He was also nicknamed "The Golden Boy" -- not because he had won Olympic gold like Oscar De La Hoya, but because he had dyed his hair blonde. Lalonde had won the WBC vacant light heavyweight title the previous November with a second-round stoppage of Eddie Davis.
The WBC not only sanctioned this fight for Lalonde's light heavyweight title, it also put its newly created super middleweight belt on the line. That meant Leonard would get the chance to win two world titles in as many weight classes in just one fight. It also meant Lalonde had to fight at a contracted weight of 167 pounds, eight pounds under the light heavyweight limit. Leonard weighed in at 165, which Lalonde addressed right away, calling Leonard "a fat, old welterweight."
Midway through the fourth round, Lalonde connected with a right to the top of Leonard's head, which sent him to the canvas for only the second time in his career. Leonard took the mandatory eight count and survived the round. According to the scorecard of Harold Lederman, HBO's unofficial judge, Lalonde had won the first four rounds, including 10-8 in the fourth.
Leonard and Lalonde continued to trade punches as the fight wore on, but it was Leonard who began landing the more efficient blows.
Leonard would finally catch Lalonde in the ninth with a brutal assault of unanswered punches. A Leonard left hook dropped Lalonde with 60 seconds left in the round. Lalonde courageously made it to his feet, but he was sent back to the canvas for good just seconds later.
Lalonde was the busier fighter, according to Compubox punch stats, but he landed just 122 of his 508 punches (24 percent). Leonard, by contrast, landed an impressive 54 percent of his blows (205 out of 382). How good was his performance in this back-and-forth battle? Last month, Floyd Mayweather Jr. landed 46 percent of his punches against Canelo Alvarez in a fight he thoroughly dominated.
Leonard never defended the light heavyweight title. He kept the 168-pound title and put it up against that other five-division champion, Hearns, when they made a rematch the following June. They battled to a draw, a fight many believe Hearns won.
April, 6, 2012
4/06/12
12:57
PM ET
By
Richard Fletcher
| ESPN.com
It was just before 8 p.m. on April 6, 1987, when Sugar Ray Leonard started his walk to the outdoor ring at Caesar's Palace in Las Vegas to face his moment of truth against Marvelous Marvin Hagler.

As far as most observers were concerned, he might as well have been walking to the gallows. With Leonard having fought just once in five years and undergone eye surgery, logic dictated it was a fight he couldn't win.

That assumption might have been safe had it been anyone other than Leonard in the fight. Little more than an hour later, one of the most remarkable comebacks in boxing history had been executed, rather than, as feared, Leonard himself.

Leonard alternately danced and fought his way to a disputed 12-round split decision, capturing the middleweight championship and a place among the all-time greats.

Hagler already had his, but it no longer mattered. In his eyes, he had been robbed of the title by his polar opposite, a media darling who had been propelled to stardom on the back of Olympic glory while Hagler toiled for every morsel of recognition that came his way.

Friday marks the 25th anniversary of the fight that defined the sport's last golden era and the careers of both men.

Leonard carried on for another 10 years, but he never reached the same heights again, eventually bowing out at 40 years old. For Hagler, losing to Leonard was too much to bear. Hurt and disillusioned, he never fought again, retiring just over a year later.

Two years earlier, in April 1985, Hagler had prevailed in a three-round war with common rival Thomas Hearns in one of the most sensational bouts of the modern era. Despite its dramatic outcome, the Leonard fight never caught light in the same way, even though the frenzied prefight buildup had surpassed almost anything that had come before it.

"The event was built up to be gigantic, but I don't think the fight lived up to its expectations," said Richard Steele, who refereed the bout, as well as Hagler-Hearns. "There wasn't enough action."

That was because Leonard, the naturally smaller man, kept the fight at distance. He moved around and was rarely still long enough for Hagler to inflict any real damage. Every so often, Leonard stopped, planted his feet and engulfed Hagler with a flashy burst, catching the judges' eyes while the champion struggled to impose himself.

Hagler, a natural southpaw, mysteriously started from an orthodox stance and tried to outbox Leonard in the first four rounds. But Hagler fell behind on the scorecards and, despite coming on in the later stages, never seemed to look to get Leonard out of the fight.

"It was not what the crowd expected," said Steele, now a 68-year-old coach in North Las Vegas. "Hagler was trying to box.

"Instead of doing it the way that had got him there and using the style that gave him his reputation, he tried something new. That kinda messed it up.

"It was a close fight, but Leonard won. As I've stated on TV many times, and as I look at the fight [again], it gets closer and closer. But I gave it to Leonard. He did more than Hagler."

Two judges went opposite ways, with scores of 115-113, while the third, JoJo Guerra, had it an impossibly wide 118-110 for Leonard, giving Hagler only two of the 12 rounds. In a poll of U.S. newspaper reporters at ringside, six went for Leonard, four for Hagler and three scored the fight a draw.

"I thought Hagler would knock him out," Steele admitted. "Every time the bell rang [to end the rounds], I said to myself, 'I guess he's gonna do it the next round.' But the next round never happened. Leonard had him mesmerized. By the time he did turn [more aggressive] and he came [back] to himself, it was too late."

The bout was watched by a crowd of 15,336, with 12,379 paying customers generating a live gate of $6.2 million. Millions more watched on closed circuit, with Hagler earning $12 million and Leonard $11 million, according to figures supplied by the Nevada State Athletic Commission.

Veteran HBO analyst Larry Merchant, who worked on the U.S. closed-circuit broadcast, said the bout was "one of the signature fights of its time," referring to the 1980s, when Leonard, Hagler, Hearns and Panamanian Roberto Duran all fought each other at least once in a seemingly endless series of classic fights.

"Hagler and Leonard, in the way it came to be and the way it was fought, was the climax of that amazing round robin of fights," Merchant said.
"The pressure on Hagler leading up to the fight is fascinating to me, largely because Hagler was so consumed by part confusion, part jealousy of Leonard, who was the much more popular fighter. It seemed that Hagler was always fighting the shadow of Leonard.

"Leonard had been the successor to [Muhammad] Ali, the best and most famous fighter on the planet. Hagler had often spoken about how he wanted to show that he was as much an artist in the ring as Leonard.

"He decided to outbox and outfox the boxer. He came out in the first few rounds fighting conventional, and it ended up probably costing him the fight."

A rematch might have been even more lucrative for both boxers, but it failed to materialize and Hagler walked away for good, signaling the end of one of the sport's greatest rivalries.