October, 16, 2013
10/16/13
12:03
AM ET
By
Brian Campbell
| ESPN.com
It's safe to say ESPN boxing analyst and veteran trainer Teddy Atlas believes in the talent of two-time Ukrainian Olympic gold medalist Vasyl Lomachenko even more than most.
A veteran of four Olympic games as a television analyst, Atlas has followed Lomachenko's career rise through the amateur ranks leading up to his professional debut on Saturday. Atlas, in fact, was in attendance in Las Vegas when Lomachenko knocked out veteran featherweight contender Jose Ramirez in the fourth round on the undercard of the Timothy Bradley Jr.-Juan Manuel Marquez pay-per-view.
Lomachenko, 25, who was also 6-0 in four quasi-professional bouts in which the fighters were paid and fought without headgear under the "World Series Of Boxing" banner, impressed many with his performance.
Atlas wasn't surprised with what he saw from Lomachenko, one of the most decorated amateur fighters in history. But he was so thoroughly impressed after just one pro fight that he gave Lomachenko a vote as his No. 10 pound-for-pound fighter in ESPN's latest rankings.
"I have the experience of having seen these guys up close and called their [Olympic] fights," Atlas said. "I'm obviously more familiar than maybe the average guy out there on Lomachenko. I know what he is. I know what he's about.
[+] Enlarge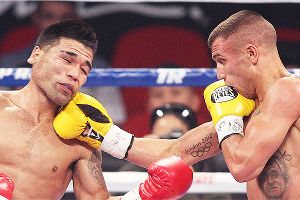 Tom Hogan/Hoganphotos.comVasyl Lomachenko, right, destroyed former title contender Jose Ramirez to impress one P4P voter.
"Besides the obvious of a two-time gold medalist, he's a very dedicated, complete fighter. There's no satisfaction for him other than being the best fighter in the world. There's nothing short of that as a goal. A lot of guys talk about it because they are expected to say that. But it's beyond that with him in a way. He really feels a supreme confidence that he's the best and wants to prove it."
Lomachenko is so confident, in fact, that his original intention was to fight for a world title in his pro debut. That didn't happen, of course, yet he still is angled toward a title shot in his second bout in January, likely against Orlando Salido, a veteran of 55 pro fights who stopped Orlando Cruz on Saturday's undercard to claim a vacant title.
"To me, it's almost hieroglyphics in the boxing world what Lomachenko is doing because most guys want to be pampered and want to be able to slowly squeeze what they can out of their career and the sport," Atlas said. "Usually, most guys want to take as little risk as possible to get paid as much as they can. He has taken as much risk as is necessary for him to fulfill what he believes is his destiny.
"I believe that he has the belief that his destiny is to be a very special fighter and be the best fighter that there is to the extent that is possible."
Atlas admits Lomachenko's drive is very impressive to "a guy who doesn't get impressed that easily, meaning me." He also sees correlations and parallels between Lomachenko and naturals in other sports like Tiger Woods.
"I look beyond the ring and how Tiger and his father had plans for him to do things that golfers had never done before," Atlas said. "Their plan was for him to do it quicker and faster, and they trained for that ever since the beginning. And not only do you learn how to bring your 9-iron back to be more successful, you learn how to overcome and believe in yourself in those pressure situations so that you will be dominant and will conquer.
"[Lomachenko] is fulfilling that part in the same way. He is putting himself in those waters with the best that's there and he's doing it right away. He put his money where his mouth is, and I appreciate that. I know how uncommon that is, and because it's so uncommon, I applaud it and I recognize it. And my way to do that is to put him in the top 10 pound-for-pound."
Atlas believes he is matching Lomachenko's desire to be the best right away by recognizing him, right now, among the sport's elite.
"I have no doubt in my mind that he is going to be a world champion in his next fight," Atlas said. "I have no doubt in my mind that he is going to knock Salido out. No doubt in my mind. In my mind, he's already a world champion, it's just a matter of him getting in the ring to fulfill that destiny. I have no doubt that it's done. The moment he gets in the ring, it's done."
August, 24, 2013
8/24/13
1:40
AM ET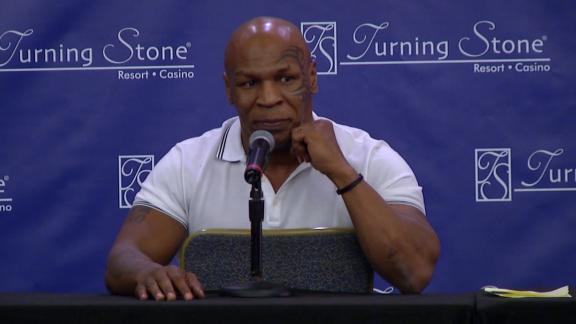 The most impactful moment occurring on the "Friday Night Fights" season finale didn't occur in the ring, in the main event -- which pitted junior lightweight titlist Argenis Mendez against Arash Usmanee -- on the undercard at Turning Stone Casino in Verona, NY.
No, that signature moment occurred when Mike Tyson, the promoter of the event, walked up to ESPN analyst Teddy Atlas before the TV bouts kicked off.
Not so strange, considering Atlas had helped train Tyson, along with their common mentor, Cus D'Amato, in upstate NY in the early 1980s. But the falling out between Atlas and Tyson was explosive.
Atlas, in his biography, recalled that he reacted heatedly after he found out that the young boxer, then age 15, had approached a young girl, who was a relative of Atlas' wife, in a crude manner. Atlas borrowed a .38 from a pal, tracked down Tyson one night in 1982, told him to smarten up, and fired the gun, deliberately missing, for emphasis. That was the end of Atlas helping Tyson learn the ropes.
Through the years, the analyst hasn't been shy about critiquing the power-punching former Kid Dynamite. He dismissed his moral fiber, labeled him "boxing's version of the Jerry Springer show."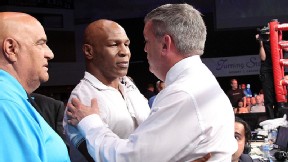 Tom Casino/Iron Mike ProductionsMike Tyson and Teddy Atlas embraced and spoke Friday for the first time since a falling out in 1982.
"Mike has always been looking for an escape, a trap door," said Atlas of Tyson in 2003. "He always lacked one essential ingredient in situation building character: the ability to confront himself."
They haven't had a relationship, save for maybe a nod at a charity dinner, since the blowup.
Until Friday. Tyson, before the show started, came up to Atlas at his station. "He behaved like a man, what can I say," Atlas recollected to partner Joe Tessitore. "He came over, extended his hand and asked me if I'd shake it and said, 'You're not still mad at me, are you? I wish you wouldn't be'. ... I give him credit for showing a gentleman's side."
"Life is short, I made amends with everybody," Tyson explained about the gesture to FNF host Todd Grisham after the first fight finished. He said making amends is important to his sobriety, describing himself as a "vicious addict. I'm recovering and I'm gonna die. If I don't follow my steps, I'm useless." Atlas, he said, was extremely important to him back then. "I was wrong," he admitted, so he's was happy to get a chance to say so.
"I have a lot of pain, and I just want to heal it, and that was part of it, right there," he said, before the main event, which saw Mendez fight to a majority draw against Usmanee, started. Tyson told Grisham his mom was a hooker, his dad was pimp, he's shot at people, and so all that fame and fortune didn't feel right to him. He said he feels better emotionally than he ever has.
It was riveting material, a powerful expression of the power and possibilities of forgiveness, and redemption.
July, 6, 2012
7/06/12
12:05
PM ET
By
ESPN.com staff
| ESPN.com

Former junior welterweight champ Amir Khan, 25, won't get to take another run at Lamont Peterson (who got popped for performance enhancers) on July 14 in Las Vegas, but landing replacement foe Danny Garcia -- an undefeated 24-year-old junior welter titlist in his own right -- was a solid save. For an early preview of the bout from our "Friday Night Fights" crew, check out the video above.
May, 31, 2012
5/31/12
1:26
PM ET
By
ESPN.com staff
| ESPN.com

Whether or not Manny Pacquiao is becoming increasingly distracted by outside interests or, at age 33, is finally starting to slow down inside the ring, many experts believe Timothy Bradley Jr. could be the biggest threat to the welterweight champ in years. For more thoughts from the "Friday Night Fights" crew and Teddy Atlas' fight plans for both Pacquiao and Bradley, watch the video above.
April, 30, 2012
4/30/12
10:58
AM ET
By
ESPN.com staff
| ESPN.com

The best way to celebrate a highly satisfying weekend of boxing action? How about a week's worth of killer coverage ahead of Saturday's Floyd Mayweather Jr.-Miguel Cotto junior middleweight title bout in Las Vegas?

To kick things off, "Friday Night Fights" previews Mayweather-Cotto in the clip above.
April, 21, 2012
4/21/12
1:33
PM ET

There had been no public clamoring for a rematch of the controversial first fight between Bernard Hopkins and Chad Dawson, but next Saturday we'll get one nonetheless. On the bright side: It's an event whenever Hopkins fights at this point, Dawson is a quality light heavyweight contender who deserves another stab at Hopkins' belt and, well ... at least this show won't be on pay-per-view.

For an early Hopkins-Dawson preview from "Friday Night Fights" analysts Teddy Atlas and Joe Tessitore, check out the clip above.
February, 23, 2012
2/23/12
8:07
AM ET

I tried logging on to Boxrec.com last night and couldn't get on. So I couldn't take a deeper look at the record of Cristobal Cruz, the not-so-sterling record of the underdog in the main event of this week's "Friday Night Fights," which unfolds at Dover Downs.

I assumed Cruz, a 34 year-old Mexican, would be seen as the underdog against fellow Mexican Juan Carlos Burgos, for starters, because he will bring a record of 39-12-3 to Delaware, while Burgos, who I recalled had been in a title fight against Japanese ace Hozumi Hasegawa back in late 2010, is 28-1.

But then I realized that I was falling pray to an easy assumption. I was assuming that Cruz was the somewhat shopworn steppingstone who'd be in a bit over his head against the WBC silver super featherweight champion Burgos (ranked No. 2 by WBC; turned pro at age 16), who snagged that vacant strap last November, with a majority decision win over 19-0 Luis Cruz.

With Boxrec down, I put in a call to ESPN FNF analyst Teddy Atlas. I knew, being the pro he is, he'd already done ample homework on the mainers, and would be able to tell me, and thus I'd be able to tell you, how much of a shot Cruz likely had against Burgos.

Somewhat of a shot, Atlas told me, hammering home that I'd been a bit quick with the judgment regarding Cruz' so-so winning percentage.

"He's got a chance, Burgos is not a super, superstar," Atlas told me. "Burgos is younger, by ten years, a little more versatile, quicker, a little sharper. But Cruz will be there all night with the right hand. At 34, he's in the twilight, but he had success a couple years ago. His experience is what paid off, and his resiliency. He finally won a title at a later age. (Boxrec coming back up, I was able to see that yes, Cruz beat Orlando Salido, no dog, in 2008 for the IBF featherweight crown. He defended it three times before dropping it back to Salido in May 2010.)

"He's been in a lot of tough fights, what's he got left? Experience, heart, his right hand, which often comes out of left field," Atlas said of the vet who started his pro career at age 14, and has been off for 15 months. The analyst/trainer said we'll see veteran tricks of the trade from Cruz Friday, and that Burgos will need to work to get the W, and make sure he doesn't get hook-happy, and leave himself open for a right hand. Things could get a little sloppy at times, Atlas predicts, but no, in case you are like me, and make premature judgements sometimes based on records, no, he says, Cruz isn't shot.

"Cruz is in the twilight, yeah, he's at that place, but the guy has done some of best work in the twilight," Atlas said. "How many fights does he have left? I wouldn't say 100, not even 20. But he has enough for a guy who's still a little wet behind the ears. Cruz has a puncher's chance."