October, 8, 2013
10/08/13
11:14
PM ET
By
Chris Lees
| ESPN Stats & Information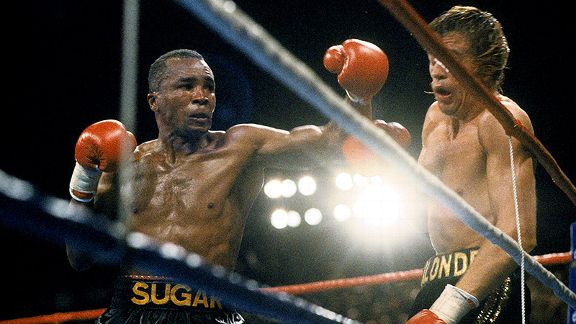 The Ring Magazine/Getty ImagesSugar Ray Leonard tarnished "The Golden Boy" Donny Lalonde and took two titles in one night.
Leading up to Juan Manuel Marquez's bid to win a world title in a fifth different weight class on Saturday, ESPN.com will look back at the elite group of fighters who have already achieved the feat -- we'll roll out a new one each day this week -- in our "Five In Five" series.
Three days after Thomas Hearns made boxing history by winning a world title in his fifth different weight class, the man who ended his reign as welterweight champion attempted to join him in that very class.
During his career to that point, Sugar Ray Leonard had won titles at 147, 154 and 160 pounds, winning each in dramatic fashion. Nov. 7, 1988 would be no different. There was one change for Leonard, however: This would mark his first fight without longtime trainer Angelo Dundee in his corner, after the two had parted ways because of a money dispute.
His opponent, Canadian-born Donny Lalonde, was unknown to most casual fans. He was tall, lean and could punch (26 of 31 wins by KO). He was also nicknamed "The Golden Boy" -- not because he had won Olympic gold like Oscar De La Hoya, but because he had dyed his hair blonde. Lalonde had won the WBC vacant light heavyweight title the previous November with a second-round stoppage of Eddie Davis.
The WBC not only sanctioned this fight for Lalonde's light heavyweight title, it also put its newly created super middleweight belt on the line. That meant Leonard would get the chance to win two world titles in as many weight classes in just one fight. It also meant Lalonde had to fight at a contracted weight of 167 pounds, eight pounds under the light heavyweight limit. Leonard weighed in at 165, which Lalonde addressed right away, calling Leonard "a fat, old welterweight."
Midway through the fourth round, Lalonde connected with a right to the top of Leonard's head, which sent him to the canvas for only the second time in his career. Leonard took the mandatory eight count and survived the round. According to the scorecard of Harold Lederman, HBO's unofficial judge, Lalonde had won the first four rounds, including 10-8 in the fourth.
Leonard and Lalonde continued to trade punches as the fight wore on, but it was Leonard who began landing the more efficient blows.
Leonard would finally catch Lalonde in the ninth with a brutal assault of unanswered punches. A Leonard left hook dropped Lalonde with 60 seconds left in the round. Lalonde courageously made it to his feet, but he was sent back to the canvas for good just seconds later.
Lalonde was the busier fighter, according to Compubox punch stats, but he landed just 122 of his 508 punches (24 percent). Leonard, by contrast, landed an impressive 54 percent of his blows (205 out of 382). How good was his performance in this back-and-forth battle? Last month, Floyd Mayweather Jr. landed 46 percent of his punches against Canelo Alvarez in a fight he thoroughly dominated.
Leonard never defended the light heavyweight title. He kept the 168-pound title and put it up against that other five-division champion, Hearns, when they made a rematch the following June. They battled to a draw, a fight many believe Hearns won.
October, 7, 2013
10/07/13
8:47
PM ET
By
Chris Lees
| ESPN Stats & Information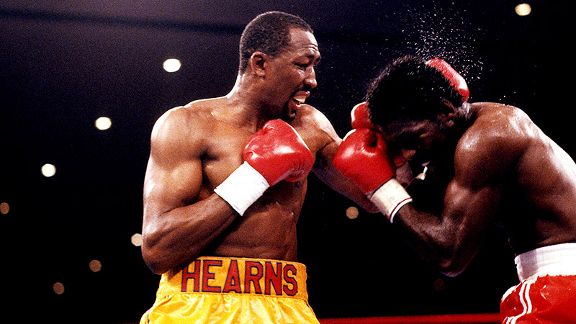 The Ring Magazine/Getty ImagesThomas Hearns needed to get off the canvas in order to outlast James "The Heat" Kinchen in 1988.
Leading up to Juan Manuel Marquez's bid to win a world title in a fifth different weight class on Saturday, ESPN.com will look back at the elite group of fighters who have already achieved the feat -- we'll roll out a new one each day this week -- in our "Five In Five" series.
In 1988, Thomas Hearns was the only man to have won world titles in four weight classes. "The Hitman" was on a path to claim a title in a record fifth division at super middleweight, but that appeared to go away when WBA titleholder Fulgencio Obelmejias withdrew from their Nov. 4 fight with a rib injury.
Although he didn't know it at the time, Hearns remained on that path. During the summer of 1988, several members of the WBA withdrew from the sanctioning body. As a result, they decided to form their own new organization. Thus, the World Boxing Organization (WBO) was born and the sport's alphabet soup became more crowded.
Hearns would find a new opponent in James "The Heat" Kinchen. The 30-year old veteran was coming off a decision victory over Marvin Mack just 22 days earlier.
Two days before their encounter, the WBO announced it would recognize the winner as its super middleweight champion. Hearns' chance at history had been restored.
Kinchen, however, didn't come to Las Vegas to lose. He dropped Hearns in the fourth round with a hard right hand. Hearns lost another point in the round when referee Mills Lane penalized him for refusing to break. Kinchen was in prime position to spoil Hearns' night.
But Hearns was able to overcome the knockdown and make a fight of it. He and Kinchen battled the full 12 rounds, leaving their fates in the hands of the judges. In the end, Hearns was awarded a majority decision victory and his place in boxing history.
The flagship of the Kronk boxing team and prized pupil of Emanuel Steward stood atop the boxing world. He wouldn't be alone at the apex for very long. Just three days later, an old nemesis of Hearns' attempted to elevate his own place in history -- when Sugar Ray Leonard challenged Donny Lalonde for titles at 168 and 175 pounds -- but that's a story for another day.
As for Hearns, he finished his career for good in 2006 with a record of 61-5-1, with 48 knockouts, and was inducted into the International Boxing Hall of Fame in 2012.