March, 16, 2014
Mar 16
12:11
AM ET
By
Brian Campbell
| ESPN.com
Vyacheslav "Czar" Glazkov rose to the occasion throughout most of the night in the biggest fight of his career.
But it took the unbeaten heavyweight prospect holding off a late rally from determined veteran Tomasz Adamek to secure Saturday's title eliminator.
[+] Enlarge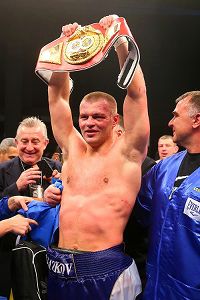 Rich Graessle/Main EventsUnbeaten heavyweight Vyacheslav Glazkov used a heavy jab to outwork veteran Tomasz Adamek.
Glazkov (17-0-1, 11 KOs) fought past 10 rounds for the first time in his career and scored a unanimous decision (117-110, 117-111, 116-112) at the Sands Casino Resort in Bethlehem, Pa. ESPN.com scored the bout 115-113 for Glazkov.
"I wasn't surprised because I felt I was controlling all of the fight and winning every single round," Glazkov said, through an interpreter. "I didn't have experience to go into 12 rounds, which was missing in my game plan, but I learned during this bout."
Glazkov, 29, dominated for the majority of the bout with a punishing jab that caused severe swelling around the right eye of Adamek (49-3, 29 KOs) in Round 2. The 2008 Olympic bronze medalist from Ukraine continued to walk down and impose his size on Adamek, landing consistently with counter right hands.
"This is boxing, you know, sometimes it happens," said Adamek, of a badly swollen and bloody right eye that affected him throughout. "I have broken my nose in my career. This is boxing -- you never know what is going to happen."
Adamek, 37, was staggered by a hard right hand in Round 8 before getting hammered with power shots throughout most of Round 9. But the native of Poland never quit and posted a heroic final stand. Adamek produced his finest work in Round 12, connecting with a series of right hands on a fading Glazkov, whose left eye was swollen and bruised.
In the final two rounds, according to CompuBox, Adamek outlanded Glazkov 55-38 in total punches and 32-22 in power shots.
The loss snapped Adamek's five-fight winning streak since his 2011 title loss to Vitali Klitschko and dealt a major blow to any future hopes of contending for a belt. Because of that, Adamek openly considered retirement after the bout when asked if he plans on continuing.
"No, I have to stop," Adamek said. "I lose my chance and title shot is impossible. I don't know right now."
The victory proved to be a breakthrough one for Glazkov, who showed strong poise and confidence against a fighter with much more experience.
"This is a passing of the torch," said Main Events CEO Kathy Duva, who promotes both fighters. "Glazkov did everything he absolutely had to do to win this fight against a very tough and very accomplished opponent. Tonight he announced his arrival to everyone that he belongs among the top five heavyweights. Adamek is someone who has been a top 10 heavyweight for the last six to 10 years. I am really at a loss to say who amazed me more."
Chilemba handles Grachev
Light heavyweight contender Isaac Chilemba was simply too slick for the hard-charging Denis Grachev in the co-main event and cruised to a wide unanimous decision.
[+] Enlarge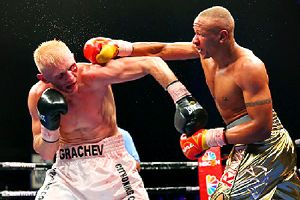 Rich Graessle/Main EventsLight heavyweight Isaac Chilemba relied on movement and accuracy to outpoint a determined Denis Grachev.
Chilemba (22-2-2, 9 KOs), 26, did the majority of his damage by working off of his quick jab and countering on the inside with his right hand. The native of Malawi, who fights out of South Africa, was victorious by scores of 100-90 and 99-91, twice. ESPN.com also had it 100-90 for Chilemba.
Grachev (13-3-1, 8 KOs) persevered through cuts above and below his left eye, along with bleeding from his nose, to make it an exciting fight over the second half of the scheduled 10 rounds. The 31-year-old native of Russia, who fights out of San Diego, was simply unable to land a sustained amount of power shots.
The light-hitting Chilemba, who suffered a small cut above his right eye in Round 6, fought in a much more exciting style than he has become known for and did well to trade with Grachev on the inside at key moments.
March, 12, 2014
Mar 12
6:43
PM ET
By
Brian Campbell
| ESPN.com
As Tomasz Adamek enters Saturday's title eliminator against unbeaten Vyacheslav "Czar" Glazkov, it's fair to speculate whether the rugged veteran is coming or going as a heavyweight contender.
It's no secret Adamek (49-2, 29 KOs) is navigating the twilight of an exciting 15-year career as he enters Saturday's crossroads fight (NBC Sports Network, 9 p.m. ET) at the Sands Casino in Bethlehem, Penn.
But the key question staring him in the face after multiple -- and often memorable -- ring wars is simple: At 37, how much does Adamek have left?
On one hand, the former light heavyweight and cruiserweight titlist is 5-0 since being stopped in a 2011 heavyweight title loss to Vitali Klitschko and maintains a glossy résumé featuring just two defeats (he lost his 175-pound title to unbeaten Chad Dawson in 2007).
But digging a little deeper on his recent run exposes a different theory regarding Adamek's current state. He not only received the benefit of the doubt on the scorecards in contentious 2012 decision wins over Eddie Chambers and Steve Cunningham, he went life-and-death for five rounds before stopping journeyman Travis Walker.
Regardless of which version of Adamek enters the ring against Glazkov (16-0-1, 11 KOs), a victory places the native of Poland, who fights out of Jersey City, N.J., firmly back into the title picture. But despite the must-win scenario he faces on Saturday, Adamek isn't concerned about what a loss means to his future.
"I never think about losing, because I'm a warrior," Adamek said. "If you start thinking about it, you better not go to the ring. Every fight is very important. If you want to be a challenger for title fights, you have to win every fight."
[+] Enlarge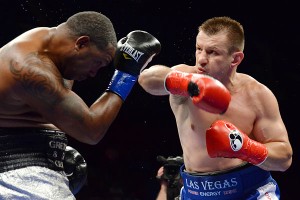 George Jimenez/MSportsimages.com A victory for Tomasz Adamek, right, over unbeaten Vyacheslav "Czar" Glazkov will put him back into the title picture.
The fight was originally scheduled for last November but was called off days before, when Adamek came down with the flu. What that meant for the typically active Adamek, who fought four times in a nine-month span in 2012, was a long layoff. He will enter Saturday's fight having fought just once -- an August 2013 decision win over Dominick Guinn -- in the past 16 months.
Adamek's trainer, Roger Bloodworth, looks at Adamek's time away as a blessing instead of a curse.
"I'm not concerned," Bloodworth said. "He's a fighter with a lot of experience, and if you notice, most of your world champions don't fight every month. I think as a fighter gets more years on him and gets more experience on him, he needs rest. Rest is as important as work."
An added wrinkle to the storyline for Saturday's fight is that Glazkov, 29, not only once served as a sparring partner for Adamek, he reportedly hurt the veteran fighter and gave him all he could handle.
"My feelings is sparring is sparring. A fight is a different story," Adamek said. "You have small gloves and no hat and many people are watching you. It's a different game. I'm looking for not what once was in sparring, I'm looking for the future and how I can show my class and my experience and win this fight."
For a fighter like Adamek, whose best defense has always been his offense, predicting Saturday's heavyweight tilt will be an all-action affair isn't much of a stretch. In fact, Adamek was upfront regarding his thoughts on the topic when he said: "I'm ready for war."
But that's where the debate regarding Adamek's true stock comes back into play. As an undersized heavyweight, will his experience and unrivaled toughness be enough to overcome yet another hungry young fighter in a likely action bout?
For Bloodworth, his focus is centered more on Adamek's evolution away from that of a full-time brawler to more of a well-rounded fighter, who he said is just as good at 37 as he ever was.
"He's just as dedicated. He wants to learn. He keeps improving," Bloodworth said. "If you remember when he was fighting at light heavyweight and cruiserweight, he mainly just stood in front of you and threw punches. It was last man standing. I think he showed in his last bout [against Guinn] that he is becoming a boxer and a bit of a puncher. We've been practicing that, and we will see what happens [on Saturday]."
January, 10, 2013
1/10/13
6:18
PM ET
By
Brian Campbell
| ESPN.com

As a casual observer of unbeaten featherweight contender Rances Barthelemy's unanimous decision victory over Arash Usmanee on last week's season opener of "Friday Night Fights," I was left with a reaction similar to that of most watching at home: outrage.

Admittedly, I hadn't scored the fight, but my conclusion rested upon watching the hungrier Usmanee (20-1, 10 KOs) outwork an underwhelming Barthelemy (18-0, 11 KOs), who didn't just give away his height and reach advantages but also appeared to give away the fight through prolonged periods of inactivity. Watching an exhausted Barthelemy on the verge of being stopped to close out the 12th round only confirmed my assumptions.

The scorecards, of course, told a different story, with all three (116-112, 116-112 and 115-113) in favor of Barthelemy, who collapsed to the canvas upon hearing the result, seemingly as surprised as most of us watching on TV.

For the first nationally televised fight of 2013 -- an entertaining one at that -- to be stained by incompetency (if not blatant corruption) wasn't just a bad omen to start the new year; it was another example of boxing's insistence on shooting itself in the foot -- the same tired song and dance a wayward sport that always finds a way to break your heart moments after capturing it.

I'm sure you felt the same way last Friday night, correct? Well, turns out we were both wrong.

Responding to quotes in a press release from Barthelemy's co-promoter, Leon Margules, urging doubters to watch the fight again before calling it a robbery, I accepted the challenge.

What I found was a much closer fight on the scorecards than I'd initially witnessed with the naked eye. Although it was clear to me that Usmanee rode his unrelenting motor to definitively win at least five rounds -- including three (Rounds 7, 9 and 12) by a dominant margin -- Barthelemy did a noble job of picking off the majority of shots with his high guard and countering with the cleaner, heavier shots in the other rounds.

Usmanee had everything going for him to create the illusion that he had won going away: He won rounds by a wider margin, came on late to seize momentum and closed the fight on the verge of a knockout. Usmanee, who owns an inspiring backstory of overcoming adversity, was also the smaller and less talented fighter, one who seemed to push Barthelemy to the bring of an upset through sheer desire.

But boxing is scored round by round, with each three-minute stanza independent of those around it and not subject to the influence of the crowd or a fight's momentum. Just because Barthelemy, a former standout Cuban amateur, put forth a performance not reflective of his talent level -- falling into traps that played into his opponent's strengths -- doesn't mean he was out of the fight.

Usmanee was clearly the aggressor and dominated the middle rounds (I awarded him four straight rounds, starting with the sixth). But the majority of the close rounds in the fight would evoke the age-old debate of ring generalship versus clean and hard punching: Did you prefer Usmanee's flurries of activity or reward Barthelemy for his defense and well-timed, flush counter shots?

After multiple viewings of the fight, I ended up scoring it the same way each time: a draw. It's not only a fight I'd like to see again, but it produced an inspired effort from Usmanee, who performed up to the definition of a TV-friendly fighter. Would I begrudge anyone who scored the fight for Usmanee, even by two rounds? Absolutely not. But I also wouldn't object to anyone who believed Barthelemy had done just enough to eke out a 115-113 decision. Although I believe the 116-112 cards submitted by two judges were a bit much, it wasn't outrageous enough to call for their heads -- especially considering their ringside seats afforded better views.

There are a lot of problematic issues in boxing, with judging often being one of them. But there's a distinct line that can be drawn between a close fight and a robbery, and the line gets blurred each time a contentious decision produces a call for a witch hunt.

Last week we saw a close fight -- just as we saw one a couple weeks earlier in the Tomasz Adamek-Steve Cunningham rematch. But neither fight demanded a police report or was anywhere nearly as head-scratching as, say, the recent Manny Pacquiao-Timothy Bradley Jr. or Brandon Rios-Richard Abril results.

By nature, scoring fights is a subjective, gray-area endeavor that includes judges who have a predisposed tendency to favor a specific scoring criteria above all else.

Could boxing benefit from an influx of younger judges and more accountability from each state in employing the cream of its respective crop for major fights? Definitely. And it's unfortunate that we're seemingly always a Pacquiao-Bradley decision away from seeing the sport take another step backwards in the court of public opinion.

That's the unpredictable nature of what happens when a fighter's fortune is left in the hands of subjectivity. It's not an exact science, and sometimes it isn't pretty. But that's precisely why we need to be careful not to turn the aftermath of the next close fight into a crime scene before launching our own thorough investigation.
December, 22, 2012
12/22/12
8:05
PM ET
By
Igor Guryashkin
| ESPN.com
Steve Cunningham got robbed on Saturday.

There, I said it. And I won't be convinced otherwise.

Why? Because the decision of the judges to award Saturday's heavyweight bout in Bethlehem, Pa., to Tomasz Adamek was, simply, wrong. Was it as egregious as the theft some say was dealt to Manny Pacquiao at the hands of Timothy Bradley Jr.? Perhaps not. But it was a decision that was shared by a small minority -- a minority of two, namely the judges who tabulated their confusing numbers and awarded Adamek a bewildering split decision.

For Cunningham, there was nothing but tears after his fistic mistrial, while for Adamek this must have been the most unexpected of gifts for the holiday season.

But it's a result that is likely to leave more than just a bitter taste in the mouths of those who watched it. Instead, the residue of this fight will be a plethora of questions with little hope of any forthcoming answers.

For the second network-televised fight in as many weeks -- the first in more than a decade -- any person who tuned in would undoubtedly have been thrilled and entertained. Amid the ritual and seemingly endless hullabaloo surrounding boxing's questionable officiating, one thing must not be forgotten: This was a great fight.

Adamek is routinely half of a great scrap whenever he climbs through the ropes, while Cunningham played a perfect matador to Adamek's aged bull in a rematch of a dazzling 2008 battle. But when the fight was over, any fan who let out a "Wow!" at the final bell must have uttered another word when the final scores were announced: "Why?"

Seriously. Why?

Why was the fight awarded to the fighter who consumed jabs all evening in the most gluttonous of fashions? Why is the winner the man whose defense deteriorated from being merely negligent to nonexistent as the rounds wore on? Why is the loser the fighter who gradually was able to time his opponent's jab like a bejeweled Swiss watch? Why does boxing always find a way to trip over itself, even when presented with the golden opportunity of strutting down a red carpet rolled out so lovingly by network television for the first time in epochs?

Saturday night is unlikely to have deterred the dedicated fans of the bittersweet science in any way. After all, they've seen worse. How sad.

But to the casual fans who enjoyed feasting on the passionate and physical encounter put on by Adamek and Cunningham, both of whom are blameless in this situation, how could they not be turned off by the result? Well done, NBC, for giving boxing a shot. Credit to Adamek and Cunningham for delivering on the promise of thrills. But last -- and not least -- credit (if that's what it can be called) must go to the judges for ruining all of these things for the rest of us.

Saturday's result reaffirmed one thing: Boxing can be the most delicious of apples. But too often, you devour it only to find a worm burrowing inside. And the trouble is, you'll always remember the worm.
September, 8, 2012
9/08/12
6:36
PM ET
Tomasz Adamek had to work his tail off, and even get off the deck, to win in Newark, N.J., on Saturday afternoon.

The Polish fighter was sent to the deck by 33-year-old American Travis Walker in Round 2 at the Prudential Center, but Adamek returned the favor at the end of the same round, which should get some love as a Round of the Year candidate.

The ref didn't hear the bell and the action ran about 10 seconds long. Adamek got the better of it in the third, but the underdog landed his share as well.

It got crazy again in the fifth, when Adamek (46-3) stunned Walker (39-7-1) and his finishing instinct kicked in. He hurled a bunch of punches, backed him up, and the ref had to step in to save the challenger with 1:50 left in the round. About 25 shots were thrown, and most of them landed, in the climactic portion of the clash.

Not sure where Adamek, 35, goes next. No one will clamor for him to get another crack at a Klitschko -- not after Vitali battered him last September, finishing him in the 10th. We can see him giving problems to beltholder Alexander Povetkin, who we assume will get past challenger Hasim Rahman on Sept. 29 in Germany.