February, 24, 2013
2/24/13
12:40
AM ET
After a busy weekend of fights that included a knockout in the nation's capital, an upset in Liverpool and a comeback story in Detroit, here are five things we learned from the weekend:

1. From the bottom to the top

It's safe to say that Ishe Smith's split-decision win over Cornelius Bundrage was, to put it mildly, not the most attractive ever seen. But the history books won't record the aesthetics of the event, merely that on Feb. 23, 2013, Smith became a junior middleweight titleholder and the first Las Vegas-born fighter to win a world title. Anyone who stuck through the fight to the very end and caught the raw emotion of Smith's postfight interview surely had to acknowledge the power of the moment and what it meant to a man who had, at one time, been at the very bottom of life. "This is amazing," he said. "Five years ago, I wanted to kill myself, and I didn't do it. And now I'm a champion."

2. It's Floyd Mayweather's world and we're all just playing in it

If there remained any possibility that anyone could harbor residual doubts about the identity of the dominant figure in boxing, Saturday night in Detroit should have dispelled it once and for all. Smith and Bundrage were contesting for a title belt, but this was Mayweather's show. The new champion openly credited his career resurgence to Mayweather, and it was "Money's" influence that secured Smith his shot. Mayweather is also not only the promoter of co-main event winner J'Leon Love, he worked his corner, too. And in between, he was making nice with Brian Kenny and the rest of the Showtime crew, parrying questions about his next and possible future opponents and generally basking in the fact that he is the only boxer in the sport who can turn the industry upside down the way he did last week.

Oh yeah, and remember that guy who was supposed to be his great rival for pound-for-pound best? Yeah, not so much anymore.

It's good to be Floyd.

3. For one night anyway, Lamont Peterson's problems seemed so 2012

If the DC Armory wasn't rocking quite as loudly and passionately on Friday night as the Washington Convention Center was in Dec. 2011 when Peterson overcame Amir Khan on a memorable night for DC boxing, it wasn't far off. The crowd screamed Peterson's name as he entered and chanted "D.C.! D.C.! D.C.!" as the hometown boy overcame a sluggish start to dominate and stop Kendall Holt.

Once he hurt Holt at the end of the fourth round, Peterson was relentless, pressing Holt virtually without let-up and ripping punches to the body and head. It is to the New Jersey veteran's immense credit that he absorbed as much punishment as he did, but once the tide had turned, the outcome was never in doubt. Peterson's aggression was sustained. At the end, Peterson was understandably ebullient, calling out Danny Garcia, while Golden Boy's Richard Schaefer suggested a possible May matchup, again in the nation's capital, against Lucas Matthysse.

It was as if 2012, with all its controversies and condemnation, had never happened, as if Peterson had leapt from one great D.C. night to another. The thing is, though, it did.

4. The questions remain

Some drug testing is better than no drug testing, and comprehensive drug testing such as that employed by VADA is self evidently better than the bargain-basement testing used by -- well, most boxing commissions. But the tepid and piecemeal manner with which boxing is embracing testing -- combined with its institutional aversion to any unified structure or oversight mechanisms -- only serves to accentuate suspicion rather than allay it. Ten months after news emerged of Peterson's failed tests, is the picture any clearer about the validity of his rationale for receiving synthetic testosterone? One sanctioning body removed one of his title belts, another didn't and the D.C. Commission didn't exactly show any buccaneering investigative zeal. The sport needs better testing, yes, but it also desperately needs more transparent and accountable mechanisms to respond to that testing, to remove suspicion from the innocent as well as sanction the guilty.

5. But it was a good weekend for D.C. boxers

Based on in-ring results alone, however, there can be no denying it was a fine couple of days for D.C. boxing. Less than 24 hours after Peterson dispatched Holt in front of a raucous and adoring throng, Tony Thompson stunned Liverpool into silence with a second-round stoppage of unbeaten prospect David Price. In real time, the punch seemed grazing at best -- an afterthought with which to punctuate a combination. But there was no doubting its impact, as Price slumped to the floor and then, after hauling himself to his feet, did the Harlem Shake until the referee stopped the contest. Closer examination revealed that the telling blow had landed on Price's left ear -- and, the Briton later revealed, perforated his eardrum. It was the kind of blow that can short-circuit the equilibrium of any fighter, particularly when the man throwing it weighs over 250 pounds. But there had long been whispers about Price's chin, and word on the street (and the blubber around Thompson's waist) suggested that Thompson had not trained with particular dedication for this contest, making Price's fall all the more damaging. He can come back from this -- a British heavyweight of some repute called Lennox Lewis had a decent career after a second-round knockout -- but it's Thompson who'll likely be getting that big bout against Tyson Fury.
November, 30, 2012
11/30/12
6:15
PM ET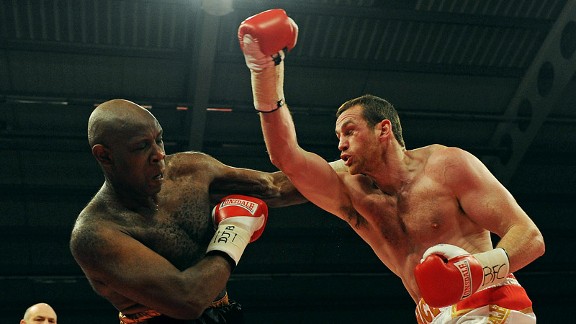 Chris Brunskill/Getty ImagesDavid Price, right, again displayed his prodigious power in Friday's second-round TKO of Matt Skelton.
LIVERPOOL, England -- David Price has earmarked Tony Thompson as his first big-name American opponent on his way to what he hopes will be a world heavyweight title fight in 2013.
Price and manager Frank Maloney were quick to call out Thompson on Friday night, just minutes after the British heavyweight champion had smashed his way through yet another former world title contender in fellow Brit Matt Skelton.
Already dubbed a sensation on this side of the Atlantic -- where he has now racked up 13 stoppages in 15 straight victories since handing in his amateur headguard following a bronze medal-winning performance at the Olympic Games in 2004 -- Price proved once again that he's a real-deal contender.
The 29-year-old effectively ended Skelton's career just 2 minutes, 56 seconds into the second round, and now the 6-foot-8, 250-pound wrecking machine has his sights set on lighting up rings stateside. Although Skelton (28-7, 23 KOs) lasted far longer than Price's last victim, Audley Harrison (who was KO'd in 62 seconds), Price maintains that he's ready for the next level.
"Next year, for sure, I want to crack America. That's high on the agenda," Price told ESPN.com. "I've done a lot of rounds in U.S. gyms already, but it's certainly not the same as competitive rounds. We had a date in Atlantic City this past summer, but it never made sense in the end. But tonight's fight went out on U.S. TV once more, and next I want to fight there live."
And Thompson is the opponent of choice for the contender's camp, and fits in with the step up that Price is pushing for.
"Thompson is a big, tall, awkward southpaw -- a bit like Harrison," Price said. "But again, it just proves that I'm not looking to do things the easy way. If he was good enough to fight [Wladimir] Klitschko six months ago, then he's a good next opponent for me."
Price (15-0, 13 KOs) is no stranger to U.S. shores. He presently divides his training camps between trips across Eastern Europe and regular working vacations in Philadelphia, New York and Las Vegas. But he clearly has a burning desire to prove himself in front of American fans too.
Skelton did manage to land a scuffing right hand Friday at Aintree Racecourse, along with more than a number of stray head-butts. But in the end, he was no different than any of the other opponents bulldozed by Price, who has displayed exciting power in both hands and, perhaps most satisfyingly, a predatory taste for the finish.
It's clear the domestic leash needs to come off now, however, and Price wants and needs to be tested on foreign shores. And with Maloney at the helm of the ship -- the same diminutive London businessman who took Britain's greatest heavyweight champion, Lennox Lewis, to the top of the sport -- Price's world title crusade is well and truly on track.
Said Maloney of his charge: "I've seen heavyweights of all shapes and sizes from all over the world, and it's just about getting this fella into the right place now.
"Tony Thompson is another step towards a world title fight, and that's a fight we are currently negotiating. I hear one of the Klitschkos will retire next year, and when he does we'll be ready to pounce. Seth Mitchell has been exposed; believe me, there is only one heavyweight champion in waiting in the world right now, and he's from Liverpool."