April, 20, 2013
Apr 20
6:58
PM ET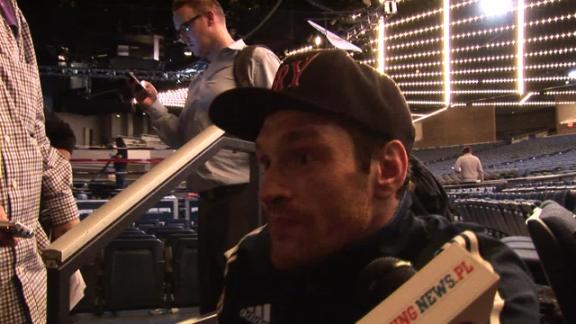 NEW YORK -- Heavyweight Tyson Fury promised to call it quits if he failed to look impressive Saturday against Steve Cunningham in The Theater at Madison Square Garden.
Fury can continue fighting. He knocked out a game, but much smaller, Cunningham in the seventh round to improve to 21-0 as a professional.
But Fury might want to tone down the volume on his trash talk. Though the win will look impressive on paper, there were several moments during the fight when he was anything but.
Cunningham exposed a flaw in Fury's game during the second round: His chin is suspect. A right hand to the jaw did the damage. That punch did more than just put the 6-foot-9, 250-pound slugger on the seat of his pants; it momentarily halted his swagger.
Gone was the smirk that Fury wore on his face throughout the buildup to this title eliminator. He was extremely confident going into this fight, even suggesting that it was disrespectful to put Cunningham in the same ring with him.
But for a brief period, Fury probably wished he could take back that promise of retirement.
After returning to his feet, Fury remained a bit woozy. His balance was a little off, his punches lacked the sharpness of the first round, and he was holding on tightly for his professional boxing life.
Fury regained his confidence after a solid fifth, even attempting to entertain the fans in attendance with a dance before the start of the sixth round. Most in the crowd, however, did not approve of his dancing skills, booing loudly.
Though his confidence was back in full force, and his punches were again finding their intended target, the damage to Fury's reputation had been done. That didn't prevent Fury from still regarding himself as the best fighter worldwide.
"Absolutely, 100 percent," Fury told ESPN.com when asked if he is still the best fighter. "Nothing went according to the game plan. My entire game plan went out the window.
"And I turned it into a dogfight. The fighter in me came out tonight."
But Fury isn't nearly the fighter he thinks he is. And it's time he put that silliness to rest.
While on the subject of best fighter in the world, Fury might consider putting an end to the talk of taking on UFC heavyweight champion
Cain Velasquez
.
That fight isn't going to happen, and it no longer deserves media attention each time Fury mentions it. For now, Fury needs to focus on becoming the best boxer in the heavyweight division.
As far as Cunningham (25-6) is concerned, Fury isn't close to being the best heavyweight boxer at this time.
"He's a good fighter," Cunningham told ESPN.com. "His size is his advantage. He did what he is supposed to do, which is be the big man.
"But he is not the best man in the world. That's my opinion. I mean, I'm 6-foot-3, 208 pounds. If he didn't do a little damage to me, then he should do like he said and retire."
There is no need for Fury to retire. He won this fight by knockout, though not nearly as impressively as he promised.
But based on the holes exposed in his game by Cunningham, a former cruiserweight champion who isn't a power puncher, Fury might want to tighten his defense and never utter the word "retirement" before a fight again.
Fury is a good talker, but that won't earn him best-fighter accolades. He has to accomplish that feat in the ring.
April, 18, 2013
Apr 18
1:47
PM ET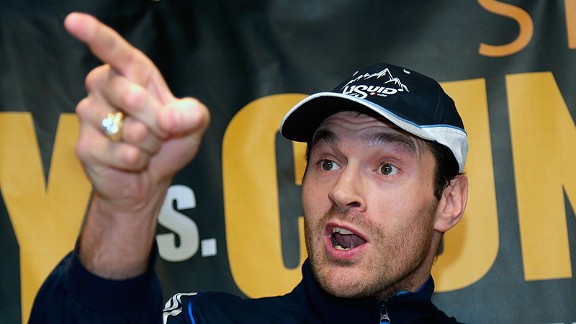 AP Photo/Seth WenigTyson Fury hasn't won a major title, but he proclaims himself as the best fighter in the world.
NEW YORK -- It's not a debatable issue: heavyweight contender Tyson Fury is extremely confident. He's also arrogant, saying whatever comes to mind at any given moment, not caring whom it offends.
When it involves fighting, Fury has a lot to say.
Though he is undefeated in 20 professional bouts, with 14 knockouts, Fury doesn't hold a major title belt. So what? That hasn't prevented him from proclaiming to be the world's best fighter.
"The belts don't mean [anything] to me," Fury told ESPN.com on Wednesday. "I'm the best fighter in the world."
This statement is far-reaching. When Fury speaks of being the best fighter alive, his remarks aren't limited to boxers. Fury directs his comments to all combatants. And yes, mixed martial artists are in the equation.
UFC heavyweight champion
Cain Velasquez
has been squarely in Fury's crosshairs for a while. He has been targeting Velasquez for several months, but Fury's taunts have yet to ruffle the champion's feathers.
A bout agreement has yet to materialize, but that hasn't stopped Fury from continuing his verbal assault.
"Absolutely, one hundred-million percent," the 24-year-old Fury said of his desire to fight Velasquez. "I've challenged Cain Velasquez to a fight three times. He's a little boy who doesn't want to fight. He said no, live on TV."
Fury participates in a title eliminator bout Saturday (NBC, 4 p.m. ET) in The Theater at Madison Square Garden against former cruiserweight titlist Steve Cunningham. The victor fills one sanctioning body's vacant No. 2-contender spot.
If Fury continues winning (he's favored in Saturday's fight), it will be good for boxing in the short term, and possibly the entire fight game down the road. You see, Fury will never be satisfied until he is universally recognized as the best fighter on this planet -- including mixed martial artists.
When Fury talks of being the best fighter today, he wants it made clear that Velasquez is part of that mix. There is no merit to proclaiming yourself the best fighter when you haven't fought all the best fighters.
Fury is well aware of this fact. It's why just the mention of Velasquez raises his blood pressure.
There is no doubt in Fury's mind that he would destroy Velasquez in a fight -- whether it's under boxing or mixed martial arts rules doesn't matter to him. The 6-foot-9, 250-pound Fury simply wants a chance to prove his point.
"I would take Cain Velasquez out," Fury said. "MMA, to me, is bulls---. It's for people who can't box and like wrestling on the floor. It's rubbish.
"I'm going to show on Saturday what I'm all about, why I'm this confident and why I'm here to fight."
Fury never minces words, and he isn't one to take shortcuts. Calling out Velasquez, or any MMA heavyweight, will keep him on the hot seat for a long time.
But he couldn't care less. Fury always raises the ante.
"I'm going to finish this here and now," he said. "If this man gives me a good fight, I swear on Jesus' name I'm going to retire after the fight. Because I ain't going to be nothing like I say I'm going to be if I can't do a job on this man. I'll retire if I don't stop him.
"If I don't impress with a good performance against this man, I will retire. I'm not going to fight. Game over. I will retire on live TV.
"I mean it. I'm not here to play games."
That last line isn't directed solely to Cunningham or professional boxers. It's also intended for mixed martial artists, especially Velasquez.
Fury is always willing to put up, because he won't shut up until he's considered the best, bar none.
Hopefully Fury will get his chance to face Velasquez. If he continues beating the best boxers, maybe his opportunity to compete in UFC will come sooner rather than later.
April, 17, 2013
Apr 17
8:01
PM ET

NEW YORK -- If arrogance was the sole measure of greatness, then heavyweight Tyson Fury would be considered for induction to the International Boxing Hall of Fame right now.

The fast-rising contender has 20 professional fights under his belt, all victories -- 14 by knockout. Those figures alone generate curiosity in the 24-year-old, but they're even more enticing in a 6-foot-9, 250-pound power puncher.

Fury, though, is looking for much more than a casual look from boxing enthusiasts. He wants full recognition as the best fighter in the world. And when Fury perceives that he isn't being acknowledged in such fashion, he lashes out.

So on Wednesday, during a press conference to generate interest in his elimination bout with Steve Cunningham, a former cruiserweight titleholder, Fury took his arrogance to new heights.

He looked at Cunningham with disdain and commented about him in the most disrespectful manner. Fury is furious that he has to share the ring with Cunningham on Saturday [4 p.m. ET, NBC] in The Theater at Madison Square Garden.

And that was before he became aware that Cunningham's promoter, Kathy Duva, intended to toss a coin to determine which fighter would walk into the ring first and be introduced second. That's when Fury let it all hang out: He believes he deserves to be the last man in the ring and last to be introduced.

"There is only one star, and it's not Steve Cunningham," said Fury, of the U.K. "This is the Tyson Fury road show, and we are bringing it to New York.

"Steve Cunningham is the opponent here. He's not the champion. He's not the man. He is not undefeated. This is all about me. Me! Me! Me!

"I'm the man to beat," Fury continued. "I'm the best heavyweight on the planet. Steve Cunningham is an opponent, a stepping stone."

Caught off guard, Duva could muster only a nervous chuckle. Fury's immediate rejection of her attempt at fairness -- Cunningham is 25-5 (12 KOs) and likely to attract a large contingent of followers from his hometown of Philadelphia -- left Duva no choice but to place that coin in her purse.

But like it or not, Fury -- fighting for the first time in the United States -- does have a strong case. Cunningham, 36, is fortunate to be fighting in an eliminator after coming up short in three of his four most recent outings.

Yet here he is, just two wins from landing a title shot -- not bad for a guy who has a 1-1 record at heavyweight. The winner of Saturday's showdown moves into the No. 2 contender slot of one of the alphabet organizations, and is then expected to face current top-ranked contender Kubrat Pulev.

Heavyweight champion Wladimir Klitschko likely will defend the belt against whichever fighter is standing when the smoke clears. Cunningham, of course, believes he'll be that man, despite the tough talk from Fury.

"He can't match my speed," Cunningham told ESPN.com. "He can't match the wisdom that I've acquired over the years. I've been fighting for 12 years, a pro for almost 13."

Fury is bigger, stronger and longer than Cunningham. He can get away with a mistake here and there; his massive bulk will easily allow him to absorb most of Cunningham's punches -- especially early. The diminutive Cunningham -- 6-foot-3 and a shade over 200 pounds -- doesn't possess the same luxury.

"He beats me in size, height and weight," Cunningham said. "But we all know from the story of David and Goliath that size means nothing. It's about your knowledge, how you use what you have.

"Size doesn't matter. And I'm here to prove that."

Cunningham is partly correct. Fury's size won't matter Saturday if he fails to check his arrogance and take the man standing across the ring from him seriously. Then Cunningham might pull off an upset.

If not, expect Fury to win by unanimous decision.