April, 18, 2013
4/18/13
1:47
PM ET
By
Franklin McNeil
| ESPN.com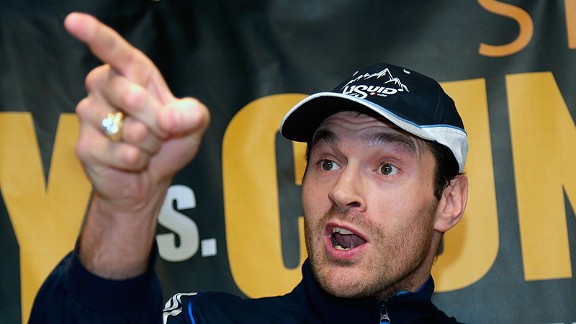 AP Photo/Seth WenigTyson Fury hasn't won a major title, but he proclaims himself as the best fighter in the world.
NEW YORK -- It's not a debatable issue: heavyweight contender Tyson Fury is extremely confident. He's also arrogant, saying whatever comes to mind at any given moment, not caring whom it offends.
When it involves fighting, Fury has a lot to say.
Though he is undefeated in 20 professional bouts, with 14 knockouts, Fury doesn't hold a major title belt. So what? That hasn't prevented him from proclaiming to be the world's best fighter.
"The belts don't mean [anything] to me," Fury told ESPN.com on Wednesday. "I'm the best fighter in the world."
This statement is far-reaching. When Fury speaks of being the best fighter alive, his remarks aren't limited to boxers. Fury directs his comments to all combatants. And yes, mixed martial artists are in the equation.
UFC heavyweight champion
Cain Velasquez
has been squarely in Fury's crosshairs for a while. He has been targeting Velasquez for several months, but Fury's taunts have yet to ruffle the champion's feathers.
A bout agreement has yet to materialize, but that hasn't stopped Fury from continuing his verbal assault.
"Absolutely, one hundred-million percent," the 24-year-old Fury said of his desire to fight Velasquez. "I've challenged Cain Velasquez to a fight three times. He's a little boy who doesn't want to fight. He said no, live on TV."
Fury participates in a title eliminator bout Saturday (NBC, 4 p.m. ET) in The Theater at Madison Square Garden against former cruiserweight titlist Steve Cunningham. The victor fills one sanctioning body's vacant No. 2-contender spot.
If Fury continues winning (he's favored in Saturday's fight), it will be good for boxing in the short term, and possibly the entire fight game down the road. You see, Fury will never be satisfied until he is universally recognized as the best fighter on this planet -- including mixed martial artists.
When Fury talks of being the best fighter today, he wants it made clear that Velasquez is part of that mix. There is no merit to proclaiming yourself the best fighter when you haven't fought all the best fighters.
Fury is well aware of this fact. It's why just the mention of Velasquez raises his blood pressure.
There is no doubt in Fury's mind that he would destroy Velasquez in a fight -- whether it's under boxing or mixed martial arts rules doesn't matter to him. The 6-foot-9, 250-pound Fury simply wants a chance to prove his point.
"I would take Cain Velasquez out," Fury said. "MMA, to me, is bulls---. It's for people who can't box and like wrestling on the floor. It's rubbish.
"I'm going to show on Saturday what I'm all about, why I'm this confident and why I'm here to fight."
Fury never minces words, and he isn't one to take shortcuts. Calling out Velasquez, or any MMA heavyweight, will keep him on the hot seat for a long time.
But he couldn't care less. Fury always raises the ante.
"I'm going to finish this here and now," he said. "If this man gives me a good fight, I swear on Jesus' name I'm going to retire after the fight. Because I ain't going to be nothing like I say I'm going to be if I can't do a job on this man. I'll retire if I don't stop him.
"If I don't impress with a good performance against this man, I will retire. I'm not going to fight. Game over. I will retire on live TV.
"I mean it. I'm not here to play games."
That last line isn't directed solely to Cunningham or professional boxers. It's also intended for mixed martial artists, especially Velasquez.
Fury is always willing to put up, because he won't shut up until he's considered the best, bar none.
Hopefully Fury will get his chance to face Velasquez. If he continues beating the best boxers, maybe his opportunity to compete in UFC will come sooner rather than later.
September, 20, 2012
9/20/12
2:13
PM ET
By
Brian Campbell
| ESPN.com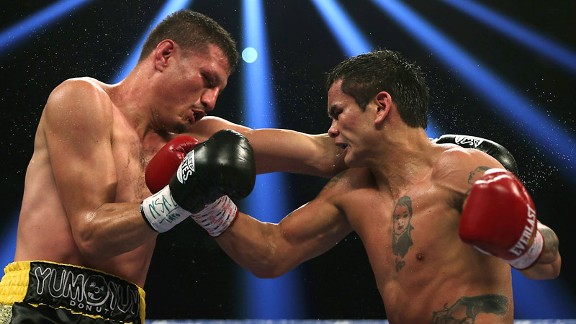 Josh Hedges/Getty ImagesMarcos Maidana, right, and Jesus Soto Karass traded with abandon. Did a KO bonus provide incentive?
Somewhat lost in boxing's explosive return to center stage last Saturday was a sweet little cash bonus offered by Golden Boy Promotions on the B-side of dueling Las Vegas cards.
Golden Boy, which promoted the aptly titled "Knockout Kings" card -- headlined by Saul "Canelo" Alvarez's fifth-round stoppage of Josesito Lopez at the MGM Grand -- awarded a cool $100,000 to the fighter who recorded the best knockout, as voted by the fans.
Set aside the fact the fans got it wrong (Alvarez won the popular vote for his TKO in a mismatch with Lopez, overshadowing Marcos Maidana's thrilling finish in a rousing war against Jesus Soto Karass) and that the premise itself reeked of a gimmick.
Whether the bonus itself raised the levels of expectation or whether the ensuing results were simply a case of happenstance when you consider the all-action tendencies of the fighters involved, the results were spectacular. And that, my friends, is progress.
The promise of action created by the KO bonus helped spice up (no Canelo pun intended) an already stacked Showtime undercard, one created to pull viewers away from purchasing the pay-per-view of the Sergio Martinez-Julio Cesar Chavez Jr. card being held simultaneously at the nearby Thomas & Mack Center.
How much of the card's success and attention had to do with the mere presence of Alvarez, the rising 22-year-old Mexican star, is hard to ignore, as the main event produced Showtime's largest audience (1.04 million) since it began tracking bout viewership. But the overall card still produced the network's second-highest rating for a boxing telecast since 2007.
The bonus also offered the fighters a substantial financial carrot, even if
most kept a poker face
as to their intentions to capitalize on it. Still, when you consider that five of the eight eligible fighters had an opportunity to at least double their
purse figures
with the bonus, it's hard to deny its impact.
Which leads to the bigger question: Did boxing just improve its future by taking a page from its past?
In a sports landscape so heavily dominated by guaranteed contracts, boxing is no different with its financial gain rewarded up front. The final product -- what actually ends up happening inside the ring -- becomes a crapshoot.
Does that mean that every fight needs to be a brawl to be compelling, or that all fighters should be forced to throw caution to the wind, thrusting themselves into sure danger to satisfy the unceasing appetite of a combat-crazed society? Not necessarily.
But let's not forget something equally important. We are talking about a sport once known universally as "prizefighting," and the further we depart from the essence of what that term implies, the closer the sport moves toward irrelevance, and possibly extinction.
Boxing needs more incentive for its participants to give their all, something to help steer the sport away from the typical black eyes (bad decisions, boring main events, crooked promoters) that continue to set it back. When viewed against that backdrop, knockout bonuses are an exceptional step forward.
Look at the business model and practices of the UFC, an entity rescued from the brink by a group of boxing fans looking to inject elements into its fledgling product that were missing from the sport they once loved. Some of those same tactics include bonuses on every card for best knockout, fight and submission.
Although boxing doesn't have the same central governing system that has helped the UFC stoke excitement via monetary rewards, promoters should follow Golden Boy's lead -- as long as the incentives don't punish those who actually make an art out of the science of boxing. Some kind of incentive for a fighter to be the best boxer-puncher he can be is a great thing for all fans.
Certain fighters will always command more money based on their marketability alone, and rightfully so. But a future in which two fighters compete for a set percentage of both purses as a reward for the winner would be a fantastic compromise.
In the end, Golden Boy's knockout bonus could turn out to be nothing more than a gimmick. But if you look closely, it also could open the door to opportunities that just might stem the tide of a sport suffering from self-inflicted decay.